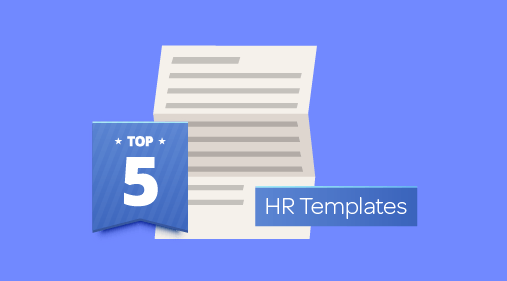 HR teams can spend a lot of time on email communications, whether they're welcoming a new hire or asking employees to refer candidates. Using email templates can save time from having to build emails from scratch. And if they're well-made and written in an effective style, they can also help HR teams build trust with their colleagues.
Workable's Human Resources email templates library offers more than 35 ready-to-use templates to help HR professionals in common scenarios of their daily work. Here, we present the top 5 most commonly used HR email templates from the Workable library. Feel free to customize, share and adjust depending on the occasion.
Top 5 ready-to-use HR email templates list:
Job offer email template
You have found your perfect candidate and now you want to officially offer them the position. What better way than to send a job offer where you can include as many details as possible to help the candidate make their decision. You can also use our tutorial to get an idea of how to write a standout job offer email and increase your chances for an accepted offer.
Make sure you clearly communicate that you're offering them a job. Other key points you should include in your job offer email:
Position details (job title, working hours, department and manager).

Contract length (if applicable).

Salary details (including benefits).
Also, a good option is to attach useful documents, like company policies and compensation plan or a copy of the employment terms that your candidate needs to sign, should they accept your offer. Don't forget to set a specific timeframe for when you would like to get your candidate's final response.
Use our free and customizable job offer email template and increase the chances your preferred candidate will accept your offer.
New employee welcome email
As an HR manager, one of your goals is to make new employees feel at ease and prepared for their first day at work. One way to do that is to send a welcome email once candidates have accepted your job offer.
Our new hire employee email template is designed for this purpose. A member of the HR team or the hiring manager can send this onboarding email to a new employee prior to their arrival to prepare them for the first few days of their new job.
Customize and use the full new employee welcome email template here.
New employee announcement email
Introducing a new hire to your current employees is a great way to make both feel more comfortable. Your new employee will feel less anxious and their co-workers will feel better prepared by knowing some basic things about their new team members.
The 'new employee announcement' email is generally part of the onboarding process. A member of the HR team or the hiring manager can send the email to introduce the new team member to all current employees.
Find an example new employee announcement email template here.
Refer a friend for a job email
Employee referrals are considered one of the best sources of hire. Use our 'refer a friend for a job' email template to make it easy for employees to refer someone for an open position and encourage employee referrals. Be clear about the skills you are seeking in the role, like technical and soft skills, professional experience and knowledge of job-related software. Also, if your company offers an employee referral bonus program, you should include details about the incentives in your email.
Find our free and ready-to-use refer a friend for a job email here.
Employee referral program sample email
Use this 'employee referral program' sample email to inform your current employees about an open position and ask them to refer a qualified candidate. If you're already using Workable, this email could be part of your employee referral program communication. Or, you could also get some ideas for building your first employee referral program.
Our complete free employee referral program sample email can be found here.
Haven't found the HR emails you are looking for? Visit our email templates for HR library with more than 35 email samples.
Frequently asked questions
How do you write an HR email?
If you work for a larger company, you may not already know your HR representative, so it is important to learn this information. First, write a specific subject line for your situation. Next, provide in-depth information about the situation that you want to explain. Finally, always check for errors in the email before sending it to ensure you have a professional tone.
Can you email human resources?
There are many situations that may require you to email your HR representative or an HR manager. In some cases, you might email the HR manager with your resume for a job you are applying for.
How do you write an HR complaint?
Identify exactly the kind of workplace issues that took place. Write down the details about the matter. Introduce yourself and your purpose. Present the facts of the case. Explain in great detail how you responded. Offer a solution to the issue. Avoid using offensive language to preserve a professional tone in your email.