How to master recruitment in media
The internet has disrupted and fragmented the media industry. Print-first publications are adjusting to the digital landscape, shedding thousands of traditional jobs in the process. The number of people working in print newsrooms has dropped 23% of what it was before 2008. Low salaries and lackluster benefits are driving many workers to digital-first newsrooms or away from traditional newsgathering. Thousands of new digital-first jobs have been created in the last half decade.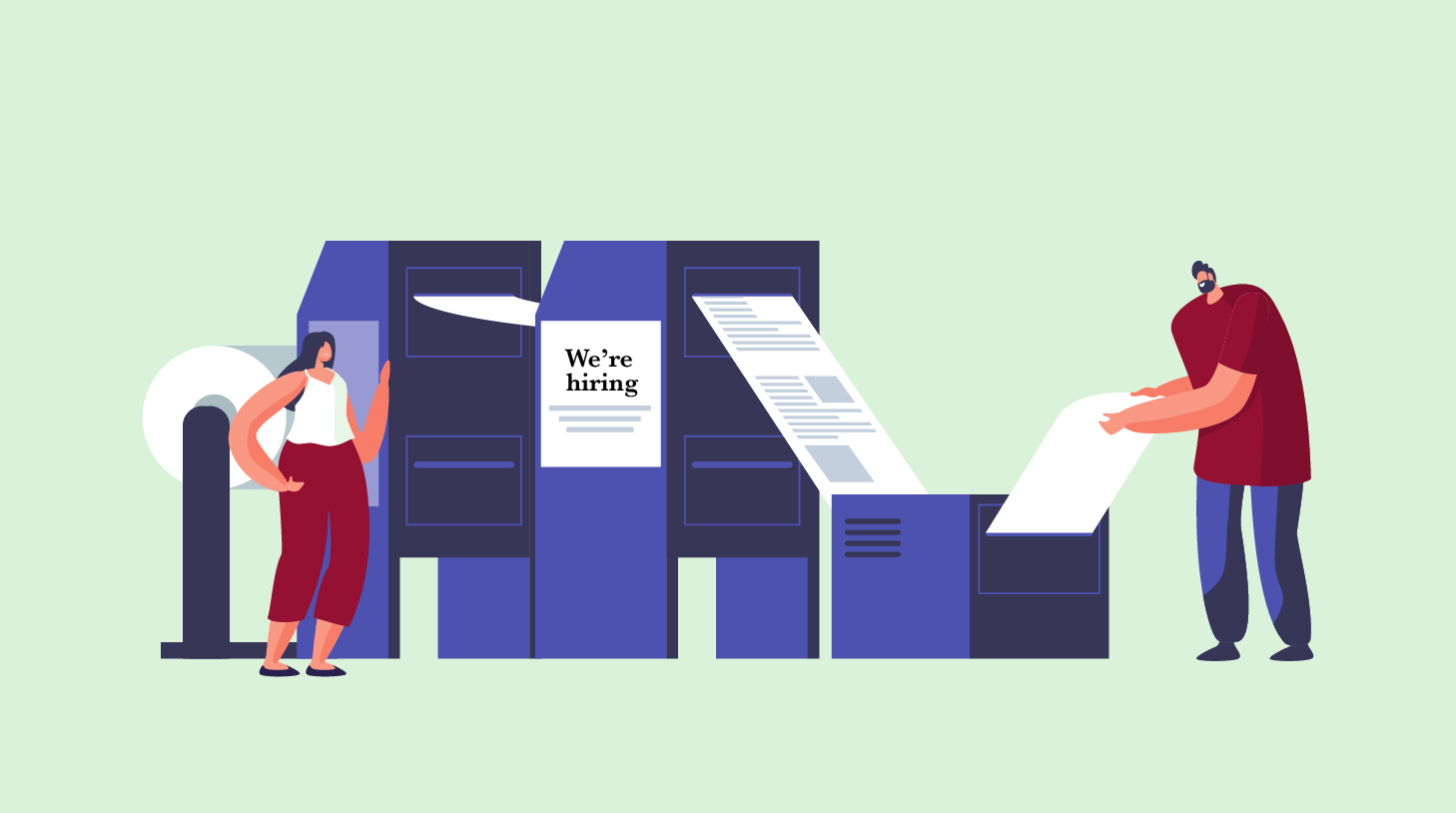 Troubled times for traditional media represent an opportunity for companies looking to acquire communications talent. Experienced workers who have decided to leave the business of news often transfer the skills they picked up to more lucrative communications fields such as marketing, public relations, and corporate journalism.
The transferable skills that traditional media professionals possess are being recognised by a wider variety of industries. A journalist brings editing, writing and research skills, and a sense for what's newsworthy, as well as experience with digital communications. These smart, versatile, deadline-driven employees will improve your content, mentor your colleagues, and in some cases, boost your brand's visibility.
Here are some things to keep in mind when hiring a candidate with media experience:
1. Search in the right places
When you're searching to recruit talent with media experience, you should place your ads in niche job boards, not only Indeed or Glassdoor. Social media is another place where you can find the ideal fit for the role. It's also common for people with media experience to host their own blogs or vlogs, so keep an eye open for that too.
Here you can find a list of job boards where you can post your job ad:
JournalismJobs.com
Journalismjobs.com is one of the oldest job boards, founded back in 1998, and has over 2,5 million page views per month.
JournalismCrossing
Journalism Crossing is a searchable database including more than 2 million job postings worldwide.
Mediabistro
Mediabistro is another option, especially if your searching for media and content professionals.
2. Battle for the best
Corporate newsrooms provide top talent with the opportunity to continue to produce quality written work while enjoying the benefits of a corporate job.
The arrangement is mutually beneficial, as corporations then gain the substantial skills and added oomph of a recognized journalist's personal brand. There are fierce bidding wars for candidates who have proved their worth in their new environs. "We were not the only people offering Dan [Lyons] a job. I can tell you that for sure," said Mike Volpe, former CMO of Hubspot. "When we get further along in the process of hiring more journalists, I do expect there to be competition."
To beat the battle for talent, make sure your company has competitive benefits and compensation and highlight them in the job description.
3. Proof of skills
Recruiters who target journalists agree that it isn't enough to review a writer's work samples. It's not unusual for even an experienced and high-ranking journalist's work to undergo heavy edits prior to publication. For best results, recruiters must assign short writing, editing, and proofreading tests with a deadline appropriate to what candidates would experience on the job.
Pro Tip: Ask references what your candidates' first draft copy is like.
4. Ideology checkpoint
If you're interviewing a media professional for a position in advertising, marketing, or PR, it is important to discern their ability to adapt to a different mindset. Many journalists believe that newsgathering should be completely separate from other communications fields. To these candidates, reporting means serving the general public by delving for the truth and keeping companies and governmental bodies in check.
Make it clear that they can still create compelling, delightful, and valuable work–but that this work must now align with commercial goals. If your company needs a ghostwriter, ask them if they're okay with not seeing their name in lights. If you sense that they feel they're leaving the "sacred" for the "secular", ask them to explain why they are doing so and why they would be happy with this job in the long haul.
5. Case study: HubSpot
HubSpot has turned content marketing into big business. They were among the first companies to evangelize a now popular practice of attracting customers with content that predicts and addresses their needs. They help other businesses do the same with their software product, a platform that streamlines and automates the content development and promotion process.
HubSpot leads by example. Their commitment to producing high quality, well-researched, and thoughtful content is reflected in their hiring. They modeled their content team after the media newsroom, with a few tweaks. Their core team members are:
• CMO/Publisher – Responsible for aligning content production with business goals.
• Editor-In-Chief – Responsible for overseeing all things editorial.
• Writer – Responsible for producing content and contributing content ideas.
• Copy Editor – Responsible for correcting errors, checking for libel, proofreading.
HubSpot hires people who understand how their work supports the overall business goals of their company. HubSpot recruits highly adaptable, creative people with a track record of pitching fresh ideas and creating new initiatives. Hiring managers at HubSpot will want to see work samples and independent projects such as a blog. If budget is a concern for your company, HubSpot's brand journalism guide suggests hiring recent graduates from journalism and communications programs, or even interns from local universities.
HubSpot's commitment to company culture supports their efforts to attract great talent. Their Company Code, the blueprint that shapes their culture, is available online for all to see and is a respected example of employer branding.