Best job ad examples from the Workable job board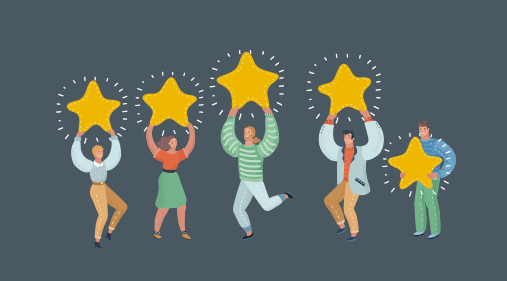 A clear and engaging job description helps attract the right candidates. But writing one is no easy feat. To inspire you, we dove into the Workable job board to identify some of the best job ad examples that are currently out there. From using simple language to employing creativity, here are some creative job posting examples and what makes them so effective.
7 of the best job ad examples from the Workable job board:
If you want to promote your company culture
Larger, more well-known brands don't need to be super creative with their job ads; candidates already want to work there. On the other hand, for cool tech startups, it's perfectly acceptable – almost compulsory, in fact – to use casual language in a job ad to showcase their work culture. This way, they can attract candidates even if they're not big names. But what about companies that carry the stigma of more traditional, not-so-fancy industries?
The key here is to be as transparent as possible. Just because you don't have a ping-pong table (which might actually not be a bad thing), it doesn't mean your employees are not happy or that you don't offer other, more meaningful benefits. Make sure your job ads reflect your work life by giving specific examples and sharing employees' stories to demonstrate their positive engagement in your company.
The Equity Project (TEP) Charter School proves that you don't have to blow your budget to promote your open roles. In their job ads, they're being transparent about salaries, so that candidates know exactly what to expect:

Also, the school organizes in-person information sessions, where people who're interested in a position can get first-hand experience of the work life. Here's how candidates can learn more and RSVP in one of these sessions through a job ad:

If you want to attract tech talent (when you're not a tech company)
Naturally, developers will be fascinated to work with a company that builds software. Likewise, designers will actively look for job opportunities at design studios and agencies. For candidates with a tech background, industries like retail and fashion are not usually a first choice, when it comes to applying for a new job. Still, those industries require qualified tech employees, for example to build their website, support their e-shop or design their logos and ad campaigns.
To attract tech talent, you need to speak their language. Instead of using random, meaningless buzzwords – those actually turn candidates off – you could ask for help from current team members who'll be able to better describe the role. Here's how Lyst, the global fashion search platform, advertises its engineering positions: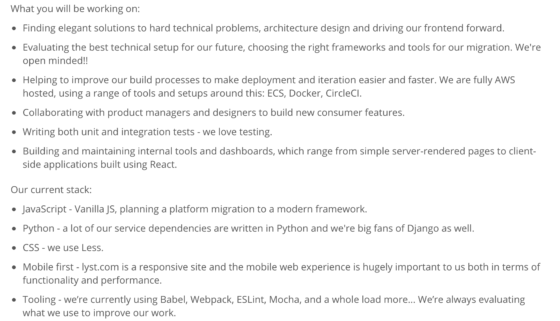 Candidates, reading this job ad, learn exactly what they'll be working on and what frameworks, languages and tools they'll be using. This way, they get the full scope of the role and can start picturing themselves as part of the team.
If you want to speak to specific groups of candidates
Most job ads begin with a generic 'About us' section. When you're often hiring for various roles, consider differentiating your intro for each department (e.g. one intro for engineering, another one for sales, etc.) This gives you the chance to improve your pitch to job seekers, by highlighting what matters the most to them.
For example, candidates for engineering roles will be intrigued to hear about the tech stack you're using or what new features you're working on. Have a look at this Senior Android Engineer job description from Workable: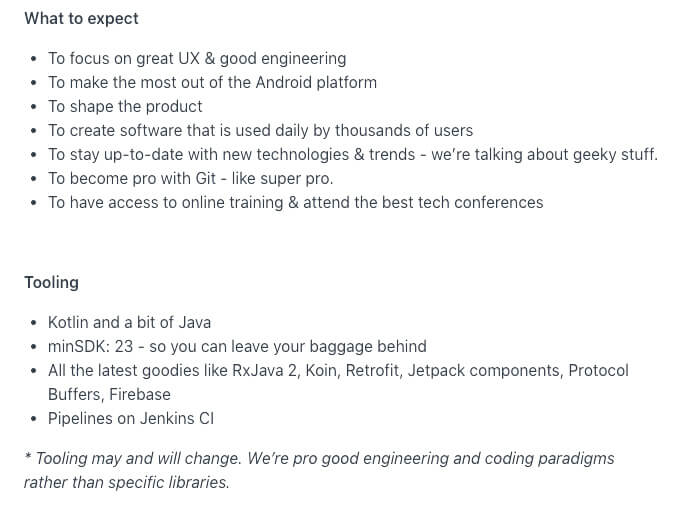 If you're hiring remote candidates
Hiring remotely is challenging as you compete for talent with companies from all over the world. Add to this, the fact that non-local candidates might not be familiar with your brand. This means you need to put extra effort to make your job ads stand out.
Leadfeeder, a website traffic software company based in Helsinki, has distributed teams across Europe and the US. On their careers page, it's clear from the job title which positions are remote and which are not: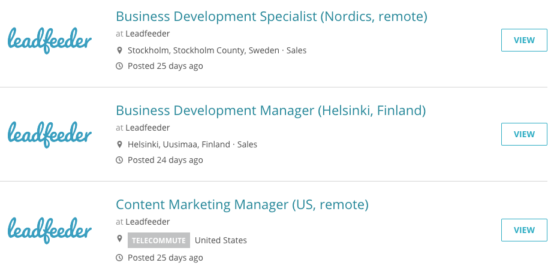 Let's take a closer look at a remote job for a Content Strategy and SEO Lead:

Reading the job ad, candidates get a very good idea of what the role entails and where their team is based, so they can decide if this works for them. Being transparent helps candidates consider remote job opportunities, even if they haven't heard the company before.
And of course, it's always a nice idea to highlight the perks of working for a remote company, like the chance to meet your distributed team overseas:
If you're in an industry with a high turnover rate
To increase employee retention, companies should focus on hiring people who seek a career – not a temp job. You can do this by highlighting your employee development plans and training programs you offer.
Here's an example from Boojum, the Irish burrito chain. The job ad starts by making it clear that there are career development opportunities within the company:

And later, under the 'Benefits' section, candidates read all the reasons why they should consider a position at Boojum. These benefits include a list of training sessions that prove that the company invests in their people.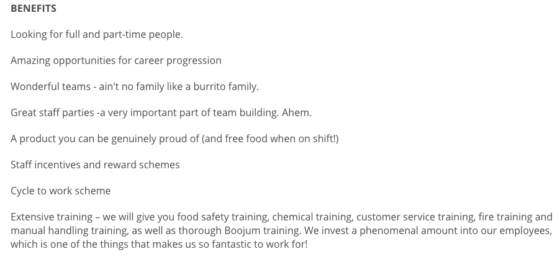 Along the same lines, Charlotte Tilbury, the popular makeup brand, lists all the benefits that employees will get once they join the company. The following example is for an Assistant Business Manager and includes benefits from career development and trainings to life insurance and product discounts:
If you're hiring interns
When advertising internships at your company, it makes sense to provide details about the job duties. This way, you'll attract interns who understand that this is a real job opportunity that will help them use their knowledge and further develop their skills.
This is an example of how Belmond Group, the large hotel company, describes the role of a Front Office intern:

For more ideas on how to write effective job descriptions, check out our guides here and here or read our complete job posting ebook. You can also browse our library of 650+ job description templates that you can easily customize and post to advertise your open roles.
Once you've advertised your open roles, it's time to start thinking about promoting your company, too. Here are 10 of our favorite careers pages to get you inspired.
Frequently asked questions
What is a job ad?

A job ad is an ad that you pay to be placed on a job board or recruitment site. These ads typically include information about the job, salary, and a description of the job that you are trying to fill.
What makes a bad job advertisement?

One of the biggest job advertisement mistakes you can make is to not include the full responsibilities and duties of the role. Otherwise your candidates won't know what to expect from their day-to-day role. As well as engaging the reader, your job advertisement needs to be clear and succinct to speak directly to your audience to get your ideal candidates.
What are some tips to help my job ad stand out from the competition?

You can add certain elements to your job ad like bullet points. This gives the candidate quick access to the overall picture of the job. Use concise wording in the job description that relate to your company to build trust with potential candidates.