The 10 most important applicant tracking system features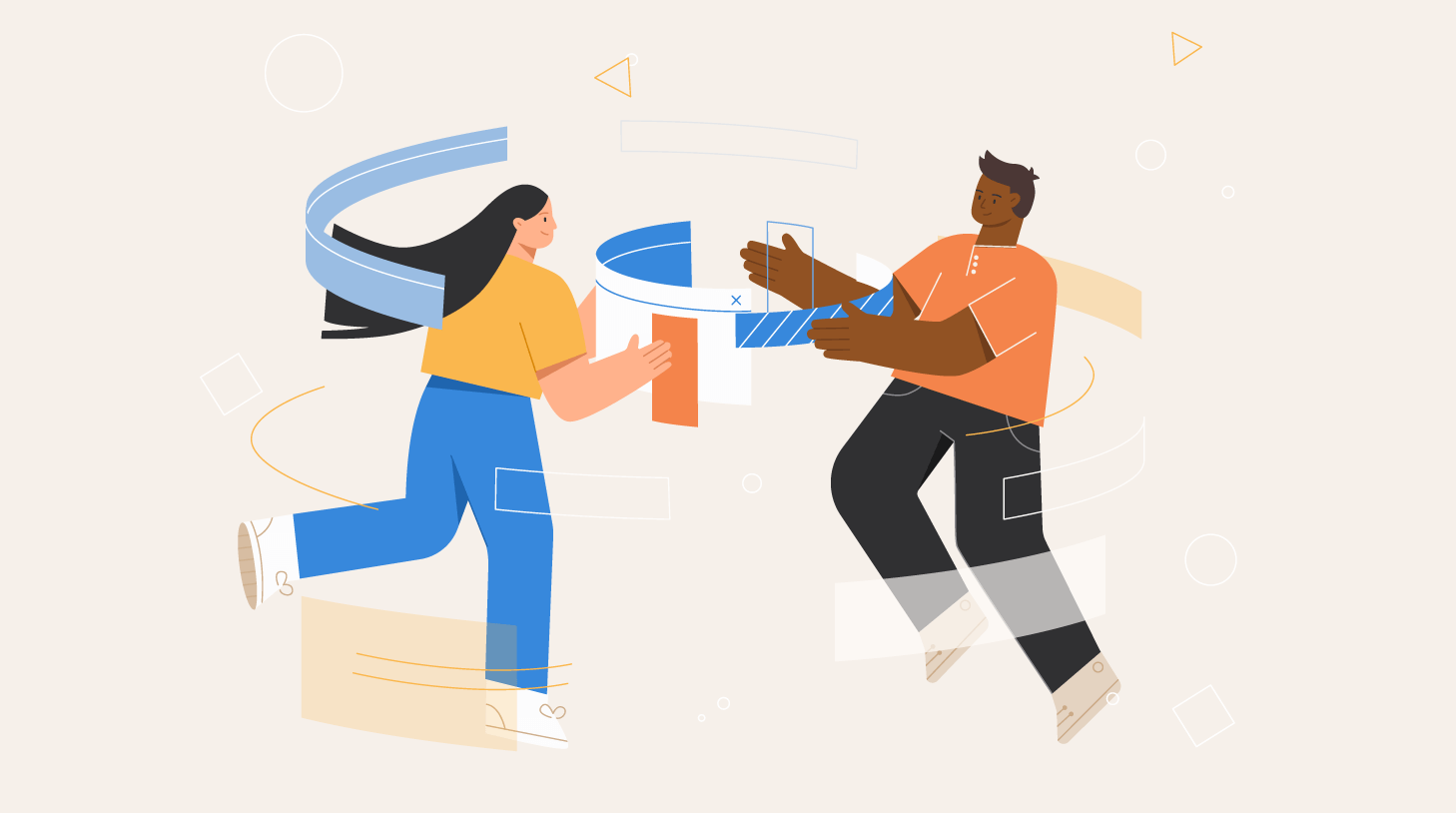 From job advertising to candidate interviews, applicant tracking systems are packed full of features designed to streamline the hiring process. There's definite beauty in this, but also something of the beast. If you've never used an applicant tracking system before or are looking to change from your current ATS, the different options can be overwhelming. So what do you really need to focus on when making your decision?
Hung Lee, industry expert and CEO of workshape.io, has 15 years' experience in the recruitment industry. Describing himself as: "passionate about making recruitment better for people and businesses", he's formed strong, evidence-based opinions on what really matters in an ATS. In a #Workablechat he shortlists the 10 most important features to consider when choosing an applicant tracking system. Read on for an expert view of the most important types of applicant tracking system features.
Hung Lee's Top 10 applicant tracking system features list
What else matters? 10 additional recruitment software features that complete the picture
So, you've done your ATS comparison. And you've narrowed down your options using some broad but game-changing categories to guide the process. Now's the time to delve into more detail. Using insights and feedback from customers and industry contacts, we've pinpointed 10 additional ATS features to compare once you've narrowed down your field. If you're looking to improve your hiring process through an applicant tracking system, tick the boxes for all 20 features and functionality areas and you're onto a winner.
ATS Implementation and support
You've spent time researching your options. Once you've made your decision, you'll want to get up and running fast, no matter how big your team. Find out what support there is to get you started. Does your new ATS come with a training program? Will you get help setting up careers pages, HRIS integrations and other customized features? Consider long-term support too. Is there 24/7 help if you need it? How quick is the response time? If you prefer to self-serve, check for recruiting resources such as articles and videos.

Careers pages are where many future candidates form initial impressions of a company, so they need to communicate well. Will your ATS build a branded, auto-updating careers page for you – fast, for free and fully optimized for mobile? If you've already got your own careers site, is there an API to integrate with your ATS so job details are automatically updated?
Candidates form strong opinions about employers during the recruiting process through job descriptions, application forms, careers pages and communication. A good ATS offers tools to customize these and build a consistent identity throughout the hiring process. Nail this and target the right candidates effectively.
Candidate sourcing


You can't hire great people without having the right candidates in your pipeline. A powerful talent sourcing tool will enrich your pipeline and help you hire for senior or hard-to-fill roles. Make sure the search is fast, far-reaching and accurate. Does it aggregate all of the information from multiple online sources into one, unified candidate profile? Can you search, add prospects to your new ATS account, and contact them directly in just one quick submission?
Managing interviews
When it comes to interview admin, less is more. How much is automated through your ATS? When you schedule interviews and other events do these integrate seamlessly with everyone's calendar? A structured interview process leads to more accurate feedback. Is there access to interview kits and scorecards? Time-saving enhancements like these also reinforce your employer brand by offering a seamless experience for your candidates.
Related: Structured interview questions: Tips and examples for hiring
Centralization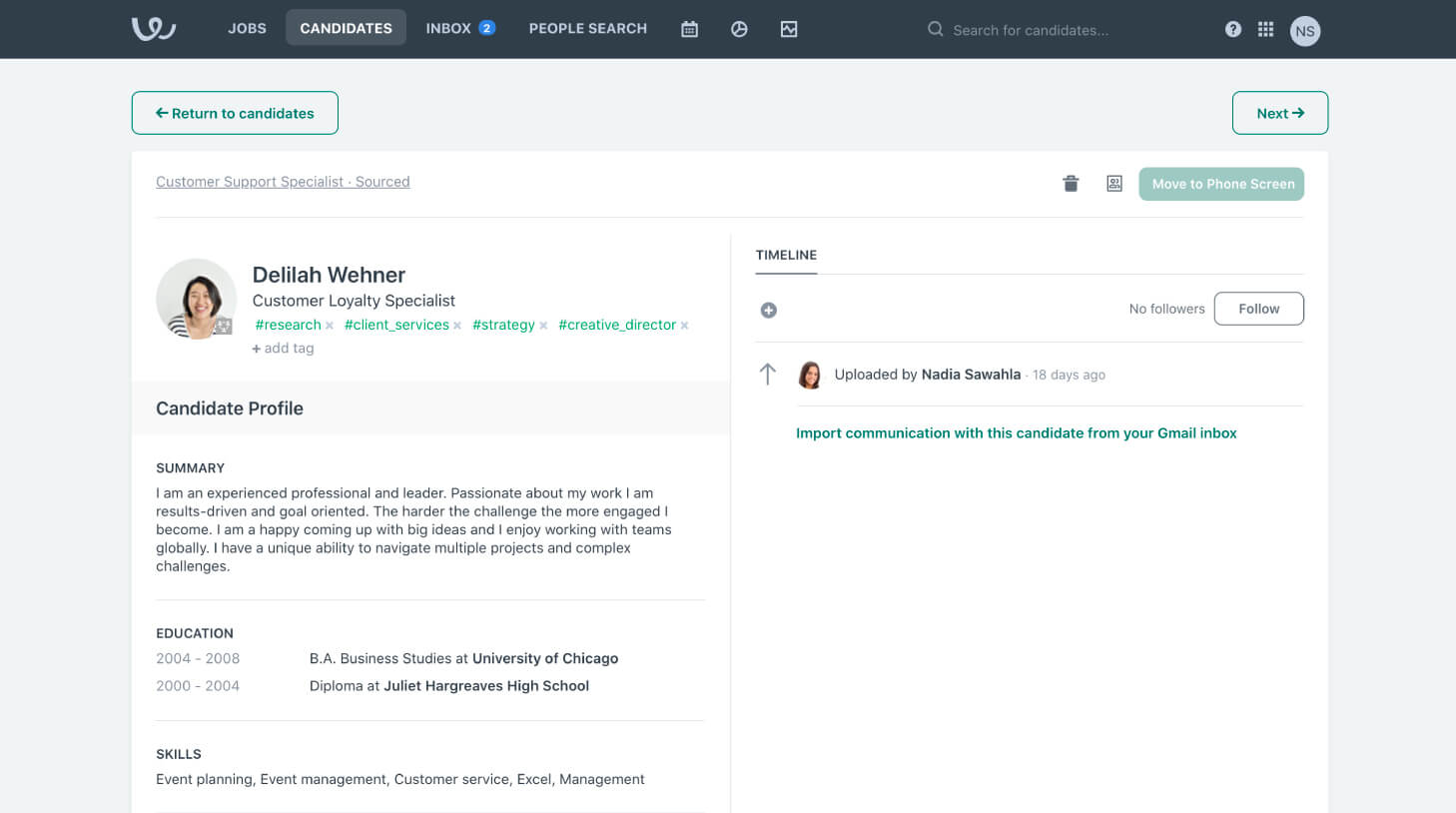 If you've been jumping between spreadsheets, email, job boards and social media to manage your hiring, you'll want an ATS where your candidate data is in one place. Are there detailed, well-organized candidate profiles, which collate everything from resumes and social profiles to candidate communication and interview performance? If you need to take action, does the ATS nudge you to do this there and then?
A talent CRM
Yes, you want to hire, but sometimes you find the right candidate at the wrong time. Can you build talent pools and nurture ongoing, meaningful relationships with candidates and prospects through your ATS? Look for applicant tracking system functionality that lets you tag, search and filter your candidate database, make notes, and set reminders for future action or contact.
If your schedule is travel-heavy and desk-light, or you just want to eliminate dead time, you'll need a mobile app to hire on-the-go. Can you contact candidates, schedule interviews, complete scorecards and keep in touch with your hiring team wherever you are using your smartphone?
It's easy to be dazzled by all the functionality on offer and forget that if your ATS isn't safe, resilient and fully secure, that functionality loses its integrity. From data encryption, protection and retention, to disaster recovery, uptime, access and compliance, check your hiring process and data are in safe and stable hands.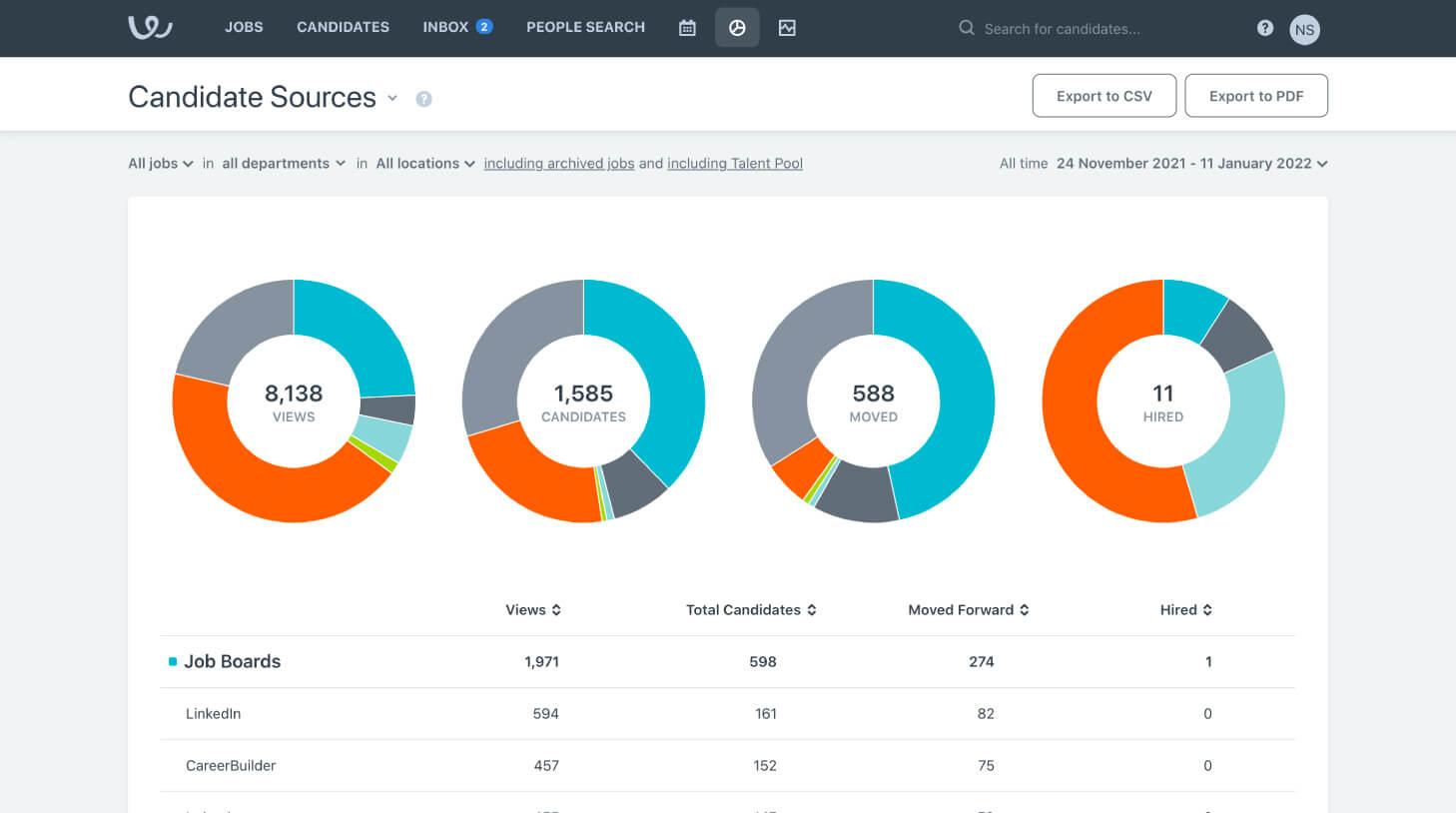 You've hired but at what cost? When planning future recruiting strategy, you'll need data to make informed decisions. Whether it's time to hire or job board ROI, make sure your chosen ATS delivers detailed, exportable recruiting reports and analytics.
And finally… put it to the test with a free ATS trial
You've done your research and found the best applicant tracking system for your company. It offers all 20 features neatly packaged up in one powerful interface. The only thing left is to put it to the test. Take advantage of free ATS trials to see how it handles all of those features. Do you actually enjoy using it? If so, you're good to go.