How to assess administrative assistants
Assessing administrative assistants involves evaluating their organizational, communication, time management, and software use skills. This can be done through exercises that test their ability to organize data, handle conflicting demands, manage their time effectively, and use office software proficiently.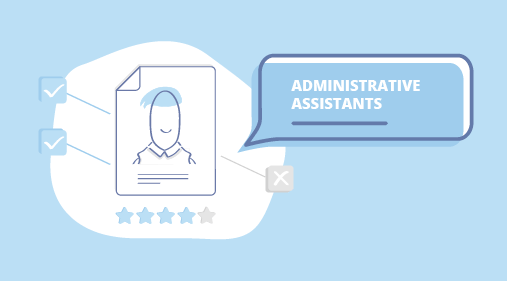 Administrative assistant skills assessments help you make the right hire for your team. Use these candidate assessments in your interviews.
The following exercises can help you assess the skills of administrative assistant candidates in your interviews. Feel free to modify them for your needs.
What do administrative assistants do?
Administrative Assistants work in various industries and take on a wide range of tasks. This is usually a junior role that provides general support to an entire group of, or a selection of managers. Administrative Assistants organize meetings, compile reports, arrange travel, communicate with employees consistently and make sure company operations run smoothly. Successful Administrative Assistants are good at:
Organization: They are able to parse larger projects into smaller, achievable goals. They maintain physical organization of papers, data and office supplies.
Communication: They are confident and at ease when sharing and exchanging information with employees of varying seniority levels.
Time management: They have an innate sense of which projects to prioritize, and might be keen keepers of to-do lists.
Software use: They are proficient with most mainstream office software, including:

G Suite (Google Docs, Sheets, Slides)
Microsoft Office (Word, PowerPoint, Excel)
Email and calendar scheduling tools (Outlook, Google Calendar)
To-do list and project management software (Todoist, Trello)
This role does not typically require a college degree. This position is often confused with Executive Assistants – who serve highly specialized support to a smaller group of executives. Candidates with experience working in office settings will have an upper hand in this role.
Ways to test administrative assistant skills in interviews
Combine interview questions with hypothetical scenarios, exercises and technical tests on software that administrative assistants might use in your workplace.
Here are some specific exercises you can use to assess the skills of administrative assistants:
1. Organizational skills assessment
Exercise: Organize the following data in any way you see appropriate. Feel free to include comments on further questions/ideas you might have.
XYZ Company customer and revenue data report
Company A, 100 employees, customer for 10 years
Company B, 20 employees, customer for 1 year
Company C, unknown, customer for 5 years
Tech Industry, five companies, $300,000 revenue
Retail Industry, eight companies, $1M revenue
Healthcare Industry, 20 companies, $35M revenue
Comments: ___________________________________________.
What to look for: This assignment tests candidates' ability to link and organize different data points. Candidates should be able to parse the data and organize it into two separate tables or spreadsheets, because they represent two different sets of data.
Red flags: Candidates who group all the data into one spreadsheet or table may not have adequate experience organizing and recognizing differences in information. Note that one data point in this list has criteria labeled "unknown." Candidates should still include this data point – and provide comments that ask for further clarification on this.
2. Communication skills assessment
Exercise: You provide administrative support to two executives and the entire office of 15 staff. Executive A understands that your time is split between another executive and the office staff. Executive B demands a workload that prevents you from supporting Executive A and the rest of your office staff comprehensively. How would you handle this?
What to look for: Candidates who tactfully establish boundaries with Executive B show that they are realistic about the demands placed on them, and aren't afraid to communicate with managers. A good response might be: "I would ask Executive B to meet and discuss the limitations of my role as it relates to his/her needs, while noting that I serve other employees as well."
Red flags: An "I can do it all" approach is a red flag and potentially a toxic work habit in the making. Employees who indicate that they will go on with the workload as is, or don't plan to address Executive B about their unrealistic demands show that they may be averse to uncomfortable confrontations – which are sometimes needed in this role.
3. Time management skills assessment
Exercise: You receive a large shipment of food for the office that needs to be stored in cupboards and the kitchen fridge. At the same time, an executive approaches you and asks you to file an urgent report due today. How would you proceed?
What to look for: This exercise tests how candidates manage their time when confronted with the unknown.The food is the priority here — it can go bad if it's not refrigerated right away. The report should be filed after the food is stored. Candidates who acknowledge this in their response show that they are capable of thinking big-picture while prioritizing projects, managing their workload and answering demands on deadline.
Red flags: Candidates who panic and drop putting the food away to start working on the report may not be able to think strategically about their time.
4. Software use skills assessment
Exercise 1: Using [Google Sheets/ Microsoft PowerPoint], create a presentation in five slides or fewer describing either:
Your previous role
A hobby
A volunteer/school project
Exercise 2: Using [Google Docs/Microsoft Word], in 300 words or less, please describe why you're a good fit for this role. Once finished, please share the assignment with the following email addresses: [[email protected], [email protected], [email protected].]
Exercise 3: Create a calendar invite using [Google Calendar/ Microsoft Outlook] inviting all the managers at our company to a fictional offsite management meeting. Add details about the meeting within the invite.
Exercise 4: Take the data here and organize it into spreadsheets using [Google Sheets/ Microsoft Excel.]
XYZ Company customer and revenue data report
Company A, 100 employees, customer for 10 years
Company B, 20 employees, customer for 1 year
Company C, unknown, customer for 5 years
Tech Industry, five companies, $300,000 revenue
Retail Industry, eight companies, $1M revenue
Healthcare Industry, 20 companies, $35M revenue
What to look for: These exercises are self-explanatory – they test the candidate's knowledge of various administrative-related software. These types of software are key to most administrative roles, so look for candidates who demonstrate software expertise with the way they produce the assignments (e.g. keeping slides artful and engaging, using clean formatting in text documents.)
Red flags: Candidates who are unable to complete the assignment, or produce work that doesn't meet the scope of the exercise (e.g. scheduling a meeting using Google Calendar, but failing to include a description of the event) may not be as well-versed in office software, which is a must for this role.
Frequently asked questions
What is on an administrative assistant test?

The Administrative Assistant test evaluates candidates' competency in attention to detail, basic Excel spreadsheets, time management, written communication, and interpersonal skills, as well as their general aptitude for logical, numerical, and verbal reasoning.
How do you test administrative skills?

There are many ways to test administrative skills before hiring a candidate, depending on the needs of your company. Typically, employers will test the organizational skills of an individual to ensure they can keep up with tasks as needed. You should also test the communication skills of a candidate to ensure they can represent you and your team in a manner that you expect over the phone and email correspondence.
What are some interview questions for an administrative assistant?

There are many questions that you should ask during an interview for an administrative assistant. Here are just a few questions to consider. What role do you feel the administrative assistant serves in the office? What do you enjoy about being an administrative assistant? What software and office equipment are you proficient in using? Describe a project you enjoyed working on as an administrative assistant.