How to handle work from home bloopers during an interview
It wasn't that long ago when our CTO Spyros Magiatis joined a scheduled video interview with a candidate and had forgotten that his festive toilet background was still on — we'll get to the story behind it a little later. In fact, you've probably heard similar stories about someone who forgot to mute their microphone or turn off the camera during a business call and something awkward happened.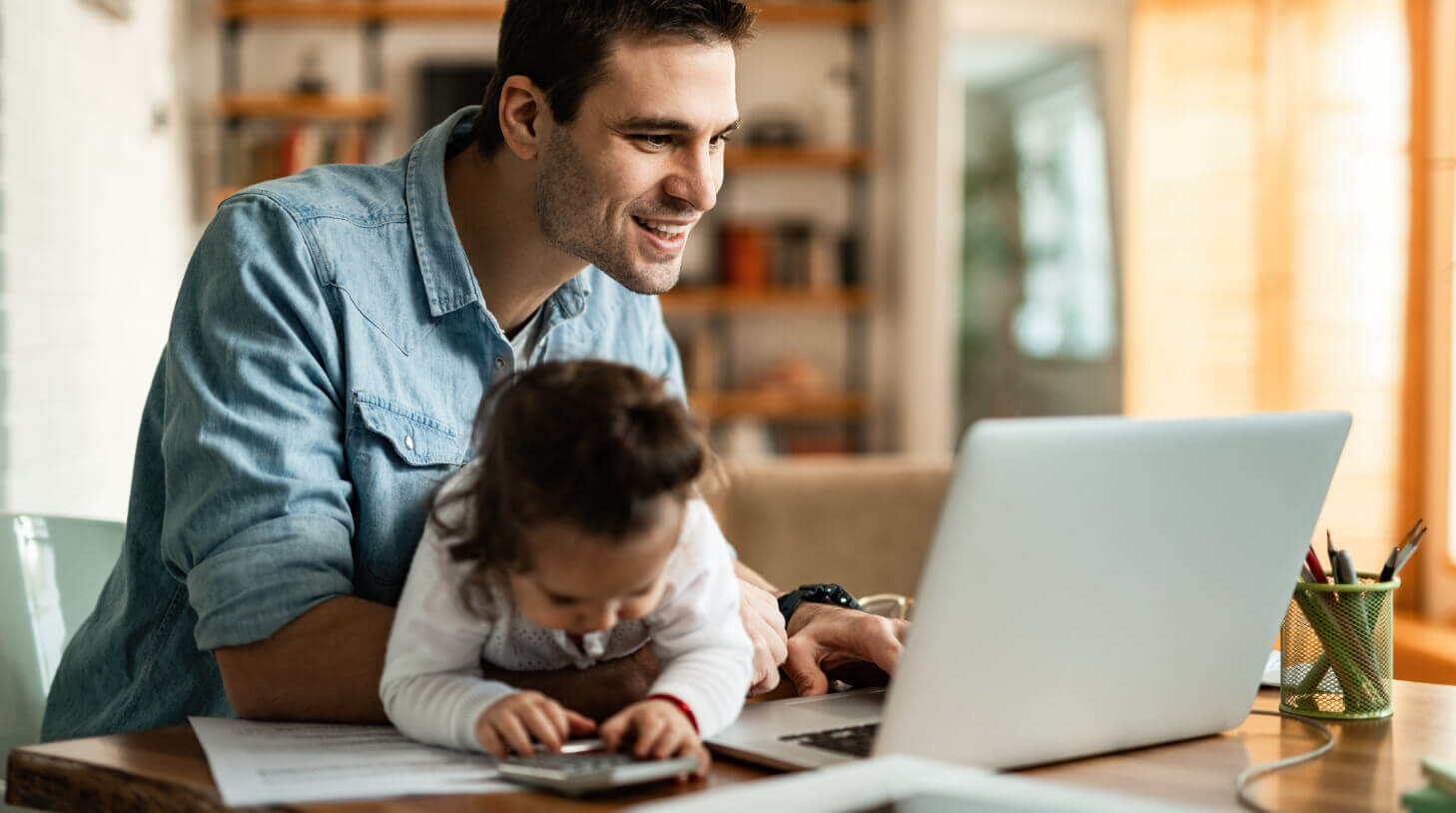 Murphy has spoken: "If anything can go wrong, it will". In this blog post we'll walk through some work from home bloopers and tips on how to handle each situation. Let's begin:
Children's moment of glory
Parenting and working at the same time is a fairly new and stressful challenge for many employees. It might become even more stressful when children interrupt an important video call such as a live video interview with a candidate; but it doesn't have to be that way.
First of all you need to accept and embrace the fact that since you work from home, you're constantly caught in the middle ground between professional and personal life. If you're already there, you can use this fact as an icebreaker during the first minutes of your conversation with the candidate.
For instance, share a story about when your children videobombed another business call. By doing this, you leave room for the candidates to share a similar work from home bloopers and at the same time you make them feel more at ease and therefore improve candidate experience. This practice also prepares the candidate for a potential invasion and helps you communicate an inclusive culture where having children and working is OK.
Now, in case your children do walk in, invite them to say a brief "Hello". However, if the situation isn't that easy to resolve, it's better to reschedule the interview and ask for the candidate's understanding. Make sure to prioritize the interview and send an email in which you highlight that you value their time and you want them to have your full attention.
Keep in mind that the same might happen to the candidate as well, and your response will be crucial. Before starting the interviews, prepare a case scenario and give some thought to your response. Remember to show your wholehearted understanding and offer the option to reschedule the interview. Unexpected things do happen, but the way we handle them matters the most.
Other unexpected visitors
The golden rule to avoid other unexpected visitors is to think and act proactively. You can communicate with others in the home that you don't want to be disturbed during certain periods of the day. Try to note down your busy hours each day and help them keep track of your schedule and your needs. This way, you'll more likely avoid unwanted disruptions such as the following:
However, with Murphy's law in mind, sometimes things don't go as planned, even though you've done your best to avoid any situation. Open communication with the candidate and a sense of humor on the spot are the most important ingredients to handle the situation successfully. For example, if your doorbell rings and that long-awaited package you've been expecting is finally here, it can be OK to pause the interview to pick it up, but make sure that you make up for the time lost.
And what about pets?
Most of my colleagues have already met my cat Fluffy — or at least seen his tail waving around the webcam at some point. You can ask your vet or find some practices online to help your paw-worker stay calm, especially during a busy day. Pets reduce stress and increase levels of oxytocin, also known as the love hormone. So, next time your pet walks through an interview take some time to introduce them to the candidate as it is likely that both of you will feel more comfortable and relaxed.
Workable's takeaways for virtual backgrounds
It all started on Dec. 9, 2020, when Spyros Magiatis, Workable's CTO, announced in the company's Slack channel "wfh-watercooler" the first day's prompt of a "12 Days of Holiday Spirit" series; a holiday photo from when we were kids. Many of us shared our moment of glory either along with Santa Claus, during a Christmas play.
The next day, Melissa Escobar-Franco, our Head of Talent, asked for our favorite holiday ornaments or decorations. The first one to answer — and claim our giggles — was Rob Long, our VP of Sales (EMEA). Behold: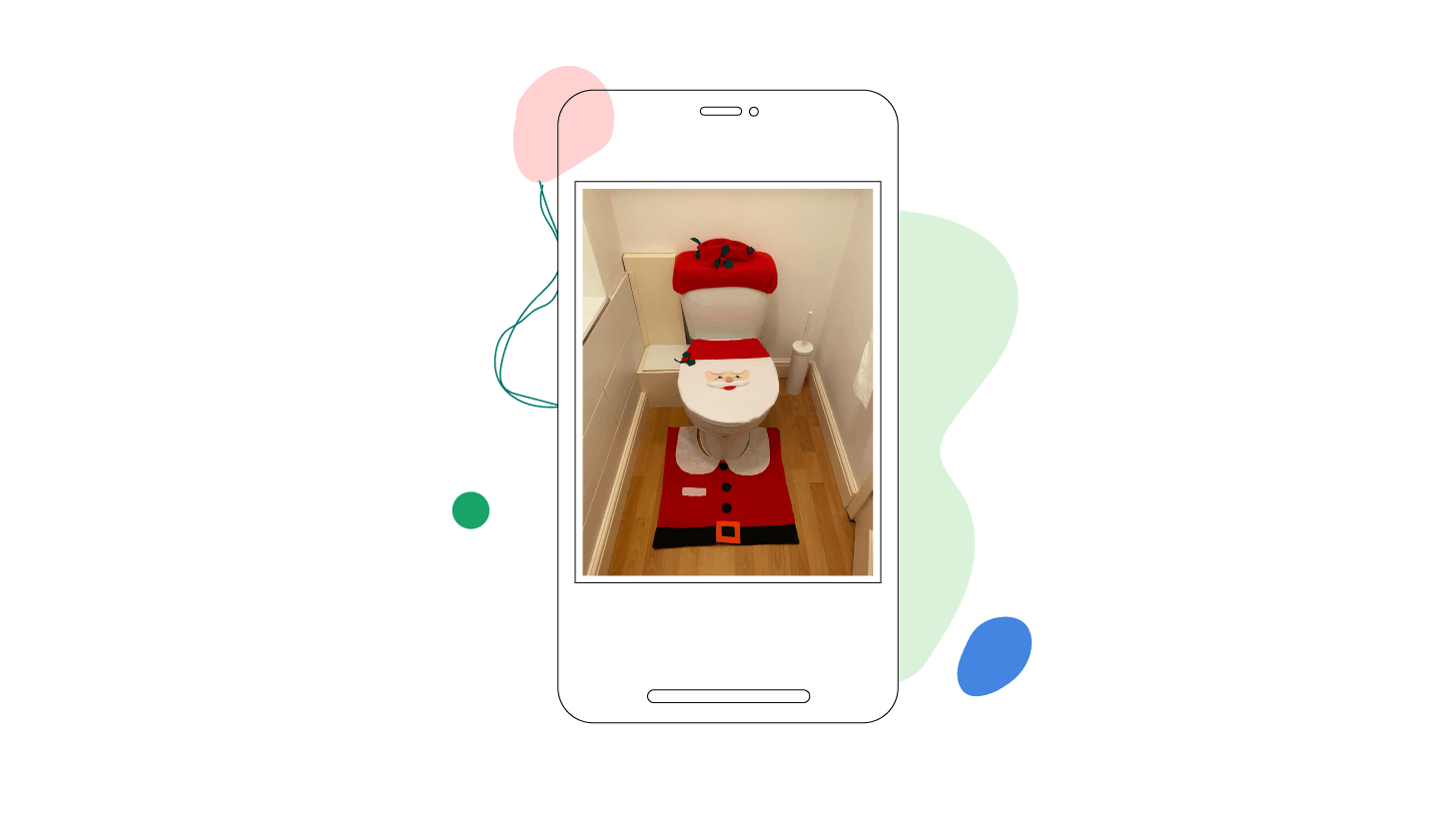 Over the following days, we shared lots of present ideas, crafts, pictures of our pets, our favorite holiday movies – and even created a holiday adventure about a little troll who loved to bake cookies. And then, Panos Korros, our SVP of Engineering, asked us to change our meeting background to a special holiday scene. Guess what background Spyros chose? Yes, it was a hilarious reference to Rob Long's toilet decoration.
The days passed and as we approached New Year's Eve. Fewer Slack notifications came in, as people enjoyed their time off. And Spyros did the same. But one day, as he opened his computer and joined the video conference to interview a candidate, he realized that something didn't feel right with the candidate as he was utterly surprised.
Here's what the candidate saw:
Spyros, of course, laughed it off and this made for a more memorable video interview experience for the candidate. If something like this happens to you, take a note from Spyros' book: don't be afraid to laugh. Sharing personal moments makes you more human and brings you closer to the candidate and at the end of the day, connects you to another human being.
Yhprum's law
Yhprum's law — which is Murphy spelled backwards — says that "Anything that can go right, will go right". And it will. Everything's a matter of perspective and handling. If you panic and start blaming you or others while you experience work from home bloopers or any other difficult situation, you'll only see Murphy's law; but take a deep breath and handle those situations in a humorous way, and always try to find the best in it. You'll see that not only your professional, but also your personal life will be vastly improved for the better.