Reschedule interview with candidates email
This sample reschedule interview email template can be used by HR or hiring managers to send to candidates in order to reschedule interviews during the hiring process. Use this sample email template as a starting point. In your message, briefly explain the reason for changing your current appointment, apologize for any inconvenience and suggest a new date and time, if possible.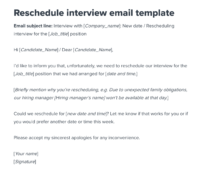 To make clear to candidates that you're not canceling the interview, suggest a new date and time, if possible. If you don't know when to reschedule the appointment to (e.g. the hiring manager who'll conduct the interview is sick), let candidates know that you'll get back to them as soon as possible.
Note that it's best to call, instead of email, candidates if you have to reschedule right before your appointment, so that you make sure they learn about the change promptly. Prompt communication also improves your candidate experience.
Reschedule interview email template
Email subject line
Interview with [Company_name]: New date / Rescheduling interview for the [Job_title] position
Email body
Hi [Candidate_Name] / Dear [Candidate_Name],
I'd like to inform you that, unfortunately, we need to reschedule our interview for the [Job_title] position that we had arranged for [date and time.]
[Briefly mention why you're rescheduling, e.g. Due to unexpected family obligations, our hiring manager [Hiring manager's name] won't be available at that day.]
Could we reschedule for [new date and time]? Let me know if that works for you or if you would prefer another date or time this week.
Email sign off
Please accept my sincerest apologies for any inconvenience.
[Your name]
[Signature]
What should be included in a reschedule interview email?
Rescheduling an interview is a delicate matter, and the communication should be approached with professionalism, clarity, and respect for the candidate's time and effort. The email's primary goal is to convey the need for rescheduling while ensuring the candidate remains interested and feels valued.
The email should commence with a personalized greeting, addressing the candidate by their name, which fosters a sense of direct communication and respect. Following this, it's essential to promptly inform the candidate of the need to reschedule the interview.
Transparency is paramount in this situation. While there's no need to delve into exhaustive details, providing a concise reason for the change, whether it's due to unforeseen internal meetings, interviewer unavailability, or other logistical challenges, helps the candidate understand and potentially empathize with the situation.
An immediate apology for any inconvenience caused is crucial. Recognizing that candidates might have adjusted their schedules or made specific preparations for the interview demonstrates the employer's acknowledgment of their commitment and effort.
The next step is to propose alternative dates and times for the rescheduled interview. Offering multiple options, if possible, gives the candidate some flexibility and control over the new timing. If the new dates aren't immediately available, it's essential to assure the candidate that they will be informed as soon as a suitable time is determined.
It's also beneficial to reiterate the company's interest in the candidate. A simple statement expressing eagerness to meet and discuss the role can go a long way in ensuring the candidate remains enthusiastic about the opportunity, despite the rescheduling.
Lastly, the email should provide an avenue for the candidate to respond, ask questions, or share any concerns they might have regarding the new schedule. This open invitation for dialogue ensures that any potential issues or conflicts are addressed promptly.