Return to office has huge benefits, says one talent director
Contrary to the popular narrative, a return to the office actually has its benefits for both companies and employees. That's according to Chris Bodensieck, Director of Talent Acquisition at HqO since March 2021. For Chris and his company, return-to-office (RTO) is the way to go.
Let's start from the beginning: remote and hybrid work are all the rage right now. In fact, our Great Discontent worker survey found that 33.8% of US workers and 42% of UK workers consider it quite important to them.
But we're also seeing many companies planning to return to an in-office setup – in that same survey, 52.8% of US and 44.7% of UK workers say their companies probably will return to the office when things return to "normal". And HqO has already done that, back in the spring of 2021.
We joined Chris for a chat about HqO's own RTO strategy, and we've pulled together the main takeaways from that conversation.
Remote work is not be-all and end-all
Despite remote work being one of the top-touted paradigm shifts for 71% of businesses in our 2020 New World of Work report, Chris says that isn't a universal sentiment among companies or even workers. He suggests that the work-from-home phenomenon may just be an experiment that ultimately proved the value of in-office work in the end.
"There's a lot of evidence behind work from home being increasingly challenging and not sustainable," says Chris. He shares two statistics to back this up:
In Oct. 2020, Google found that their engineers produced 30% less code during the pandemic.
Colliers International released a survey of office professionals in early 2020 stating that 23% of respondents say their productivity had declined when working remotely.
He calls those numbers "mind boggling".
The impact of remote work on trust
"I think most people are productive, don't get me wrong," Chris says. But, he does see the need – and appetite – for a shift back to in-office work.
For example, trust in the employee base took a big hit in the remote-work world.
"I'd love for someone to defend the idea that trust and empathy have not been shattered [when] working remote," Chris says, "especially when all your interactions are either over Google Meet or Zoom or Microsoft Teams."
And while trusting your employees is essential to success in a remote-work environment, Chris does take a pragmatic approach about the realities of remote work for a business that needs its employees to be available when needed.
"I've heard of stories … for some hybrid or remote employees where they're talking about their colleagues on social media, going to the beach in the summertime, taking half of the workday to golf, heading to bars and restaurants in the early afternoon, all this happening before the workday ends."
And that can actually hurt the overall morale in a company's workforce.
"You're seeing all that empathy and trust just be completely ripped apart. And I think you'll hear more of those scenarios entering 2022."
And even a hybrid solution isn't the perfect solution.
"What's going to happen when your boss wants to be in the office three to four times a week. Your team is on board with that, but maybe you've moved or maybe you're just not comfortable. And you want to go in one to two days a week. What happens there? I think that's going to be something that a lot of companies need to think about."
The impact of remote work on mental health
The trend towards remote work has made it difficult for some companies who want or need their employees to return to on-site work.
Consider the worker backlash Apple experienced when shifting operations back to the office – although the Delta variant meant a delay in their RTO strategy, Apple still plans to return in January 2022.
And there are legit arguments for a return to office. Remote work can lead to burnout, if a June 2020 survey from Monster.com is any indication. That survey found that 69% of workers who were working from home during the pandemic experienced burnout, up 35% from early May 2020.
Of course, there are different factors at play here – the struggle to separate work responsibilities from home responsibilities and working at home with children, for instance. Plus, throughout 2020, there was a lack of options for personal leisure such as attending sporting events, going on trips or eating out, and other pursuits as societies locked down; which of course made life difficult for millions.
The power of camaraderie
While Chris acknowledges that remote and hybrid work are here to stay and there's always going to be a place for it, there's one significant common denominator that he's learned from his role at HqO: the power of connectivity and teamwork between workers when they're in the same physical space.
"These employees thrive in an office culture," he explains. "It's a no-brainer. The energy is so contagious. That's fueled by probably our let's-go rallying cry and our values as well. It's something that we hit on just about every single day here. So that stands for learning excellence, truth, speed, goodness, and ownership.
"You get to be part of that office banter. And I think you saw that a little bit coming in and our employees and being loud a little bit. I think that's more effective, face-to-face if that's your manager or somebody that's underneath you, one of your team, and just be part of that experience."
Again, the Great Discontent worker survey backs this up – 37.1% of US workers and 47.3% of UK workers both pointed to relationships with colleagues as one of the most important factors that would attract them to a new role.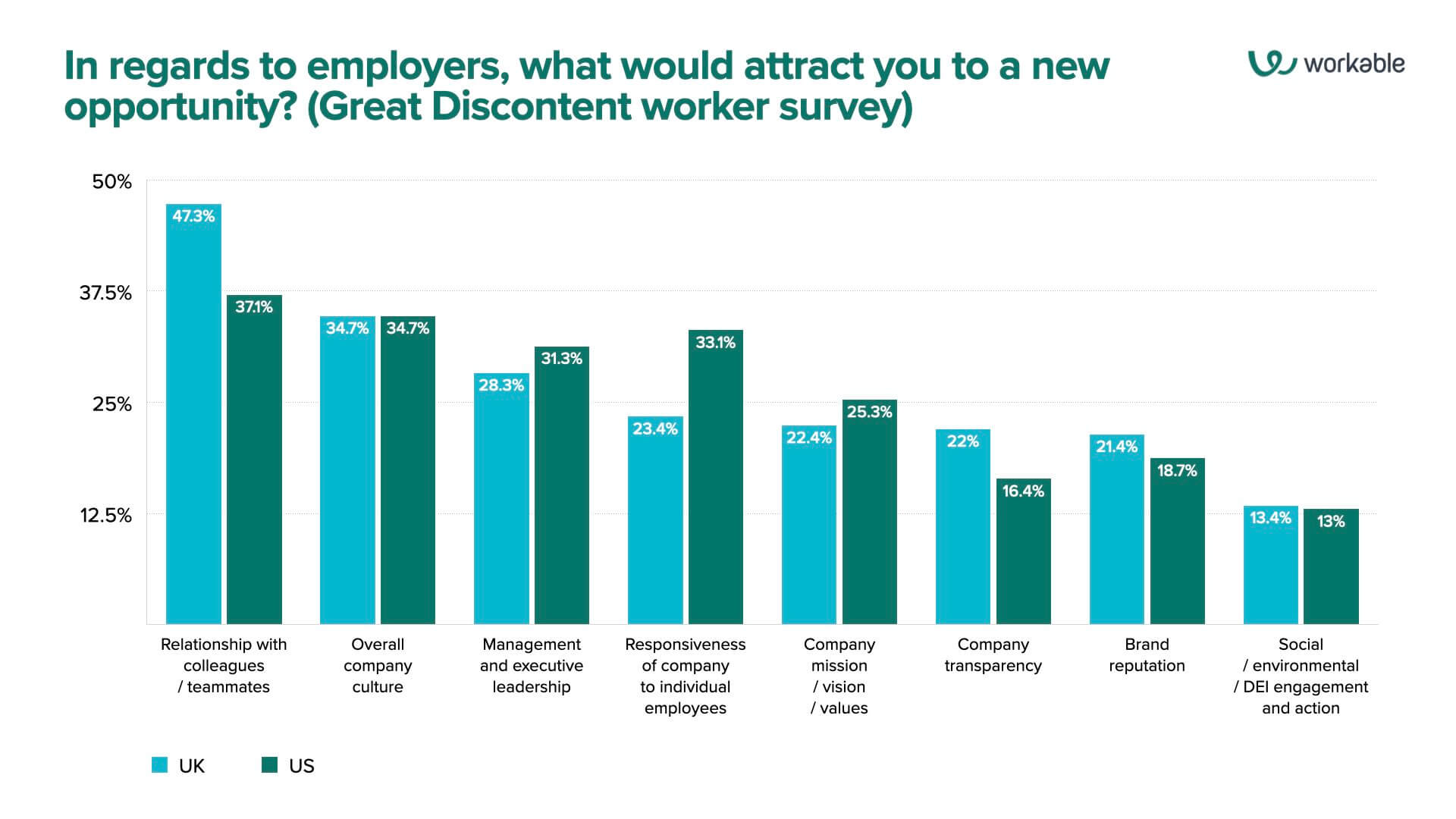 There's room for both
HqO isn't alone in that thinking, Chris adds. There are other companies moving back to the office as well. Unlike Apple's experience, Chris emphasizes that there's a lot of support for HqO's own RTO strategy, as they added two floors to their office space during a time of aggressive growth.
"I've actually been really pleasantly surprised with the number of people [interested]. My team engages with that and are desperate to be back in office. … I think that the thing that people miss the most are the people in the office themselves. Bottom line, that's never going to change."
While the priority placed on remote work options continues to be high for many potential candidates, Chris finds that there's no shortage of applicants who specifically want to return to the way things were.
In fact, Chris says that when the expectation was set in March of this year that HqO was going to have an office-first culture, people didn't leave. In fact, they stayed engaged. If pandemic safety was a concern for an employee, Chris emphasizes that the doors are open for a conversation about that.
Flex work is the way to go
Plus, he adds, office-first doesn't mean being in the office five days a week. Rather, it's about worker flexibility – which needs to be given no matter what.
"There's going to be some things that come up. If it's a doctor's appointment or the unplanned parts of life – stay home, do your work. I'd probably take it a step further and say, 'Hey, if you know, you're super busy and you just have that heads down work to do,' you can take that day to stay home and actually do it. Cut back that commute time, whatever it is, and go back into the office the next day."
There's also flexibility in terms of work schedules – again highlighted in our Great Discontent worker survey as a significantly higher priority than remote work. That's the reality at HqO as well.
"There's some days that, maybe you want to come in a little bit early, so you can take off at four or maybe you're coming in at 9:30, 10 o'clock depending on what you do and you're leaving the office at 6, 6:30 at night.
"So there's that degree of flexibility, but I'd say the core hours, where it's just what everybody's here, is that nine to five block."
The Great Resignation and its impact
Chris is pragmatic about the reality that remote work certainly has its appeal and that the great talent shuffle is very real. He acknowledges Texas A&M professor Anthony Klotz' prediction of the Great Resignation and that the transition to a post-pandemic workplace means many workers will prefer to leave their jobs than go back to the way things were.
However, he adds, there's a new problem for companies who want to remain remote. He shares a story about one HqO partner in Boston about how that company's employees are regularly being poached by companies in San Francisco, New York, Austin and Seattle.
"So now," Chris says, "you have Boston companies that have shifted to remote that are now competing with other cities, which is just like, 'Man, how much more complicated can this get'?"
RTO is a big differentiator
So, for in-office companies like HqO, there's an opportunity in the unique employee value proposition of in-office work. The in-office strategy is actually a specific attractor for some talent, says Chris. He adds that HqO's hiring teams are actively looking to recruit people who do want to work in the office.
"I'm listening for people that want to be challenged and make that significant connection there," Chris explains about HqO's own hiring strategy, emphasizing the importance of being proactive and innovative in recruitment marketing.
"I think, if we're going to go out there and we're going to attract some of these folks that want to be an office, we have to direct message folks," Chris says.
"Again, so many people are hiring right now. You need to give your company a chance to stand out, really spark that curiosity from somebody."