Supporting working mothers: it's now time for a new narrative
A new survey released by resume review service TopResume finds that 69% of working women say they plan to remain at home as a full-time caregiver – and that just 31% plan to return to work in the next 12 months.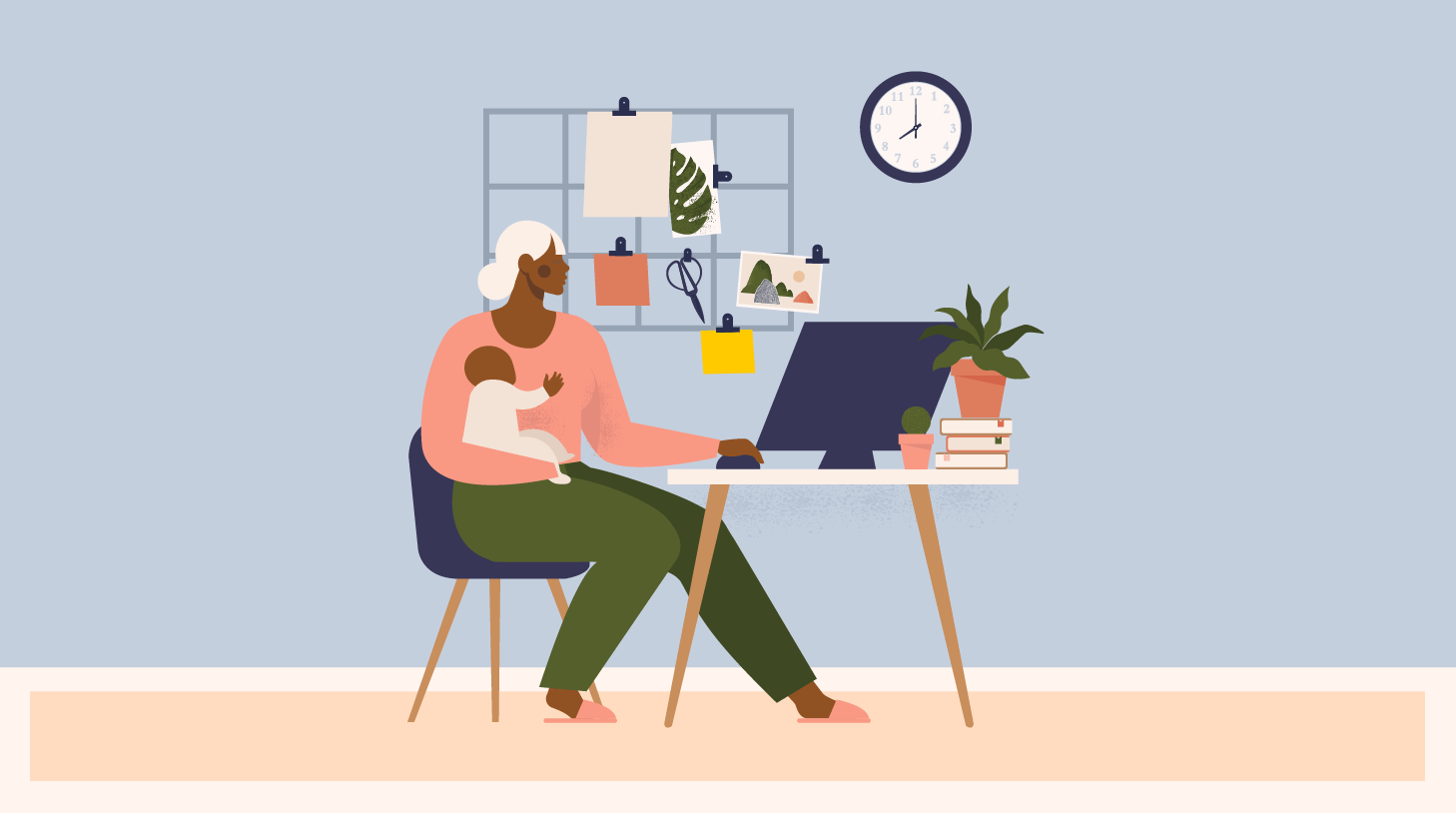 Other insights from TopResume include 55% of those still working saying they'd leave their jobs voluntarily if given the option.
And the Great Discontent survey carried out by Workable in June 2021 points to the disparity in current working situation between the genders, with those identifying as female far more likely to be not working (26% vs. 15.3%) or working part-time (17.7% vs. 8.6%) than males in the United States.
The World Economic Forum also reported similar data:

What does that say about how our workplaces are doing in supporting working mothers?
We'll let TopResume's report answer that:
"Women have had to navigate the stress and time-management challenges of taking on the role of teacher and child-care provider while attempting to work or find work during quarantine. All of these factors together have led to what economists are calling the world's first 'she-cession' – a women-led economic downturn."
To gain further insight, we sat down with TopResume's career expert Amanda Augustine – herself a working mom – for a conversation about this. Clearly, employers need to up their game if they want to be part of changing things for the better.
The plight of the working mother
The mother of a five-year-old boy with special needs, Amanda's own personal and professional load is further stressed by the fact that she has a husband who works long hours as an essential worker. And, she says, women feel they have to take all that on – more so than men.
"I think for the working mother in general, we've grown up hearing, 'You can do anything', and we've somehow translated that over time into 'You should do everything,'" says Amanda. "And there's a lot of extra responsibility and weight and stress we put on ourselves."
And that commitment to a full-time workload also ate into Amanda's daily schedule. Before the pandemic, she commuted into New York City for work three times a week, translating into three hours of commuting each day. This meant less time with her son all around.
"I only saw my son for two hours a day on the weekdays. I was gone well before he was awake. And I came home, picked him up from daycare and I got two hours before he had to be in bed."
The sacrifice and the stigma
Work has long been an unmovable pillar around which we mold other parts of our lives. It's created a situation where working mothers worry that if they make concessions in the workplace – such as arriving late or leaving early because they need to drop off or pick up their kids at school or the daycare, it impacts their career arc.
"[Those] suddenly become issues where they have to be navigated around fears that you're not going to be put up for the promotion, or you're not going to get the raise," Amanda explains.
"And because whether, you know, whether [working mothers think] correctly or not, they're going to assume that it's either not feasible or that they're concerned that other priorities will take over, which is just… it's unfair."
There's also a proximity bias in the workplace that makes things even more difficult for working mothers forced to make amends in their schedule to accommodate demands on the home front.
"There's this false assumption by managers that the people they see working in the office are more productive than the ones that they don't see."
It's not COVID's fault
These problems facing working mothers aren't rooted in the pandemic. Rather, the pandemic simply exposed – and exacerbated – the problems that have long existed in the system.
"Many of us were already underwater before the pandemic and the pandemic was that last straw that broke the camel's back," says Amanda. "It pushed on all those little cracks and just made them that, that more obvious."
That's why working mothers are leaving the workforce in droves – if they can – because they've given up on the possibility of a much-needed balance between work and home life.
"Women aren't going to just show up and sacrifice everything," says Amanda, emphasizing that this is a situation faced by fathers as well.
"For some people, it's a re-evaluation of their priorities. Many are assuming that they're not going to find a job that's going to allow them to still keep some of these things [remote work, etc.] that were actually the silver linings of the pandemic."
That 69% statistic points to this new reality.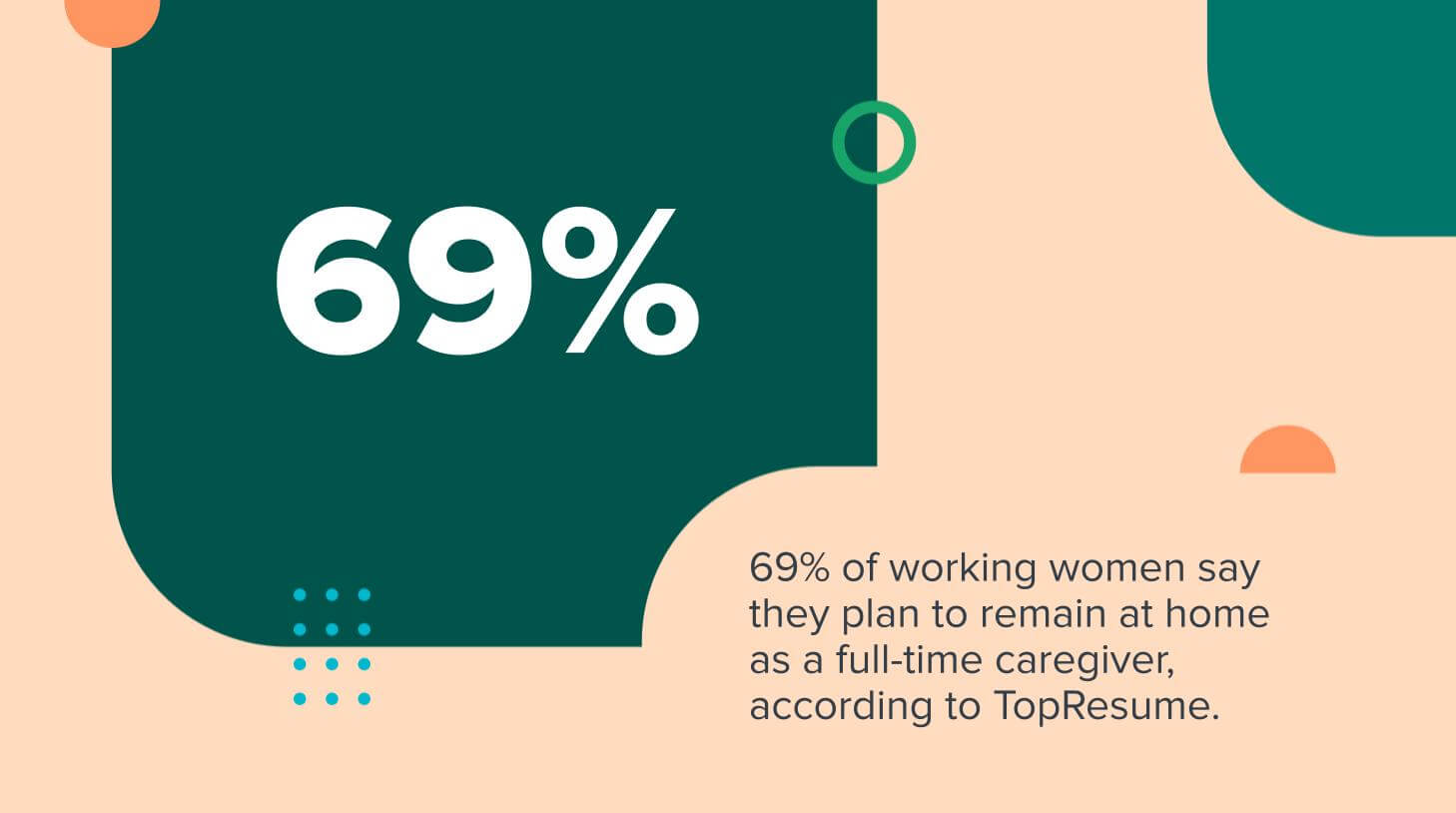 "What's happening now is that people are [saying], 'Do we really need that income? Can we get by without it? I'm going to hold out until there's something that really makes sense and is a good fit. I'm not rushing back to the workplace, because I want to see what happens.'"
It's a crisis, but it's an opportunity
We're already seeing a recruitment crisis – as indicated by the staggering numbers of job openings, higher than the number of unemployed, according to a report from the Bureau of Labor Statistics. This exodus of working mothers presents an added challenge for recruiters already facing depleted talent pools.
"[Many] recruiters I hear from and talk to are just saying, 'We can't fill these positions. We can't get people in the door what's going on here.'"
And it's not that these are not good opportunities. These are "white collar, corporate, good paying jobs", Amanda adds.
"A good portion of your normal labor force or, you know, is not looking right now. And so you're missing out on a lot of that."
But there's good news. They'll come back – if the conditions are right.
"Many of them would probably come back [if] they'd be able to still bring in that money or do what they love, but in a more balanced fashion where they don't feel as though they're slightly underperforming in every aspect of their lives."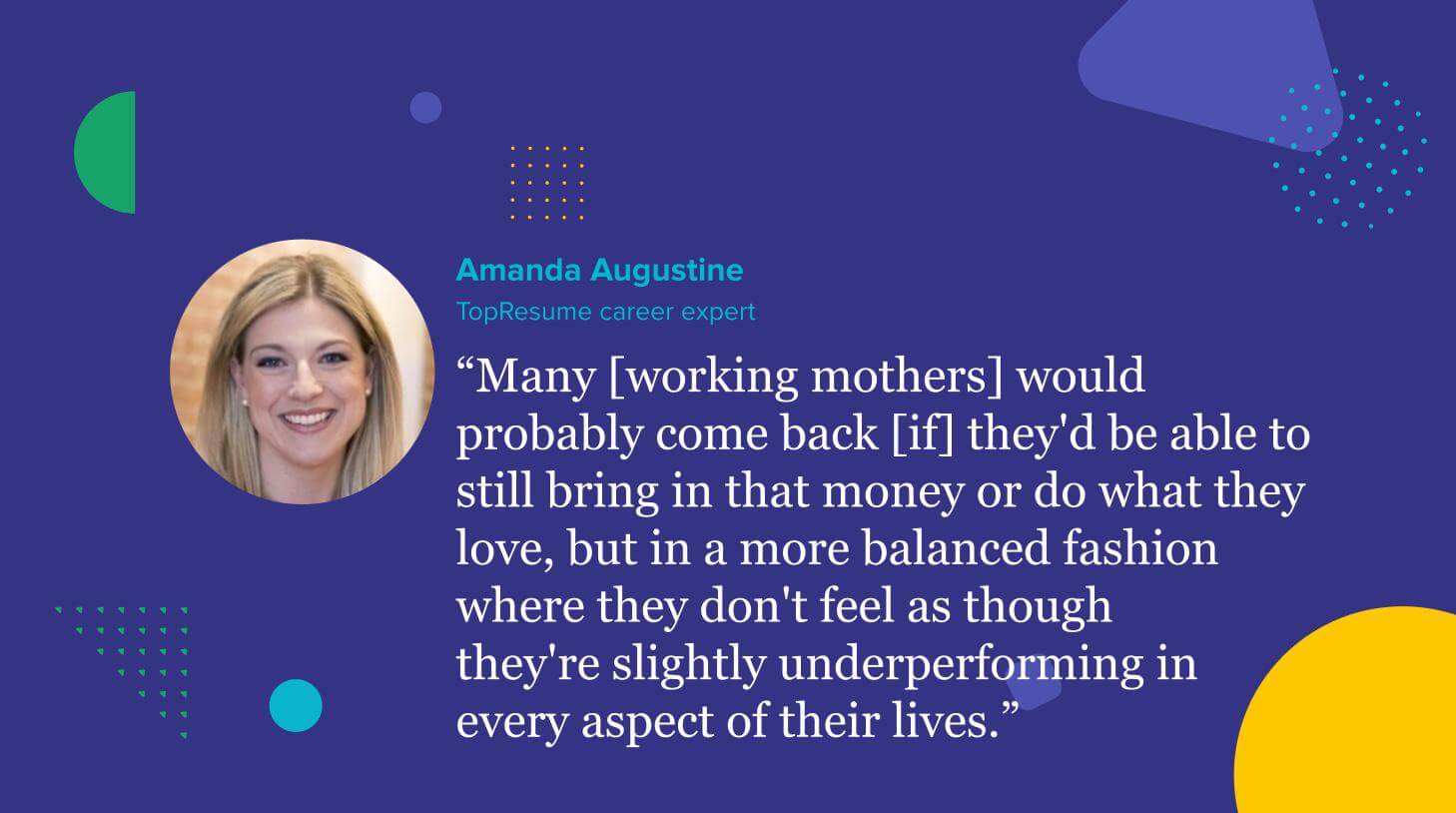 That's where greater support of working mothers is needed in the workplace. Forcing your employees to find a balance between work and home actually hurts at both ends. Something always has to give.
"If you're feeling really great as a mom, you feel like you're probably not the star employee that day. And if you're really rocking it at work, chances are, you're not feeling like you're getting a gold star from your kids that day.
"And you know, it'd be nice if that wasn't necessarily the feeling all the time."
The need for flexible schedules
So how do you build an environment that supports working mothers? Obviously not every company can do everything – but you can start by looking at the things you can do that don't drastically impact your bottom line. The first objective is to build up your support system that you can offer to a potential employee. Have a strategy that enables mothers to thrive in every area – both at home and at work.
One way to do that is introduce greater flexibility in work – a lesson we all learned from the pandemic, as shown in our New World of Work survey report in August 2020 which found that 71.1% of respondents see remote work and distributed teams as one of the biggest paradigm shifts coming out of the COVID-19 pandemic.
Amanda agrees.
"More jobs are becoming location agnostic. This giant work-from-home experiment has been successful for a lot of organizations," she explains.
"There are a lot of employees that I know of while they were still working, moved across the country, just decided they're like, 'You know what? I don't want this cost of living. And if I can work anywhere, I'm going to do it.' A lot of people are relocating."
She points to her own company as an example.
"That's why we're not really going back to one central office. [It's] because they saw it worked and they started hiring people all across the country."
Another thing Amanda's employer is doing right in supporting working mothers is leaving the responsibility of scheduling to employees.
"Are you getting your work done? Then we don't care when you're logging in and logging out. Are you there when you need to be for a meeting? Great. As long as you're producing, no one cares.
"If you have to run out in the middle of the day to grab your kid or, you know, take them to the appointment or pick them up from daycare, as long as you're getting your work done and you're on when you need to be on for the very important meetings, nobody's going to look twice and think there's anything wrong."
Employers can step up their game
And that's a mindset which needs to be adopted by employers if they want to attract – and retain – workers. That's especially when it comes to working mothers, who benefit more from this than other professionals.
"Working mothers [see this] more as a necessity or a requirement as opposed to an extra benefit."
You can step up your policies supporting working mothers if you're looking to attract them to your company, especially if you don't have the luxury of moving to a permanently remote or flexible working system.
Amanda suggests looking at your maternity leave policy, and looking at other ways you can help ease the demand that a working parent faces.
"Are you providing either stipends for daycare or are you providing onsite daycare or services? Do you have a service that you keep on retainer that your employees can call if they need help securing a last-minute babysitter because someone's ill or something like that? Those services do exist."
Be leaders by example
While these and other programs and policies are a great first step for employers, it's not enough, says Amanda. It also comes down to the mentality of your organization – and from the very top.
"It also has to come through in your communication. [Are you] a company that truly values and embraces and supports the working parent or various different lifestyles and is able to adapt?"
Personal experience plays a factor as well, she adds, recalling an anecdote from a friend who expressed that she couldn't wait for her CEO and his wife to have a kid because "he doesn't get it today".
Instead, get ahead of that situation, with executive leadership setting the tone for a truly inclusive working environment.
Amanda described an experience before our interview where she was in a meeting with one of her own executives.
"She was sitting on her patio and she goes, 'This may be my only moment of vitamin D all day, because I don't know when my son gets home from daycare, if it's going to be an outside or inside day'."
That was a strong message from leadership. The result was that Amanda – and likely her other colleagues – now felt empowered to be able to do the same.
"I would have never considered that before, until I saw somebody a couple of rungs up for me doing it and it being perfectly OK, and not making a big deal about it."
So pay attention, managers, directors, and executives.
"If you're going to offer those benefits to your team, take them. If you're encouraging them to take time off, you have to take a few days off too."
This is a wakeup call – will you answer?
"There were a lot of awful things that came [in the pandemic], but I have to say for me, there were some definite silver linings. It has a lot to do with getting a better sense of what is a healthy work-life balance and what I want. But […] for many people out there, I think it's a wakeup call."
You can answer that call by updating your policies and employee management strategy to accommodate and support working mothers, and you'll find that you attract the very best candidates to your company.
"It would be really nice if, if we could change that narrative and put systems in place that helped to support a new narrative out there," Amanda says.
Don't wait for others to set the standard – you can lead the charge. Be part of the solution.
Amanda Augustine is a well-recognized expert in career advancement, ranging from developing one's professional brand to acing that next interview. She's the resident career expert for TopResume, the world's largest resume-writing service, as well as a certified professional resume writer (CPRW) and certified professional career coach (CPCC).