Ideas for a successful recruiting event
Planning a successful recruitment event involves clear communication, effective promotion, and creating a conducive environment for meaningful interactions. Key steps include venue reservation, content creation, event promotion, logistics planning, tech setup, and post-event follow-up. These events help expand the talent pool and enhance the company's employer brand.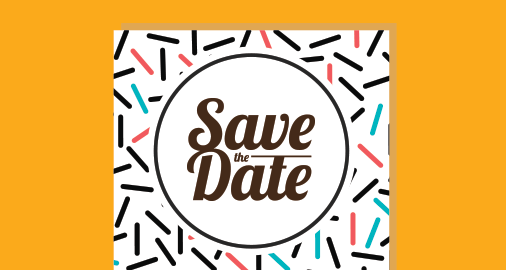 Hosting a recruitment event is a valuable opportunity to grow your talent pool and make a lasting impression as an employer. Meeting candidates in person also lets you see what's not on their resume, like their curiosity, their personality or any useful similarities or differences they might be able to contribute to your team.
To get started, match your hiring needs with the three kinds of recruitment events we've described below. We've also included some general tips, examples from real companies and a short sample timeline for planning your event. At recruiting events, you should also keep an eye out for people who would be a good match for future jobs, or who might be able to send you candidate referrals.
How to plan an open house recruiting event:
An open house is a particularly warm way to introduce your company to your potential hires. Hosting this event after work is a good idea, as is selecting some key team members to mingle with your guests. Your goal is to create a relaxed environment and get useful conversations going, so keep the agenda simple and casual. Networking, food and drinks and maybe a short talk or Q&A. Simple doesn't have to mean boring. Your attendees will be leaving work to come to your event instead of going straight home. Make the trip worth it.
We like these examples of recruitment events from Summa, a software company, and Bayada Pediatrics, a home healthcare company. They've clearly thought about how to make their open house a valuable experience for their candidates.

---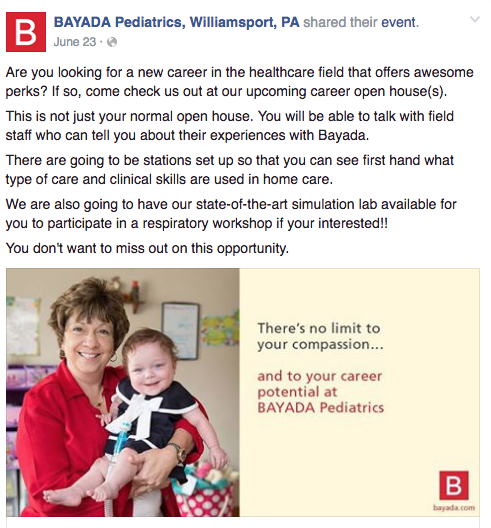 How to plan an on-site job fair:
Businesses like hotels, hospitals, restaurants and retailers have higher employee turnover rates than other industries. They hire frequently, quickly and en masse to make sure they're always fully staffed. If your company matches this description, you might consider holding a job fair or interview event. Clear and effective communication is critical to the success of these kind of recruitment events. Make sure your promotional materials tell candidates that they should bring their resumes and be prepared for a formal job interview. During the event, share important details about your hiring process with candidates, including how you plan to follow up with people who advance to the next stage.
These examples from TD Garden, CBH Homes and Lee's Landing set clear expectations for candidates.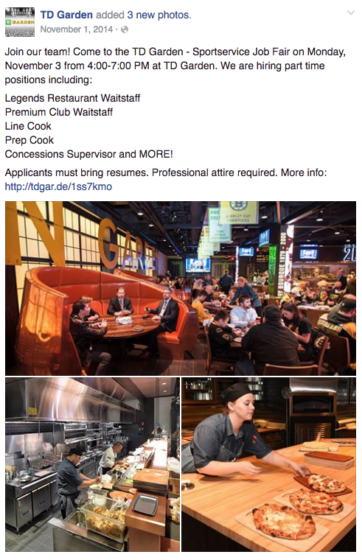 ---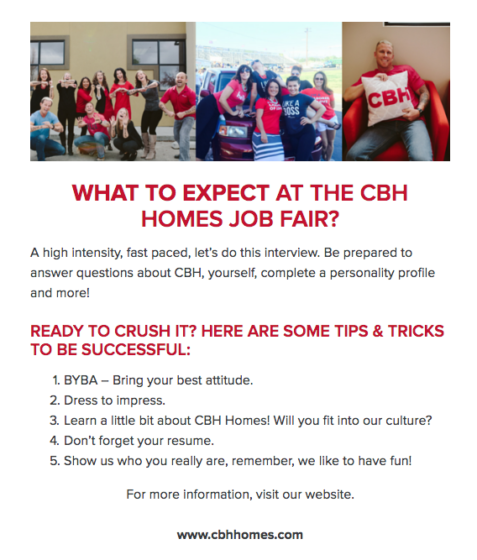 More recruitment event ideas:
Stand out in a crowded recruiting landscape using creative recruitment strategies. Rapid7 is recruiting new grads with an interest in sales by courting them with a spin class followed by a meet and greet with their team. CarGurus recently took potential hires to a Celtics game. Organizing a unique recruitment event needn't require a hefty price tag. Bowling alley? Pizza dinner? Picnic? Anything goes, so long as it catches potential candidates' attention and positions your company as a great place to work.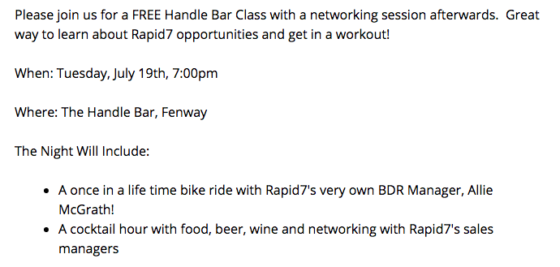 Sample timeline for hosting a recruitment event
5 weeks out: If you need a venue that's not your office, reserve it as soon as possible. If your event requires content, like a video, slideshow or presentation, start working on it now. It's also a good idea to put your event on your teammates' calendars, especially if they will help you run the event.
4 weeks out: Start promoting your event. Make an event page using tools like Eventbrite or Splashthat. Requiring RSVPs is helpful, especially if you need to get a headcount for food and drinks or want to build buzz by showing who's planning to attend. Send email invitations, get your event listed on relevant event directories and promote your event on social media. The promotion phase continues until the day of your event.
3 weeks out: A successful event is all about logistics. Make or review your timeline of everything that needs to happen during the event and assign roles to your events team. Make a list of all the furniture, supplies and equipment you might need, too.
2 weeks out: If other organizations are helping you promote, ask them to do so 2-3 days before your event. This can help create a registration and attendance spike, if you need it. It's also a good time to test your tech setup, e.g. play your slideshow on the screen you'll be using, test your microphones and double-check your sound system, if necessary.
1 week out up to the day of your event: Home stretch. Order your food, send one last email reminder to your guests, remind your teammates about their roles and set up your venue. This should be a light week. Free up some time to take care of any unexpected issues. And now it's time to host your event. Break a leg.
Follow up: When you're done, don't forget to connect with promising candidates on LinkedIn and list your event as a sourcing channel or source of hire in your hiring software. You should also share any information you gather about professional groups or meetups you heard about at your event with your team. This kind of networking is critical for building your talent pipeline for future roles.
Looking to maximize recruitment at a job fair? Learn how employers can make the most of a career event with our job fair planning guide.
Frequently asked questions
What do you do at a virtual recruitment event?

At a virtual recruitment event, candidates can upload resumes, engage in one-on-one chats with recruiters, and gain more insights about the company. Consider offering on-the-spot interviews through video conferencing for a more interactive experience.
How do you run a successful recruitment open day?

To ensure the success of a recruitment open day, consider hosting a 'bring a friend' event to attract more attendees. Inviting a notable speaker from the industry can also draw a crowd. Use platforms like Eventbrite for hosting and promote the event on social media for wider reach.
How do I host a virtual recruiting event?

To host a virtual recruiting event, start by building an attendee list. This can be done by connecting with campus career centers, listing your events on student-facing forums, and partnering with relevant student organizations to share information about your event.
What is the importance of a recruitment event?

Recruitment events are crucial as they allow companies to grow their talent pool and make a lasting impression as an employer. They provide an opportunity to meet candidates in person and understand aspects not reflected in their resumes, such as their personality, curiosity, and potential contributions to the team.
What is the timeline for hosting a recruitment event?

The timeline for hosting a recruitment event starts 5 weeks out with venue reservation and content creation. Promotion begins 4 weeks out, followed by logistics planning at 3 weeks out. Tech setup is tested 2 weeks out, and final preparations are made in the week leading up to the event. After the event, follow-up actions include connecting with promising candidates and sharing gathered information.