Why your hiring shouldn't hinge on thank-you emails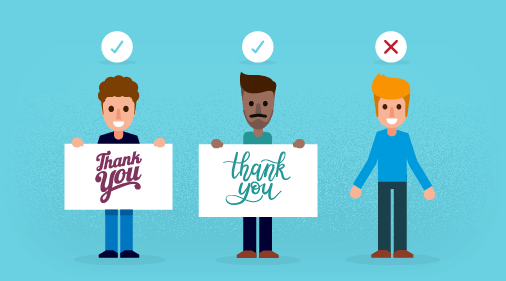 Sending thank-you emails to interviewers is part of a colossal body of unquestioned interview advice to candidates. Many interviewers use these messages to break ties between similar interviewees. Others might go so far as to automatically reject everyone who doesn't send one.
These are misguided hiring practices.
Expecting the thank-you note is part of a broader mindset that many interviewers have. They think that candidates must struggle to impress them, while they don't have the same obligation. Good candidates spend a lot of time preparing for their interviews – possibly more than interviewers do – but they are the ones expected to be thankful. This dynamic doesn't make sense.
The hiring process is a way to find people you want to work with, not lord over. And, good hiring decisions are based on objective, job-related criteria.
Placing high importance on thank-you notes is not objective
Candidates who are motivated and prepared during interviews shouldn't be penalized for not sending a generic thank-you note afterwards. Even letting a similar candidate win over because of their interview thank-you email is often an arbitrary decision. All you know for sure is that this candidate followed customary advice on 'proper' candidate etiquette. If you conduct effective interviews, you can already determine the candidate's fit, without needing a thank-you email to tilt the scale.
Plus, some candidates may come from countries where thank-you notes are not considered important. Equating these notes with important criteria, like job-related skills, may cause you to unwittingly disadvantage those candidates.
Thank-you emails can be useful, but in a different way
This doesn't mean you should disregard how candidates communicate. But empty thank-you notes based on templates are meaningless pieces of communication and should never influence your decisions. Anyone can send a template.
If thank-you notes show off a candidate's character and fit, it's because of what they say.
Follow-up emails aren't the same as thank-you notes.
The thank-you note is usually an email that arrives within 24-48 hours after the interview. But, candidates who are interested in the role send "follow-up emails" a few days after their interview to ask if you made a decision. They may open their email thanking you, but their true purpose is to remind you that they are eager for an answer.
If you have been wavering between this candidate and others, this expression of interest can reasonably work in their favor. But, it still shouldn't make the decision for you.
The role you are hiring for matters.
Some professions don't require strong persuasion skills or knowledge of communication conventions. For example, developers don't need to be persistent or follow up with customers as part of their job, regardless of how well they can communicate. What they write in thank-you notes (if they even send one) shouldn't be used to make or reinforce hiring decisions.
Conversely, sales or marketing people need to be persistent and engaging and their follow-up notes can showcase their skills. The way they try to engage you correlates to their job performance and can give a boost to already great candidates.
So, imagine you receive thank-you emails from two equally qualified sales candidates:
Candidate A:
"Dear Ms McKenzie,
Thank you for the opportunity to interview with your company. I was very excited to meet you and look forward to hearing back from you.
All the best."
Candidate B:
"Dear Ms McKenzie,
I wanted to thank you for our conversation yesterday, I learned a lot about your company and the role. I particularly liked the new project your team is planning. The more I think about it, the more excited I get about the possibility of being part of a team that will structure your company's outbound sales. Here's the relevant article I mentioned:
All the best."
Both emails are polite and positive. But, the second one is more personalized, enthusiastic and engaging. Much like personalized recruiting messages, these thank-you notes are more likely to resonate with those who receive them. Genuine emails like this should solidify your decision to hire someone who has already impressed you.
Consider your employer brand
Basing hiring decisions on arbitrary criteria like thank-you notes does your company a disservice. Treating candidates as less important than you drives the best ones away. These practices will hurt your employer brand and make hiring tougher in the long run.
Use skills assessments, like work samples, references or pre-employment test results. Granted, evaluating those is more time-consuming and, by contrast, thank-you notes are an easy shortcut. But, setting and sticking with job-related criteria will make your hiring decisions more objective, legally defensible and effective. And, it wouldn't matter if your stellar candidate decided to send a thank-you note. You'd hire them anyway.
Frequently asked questions
Do you need to send a thank you email to a recruiter?
A thank you email to a recruiter is just one of the pieces that make up the job search puzzle. You must get a hiring manager's attention, display your skills and experience, and demonstrate the value you'd bring to a company.
Should you send a thank you email to every interviewer?
Mailing a physical thank you letter is not necessary for each interview because you can simply write "Thank you for the interview" in the subject line or something like "Following up on our interview." An email will arrive to the interviewer faster than a physical letter, and it shows that you are proactive and can offer the company lots of value when hired.
Do employers care about thank you emails after interviews?
It's recommended that you send a thank you email after each job interview you attend. Doing so shows the employer that you appreciate their time and, just as importantly, that you're still interested in the position.