How to reinvent your tech hiring in a remote-first world
The COVID-19 pandemic is having a polarizing impact on business across different industries. According to Moody's Analytics, more than half of all jobs are at risk. Travel and hospitality companies have ground to a halt, while those in telehealth, delivery, and online learning are skyrocketing. The talent market, particularly for software development, has been jolted by near-simultaneous mass layoffs and hiring sprees.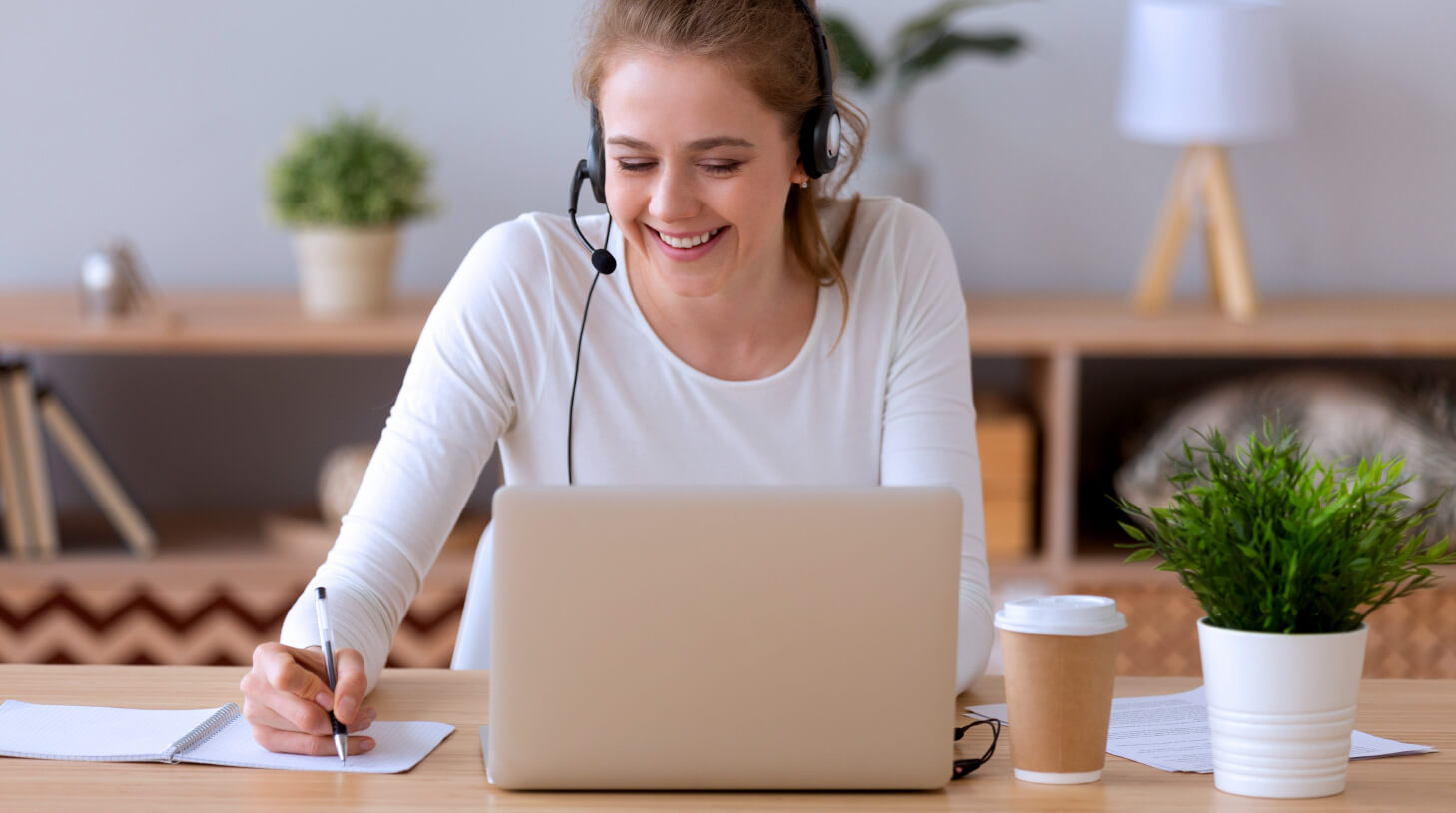 Overall, data from Coderbyte, a web application for interview prep and technical screening for engineering candidates, shows the number of software developer interviews has severely declined since mid-February. If your company is fortunate enough to be hiring for software development, you'll likely find more available and eager talent than ever before – even in a fully remote tech hiring environment.
The survey of 150+ software developers shows that the majority of respondents are very comfortable interviewing and beginning a new job entirely remotely, especially if they are actively looking.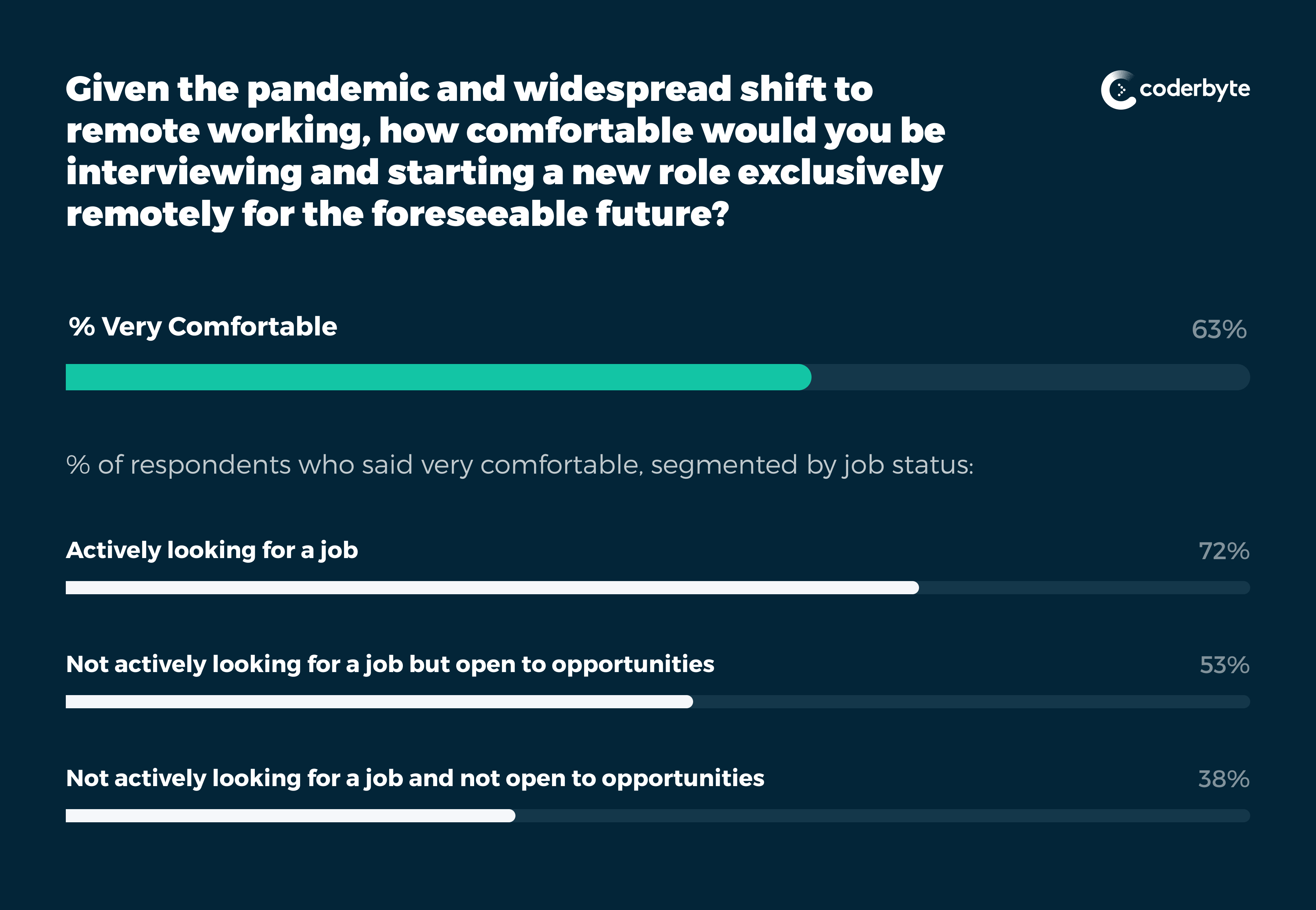 Further, 39% of software developers in our survey reported feeling more productive since shifting to work remotely, compared to 30% feeling that they have become less productive (31% estimated no change). So not only is there available and eager talent, but many software developers may be operating at peak productivity. Of course, this is going to vary depending on each individual's situation and experience, but perhaps it is one bright spot in a truly unfortunate environment.
"Development work doesn't need to be centered on a physical location. With how wide-spread technology is and how responsive it can be, there's no need to shackle people to cubicles and corporate offices."
– Full-stack software developer with 5+ years of experience
Employers in growing industries need to quickly reinvent themselves to attract and onboard the best talent in this new work-from-home reality. Here is how you can rapidly implement a remote tech hiring process:
Set expectations internally and externally
It's dangerous to assume that you can continue running the same exact interview process you've always had with the only difference being a Zoom or Google Hangouts link in the calendar invitation. Several things could easily go wrong:
Employees may get too relaxed with attire, body language, and overall presentation.
Internet connectivity, background noise, or other distractions could interfere.
Sensitive or private Slack notifications and text messages could show up on screen shares.
Interviews that typically include whiteboarding technical scenarios may lack the necessary tools to assess and qualify candidates.
To avoid these pitfalls, set expectations with the candidate and interviews accordingly:
Emphasize to the employees conducting the interview that it is important to maintain professionalism despite the circumstances.
Provide both the candidate and interviewer's phone numbers in case there are internet issues.
Remind employees to turn on do-not-disturb notifications before interviews.
Do role play on a quick dry run with the interviewers and candidate beforehand to make sure all the necessary systems and tools are working.
Further, remember that your candidate (and interviewers) may have been severely impacted by the pandemic in ways you are unaware. Candidates may have recently lost their job or have a family member who is sick. Remind your team members to be sensitive, considerate, and patient.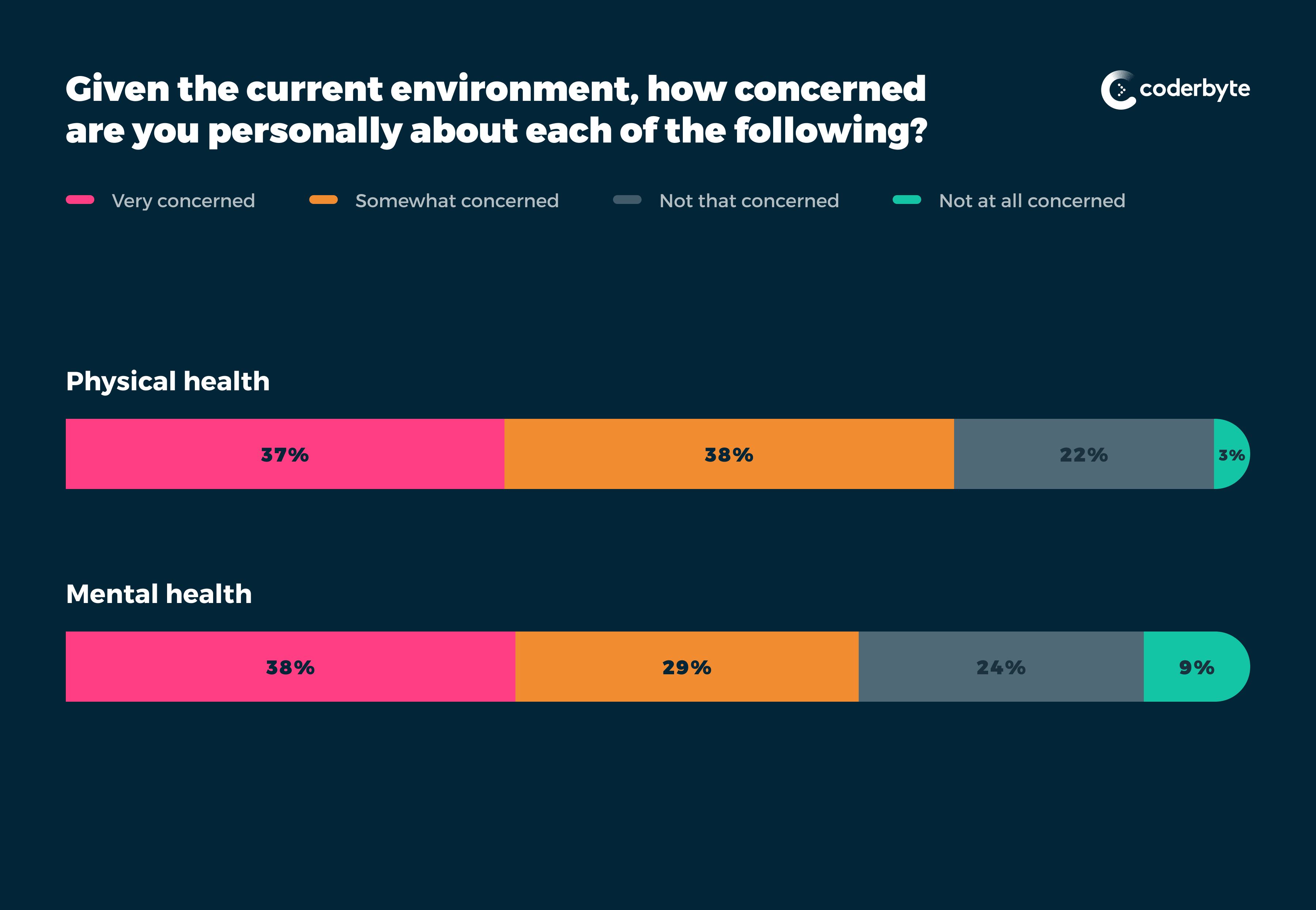 Revisit your company culture and how to emphasize it
Does your engineering interview process typically contain bells and whistles to impress candidates? For example, do you often introduce a company executive or give an office tour? Do you take the candidate to a fancy lunch with their prospective coworkers? Here are a handful of ways you can rethink how to emphasize your company culture it during a remote tech hiring process:
Develop an engineering culture packet that includes:

a note or link to a video from your VP of Engineering or CEO introducing themselves and how the company is continuing to operate given the circumstances
a demo video of your product and services
links to relevant Glassdoor, Built in NY, or AngelList pages and articles.

Reimburse the candidate and interviewers for a coffee and lunch delivery from their favorite restaurants to enjoy during the interview (and support the local economy).
Let the candidate sit in on an engineering standup (or another meeting where there won't be sensitive information shared) so that they can see how the team is continuing to collaborate while quarantined.
Share a snippet of a recent company email or All Hands video with the candidate that highlights the upbeat mood and tempo your company is maintaining during these trying times.
Emphasize how you've transitioned your benefits packages to better accommodate and facilitate wellness during social distancing.
Even if your company culture has temporarily – or perhaps, permanently – changed during the pandemic, you still have the opportunity to gain a competitive advantage and impress prospective candidates. Going out of your way to deliberately and thoughtfully rethink your culture puts you ahead of the pack.
Update your recruiting technology stack
You may have to rethink sourcing efforts as meetups and events get postponed. Resumé review could become less relevant as rapid introductions from previous employers take precedence over an updated job history.
For sourcing, you need a new strategy for increasing visibility of your job postings. There are a number of aggregators online to post your remote job or list your company as hiring:
Now is also a good time to monitor LinkedIn, Glassdoor, and trackers for layoffs and for potential candidates who have recently started looking for new roles.
To complement traditional resumé reviews, consider using a code screening platform. Overall, it's less biased and more scalable due to being virtually automated once integrated with your ATS.
For live interviews where you need to assess coding, architectural, or critical thinking skills, check out Mural and Coderpad.
And, of course, you'll want to be using a flexible and candidate-centric recruitment solution like Workable to seamlessly manage the entire hiring experience in a remote environment.
These are trying times but you are fortunate to still be hiring! Good luck getting your team aligned and reinventing your technical hiring process. I'll continue sharing the latest proprietary employment and interview data for software development on Medium.