Live video interviews: best practices for interviewers
Tapping remote talent. Speeding up the hiring process. Avoiding travel expenses and environmental costs of in-person meetings. Those are all valid reasons why you should consider having live video interviews with candidates. But how do you get started?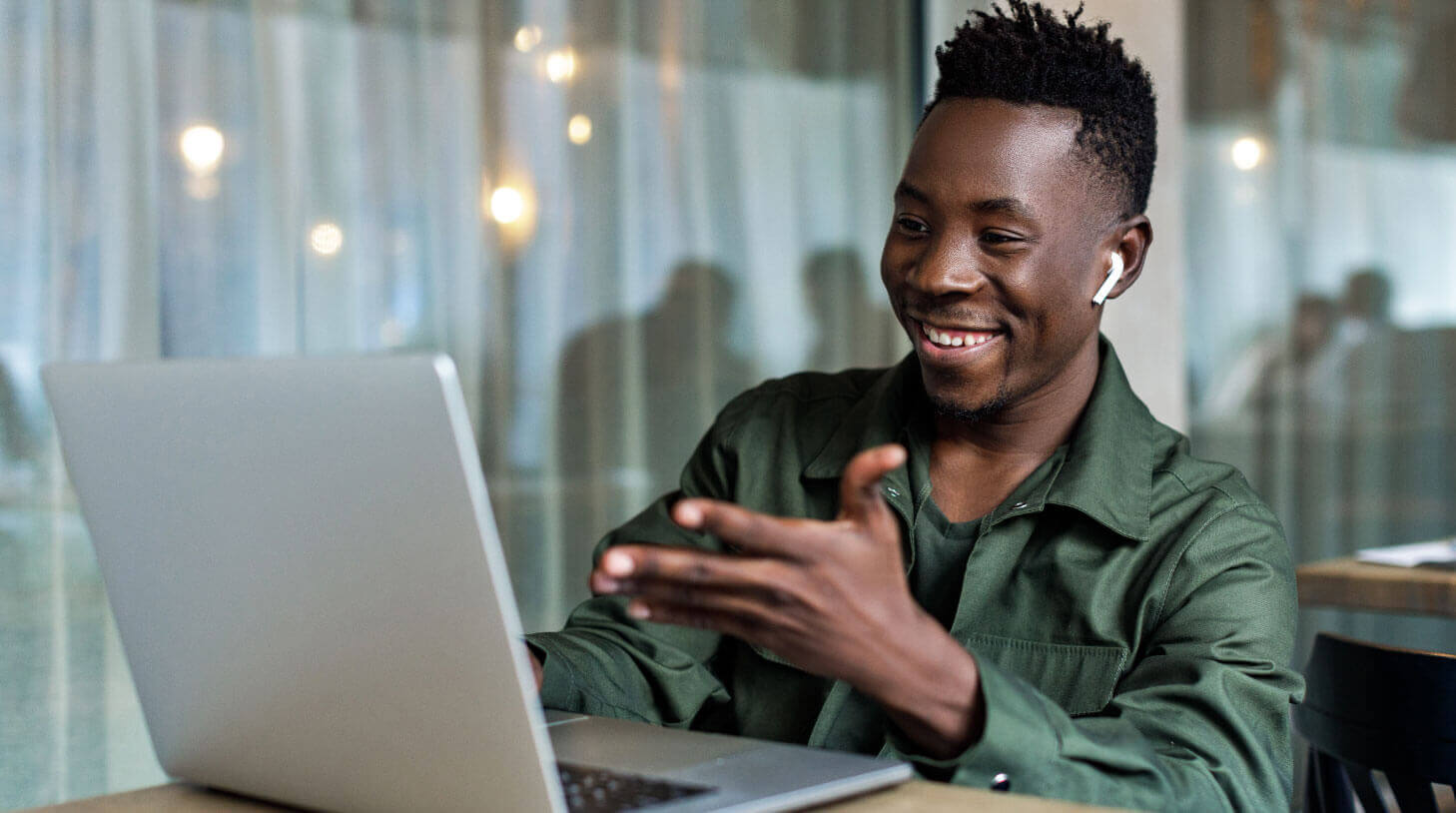 Whether you want to connect with candidates online as an initial screening method, or you want to hire employees remotely, here are the two-way video interview best practices that'll help you transition to a virtual hiring model.
Getting ready for the video interview
From setting up your equipment to choosing the clothes you'll be wearing, good preparation will let you focus on the most important part of your video interview; the candidate.
1. Get familiar with your video software
Maybe you're already using a tool like Skype or Google Hangouts for quick video calls with your colleagues, or maybe this is all new to you. Perhaps, if your team is transitioning to fully or semi-remote work mode, you want to start using a tool with more functionality. Whatever the case is, spend some time exploring the software you'll be using to interview candidates remotely. Learn how to add a link to the video interview invitation you're sending to candidates and include some simple guidelines to help them join the call.
2. Prepare your "meeting room"
Whether you're in the office, at a coworking space or your home, find a quiet and well-lit place to have your video interviews. Noises like phone rings and chats in the background can distract you and the candidates. It's best to turn off notifications (e.g. Slack, email, your mobile) so that candidates have your full attention.
3. Test your equipment
Before every interview, have a soundcheck, microphone check and camera check. It's useful to record a test video to ensure everything is working well. Use a headset, instead of your computer's speakers and microphone, to avoid echoing and poor sound quality. Try to place the camera at eye level to have better contact with candidates. If needed, use a desk lamp behind the camera to lighten your face.
4. Stay alert for technical hiccups
Even if you've had video calls earlier in the day and have already checked your camera and mic, unexpected issues could arise at any moment. The same goes for your internet connection. If on a wifi network, move close to the router and check that other wifi users aren't using too much bandwidth. It's useful to have the candidate's contact details handy in case you need to inform them about a delay. You should also have downloaded the software you're using (e.g. Skype, Google Hangouts or Zoom) on your mobile, so that you're able to quickly switch devices if needed.
5. Choose appropriate attire
A video interview is not any less important than an in-person interview. Dress as you would if you were having a candidate meet you in the office. Pick an outfit that won't clash with, or blend into, the background of the video. Normally, white clothing is perceived as clean and polished. That definitely works for in-person interviews, but on camera, white is not a wise choice. It'll appear brighter and may overpower your face. Instead, choose darker colors like navy and avoid bright colors and busy patterns, as they might not translate well on camera.
Conducting a video interview
Both interviewers and candidates might be less familiar with live video interviews, so here are some tips to conduct a successful interview when you don't meet in-person:
1. Get candidates ready, too
Let's face it: not every candidate will feel comfortable or even have prior experience with video interviews. And you don't want them to drop out of the process because they feel intimidated by this part. Along with the technical guidelines, send some tips so that they know how to prepare themselves and what to expect. Even pointing them to resources that talk about video interview best practices will boost the candidate experience you're offering.
2. Be more personable
While it sounds difficult – considering there's a screen between you and the candidate – you can still add a human touch to your video interview. Start with some icebreaking and easy-to-answer questions and leave the toughest ones for later. Remember to look at the camera, smile and don't hesitate to repeat something if you think the candidate hasn't heard you. Interviews are often stressful for job seekers, let alone if they have to "speak" to a screen. The more relaxed you are, the smoother the process will go for them, as well.
3. Stick to the interview schedule
It's easier to fall behind schedule when you conduct video interviews, especially when you're at your home as opposed to a busy office. Create and test a timeline that will help you cover all the important topics within your scheduled time. Track how the interview is going but avoid checking your hand watch; use your computer's timer that's conveniently placed next to the camera. You could also schedule for a 10-minute Q&A session towards the end of the interview and suggest an email follow-up in case candidates have additional questions but you're running out of time.
4. Coordinate with multiple interviewers
Often, for the sake of speeding things up, you'll want different interviewers to meet with the same candidate in one day. When doing that virtually, make sure you're all aligned. Create one event (e.g. on Hangouts), so that the candidate and all interviewers can join by following the same link. Everyone involved (including the candidate) should be aware of the timeline in advance, e.g. "9:00-9:20 meeting with the recruiter / 9:30-10:00 meeting with the Head of Design / 10:10-10:40 meeting with the Marketing Director". This way, each interviewer will know exactly when to sign in and the previous one will know when it's time to wrap things up and have a pleasant handoff. It's best to schedule some breaks in between meetings so that candidates have time to get some water, use the restroom, etc.
Evaluating candidates
Ultimately, video interviews can speed up your hiring process, so long as you screen and assess candidates effectively. Here's how:
1. Treat video interviews as regular, in-person interviews
In other words, don't rush the process. Video interviews shouldn't be done on the go; it's your chance to ask questions that'll get you closer to a hiring decision. Prepare your questions in advance and ask all candidates the same questions so you can compare their answers objectively.
2. Write down your feedback right away
When you meet candidates in person, you might enjoy an informal chat while you welcome them or walk them out of your offices, or you might interview them in different meeting rooms – these small things could make your interview more memorable. But with video interviews, it's easier to mix candidates up particularly if you have back-to-back video interviews with different candidates. If possible, have two screens in front of you or practice switching quickly between different apps; this way, you'll be able to see the candidate while also taking notes or checking their resume.
3. Don't be harsh on candidates
Remember that not all candidates are familiar with video interviews. While a cluttered background or a poor lighting can be distracting, focus on what really matters. Take into account that some candidates might have roommates or live with family and don't necessarily have a spare room where they can interview quietly. Also, when candidates are currently employed, they might take the interview in a parking lot or another seemingly unusual place. As long as they come prepared for the interview and show genuine interest in the role, let it pass. Those aren't dealbreakers.
4. Help candidates shine
While it's a non-traditional interviewing practice, consider sharing your questions with candidates beforehand. It'll save you a lot of time because you won't have to repeat questions for clarity. Also, you'll ensure there's no miscommunication and misevaluation if, for example, candidates give a poor answer because they didn't hear the question properly. If you don't want to share the exact questions, you can still describe the context of the interview, e.g. "We'll talk about your assignment and your thought process around it" or "We'd like to discuss the role in detail and learn why you'd be a good fit".
As with all kinds of interviews, the success of two-way video interviews rests in good preparation. Make sure all interviewers are equipped with proper resources, have some mock interviews if needed, and consider recording some of those tests to create your own video interview best practices. But don't forget about candidates, too. Gather their feedback after a video interview and find out whether there's anything you can improve next time.