How to explain your structured interview process to candidates
Structured interviews, while more rigid, offer a fair, consistent, and objective hiring process. To make candidates comfortable, companies should be transparent about the process, provide questions beforehand, and ensure a listening environment. Video interviews can also improve candidate perceptions.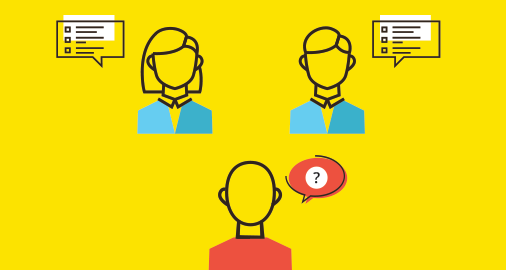 There's scientific consensus that structured interviews are better hiring tools than unstructured interviews. They're more objective, more consistent and better predictors of job performance. But there's one area where they lag behind.
Candidates can perceive structured interviews as more rigid and impersonal. Often, the structured interviewing process doesn't flow as a natural conversation. This can make candidates uncomfortable.
There's some research that supports this argument. Although the research is still limited, it shows that candidates tend to react negatively to structured interviews. And, as a consequence, candidates may have less favorable perceptions of companies that use structured interviews. Granted, the research on candidates' perceptions of structured interviews is still in its infancy, but, it'd be best for companies to combat any possible negative impressions, just in case.
What can companies do?
Companies needn't make a trade-off between a valid interview format and happy candidates. They can moderate negative perceptions by communicating better. Companies should:
Be transparent about their interviewing process
Address candidates' concerns as much as possible
Persuade candidates that structured interviews benefit them
Related: How to invite a candidate to an interview
How to explain a structured interview:
Tell candidates you use structured interviews (and why)
You could include this information in the email scheduling their interview. For example, you could close your email with a short footnote like this one:
Our company is committed to an objective hiring process based on skills and qualifications. For this reason, we use structured interviews, an interview format that uses predetermined questions and a reliable rating scale. Structured interviews help us moderate interviewers' biases and give every candidate the same opportunity to succeed.
It might also be a good idea to include the average time your structured interviews tend to last.
Present candidates with interview questions beforehand
Letting candidates know what questions you'll ask makes them see the interviewing process as fairer. You could give them interview questions before their interview and let them think through their answers. If questions are well-designed behavioral or situational questions, they can't be easily faked. And interviewers can usually tell when someone recites an answer. Besides, with sites like Glassdoor, your candidates are already able to take a peek into your question inventory. It'd be best if that information came from you instead.
Give candidates all the information they need
Interview structure matters less to candidates when they have information on the job and company. This kind of information can help them decide whether they should accept an offer. So, make sure to communicate important information. Write compelling job descriptions that accurately describe the position and your requirements. Add a description of your company and its most important goals and successes. Let them know if they will be participating in a group interview. And use initial screening calls to talk a bit about your company culture and identity.
Explain the interviewing process
Take a few minutes before the interview to explain how structured interviews work. Tell candidates that:
You ask every candidate the same questions and score their answers with a consistent scale
You'll give them time to ask questions after the structured section of the interview ends
There will be no extra pressure for them to elaborate or answer quickly
You'll be taking notes consistently throughout their interview
Show that you listen
It's hard to act naturally when you're taking lots of notes on interview scorecards. But it's something a little training can fix. Practice writing quickly and use positive body language to show that you're listening. Be open, nod and ask a few follow-up questions when necessary.
Consider video interviews
Video interviews have an interesting effect on candidates' perceptions of structure. Candidates are more attracted to companies that use structured interviews when those interviews are conducted over video conference. They also rate their own performance higher in video structured interviews.
How to prepare interviewers:
Interviewers' perceptions of structured interviews matter too. The more convinced they are that structured interviews work better, the more effort they'll put in to make the interviewing process effective.
There are studies that suggest interviewers prefer to conduct unstructured interviews. But, a larger number of studies have found that experienced or trained interviewers view structured interviews positively. One study indicates that interviewers' perceptions of structured interviews depend on their cognitive style (analytical vs intuitive). As expected, interviewers who are more analytical favor structured interviews. The same study mentions that people can be trained to use "different cognitive approaches in specific and short-term situations."
So training interviewers can be the most effective solution. You could train them in how to structure interviews so they can better understand the interviewing process. It'd also be helpful to present research that explains why structured interviews are better hiring tools. Training interviewers to strengthen their analytical skills can go a long way. Mentoring, team-based training and self-study are good training options. You can begin a mentorship program where interviewers are paired with someone in a position that demands excellent analytical skills (for example, a member of your finance or data science team.) The American Management Association also offers analytical thinking seminars that can help your employees.
Structured interviews are the best way to predict job performance. But they still haven't won over candidates and interviewers. Companies can change this part of the hiring process by investing in good communication with candidates and effective training for interviewers. Then, they'll be able to reap the full benefits of a structured interviewing process.
Frequently asked questions
What is the significance of the structured interview process?

Structured interviews are a powerful tool for predicting job performance. They offer more accuracy than unstructured interviews and allow companies to maintain comprehensive records of their interview process, which can be utilized for future improvements.
Why is the interview process crucial?

The interview process is an essential component of employee selection. It enables employers to assess whether a candidate's skills, experience, and personality align with the requirements of the role they are hiring for.
What happens after the interview process?

Post-interview, the hiring manager typically reviews all candidates to make a decision. This review process involves evaluating various factors such as skills, compensation expectations, and other relevant aspects to identify the best fit for the organization.
How can structured interviews be made more candidate-friendly?

Companies can enhance the candidate experience in structured interviews by being transparent about their process, addressing candidates' concerns, and convincing candidates that structured interviews are beneficial for them.
How can interviewers be prepared for structured interviews?

Training is key to preparing interviewers for structured interviews. Companies can train interviewers on the structure of interviews, present research on why structured interviews are effective, and develop their analytical skills through various training methods.