Disability inclusion in the workplace: removing the barriers to finding top talent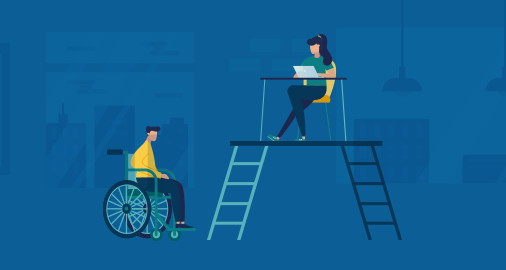 Is disability and inclusion in the workplace important? In the 2011 Report on Disability, theoretical physicist Stephen Hawking writes: "We have a moral duty to remove the barriers to participation, and to invest sufficient funding and expertise to unlock the vast potential of people with disabilities."
The sentiment behind this quote is a powerful one, especially when placed in the context of recruitment. Only by acknowledging and removing barriers, can HR teams ensure that organizations hire on merit and not on convenience. Having a fully inclusive and accessible hiring strategy leads to a better candidate experience for all of your applicants and richer talent in your pipeline.
But what does an accessible hiring strategy look like in practice?
Lessons learned about disability inclusion in the workplace learned at Career Fair.4all
In May, I attended Career Fair.4all, a Greek initiative promoting equal employment. It's a job fair with one clear goal: to bring inclusion to the labor market, removing the barriers that could be preventing great candidates from applying for jobs. The benefits of disability inclusion in the workplace are twofold:
Recruiters meet candidates in-person, conduct job interviews and match talent to open roles.
Candidates with disabilities get the chance to scope out the different companies, discuss opportunities and evaluate next steps.
Organized by ethelon— an NGO that supports volunteering—Career Fair.4all has been held in Athens (the city where Workable was founded) for the past 3 years. More than 20 companies from various industries took part this year and I got the chance to talk to most of them. My big question? How can HR professionals make the recruitment process more accessible and fully inclusive. Here's a summary of what I learned:
Make reasonable adjustments where necessary
HR professionals should be ready to make appropriate changes to the work environment throughout the hiring process and beyond. Vassilis Chouliaras (HR Senior Manager) and Anna-Maria Economou (HR Professional) from Barilla, describe how events like Career Fair.4all are a learning experience for companies.
After realizing their own offices were hard to access via public transport, they set up employee shuttles to make the commute easier for everyone. As Vassilis and Anna-Maria say,
"It's not about hiring for the sake of it. We need to think what happens after hiring, too. To retain our employees, we should make sure that we provide them what they need to be successful at work."
Provide a flexible but structured hiring process that works for all
Make sure hiring teams are equipped and resourced to find and hire the best talent, irrespective of any individual disabilities of potential candidates.
That's exactly what we're doing today", explains Eleni Karra, Senior Talent Acquisition Specialist at Tripsta.
"We follow our regular hiring process to identify people who could fill our current hiring needs. We conduct mini-interviews here and if there's a good fit, we move on with an onsite interview at our offices," she says.
"If not, we're transparent with feedback, as with all candidates. For skilled candidates who don't match our current open roles, we use Workable's Talent Pool to stay in touch for future job opportunities. It helps us remember where we met each candidate and reach out when the right thing comes up."
Understand different needs and reinforce equity at all hiring stages
Traditional assessment methods don't work for everyone, so it pays to broaden your mind in terms of how you evaluate skills. Microsoft, for example, has replaced job interviews with a vetting process where candidates with autism can better showcase their skills. And Vasia Koutsika, HR Generalist at Stoiximan, does something similar during the Career Fair.4all:
"Instead of a formal, often stressful job interview, we view this event as an opportunity to meet candidates in a more casual setting," Vasia explains.
"Candidates talk about their qualifications and interests and we present our open jobs. But this is not a scripted discussion. As we're a sports betting company, candidates often want to talk about the latest game and we're more than happy to chat about it.
"After all, this is a first introduction that helps us and candidates get comfortable. We'll invite candidates who qualify for one of our open roles to an onsite interview where it'll be easier for them to open up as we'll have already established a relationship."
Educate hiring team members and all employees on inclusivity
Banishing misconceptions and (unconscious) hiring bias means that employees work more effectively with their coworkers, whether they have a disability or not. So it pays to make inclusivity a formal part of your company's learning and development strategy. Lydia Gkouzioti (HR Generalist) and Anna Pouliou (HR Coordinator) from Apivita couldn't agree more:
"Our participation in this career fair is only one of the steps we take to reinforce inclusion. For example, we have scheduled training about equity in the workplace for our managers," Anna says.
"Today, we met some great candidates for our Corporate Social Responsibility department. We're looking forward to inviting these candidates to our offices and learning more about them. We'd like to bring someone onboard who shares the same values as us and can make a real contribution."
Remove barriers
Many barriers, most of them unconscious and inherited, still exist as part of the standard hiring process. These can range from the tools and software used, to the language and communication adopted. To reinforce diversity in the hiring process:
Use inclusive language in your job ads and across all your communication
Make your web content and other supporting communications fully accessible
Remove any physical barriers
Take a proactive approach
Candidates who have faced bias in the workplace before might be more hesitant about applying for jobs. Which is why it pays to be proactive and reach out directly where appropriate. Start by networking with communities that support disability and inclusion. According to research, about 65% of people with disabilities aged 18-64 in the US are unemployed. So, you could also join forces with college career centers and other organizations that support job seekers.
Show (don't just tell) that you're an equal employer
An equal opportunity employer disclaimer on your job ads is a good way to declare that you promote diversity. There are also other tangible ways of sharing your message. Include pictures of your accessible working spaces on social media and your careers page. If you've already hired employees with a disability, ask them if they'd like to share a story from their work life with their network, local communities or even a broader audience.
By showing the steps you take to provide equal opportunities for every employee, you send a strong message both to candidates and other companies: Inclusion in the workplace isn't just a theory; it's a reality.