Using candidate sourcing tools from Workable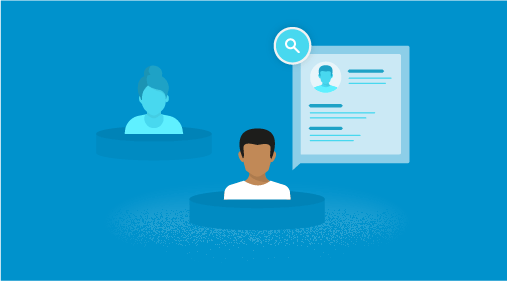 Candidate sourcing involves looking for potential hires online and offline, pre-screening candidates by checking their professional achievements, informing them about open roles and building relationships for future openings.
Here's why your recruiting team should invest in candidate sourcing and how to source qualified candidates with Workable:
What are the benefits of sourcing candidates?
Candidate searching helps recruiters:
Expand outreach to a larger audience. The more recruiting channels you use to search for candidates, the more chances you've got to identify good potential hires and build diverse teams. Combine social networks, resume databases, portfolio sites and professional online communities to source and connect with passive candidates who might not be actively looking for a new job, but would consider one, if the right opportunity came up.
Reduce time-to-hire. Create a pool of potential candidates, by proactively researching and engaging with qualified people. This way, when there's an open role that matches their profile, you can contact them directly to learn if they're interested. They are more likely to want to hear about your open role if you have already established a connection and they're familiar with your company.
Recruit for hard-to-fill roles. If you're hiring for various roles, you know that some positions attract more applicants than others. When you're facing a shortage in job applications, you can actively source candidates – in professional networks or using Boolean search strings – to target audiences with your desired skill set.
How to use Workable's candidate sourcing tools
Workable is an all-in-one recruiting software with features that enable you to source, engage with, evaluate and recruit candidates based on your hiring needs.
Here are Workable's sourcing features and how to use them:
People Search: Workable's rounded candidate search tool scours the web to find resumes, online portfolios, social and professional profiles and contact information. All the data gathered from multiple sources will be organized into one profile per candidate. You can add these profiles to your hiring pipelines and directly engage with candidates.
People Search is your sourcing companion when:
You meet someone offline (e.g. at a job fair) or you get a recommendation for a potential candidate and you want to find out more about their professional background.
You come across an interesting person online (e.g. on GitHub) and you want to gather information from various professional sites, as well as find their contact details.
You are looking for candidates with a specific skill set, professional and academic background. People Search supports Boolean search so that you get refined results.
AI Recruiter: Every time you have an open role, our AI-based sourcing feature will perform a deep analysis of the job description and suggest up to 50 matching candidate profiles. It analyzes keywords, related phrases, knowledge of your company, industry and location. You can then review these profiles and add the best candidates straight to your hiring pipelines.
Use AI Recruiter when you:
Don't have the time or the expertise to perform complex Boolean search; AI Recruiter will do all the behind-the-scenes sourcing for you.
Have a limited number of candidates and are not sure where to look for new talent; you'll get the chance to diversify your talent pool as suggested candidates will come from a broad variety of sources, not only the ones you're already familiar with.
Hire for hard-to-fill roles and don't receive many applications; with the click of a button you'll get a list of candidates whose skills match your requirements so that you can move faster to the next hiring stages.
Talent Pool: This is a space you can store candidate profiles (e.g. resumes and contact details) that you can't currently attach to a specific position. It works in tandem with your employer branding efforts, as candidates who don't qualify now but may be considered in the future, don't get lost in a black hole of applications.
Talent Pool is helpful in cases where:
You find good candidates who don't fit in one of your current open roles, but would like to connect and stay in touch in case something more suitable comes up.
You give people who'd like to work at your company the option to send their resumes even if there's not an open job that matches their profile.
You want to grow talent pipelines for future hiring needs and build relationships with potential candidates, but haven't started to officially advertise job openings.
Candidate database: Workable stores profiles for candidates who have applied to your jobs. Your candidate database also includes candidates you, or anyone from your hiring team, has sourced, manually uploaded and reached out to as part of a lead nurture process.
You can search through your list of current and past candidates based on filters like skills, hiring stage, position and application date. Here's a video that explains how to use your candidate database in your Workable account.
Referrals: Employee referrals are an effective sourcing method. And Workable has built a system where employees can directly make a referral, whether they're members of the hiring team or not.
Also, recruiters can easily ask for candidate referrals without needing to log out from their Workable account. Use an editable email that will be sent to all of your coworkers with details on how to refer potential candidates.
Why use Workable to source candidates
Save time with AI Recruiter and People Search. Looking for candidates online on the most popular sites, like LinkedIn and Facebook is a good starting point. But, to get a larger and more diverse group of potential candidates, you need to invest more time and search outside of your traditional sources. AI Recruiter uses sophisticated technology to get you started. Based on your key requirements, it'll generate up to 50 matching profiles so that you can build your own shortlist of qualified candidates.
If you already have someone in mind who could be a good fit, you can get a better insight into their professional background using People Search. Workable's manual sourcing tool searches millions of online trusted sources and sites like Medium, AngelList, Behance, Dribbble, WordPress and GitHub to collect professional information and contact details. The result is a single candidate profile that will give you a deeper understanding of the candidate's skills, achievements and potential.
Focus on nurturing relationships with candidates. Modern, smart features, like AI Recruiter, help automate some of your tasks. You don't have to manually search across multiple websites or craft a perfect Boolean search command. AI Recruiter does the groundwork so that you can focus on the most interesting part of your job: personally reaching out to candidates, meeting them online and offline, selling your open roles and conducting interviews.
Personalize your outreach to passive candidates. Once you've found a good potential candidate, it's time to contact them. But, cold emails have a low response rate, unless they're personalized. The more genuine your outreach, the more chances you have to get a positive response.
If you're using People Search or AI Recruiter to learn more about candidates' professional background, you have all information you need in hand. Instead of sending bulk messages, mention something that's unique to each candidate to pique their attention. Ask about their latest project or comment on something they tweeted about to show that you did your research.
Also, using Talent Pool makes it easy to build meaningful relationships with prospective candidates over time. You can create rich candidate profiles including notes and comments from your hiring team and contact them again when the time is right.
Build talent pipelines for future needs. Often, you come across good candidates who don't fit your open roles. Or, you meet potential candidates who are not currently available. With Workable, you can create talent pools to store their information in one place and keep in touch for future job opportunities.
There's no need to relate them to a specific position; whether it's someone you met offline, someone you found via People Search or a referral from a team member, save their profile to your Talent Pool.
You can also snooze candidates (e.g. for as long they're on maternity leave) and receive a notification to contact them again at the optimal time.
Avoid hiring bias. Social media profiles can help get to know candidates better during the screening phase. But, internal company policies may require recruiters to exclude this type of information in an attempt to make more objective hiring decisions and build diverse teams. That's why Workable gives you the option to disable pictures and social profiles, when looking for candidates online.
Eliminate the risk of losing information when transferring data from one medium to another. Imagine finding a good candidate when browsing Dribbble and then moving on to LinkedIn to learn more about their career history. Where do you save data like contact information and links to their social accounts? And how do you keep notes to share with your hiring team?
You can download the Workable Chrome extension and use it wherever you are on the web to research candidates. When browsing profiles on professional sites like AngelList, Behance, GitHub and more, open the Chrome extension to instantly gather more data about potential candidates from multiple sources. Here's how.
If you're using Workable as your ATS, People Search is an integral part of your recruiting software. All information from professional networks, including resumes, phone numbers and emails, will automatically be saved in one place: the candidate profile. There, you can leave comments and sync with your team members.
Effective sourcing brings you closer to hiring qualified employees. But, this is only the first step of your recruiting process. The way you use information you find about potential candidates is how sourcing pays off. Combine sourcing with personalized outreach, a good set of screening questions and software to track it all.
Stay compliant with GDPR. Workable is a GDPR-compliant recruiting software. It also provides tools to help organizations with their own compliance. Our GDPR-related features include support for sourcing and the automation of specific tasks, like deleting old candidate data from your Talent Pool or candidate database. For sourcing specifically, here's a breakdown of the available features:
A template to help you create an effective recruitment Privacy Notice.
A footer, automatically added to every sourcing email, linking to your Privacy Notice.
A setting to send an automated bulk email with your Privacy Notice to existing candidates (sourced before the GDPR came into effect).
A setting to auto-delete the profiles of sourced candidates who haven't been contacted within a month.
Find out more about Workable's GDPR features or test yourself and your organization on your own GDPR compliance.