Streamline complex, multi-part interview scheduling with Workable
Ask a recruiter to pick out an admin task that absorbs most of their time and the chances are you'll hear a strained "interview scheduling" reply from most of them.
The process leading to a job offer involves, on average, at least three interviews per candidate. And with 4 to 6 candidates reaching this stage, we know that scheduling (and in turn rescheduling) interviews can be frustrating and time-consuming.
Making arrangements becomes even more with complex if you've got one interview which is divided into multiple parts, each with a different panel of hiring managers or stakeholders. First you have to find slots across a single day that work for everyone. Then you need to find and book available meeting rooms for each slot. Finally, you need to communicate the details.
Well, there's good news! We've just launched an update to our interview scheduling feature which does the bulk of the leg-work for you. Now it's easy to schedule complex interviews that work for all participants in seconds. The end result is a fast, seamless and scalable scheduling process which makes life easier for your hiring managers and interview coordinators. And offers a clearer, more cohesive experience for your candidates.
Book complex interviews faster
During the hiring process, most candidates are interviewed by at least three different individuals. And, depending on the role, could take part in up to five separate face-to-face assessments; from HR and tech interviews to group and panel events. While these may span a few weeks, they usually take place on the same day. Scheduling each part across the same day provides a better candidate experience, speeds up the hiring process and boosts your time to hire metric. But it also presents a challenge to recruiters.
Coordinating schedules and booking meeting rooms to meet the demand for multiple interviews can feel all-consuming if you're doing it manually, toggling between various calendars and screens. Workable's Multi-part interview feature automates much of the admin. With everything visible from one central screen you can act fast to book slots and let Workable do the rest. This moves the interview scheduling process forward at pace and you can use the time saved on tasks where you add most value.
From one screen inside Workable you can now:
Split one interview into separate time slots, setting a different agenda for each.
See at a glance live availability of interviewers and meeting rooms for each time slot, avoiding endless back-and-forth emails.
View calendars side-by-side, including a real-time view of your external Google or Office 365 calendar.
Drag-and-drop interviews into available slots and book onsite meeting rooms.
React quickly to changing schedules using real-time calendar sync between Workable and your external calendar.
Press 'submit' just once to send out separate, topic-specific calendar invites to your interviewers and one clear, comprehensive invite to your candidate.
Make fewer mistakes when scheduling
We know how important accuracy and attention to detail are when it comes to the hiring process. Even the most simple scheduling error can have a big impact on both your hiring team and your interviewees. As well as time spent rescheduling and communicating changes to all participants, you've also got some damage limitation work to do when it comes to your candidate experience.
When you're time-pressed and juggling ten other things it's only natural to miss the odd overlapping time slot or missing agenda. Which is why we've got your back.
Our Multi-part interview scheduling tool automates your scheduling to limit human error, providing a number of key, built-in checks. Before your invite is sent out to all participants our system will flag up all possible scheduling errors, so you can address them before moving on. These could range from:
overlapping time slots
gaps in the schedule
missing information, such as meeting room, attendees or agenda
potential scheduling problems, such as a multi-part interview that runs over two days
Not using Workable yet? Request a demo to learn how you can optimize your interview process and hiring efforts with our all-in-one recruitment software.
A better hiring experience for all participants
Multi-part interviews by their nature involve a range of different stakeholders, each with their own specific remit when it comes to the interview process. If you're using rigid scheduling software or managing the process manually a one-size-fits-all approach is often your only option when communicating interview details across hiring teams. But it's not the best approach. We've made it easier to offer each participant a more bespoke experience with minimum effort.
A streamlined approach for your hiring panel
It's a given that candidates need to be available for the whole duration of the interview. But members of your interviewing panels are usually only needed for parts of this. Having to book the full 3-hour interview out in each interviewer's calendar, when they're only needed for parts of this, isn't the best way to manage colleagues' time.
So minimise internal disruption by providing your interviewers with all the information they need and nothing they don't.
Simply:
create a separate slot for each part of the interview
assign specific interviewers to the relevant slots
press submit
Your interviewers will then receive, via email, an individual calendar invite for each slot, labelled accordingly (for example, 'HR interview' or 'Tech interview').
From the email, your interviewers can also:
accept or decline slots separately
link to the candidate's Workable profile
view details of the entire interview from a separate auto-generated events page, which includes a map and the full day's agenda, with times, topics and a list of attendees
A more cohesive experience for candidates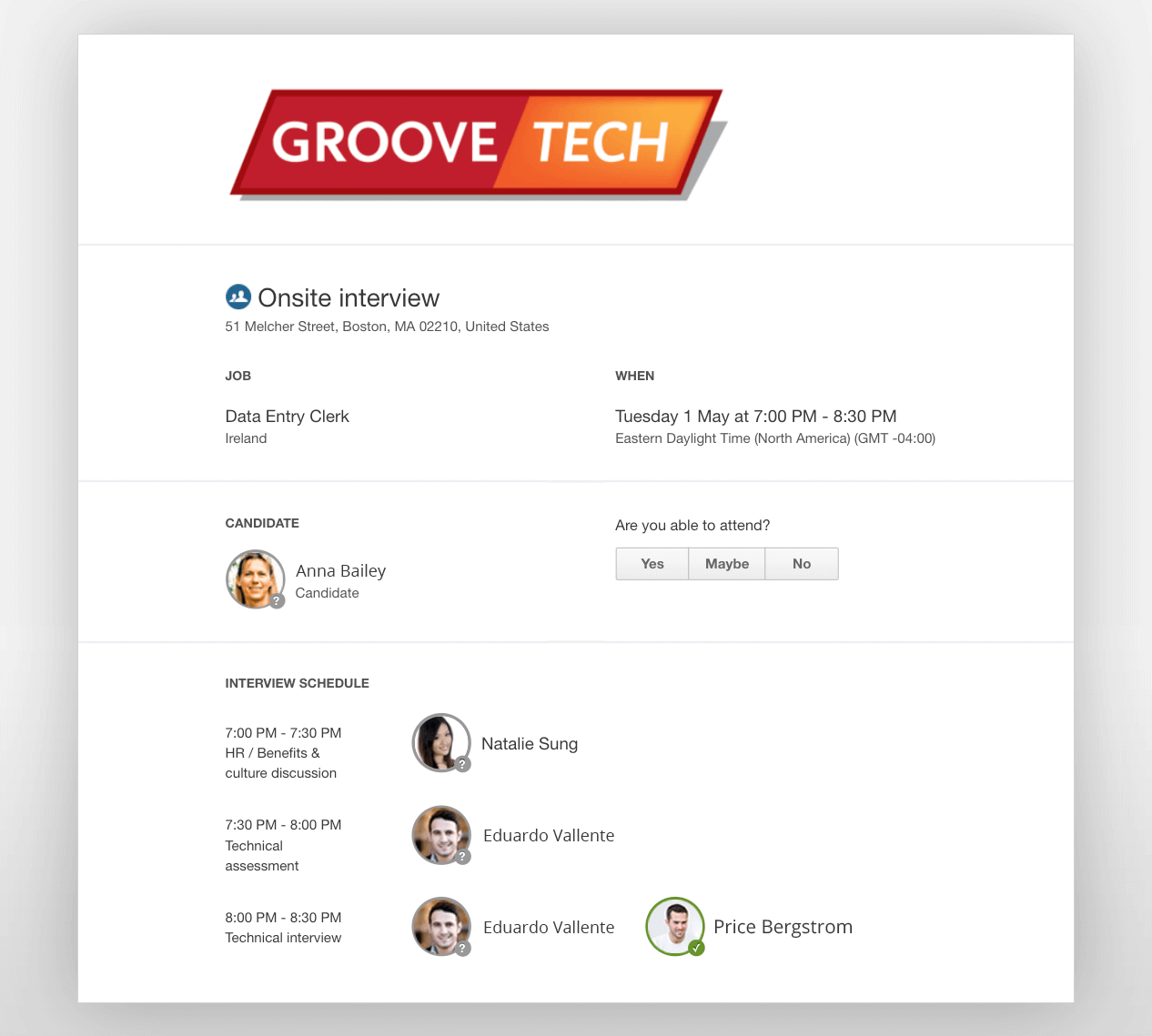 The added beauty of the Multi-part interview scheduling tool is that, while it manages the interview's multiple parts as separate entities for your interviewers, the interview is presented as one cohesive event for your candidate. So they receive one clear email invite with a comprehensive agenda for the whole day. Like the hiring panel, they can accept or decline straight from the email and see full details of the event, including a map, from a separate events page.
Scalable scheduling
Perhaps you're a fast-growing start-up anticipating sporadic peaks in hiring. Or a large established business regularly hiring in volume. Either way, using Workable for scheduling means you're equipped to handle large numbers of multi-part interviews whenever they come up – quickly and easily.