Evaluate candidates with a pre-employment assessment test
A pre-employment assessment test is a standardized method used by employers to evaluate a candidate's suitability for a job role. These tests can measure various aspects such as technical skills, cognitive abilities, personality traits, and other job-related competencies.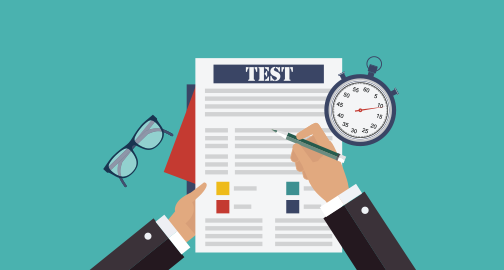 In your hiring process, it's important to accurately gauge the skill level of your candidates as it pertains to their ability to do their job. Assessing these skills can take a wide variety of forms. You may ask candidates for a writing sample, a project, or a presentation. For jobs with an easily quantifiable skill-set, you may ask your candidates to complete a skills assessment, or standardized test to objectively gauge their competency.
Assessing the qualifications of your job applicants can be challenging. Competencies vary from job to job, as well as industry to industry. With the growing millennial workforce, opportunities for remote work, and ability to hire candidates from all over the world, skills assessments can level the playing field for all types of applicants.
A company's pre-employment assessment process can take many forms. For creative jobs, this assessment might come as a portfolio. For editorial positions, you might use sample writing tests for candidates or ask for writing samples. However, for jobs that require the daily use of certain skills, an effective method is a skills test that will gauge their ability to complete the position's required tasks.
Usefulness of assessments
In high-volume recruiting, skills assessments can make the job of a hiring manager much easier by providing "knock out" questions that will instantly disqualify candidates. Additionally, it could showcase the exemplary knowledge of your top candidates. A quantitative pre-hire assessment provides your candidates with an opportunity to shine in a way that may not come across in an interview or resume.
Deloitte has assembled a process which organizations can use as a guideline for creating, selecting and implementing pre-hire assessments:
Step 1: Define — Identify the human elements required to perform the job and how these impact valued business outcomes.
Step 2: Measure — Construct a series of predictive assessments to effectively measure the elements defined in Step 1.
Step 3: Decide — Empower expert decision makers to use the data generated from the hiring process to make hiring decisions.
Step 4: Evaluate — Collect data to understand the business impact of the decisions made using the various assessments included in the hiring process.
Skills assessment example
As an example, the exercise below helps you assess the software use skills of an Office Manager candidate:
Exercise: You are in Athens and need to arrange a meeting between your CEO who is in Boston and a business partner in San Francisco. Please draft the Google Calendar invitation and take a screenshot. See the complete Office Manager skills assessment here.
Alternatives to a skills assessment
If the position for which you're hiring doesn't have a clear assessment component, designing a simulation of the job that the candidate will be performing can serve in its stead. Writing samples, problem sets and mock sales presentations are all great ways to get an idea of how someone will perform in a job that doesn't necessarily have quantitative elements.
Thinking of ways to hire more effectively? Download our structured interviews guide for free.
In addition to assessments, your company might be interested in administering personality tests. These tests may assess a candidate's propensity for workplace behavior or soft skills is critical for the job. It can also determine whether a person is a good fit for your team and culture. Though these tests may not determine whether someone is the most technically qualified, they can assess gaps that may be present during an interview process where candidates are feeling pressure to perform or act in a certain way. However, despite their perceived usefulness, these tests have been the object of controversy for reasons of compliance and effectiveness. Be sure that these tests fairly reveal what your company is looking to achieve, and are compliant with EEO and other policies.
Talent development and continued education
Skills assessments shouldn't just be used for pre-employment purposes. By regularly assessing the skills and competencies of current staff, hiring managers will be able to have a better understanding of the skills that are needed from incoming employees. Tools like Pluralsight provide an accessible library of assessments and learning tools for candidates, new hires and established team members. Their 4,800 courses authored by experts in software development, IT and creative.
Machine data in hiring
Beyond qualifying and disqualifying candidates, results and analytics have a better track record of predicting longevity of employees' tenure. In fact, according to a University of Toronto Study, employees hired based on algorithmic recommendations had job tenures that lasted 15 percent longer than people hired without testing. Managers who overruled machine-based recommendations hired workers less well-matched to the job, as measured by job tenure.
By using a skills assessment test, you have a built-in second set of eyes that is more impervious to bias. Statistically, hiring bias leads to poorer hiring decisions, and these skill assessments allow employers to take their personal preferences out of the equation. Further, this machine data normalizes and verifies the information that applicants provide, diminishing human error.
Recommended skills assessment tools
Plum.io: Plum's Talent Profile helps you evaluate all job applicants and internal team members to determine their potential to be successful in any role or team in your company, and successful people generate results.
Criteria: HireSelect, Criteria's pre employment testing system, is a SaaS solution that enables organizations to better manage their human capital by providing state-of-the-art assessment tools to increase the effectiveness of the employee selection and retention process. HireSelect features aptitude, personality, and skills tests.
Codility: Codility helps businesses of all sizes automate and accelerate tech recruiting. Using their software platform, businesses can dynamically source candidates, test and rank participants and interview the most promising candidates online.
ThriveMap: ThriveMap creates work simulation assessments that help companies to screen and rank candidates more effectively. Their assessments take candidates through a digital "day in the life" experience of a specific job within an organization, helping you gain insight into how desired behaviors express themselves within your company culture and work environment.
Related: See 10 of the best recruiting assessment tools
Frequently asked questions
What is on a skills assessment test?

A skills assessment test is a tool designed to evaluate and measure a candidate's skills necessary for successful job performance. It's not focused on what the candidate knows, but rather on how well they perform various tasks using certain abilities, such as logical analysis.
How long does it take for skill assessment?

The duration of a skills assessment process can vary, but it generally takes anywhere from 12 to 14 weeks, depending on the agency conducting the assessment.
Why do companies use skills assessment tests?

Companies use skills assessment tests as a means to measure the capabilities of job seekers in various areas. These assessments can help companies determine if an applicant possesses the necessary expertise and ability for a particular role.
Can skills assessment tests be used for current employees?

Yes, skills assessments can be used not only for pre-employment purposes but also for assessing the skills and competencies of current staff. This helps hiring managers understand the skills needed from incoming employees.
Are there alternatives to skills assessment tests?

Yes, if a position doesn't have a clear assessment component, designing a job simulation can serve as an alternative. Writing samples, problem sets, and mock presentations are all great ways to gauge how someone will perform in a job that doesn't necessarily have quantitative elements.