How to create an amazing 'Now hiring' sign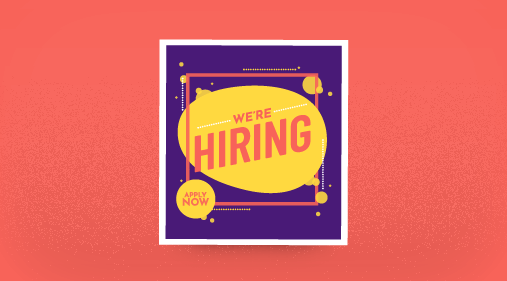 Back in 2013, an unemployed graduate used a billboard to let potential employers know that he was looking for a job. The result? Thousands of retweets, multiple offers and a new job. Could this advertising hack work for employers that seek to attract job candidates?
It's not uncommon for companies to place 'Now hiring' or 'We're hiring' banners outside their stores, on college campuses, on bus or metro stations and at job fair booths. Here's why businesses should consider advertising jobs on their storefronts and ways to do it effectively:
What are the benefits of 'Now hiring' signs?
'We're hiring' signs may seem like old-school advertising. But, they can actually prove to be effective advertising channels, because:
They help attract local candidates. People who see your sign are more likely to live close by. And the prospect of a short commute can sway a potential hire. Recruiting local candidates is also useful if you want to cover various shifts.
They are inexpensive. At a small cost, you can design, print and place a banner outside your company to advertise your open jobs. You can even do this for free, by downloading and customizing an online template.
They reinforce word-of-mouth recruiting. People who walk by your store or even your own customers can let their networks know about your open roles.
How to create an effective 'Now hiring' sign
First, decide what will go on your 'Now hiring' sign. To create an informative ad, make sure to include:
Your company's name and logo: If you're placing job advertising banners in various places, like career fairs or within the local community, help potential candidates recognize and remember your brand. Make sure your logo and your company's name are located in prominent places.
Job title: Instead of a generic "Help wanted" try to target people you want to recruit. Be specific about the role(s) you're hiring for, by mentioning the role by name. For example, "We are hiring chefs and receptionists."
Requirements: Make sure to highlight must-have requirements, like experience or availability to work specific shifts. If relevant experience is not required, be clear about it on your sign and mention when you provide on-the-job training.
Application process: Your sign should clearly explain to candidates how to apply. Here are some ideas of how to let jobseekers know what to do next:

Include the phrase "Inquire within". Prompt people to enter your store, get more information about the job and fill out application forms or submit their resumes. Make sure there's always someone available who can provide this information and manage applications.
Include a QR code. Add a QR code so people can scan them easily with their smartphones. It's a simple way to provide relevant information (e.g. the entire job description) without using big chunks of text on your sign. QR codes can help you speed up the job application process if you route candidates to your careers page.
Create tear-off tabs. If you're placing paper ads outdoors or on bulletin boards (e.g. at colleges) consider writing your contact details on tear-off tabs, so that jobseekers can easily rip off your company's phone or email address on a detachable tab and save the info to apply later.
Want to create customizable application forms? Use Workable to add your own questions and screen candidates faster, from your desktop or mobile device.
Then, think about how your sign will look. You can use online templates, hire a designer or assign this task in-house, if you have a creative department. Here are some design tips to help you create attractive 'We're hiring' signs:
Use bright colors: If your sign will be outdoors, use colors that pop. That way, you'll be able to stand out from other banners and catch people's attention. Here's an example from Gymboree: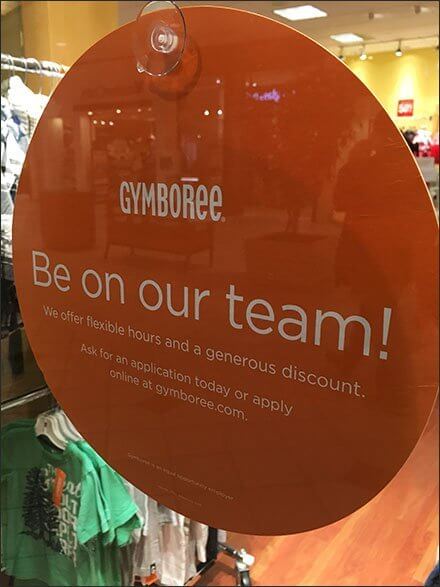 Select sleek, uncomplicated fonts: It's best to use fonts that are simple, clean and non-distracting. Your ad will look professional and people will be able to easily skim the text at a distance. Sally Beauty sends a clear message with this 'We're hiring' sign: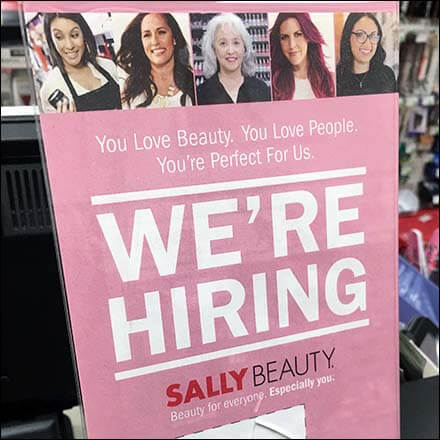 Create an easy-to-read ad: Jobseekers should instantly understand that this is a job ad. Avoid big chunks of text and awkward positioning of words. Try to keep your message simple. Here's an effective and visually pleasing sign from Seattle Coffee Works:
Play up your company culture: Opt out of traditional hiring poster language and add a humorous touch or a pun, if it suits your brand. You could also use pictures of your employees or use graphics to showcase perks you offer. Here's a unique advertising banner from Bon-Ton: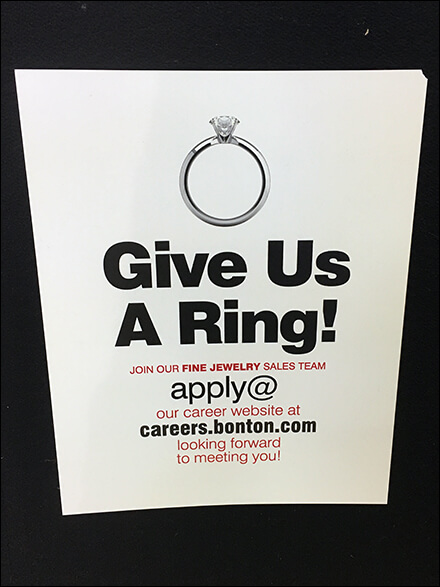 Tips for effective 'We're hiring' signs
As with all recruitment strategies, it's best to try and learn what works for your company and what doesn't. Here are some tips to follow when you're advertising your open roles with 'We're hiring' signs:
Remove signs if they don't bring you qualified applications or when you fill your open roles. Keeping a 'We're hiring' sign outside of your store for too long might send the message that you have high turnover. If you struggle to attract applicants with your sign, it's best to choose a different advertising method.
Keep track of your recruiting metrics. Job advertising signs are one of your hiring sources. Combine them with online job ads and other sourcing methods to maximize your outreach to potential candidates. To measure the effectiveness of your signs:
Keep track of how many resumes you receive, if you're requesting them from candidates.
Ask candidates who apply online how they found out about your open roles as part of your application form.
Streamline your hiring process. Enticing potential candidates to enter your store and submit their applications is only the first step. Make sure you have an effective hiring process that follows. People who respond to your ad are usually actively looking for a new job. Process job applications fast and add qualified candidates to your recruiting pipelines as soon as possible.
Frequently asked questions
What can I say instead of now hiring?

Hiring is hard, but it's worth the effort. Don't just post "now hiring" when you need help! Posting something more enticing like 'help wanted' or, even better yet - "hiring position XYZ" will draw in potential workers for an interview.
How do you write a hiring sign?

You can use a variety of methods to create an effective 'Now hiring' sign. One idea would be to include the phrase "Inquire within" and then prompt people who walk by into your store.
What is a job flyer?

In the past, flyers were used to advertise jobs at large companies. These days it's more common for small businesses and startups because of how cost-effective they can be when looking into attracting new talent with targeted audiences who are interested in your company's products or services!