ChatGPT for executive onboarding: hiring the big shots
Learn how ChatGPT can streamline your executive onboarding – elevating efficiency, personalization, and scalability in your leadership teams. Build up your top-level talent to lead effectively from day one and crush that bottom line.
A ship can't sail without a captain, a restaurant can't deliver food without a head chef, and a business can't run without an executive running the ship.
The executive embodies the visionary, the manager, and the technical specialist – the three personalities that are needed for a business to succeed.
They're central to the functioning and future success of your business. Executives are hired and fired based on the revenue they bring to the organization.
That's why when a new executive joins your core leadership team – be it a CMO, a CFO, or a COO – effective executive onboarding is a must-have strategic necessity, even more so than normal onboarding.
Related: CEO vs. COO: What's the difference? and CEO vs. CFO: What's the difference?
Traditional onboarding methods often miss the mark when it comes to getting new executives up to speed. They're time-consuming. They're tedious. They lack a personal touch. They're inefficient.
Here, ChatGPT can be a transformative tool for modernizing your executive onboarding and positioning your business for future success.
Let's dive into how a ChatGPT-guided executive onboarding process differs from traditional methods, and offer a step-by-step guide on how you can use ChatGPT in your executive onboarding plan.
Traditional vs. ChatGPT-enabled executive onboarding
ChatGPT and AI tools have their own limitations, but their benefits far surpass those of more traditional methods of onboarding.
With ChatGPT's help, executives can frame their decisions, explore possibilities, and think of alternatives they may have missed otherwise. A recent article by Harvard Business Review explored how ChatGPT can help executives make better decisions.
Forward-thinking executives and business leaders embrace new ways of doing things and then adapt them if they improve on the old methods.
An onboarding plan made with ChatGPT improves on more conventional onboarding methods in several ways:
1. Increased efficiency
ChatGPT can streamline your executive onboarding plan and free up valuable time for your HR team.
Traditional onboarding involves a mountain of paperwork and often grueling manual effort, a waste of your HR team's resources.
The traditional method is also much more prone to human error and subjective bias.
2. Personalization
ChatGPT can create a personalized onboarding experience tailored to each executive's needs and role – like a personalized concierge or onboarding assistant you only have to pay $20 a month.
In contrast, traditional onboarding fits all of your new executives in a box. It gives your bright and promising new executive talent a more generic and less engaging experience.
3. Scalability
Using ChatGPT for executive onboarding is much more scalable, and is easy to implement whether you're onboarding one executive or 10.
Having multiple executives join the team at the same time – such as what might happen if your business is in a more advanced stage of growth – just isn't something that traditional onboarding methods can deal with very well. It can make it hard to give all of them the individual guidance and attention they need. That's a one-way ticket to stretching your HR team thin.
| | |
| --- | --- |
| Traditional executive onboarding | ChatGPT executive onboarding |
| Time-consuming manual processes | Automated efficiency |
| One-size-fits-all approach | Personalized experiences |
| Difficult to scale | Easily scalable |
How to use ChatGPT for executive onboarding
When a new executive takes the helm, they need to get brought up to speed fast and learn everything they need to know about what's what, who's who, and how things get done.
This is a problem with slower and less efficient traditional onboarding methods, which can often leave gaps that make the new executives have to take shots in the dark. A 2020 workplace learning report from LinkedIn showed that 49% of learners don't have time to learn at work.
Let's look at some of the ways you can use ChatGPT to expedite this process and bring your new leadership into the fold.
1. Drafting an offer letter
The offer letter is usually the first official document your new executive receives from your company. It sets the tone of their entire experience working together with you, be it months, years, or decades.
This isn't a problem with ChatGPT, which can automate the drafting process and create a customized offer letter that aligns with your company's policies and the specific role they'll be entering into.
Example prompt: "Please generate an offer letter for a Chief Marketing Officer with a starting salary of $200,000."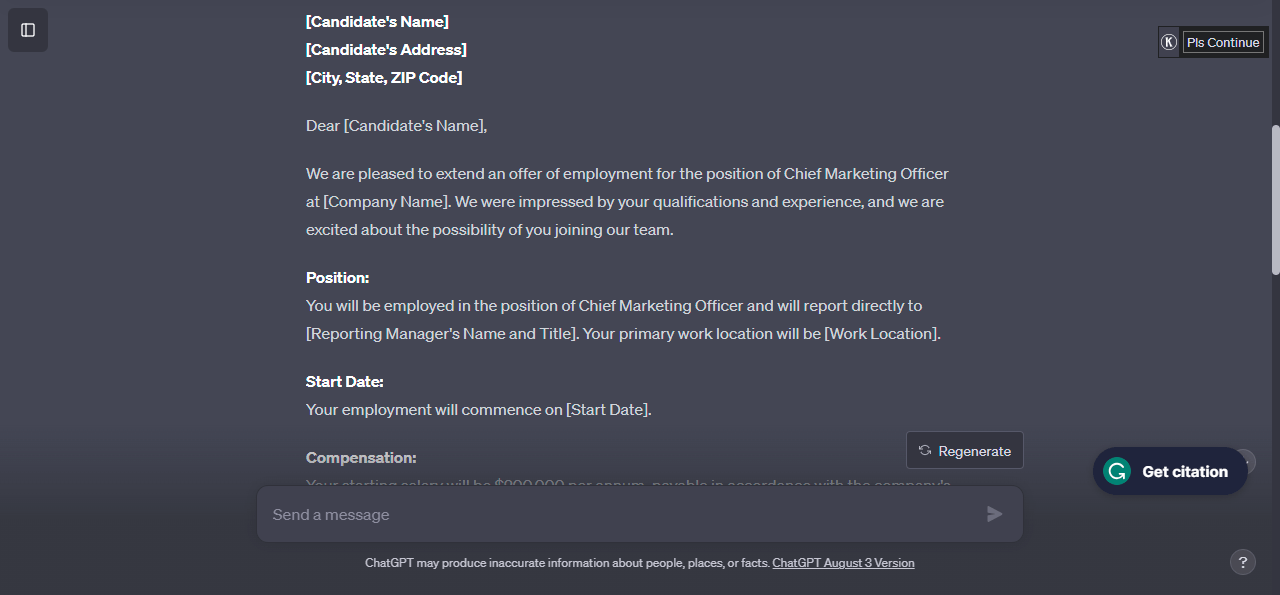 Note that you may have to input a few specific, necessary details, like the position, salary, and benefits. Give ChatGPT that input, and let it take care of the rest.
Example prompt: "Please generate an offer letter for a Chief Marketing Officer with a starting salary of $200,000, including the following benefits: comprehensive health insurance, 401(k) with 5% company match, 20% performance bonus, stock options, 25 vacation days, $5,000 for professional development, $10,000 for relocation, and $100 monthly for wellness."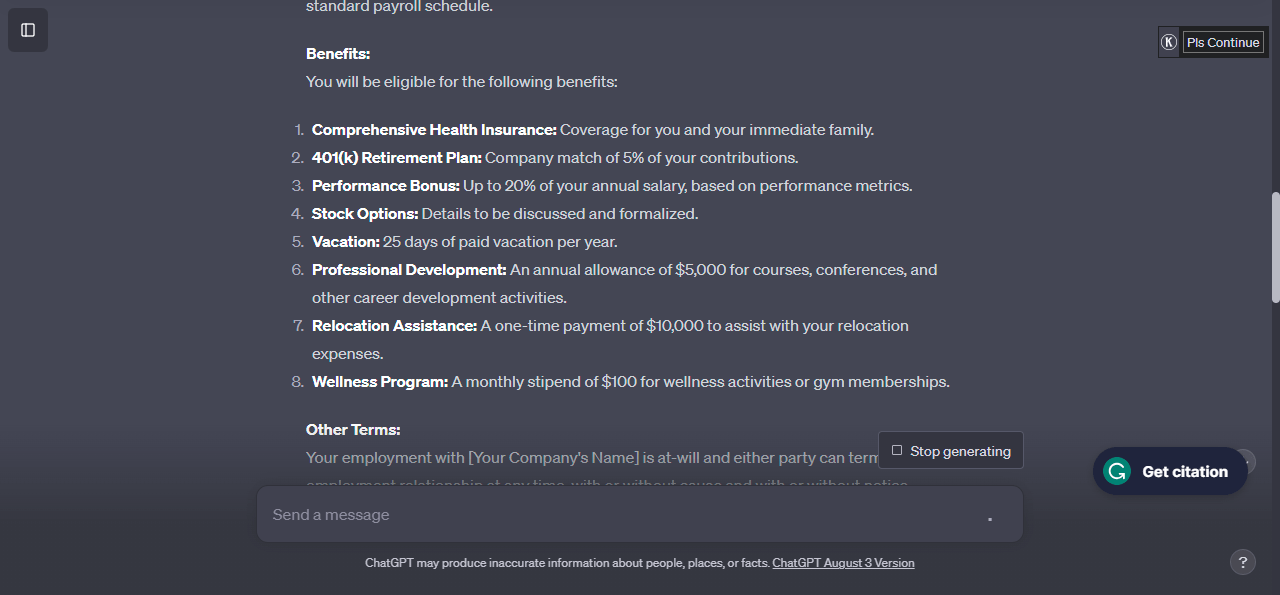 2. Creating a mentorship program
Mentorship isn't just for entry-level rank-and-file employees.
New executives might need a mentor who's been with the team for longer when they're first starting – at least while they're finding their feet and learning the lay of the land.
Where ChatGPT can be an asset in this regard is in creating your mentorship program, in such a way that provides the new executive with guidance, resources, and support they'll need to succeed in their new position.
Example prompt: "Suggest a mentorship program outline for a new Chief Technology Officer."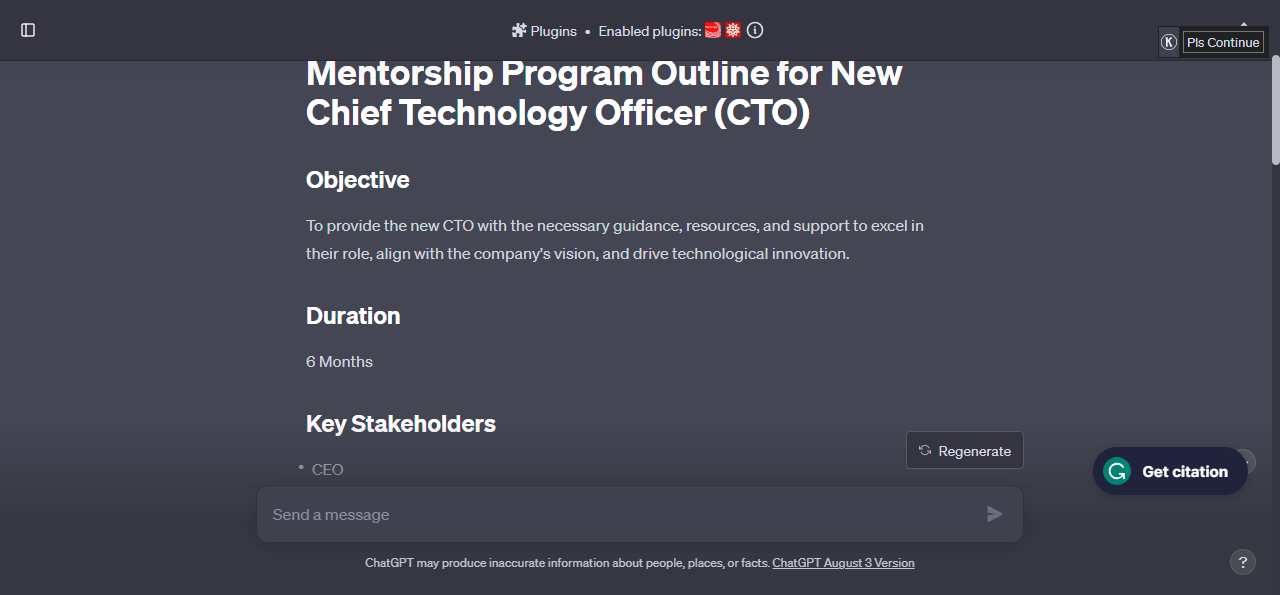 3. Training executives on leadership
Leadership training equips your new executives with the skills and knowledge they need to lead your team effectively and further your company's strategic goals.
ChatGPT can create personalized leadership training programs after analyzing the executive's role, career goals, and the company's strategic objectives.
That way, the leadership training stays relevant but also directly aligned with your company's business objectives.
Example prompt: "Create a 90-day leadership training plan for a new CFO, whose career goals include streamlining financial operations and leading an IPO. The company aims to achieve 20% YoY revenue growth, expand into new international markets, and reduce its carbon footprint."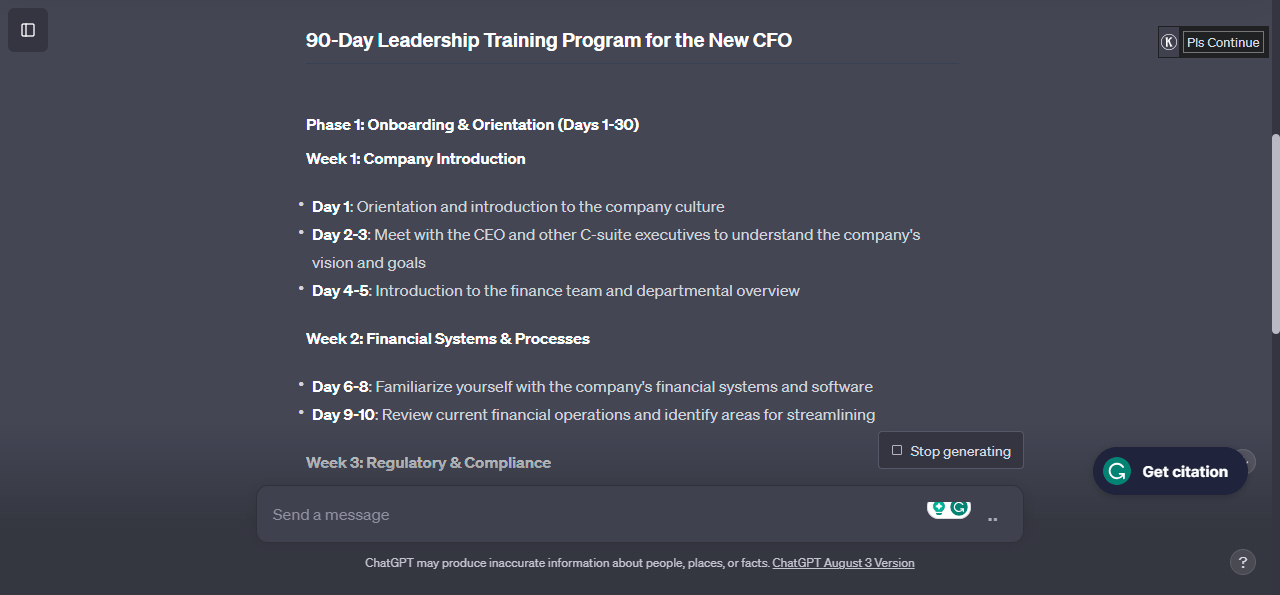 You can also give them additional resources and pathways for further learning while you're at it.
Example prompt: "What are some leadership books and resources suitable for this new position?"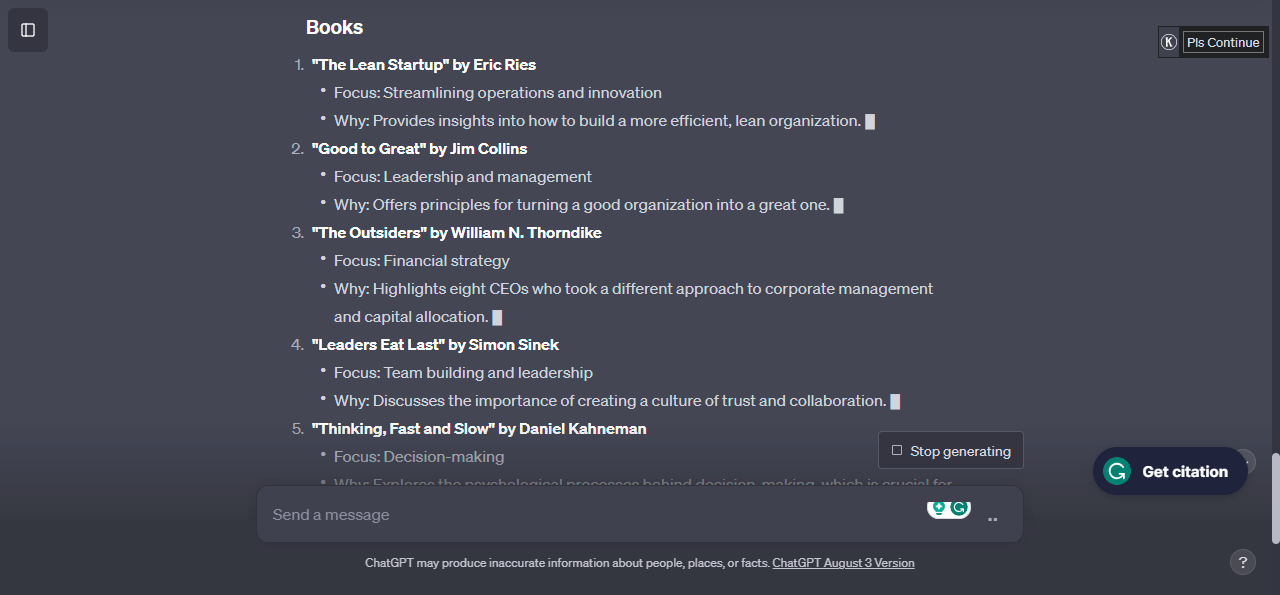 4. Create a strategic alignment plan
Your strategic alignment is the compass that your new executive uses to make sure the ship is on course and headed in the right direction.
Give ChatGPT data like the executive's role, career goals, and the company's strategic objectives, and it can make a comprehensive strategic alignment plan that outlines how the executive can help the company achieve those goals.
Example prompt: "Draft a strategic alignment plan for a new Vice President of Sales whose responsibilities include overseeing the sales team, setting quarterly targets, and building client relationships. The company aims to increase market share by 15%, launch two new products, and improve customer satisfaction rates."
You can also give them some KPIs to use as benchmarks for their success. A prompt you can follow up with may be:
Example prompt: "List key performance indicators for this position."
5. Building networks
If you want to build a million-dollar business, you need to shake 10 million hands.
In the realms of entrepreneurship in business, who you know is often more important than what you know. Networking is key for savvy executives who want to build professional connections – both in and out of your organization – that add value to the team.
Here, ChatGPT can be useful for:
Internal networking
Identifying key departments and teams that the executive can connect with.
Example prompt: "List internal teams that a new General Manager should meet in the first month at a SaaS company focused on HR solutions."
External networking
Web-enabled ChatGPT-4 (using plugins such as VoxScript and Wolfram) can recommend industry events and conferences where the executive can meet potential partners or clients.
Example prompt: "Suggest networking events for a new Chief Human Resources Officer."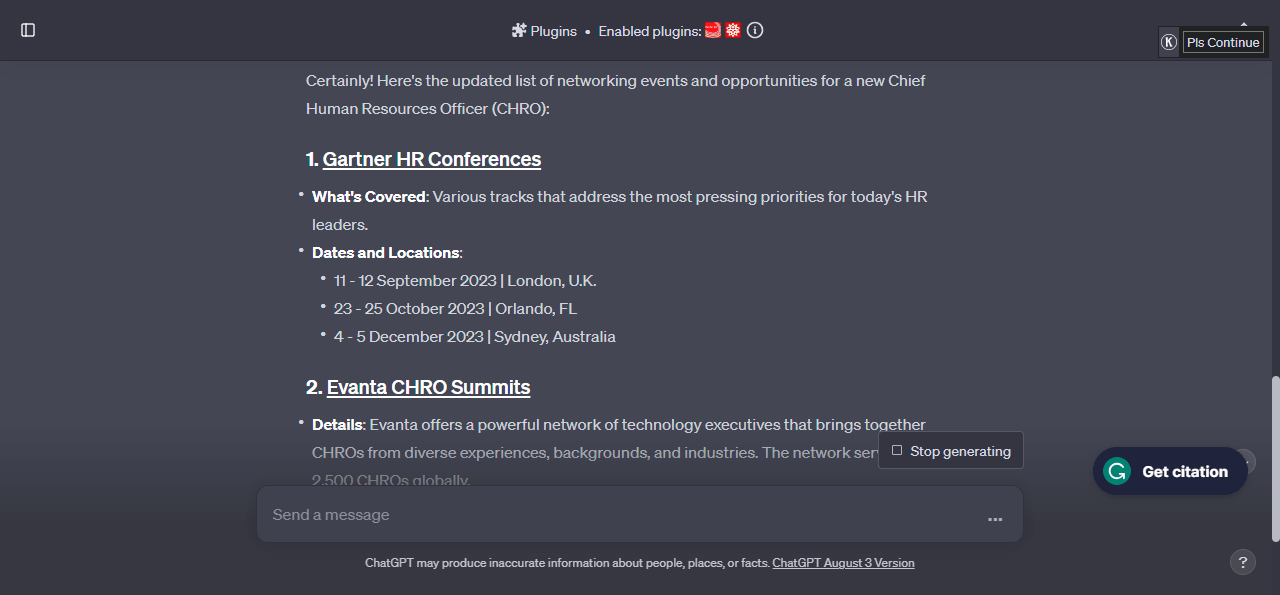 6. Performance tracking
After a few months have gone by, at some point it'll be time to sit down with the new executive and have a chat about how things are going.
You, the executive, and maybe one or two other members of the leadership team will sit down together at a conference table or a Zoom call to measure the executive's success against the KPIs outlined in previous stages of the executive onboarding process.
You can use ChatGPT to simplify this process by making your generating performance review templates for the new executive's role.
Let's say you need a list of customized KPIs. You could have ChatGPT generate the list of KPIs for you based on the executive's role and the company's objectives.
Example prompt: "Generate KPIs for a Chief Financial Officer focused on cost reduction and revenue growth."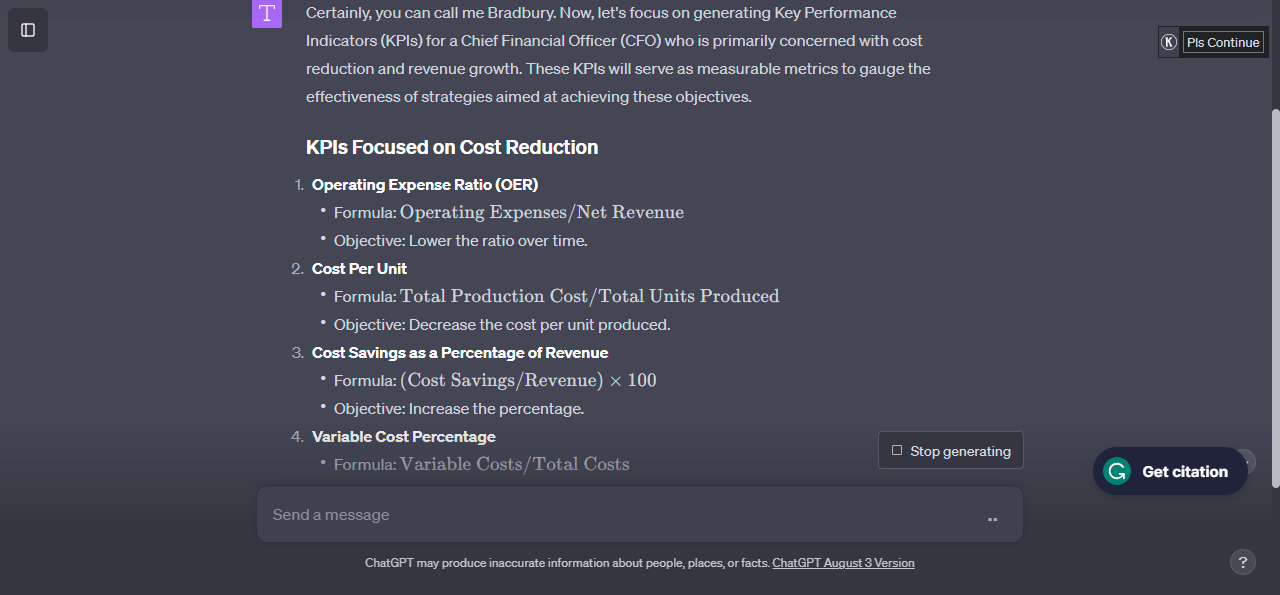 Then, once you have those KPIs, you can use them to track the executive's performance during their quarterly review.
Example prompt: "Create a performance review template for a new Chief Financial Officer."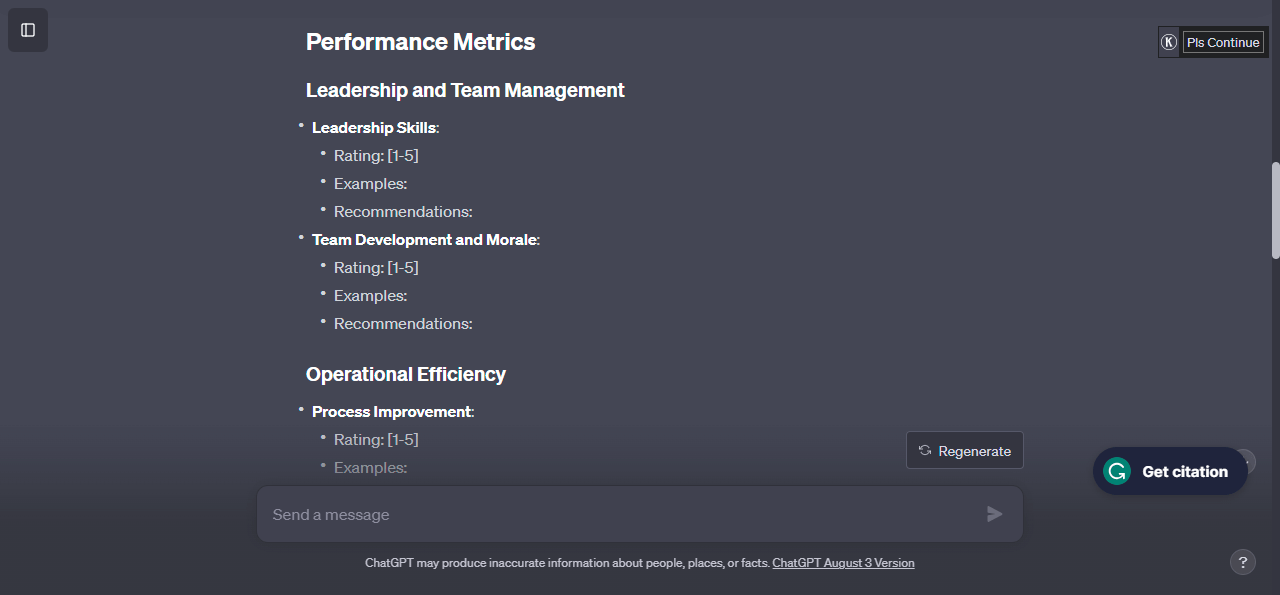 7. Compliance and legal training
Ambition, vision, and motivation are all well and good. However, they need to be kept in check by a strong integrity so that the company stays on the right side of the law, and stays committed to doing the right thing.
The consequences of violating industry violations and upholding contractual obligations can be severe – even brutal – but what kind of executive has the time to sift through piles of legal documents?
ChatGPT can create your compliance checklists and review legal documents for your executive. The executive can then use these briefs to make sure your organization is legally compliant.
In the long run, this can save the executive much of their valuable time, and minimize the likelihood of causing expensive legal errors.
Example prompt: "Create a compliance checklist for a new executive in the healthcare industry."
ChatGPT can also give you advice on legal documents to review before the new executive starts their new role, based on their industry.
It's important to know though that ChatGPT is not a legal expert, and only serves as a place to start. You'll want to have any templates it creates reviewed by professional legal counsel to ensure it's accurate and in line with your industry's regulations.
Example prompt: "Generate a list of legal documents a new executive in a fintech startup needs to review."
Use ChatGPT to get your best and brightest up to speed
Integrating ChatGPT into your executive onboarding process can address the limitations of traditional onboarding methods. It just doesn't help you onboard new executives faster, it helps you do it smarter, more effectively, and more strategically.
Build ChatGPT into your onboarding plan for executives together with Workable's onboarding tools, and create a bigger, brighter, better leadership team.
For more ways you can use ChatGPT in your HR processes, check out our series of ChatGPT tutorials.
Frequently asked questions
What makes ChatGPT an essential tool for executive onboarding?

ChatGPT streamlines the onboarding process, allowing your executives to quickly adapt and make impactful decisions.
How does ChatGPT enhance efficiency in onboarding?

It automates tasks and paperwork, allowing your HR team to focus on strategy and executive alignment.
Is ChatGPT's onboarding scalable to different business sizes?

Yes, whether you're onboarding one executive or 10, ChatGPT can scale effortlessly to meet your needs.
Can ChatGPT be customized for specific executive roles?

Absolutely, it creates tailored onboarding experiences for each executive, aligning with their unique role and needs.
What's the key difference between traditional and ChatGPT-assisted onboarding?

ChatGPT's approach is faster, more personalized, and eliminates common bottlenecks, making your executives productive faster.