The power of a corporate retreat: 5 reasons why you should do it
Corporate retreats boost morale, foster collaboration, and save money. They provide an inclusive environment for socializing, recognizing contributions, and breaking down barriers in large organizations. They also serve as a marketing opportunity, showcasing the company's investment in its employees.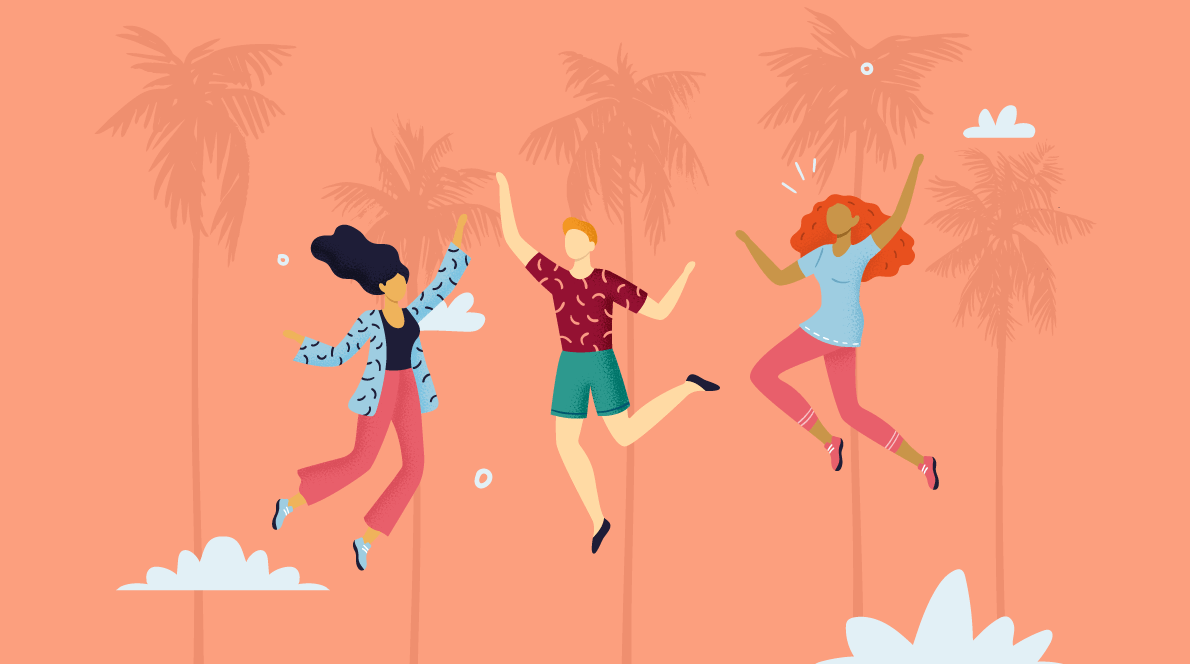 A corporate retreat can be a surprisingly efficient motivator for your company – even when it comes to the bottom line. Consider this scenario: You're the boss of a multinational organization, with offices in five different cities across three continents. It's great – your sales are on target, your customers are lining up out the door, and your C-suiters are constantly flying across the country to meet with investors, clients and each other.
But there are lingering and new problems. Due to the growth of your company, Steve in HR has morphed into "that guy in HR in Denver" for many people in the bigger offices on either side of the coast. The VP of Finance is now someone at world headquarters in Helsinki whose name most of your employees can't remember, and if you're a line manager, you need that VP's greenlight to ramp up your department fivefold after that new funding round. Worse yet, there's an "us vs. them" mentality and a blame culture still lingering between offices because of that uncharacteristically slow quarter last year.
So, you're looking for solutions. As suggested, a corporate retreat is not as crazy as it sounds. Workable just did it, bringing together upwards of 250 employees from Boston, San Francisco, Atlanta, Sydney, London, and Athens for a four-day all-company summit at Barceló Hydra Beach Resort in early June 2019.
Here are five major benefits of a company retreat – and we speak from direct experience:
1) You can actually save money
Contrary to popular belief, it actually makes fiscal sense to have annual corporate retreats. Even if you're spending a thousand dollars a head for such an event, you're saving money throughout the year on:
Multiple work trips between cities for meetings, trainings, panels and plannings: teams can make the most out of the annual retreat by organizing their strategies in-person and having regular digital follow-up afterwards.
Meetings without much advance notice, leading to more expensive short-notice flights and increased costs related to employee fatigue (and burnout): on the other hand, a business trip that's planned months in advance leaves more room for scheduling and communication among colleagues, plus the increased "personal touch" between colleagues after a retreat helps make video meetings easier than ever.
Travel costs associated with the above: it's more cost-efficient to book all tickets at once for the entire workforce in your company (and even capitalize on offers and package deals), rather than separately at different times.
Those are all things you can do on a single ticket at a regular cadence every year. Now that you have an annual company retreat, it's easier to say "no" to non-essential travel at other times while sending the message that these all-hands gatherings give all employees a chance to meet with their remote team members.
However intangible the benefits are, when a corporate retreat is executed well, it can be a real financial boon to your company in terms of increased morale, productivity, and engagement. More on that below.
Workable's lesson:
It's not unlike planning a wedding – assign an experienced event planner and/or event manager to organize the retreat, and more so, maintain tight control over the entire process. Scheduling a trip like this is already a challenge – and unexpected issues can and will arise. It's best to have one person (or more, depending on your company size) dedicated to organizing all details of the trip. You should also make it as easy for them as possible, i.e. make sure that all employees who live in the same city or area take the same flights so that you don't have to track different flights for every employee. The amount of logistics in a retreat is staggering enough that you don't need the additional logistics of added PTO, extra hotel time, and dozens of different flights to accommodate the many different people in the company.
You also want to set realistic expectations for expensing: have a clear policy on what can and what can't be expensed, such as a ride to and from the airport or meals while en route to and from the retreat itself. This way, you can also more accurately forecast – and plan for – the budget of the retreat.
2) You get to recognize employees
In a company, some employees get all the glory. The high-energy folks in sales are celebrated after a record-breaking quarter, and the marketing department gets to be the face of the company at conferences and work events. What about the dev team though? Or the support team? Or anyone in the trenches, who contributes just as much – if not more – to the health and growth of the organization?
A corporate retreat gives you the opportunity to bring these underrecognized groups into the same room as the aforementioned sales and marketing departments, and opens up the channels of communication between siloed squads. Your organization's leaders and C-suiters can also highlight the various successes of each team in all-company presentations – this is especially powerful when many higher-level managers don't meet face to face with others in the organization on a daily basis. Moreover, recognition has been identified as a significant driver in employee engagement.
Workable's lesson:
Not only can your managers make presentations on behalf of each respective department, you can also organize a fun intra-company competition to showcase the talents of your employees. Developers, for instance, can be challenged to build creative integrations and features, and marketers can compete to show off their most innovative ideas for promoting the company brand.
A few days before the retreat, devs and designers from Workable's Athens office split into 12 teams and organized a 48-hour company hackathon. They presented their innovative ideas to the rest of the company during the retreat and the winning team got a free trip to Boston. The results left a strong impression and showcased the talent and brains behind Workable's product to the rest of the organization – and even inspired new ideas for future integrations and features.
3) You can build teams across divides
Larger organizations – especially those spread out across different cities and countries – sometimes fall into the "us vs. them" mentality, and can feel detached from one another when their only interaction is during regular team meetings or via emails and video calls. The distance is felt even in the same office when you have groups and squads working closely together on projects but rarely interacting with each other beyond the standard "head nod" or "good morning" on passing each other in the hallway.
Newer team members can also struggle with integrating into the workplace culture when the latter is already established, while C-suiters and entry-level employees rarely have an opportunity to connect.
A company retreat gives you the opportunity to break down those barriers among employees and teams by providing an equal footing and inclusive environment in which they can thrive and socialize. When everyone gets facetime with everyone, that's a powerful thing.
Workable's lesson:
In many cases, depending on the size of your organization, you'll find yourself organizing your employees into different travel groups both to and from the retreat. You can assign a team leader to each of these groups and mix up the teams so that different employees from different departments are in the same groups together – such as the company CEO in the same team with the marketing copywriter, with both ending up going for breakfast at Munich International Airport after a long flight (true story!). By default, employees will interact with colleagues they don't normally engage with on a daily basis, whether it's during the travel itself or during unexpected issues that may come up (for instance, flight delays).
Also, an explicit message from the higher-ups – i.e. the CEO – can be powerful, reminding employees that this is an opportunity for everyone to get to know one another outside of work regardless of their roles in the company. Of course, a naturally social environment such as a beach resort or an all-hands evening banquet is the perfect setting.
4) You can boost employee morale and pride
Let's be honest: while there are those who don't love traveling for work purposes, the feeling of excitement leading up to and during a corporate retreat can be significant. Being put on a plane and sent off to a tropical locale – or at the very least, to a swanky hotel setting in a city or region you're not always familiar with – is appealing, especially when employees don't have to pay a single penny for it. It's also a statement from your organization that you're willing to invest in your employees to have a memorable time together.
It's not just the trip itself. When you bring in presentations, trainings, sessions and lectures either all-hands or for each department, you're also showing your employees that you're actively investing in them to grow and develop in their careers. Employees will return to offices on a similar wavelength of energy, tired but energized, and potentially more engaged in upcoming projects because of that strengthened bond with each other.
Workable's lesson:
In a company retreat, you have a rare opportunity to share information across teams, and organize breakout sessions for each team – particularly the distributed ones. Be smart in your scheduling and events so that there are opportunities to have training/learning seminars and team-planning exercises healthily interspersed with free time for employees to bond in informal environments.
5) And you can market your company
Last but not least: the marketing opportunities of a corporate retreat can be significant in twofold. First, you can invite preferred clients and potential investors to your retreat as well – even inviting them to speak on a panel and share what they like about your product or service or what they'd like to see in the future. Not only does that help your team members in their planning, it also shows that you value your customer base and appreciate your investments.
Second, when you can tell potential candidates that there'll be an annual corporate retreat to an exciting foreign locale, you're positioning yourself as an attractive company to work for. This is especially applicable if your company's office is in a location that's not ideal for many potential employees – you may not have the best office setting but you make up for it by sending employees off to amazing locations.
A great experience – in other words, something not ultimately ordinary – is often shared with friends, peers and family. Those present at the retreat will return home talking about their experience for days and even weeks, and that's a marketing opportunity using one of the most powerful streams: word of mouth.
Workable's lesson:
You don't necessarily have to brag about your company retreat to others, but you can thank participants – in this case, customers and investors – for coming to the retreat. You can share details about your retreat via your company's social media channels and on your careers page. This can make your company an appealing place to work for potential job applicants – a fundamental aspect of recruitment marketing. What's more, you can even invite coveted candidates to a corporate retreat and get them to sign that contract right there on the beach – as was the experience of Geoffrey Bressan, Head of Marketing at Proxyclick, in Lisbon in 2017.
A corporate retreat = an opportunity to synergize
Now, that guy in HR in Denver has become familiar with the VP of Finance in Helsinki in a professional or even friendly capacity. The marketing guy in the Boston office no longer feels like they have to jump through hoops to get their new project greenlighted – they're more familiar with others in other locations, they're more able to quickly get approval because they know what "language" to use and who to talk to. Your CEO and other higher-ups now feel more approachable, and the company knows how great the dev team is.
All around, your multinational organization has now built bridges across the various divides between offices and employee morale has received a boost. You have a more efficient, motivated company that can – and should – reflect strongly on the bottom line. So, a corporate retreat? Yes, do it, definitely.
Frequently asked questions
What happens at a company retreat?

A work retreat is about building a culture where better work will be done. This doesn't necessarily happen by focusing on the physical location of what you're doing but rather through creating an environment that encourages creativity and knowledge sharing among colleagues.
What does a work retreat mean?

Work retreats are more strategic than team-building events. The goal of a work retreat is to spend time brainstorming, working on projects, or coming up with company roadmaps - all in an effort toward achieving business results.
What activities take place at a retreat?

Depending on your budget, goals, and schedule, there are dozens of retreat activities available for organizations, including having a welcome party to playing board games with teams or individuals in this interactive experience that fosters collaboration skills while having fun.