The most important HR skills and how to master them
The most important HR skills include organizational skills for managing various tasks and deadlines, communication skills for clear and effective interaction, confidentiality skills for handling sensitive information, and adaptability skills for managing change and unpredictability. Cultivating these skills can enhance productivity and effectiveness in HR roles.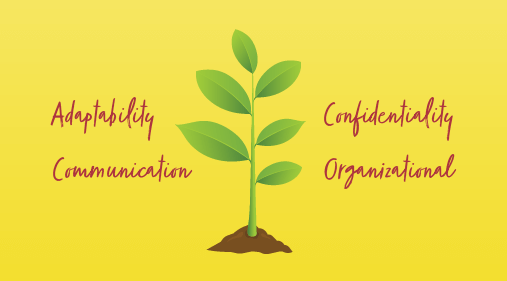 Whether you're kickstarting your career in Human Resources, or you're a seasoned HR professional, developing good organization, communication, confidentiality and adaptability skills will help you manage your daily tasks and improve your productivity.
Here, we analyze some of the most important HR skills and offer advice on how to cultivate them:
Organizational skills
Why it's important to be highly organized
HR professionals are liaisons between employees, department heads and CEOs. They manage tasks that need to be completed by different people and departments. Here are some organizational skills HR professionals cultivate:
Time management. Drawing up employment contracts and managing payroll and insurance plans are time-sensitive tasks. HR teams are responsible for meeting deadlines and complying with relevant regulations.
Records management. HR teams manage information and documents, like employment agreements in physical and digital formats. In large teams, HR professionals are usually responsible for storing and retrieving employee data from effective filing systems (e.g. HRIS.)
Calendar management. In-between meetings with colleagues and executives, HR professionals have to squeeze in other important tasks, like setting up employee training and development and organizing company events. Good calendar management skills help busy HR teams stay productive.
How you can improve your organizational skills
Use calendar management tools to schedule upcoming meetings and send notifications so that you don't miss anything.
Measure how much time each task requires (e.g. by using tools like RescueTime) and book timeslots to focus on specific responsibilities.
Organize your daily agenda and prioritize your duties with to-do list applications, like Todoist and Evernote.
Invest in Human Resources Management software and Applicant Tracking Systems to keep important data and files in one place.
Communication skills
Why it's important to be a good communicator
HR teams interact with people on a daily basis in-person, over the phone and by email. HR professionals with good communication skills smooth over issues before they escalate and convey company standards clearly. Here are some areas where important HR skills matter most:
Clear writing. HR professionals with good writing skills avoid miscommunication as they minimize back-and-forth emails and write clear company policies.
Critical listening. Being a good listener helps HR employees have honest discussions with staff and managers, gauge other people's points of view and better focus on finding solutions.
Conflict management. Teams that are able to approach potentially uncomfortable situations like exit interviews, grievances and salary negotiations with grace help maintain balanced work environments.
How you can improve your communication skills
Read books and take training courses on soft skills, like:

Negotiation and persuasion
Critical-listening
Empathy
Conflict management

Improve your presentation and public speaking abilities by:

Attending a toastmasters meetup
Asking for advice from colleague with strong speaking skills
Practicing in front of a small group of team members

Collect feedback and tips from different teams. For example:

An editor could proofread and suggest improvements to HR emails
Salespeople could advise you on how to improve your persuasion skills

Pay attention to body language to interpret nonverbal cues. For example:
Confidentiality skills
Why it's important to be confidential
HR teams manage confidential information, like compensation. They also discuss personal, sensitive matters with employees. To make sure they respect privacy, HR professionals need to develop the following:
Discretion. Disclosing an employee's personal data (e.g. medical history) can put that employee in an uncomfortable position and raise your business's legal risks. Good HR staff handles sensitive information with care.
Ethics. HR team members have access to corporate information, including contract terms, budgets, salaries and offer letters. It's important that they refrain from gossiping about this information and maintain their professionalism at all times.
Trustworthiness. HR professionals need to inspire trust. Employees who may disagree with a company policy or have an issue with their manager will talk to HR. But, they need to feel secure enough that raising a concern won't affect their employment status.
How you can demonstrate your confidentiality skills
Create fair company policies that meet employees' needs (e.g. a grievance policy should explain how employees can express their complaints, clarifying how HR will respect their privacy.)
Compile an employee handbook so company guidelines and procedures are transparent to all employees.
Act as a consultant to employees when they have concerns, be approachable and encourage regular communication (e.g. meet 1:1 with all employees and managers.)
Follow advice from legal and IT experts on how to manage and store sensitive personal data.
Adaptability skills
Why it's important to be flexible
Unpredictable circumstances (e.g. an employee who quits) can shake up an HR professional's daily agenda. To adjust to or even predict changes, HR team members need to develop these skills:
Change management. The HR team should be able to understand when it's time to modify old policies, create new ones and how to help employees embrace change (e.g. helping employees transition into new roles.)
Big-picture thinking. HR professionals are business partners who participate in decision-making and strategic planning. They need to be able to forecast the need for changes. For example, as your business grows it might make sense for HR to invest in current staff by designing and applying career path programs.
Self-assessment and improvement. The key to fostering a healthy work environment is never getting too comfortable. HR employees who have a mindset of improvement can help keep your workplace modernized (e.g. by adding creative perks and benefits) and retain employees.
How you can improve your adaptability skills
Keep track of metrics to understand what works and what needs improvement, both in your HR practices and your company as a whole.
Network with industry leaders, either in-person during HR conferences or online (e.g. in HR-related Slack channels.) They can give you new ideas on common HR issues and keep you current on industry trends.
Keep up with changes in labor legislation, by joining relevant forums and online discussions among HR professionals.
Listen to employees' points of view. Be proactive and ask for their opinions (e.g. what perks they'd like to have.) Even casual discussions may bring forward ideas for change. For example, frequent complaints about a certain policy may indicate you need to revisit it.
Frequently asked questions
What skills should an HR professional have?

An HR professional should have organizational skills for managing various tasks, communication skills for clear interaction, confidentiality skills for handling sensitive information, and adaptability skills for managing change and unpredictability.
What are HR skills and competencies?

HR skills and competencies include active listening, verbal and non-verbal communication, social awareness, self-management, and accountability. These skills are essential for effective communication and efficient management in HR roles.
What is a good HR employee?

A good HR employee possesses professionalism, honesty, integrity, good manners, and a positive attitude. They also need industry-specific skills, such as understanding labor legislation, HR practices, and industry trends.
How can HR professionals improve their adaptability skills?

HR professionals can improve their adaptability skills by tracking metrics, networking with industry leaders, staying updated with labor legislation, and listening to employees' points of view. These practices can help them anticipate and manage changes effectively.
How can HR professionals demonstrate their confidentiality skills?

HR professionals can demonstrate their confidentiality skills by creating fair company policies, compiling an employee handbook, acting as a consultant to employees, and following advice from legal and IT experts on managing and storing sensitive personal data.