In-House Recruitment Expo: Key takeaways from 2018 IHRE at Telford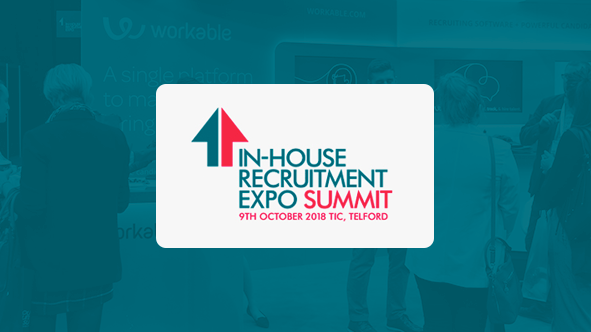 In October 2018, I visited Telford in England for the first time, to attend the In-House Recruitment Expo Summit. Attendees and keynote speakers from all over Europe gathered on Oct. 9 to share their ideas, challenges and best practices around recruitment.
Great morning at launch of IHRE18 Summit! Lots of great sessions to go this afternoon. Register on Site @ The TIC, Telford! pic.twitter.com/KFiHSaIc9r

— InHouseRecExpo (@InHouseRecExpo) October 9, 2018
During my time attending seminars and masterclasses, in between presentations and visiting exhibitors' booths, here are my biggest takeaways from the 2018 HR summit at Telford:
1. Recruiters vs. Robots: the battle hasn't started yet
And it's highly unlikely that it'll ever start. Technology has changed the way we hire and has even had an impact on job-seeker behavior (with 72% of candidates spending an average of 2-6 hours researching and using 14.5 sources to gather as much information as they can for their potential employers.) But we are not talking about removing the human factor from recruiting. Dave Hazlehurst, partner at Ph.Creative and keynote speaker, explains:
Tech knowledge is the enabler – not the solution. The more digital we become, the more human we must be.
There are intangible traits that make us human, like empathy, imagination, passion and creativity, and by incorporating them into the hiring process, we can make the difference in the candidate experience.
Matt Buckland, Workable's VP of Customer Advocacy with 16 years of HR experience, agrees:
We need to have a human process, not process the humans.
Technology is here to help us hire more effectively and to optimize the process; it's time-consuming to collect and combine data manually. Think, for example, sourcing tools that use boolean search logic. Or AI-based systems that match your requirements with potential candidates. In the end, though, we use our intelligence to reach decisions.
2. Employer branding is not a buzzword; it's an action plan
There's no point in identifying your employer brand and defining your core values if you don't do anything about it. In his presentation, "How to build an employer brand in 100 days," Dave Hazlehurst explained that you need to promote your culture everywhere: from your job ads and careers pages to your offline communication with candidates (e.g. during interviews.) Make your brand attractive to potential hires by using engaging content, pictures and quotes.
But before you get there, Dave suggests doing an in-depth research among your current staff. Identify common patterns across your company by asking questions like:
What's the one thing you wished everyone knew about working here?
What did you hear about the company before joining?
How has this changed after you were hired?
Not everyone will answer the same way. Junior-level employees and executives will have different perspectives. Same goes for an engineer versus a marketer. But these different perspectives resonate with candidates, too. They won't all join your company for the same reasons. So, use the data you gather to build your unique personas. And then, differentiate your employer branding tactics based on these personas.
3. Employees (should) stand at the heart of HR
Before accepting a job offer or even applying for one of your open roles, candidates will go to multiple sources to learn as much as they can about your company. This adds an extra degree of difficulty for you, as you now have to control the messaging out there about your company and create compelling and up-to-date content on various channels (such as Glassdoor, LinkedIn and Facebook) that will boost your reputation. It's no longer only about finding great candidates; you also have to convince them that your company is an ideal fit for them.
Tomas Coulter, co-founder of 360 Resourcing Solutions, spoke of the importance of Employee Value Proposition. Or, as candidates would put it, "What's in it for me?" According to Tomas, your EVP should center around these five pillars:
Monetary incentives
Prospect of the role
Day-to-day
Company culture
Relationships with team members
As to how you communicate your EVP to candidates, PathMotion co-founder David Rivel gave some valuable tips:
Stories have a greater impact than facts. That's why job seekers prefer to hear real stories from real employees to determine whether they're going to apply at your company.
For example, instead of just saying that you have a great culture, ask your current employees to describe a day at work in a personal, authentic way. This will help illustrate life at your company and attract like-minded people. After all, your employees are ambassadors for your company.
4. Recruiter and hiring manager: #RelationshipGoals
The recruiter-hiring manager relationship is a complicated one. Recruiters might complain they don't get prompt feedback from hiring managers. On their part, hiring managers often feel that recruiting is not their job. Both parts, though, have a common goal: to hire the best candidates. So, instead of fighting or avoiding each other, they should actually be working closer together. Lee Harding, Talent Acquisition Manager at Shop Direct, put it nicely:
Recruiting doesn't have to be painful for hiring managers. We, recruiters, need to make a plan to educate and empower hiring managers through the entire process.
This plan starts with recruiters and hiring managers sitting side by side and talking about the role. Recruiters might discover something useful – for example, that they should reach out to candidates from X company because they have built innovative products. And hiring managers will get access to valuable data they wouldn't be able to find themselves, like salary benchmarks for the role they're hiring for.
To make it work, this relationship shouldn't be forced. As Lee explains, both parts should meet regularly, even when there's no current open role, so that they build a true partnership.
Recruitment is always changing; new dynamics emerge in the space while old tactics either change or become obsolete. That's why it's important to stay on top of the trends as much as possible – or better yet, ahead. We're doing that by attending numerous recruitment-focused events all over the world; next time you're at such an event, please stop by our booth. We'd love to hear your thoughts on the current and future trends in HR and what you're doing about them. In the meantime, we're happy to chat with you on LinkedIn or Twitter.