How to build a strategic hiring plan
Building a hiring plan involves aligning hiring resources with business goals and long-term staffing needs. It requires gathering all stakeholders, determining financial resources, setting company goals, understanding headcount, performing skills gap analyses, and determining CEO involvement.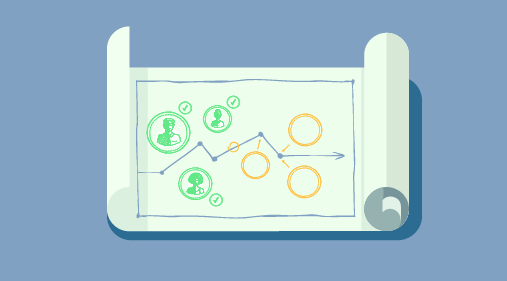 Willy-nilly recruitment happens when nothing is in writing. I've seen this firsthand. Hiring managers open requisitions, only to withdraw them when learning they don't have full buy-in from the leadership team. Recruiters are then forced to perform an awkward song and dance to the candidates they've already engaged.
There's gotta be a better way, right?
The better way happens when there's an actual hiring plan. Strategic hiring plans are about more than just headcount. They make business leaders stop and think about next year's goals and whether or not the organization's existing talent meets its needs.
From the Talent Acquisition side of the bench, annual hiring plans help me answer:
What are our company goals for next year?
What are our strategic initiatives?
Do we have the human capital to meet those challenges next year?
When should we fill these roles next year? (Q1,2,3,4)
Can we adequately fund these roles?
Here's some advice on how to plan your recruitment next year:
How to build a hiring plan
My conversations about hiring plans are always tied to budget. I need to know my financial resources before I can start building next year's people resources. Here are some common questions and answers about the process:
What is a hiring plan?
The hiring plan itself is a spreadsheet with accompanying financials and headcount (budget for each role and department.)
Who builds the hiring plan?
All members of the leadership team are stakeholders in this process, as are their direct reports — specifically, those who own people leadership and budget. Hiring plan meetings are an opportunity for these teams to calibrate overarching business goals against existing resources.
How does the hiring plan process unfold?
Often times it runs parallel with the performance evaluations process which gives you an idea of what you may or may not need for each team in the upcoming year.
Here are some quick tips and steps on how to build your hiring plan:
Get everyone together in one room. This sounds overly simplistic, but I've found it's actually one of the most challenging parts of the process. There's a lot that comes to a head around year's end: vacations, performance reviews and annual revenue targets. Start early. Get everyone on the calendar as soon as possible.
Determine the financial picture. Hiring plans are predicated by revenue. The G&A team should prepare the financials (spreadsheets, broken down by cost center) for next year. Use these to guide your budgets for each line of business.
Set company goals. This is the leadership team's responsibility. The goals are always going to be financial. For example, the sales team might set revenue targets to close $X million in annual contracts next year. The hiring plan should help the VP of Sales accomplish this goal (for example, by hiring new account executive positions in Q2 and Q3.)
Learn your headcount. This is the most important metric for Talent Acquisition because it will drive your workload next year. Here's what a hiring plan template for headcount looks like: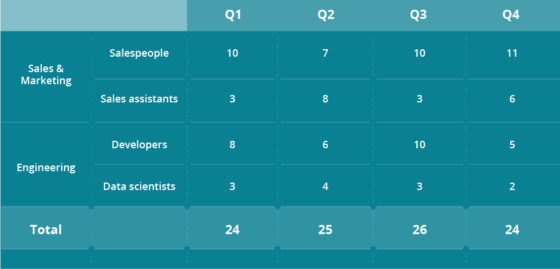 Perform skills gap analyses. If you've had turnover during the year, this is a good time to take a look at any skills you need to acquire through hiring. Or, consider succession planning strategies to fill those gaps.
Determine how your CEO will be involved. CEOs likely won't be involved in all planning meetings at big organizations (more than 1,000 people) but will want a seat at the table early on at smaller businesses and startups.
Learn how you can boost your hiring plan with Workable!
Talent Acquisition's role in the hiring plan process
As Talent Acquisition manager, I need a seat at the table during strategic hiring plan discussions because:
I help create more accurate hiring budget forecasts.
I am more in touch with what the market for compensation is, because I'm constantly talking to candidates. And benchmarking doesn't always align with what's going on in the market. For example, HR and hiring managers relying on benchmarking data might think they can recruit a marketing manager in Boston for $X, when I know that candidates expect $Y salary.
I need to know headcount to get the job done.
Hiring plans dictate the velocity at which I and my team need to recruit. Let's say we're planning to grow by 100 people next year. I need to know that I'm going to be positioned for success and that I have all the resources I need. We'd look at the plan and ask:
What are the roles and what type of velocity could I handle?
How many hires can I deliver in one quarter?
For example: my career-high is 15 hires in a quarter. But if the goal is 100 hires, I alone will not get us there. So I might make the business case to hire a contract recruiter, a talent sourcer and scheduler to better streamline the workflow.
Use hiring plans to power your recruiting strategy
Hiring plans are much more than numbers on a spreadsheet. They're an opportunity for me to shape recruitment strategy by influencing and educating hiring managers and leadership as to how we'll reach our ambitious goals together. In absence of an actual document, you have no platform from which to work, nor the ability to measure success or failure.
Frequently asked questions
What's a hiring plan?

A hiring plan is a comprehensive strategy. It aligns hiring resources with business goals and long-term staffing needs.
What information should be included in a hiring plan?

A strategic recruitment plan will typically cover many elements of your business, including your recruitment goals, ideal candidate profiles, and employee value proposition. You can use this information to build engaging job postings to attract the best candidates for your company.
What is a strategic hiring plan?

A strategic recruitment plan is a detailed roadmap on how to attract high-caliber talent for your organization. With piercing clarity, it outlines employer brand messaging, which candidates are to be targeted, the primary sources for hires, and anything else needed to make your recruitment program a resounding success.