What's the best day to advertise job openings?
Are you posting your job openings when candidates are looking? Knowing when job seekers are most active on job boards can help you reach a larger candidate pool. The data is revealing.
At Workable we process thousands of job applications every day. A quick look at our submission logs shows us that not every day is the same in the world of recruiters: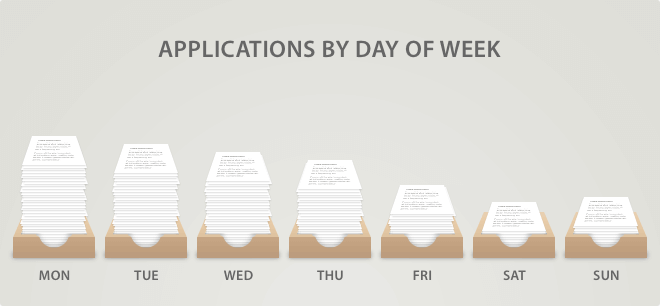 What is the best day to post a job?
There's an unmistakable trend here and the takeaway is this: don't post your jobs on Friday evening, by Monday they'll be last week's news! Instead, wait until Sunday evening or Monday morning and advertise a job when the candidates are most active.
Most job sites use freshness as a factor in ranking job search results. Plus, the new job advertisements of the day usually land in email updates and job board front pages, so getting there when the action is happening can get you up to double the candidates you'd receive on a low day.
Have you already noticed this trend and tailored your job posting accordingly? If not, we hope this helps. Other companies might already be aware of this little trick of the trade and they might be successfully receiving all the applications whilst you're left scratching your head.