Using LinkedIn Recruiter System Connect with Workable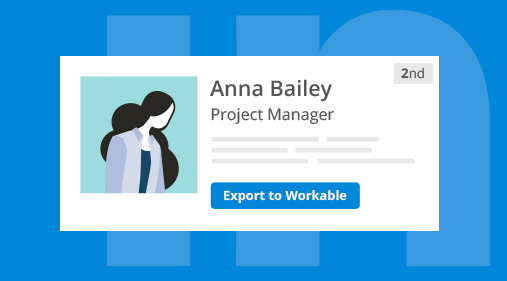 Depending on the reports you're reading, between 80 to 97 percent of recruiters use LinkedIn to source and make first contact with candidates. Combined, LinkedIn Recruiter and a robust applicant tracking system have become the mainstay for many recruiters. And yet, toggling back and forth between the two can be cumbersome. Manually copying data from one system to another can mean lost, duplicate or incorrect data.
As a member of LinkedIn's Preferred Partner Program, Workable provides the option to enable the LinkedIn Recruiter System Connect integration and gain access to enhancements across both platforms.
What is the LinkedIn Recruiter System Connect integration?
This integration allows Workable and LinkedIn Recruiter to 'speak' to each other. The communication you've had with a candidate via InMail is viewable inside Workable. The application status and latest comments on a candidate inside Workable are now viewable within LinkedIn Recruiter. No matter how you like to start a candidate relationship, you can make the communication and details available to everyone on your hiring team.
Note that to enable the LinkedIn Recruiter System Connect integration, you need to have a LinkedIn Recruiter license and the Workable Advanced plan.
Here are the features you'll unlock when you set up the Recruiter System Connect integration in Workable:
When you're browsing in LinkedIn Recruiter, you can:
Export candidate profiles to Workable with one click. When you find a great candidate in LinkedIn Recruiter, click 'Export to Workable'. Select the appropriate job you're hiring for and a new candidate profile will be created automatically in your Workable account. This profile will contain basic information from the candidate's public LinkedIn profile such as name, headline, and current company. Once the profile information is in Workable, it's easy to share with your team to request and gather feedback. If you send an InMail to a LinkedIn member, they will have the option to share their contact information with the recruiter. If they choose to, the LinkedIn member's contact information will also be sent into Workable.
Identify past applicants. When candidates are already in Workable, LinkedIn Recruiter will display these candidates within the "Past Applicant" spotlight. When you see 'In Workable' on a candidate's profile, within the LinkedIn Recruiter search page, simply roll over the link to see the latest feedback from interviewers, or to open their profile in Workable.
Here's an example from a Project Manager search on LinkedIn Recruiter: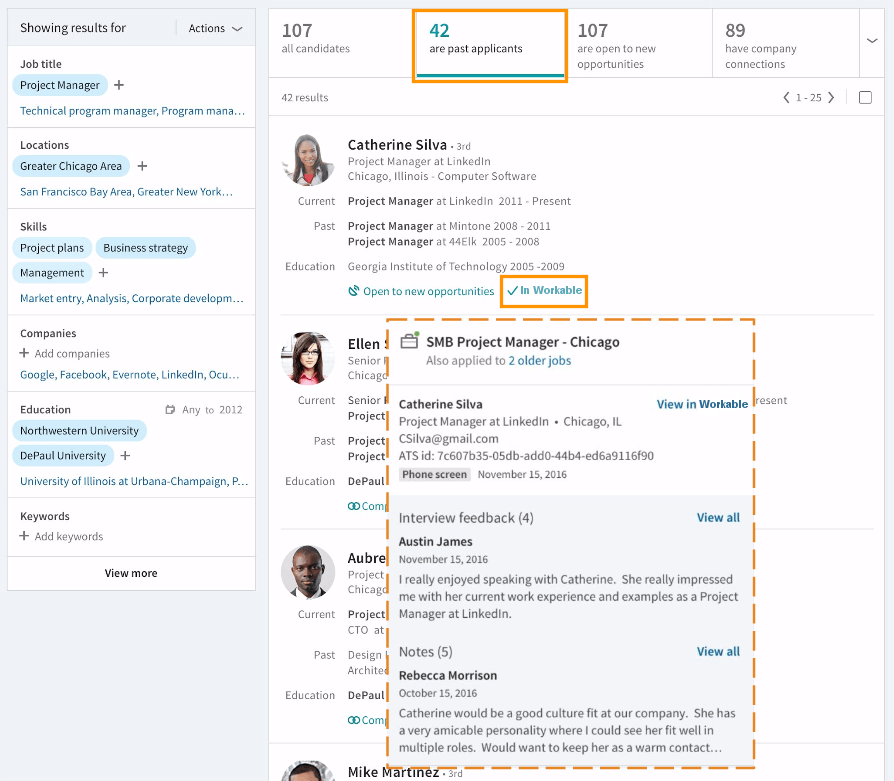 Knowing which candidates are already in your recruiting pipelines or your candidate database means you:
Not using Workable yet? Request a demo to learn how you can optimize your hiring efforts with our all-in-one recruitment software.
When you're in Workable, you can:
Access communication and notes from LinkedIn Recruiter on the candidate's profile. During the hiring process, you'll likely send InMails to candidates and leave notes on LinkedIn Recruiter profiles. But this information isn't accessible to everyone on your hiring team.
To keep the complete candidate communication history in one place, InMails and notes from LinkedIn Recruiter will be synced to your Workable account. This means, your entire hiring team is up-to-date on the last recruiter interaction.
View up-to-date LinkedIn candidate profiles. While you're still in Workable, you have the option to view profiles as they appear on LinkedIn Recruiter. If, however, you do want to visit a candidate's LinkedIn profile, a link in Workable will route you to the member's profile on your LinkedIn Recruiter account.
In addition, when a candidate updates their profile on LinkedIn, changes will be reflected immediately inside Workable. This means that you'll always have the latest candidate information in hand, without having to switch between systems.
As a LinkedIn Preferred Partner, we also offer another feature that aims to improve candidate experience and bring you more applicants:
Apply with LinkedIn
Improve applicant conversion: Candidates can complete an application faster, by using their LinkedIn profile data. If you have a full LinkedIn Recruiter account, you can enable 'Apply Starters' and activate the 'Apply with LinkedIn' button. Once a candidate clicks this button on any open job on your careers page, all relevant information will be entered in their application form automatically. They can add or edit information and upload files before they submit their final application.
Note that if you're a staffing agency, you must indicate, when you turn on Apply with LinkedIn inside your Workable integrations tab, that you recruit for multiple companies. Doing so will replace the consent text above the Apply with LinkedIn button with: "We'll share your full profile. The job poster may use it for jobs with other companies."
Improve InMail response rates: Reach out to warm leads. Anyone who begins the application process using Apply with LinkedIn will be surfaced as 'Apply Starters' in both LinkedIn Recruiter and a weekly email digest. Apply Starters are four times more likely to respond to an InMail.