Workable adds sales assessments in partnership with Objective Management Group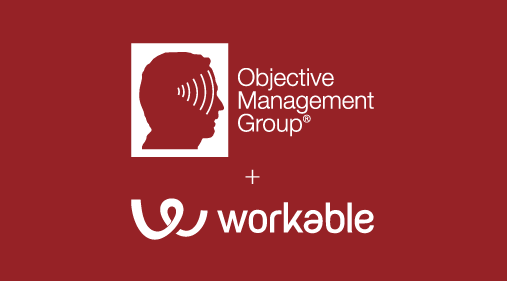 One of our goals this year was to expand the number of services that integrate with the Workable platform. Recruiting can be complex, managing multiple pipelines and keeping track of hiring teams and candidates. We want our customers to engage seamlessly with the tools they use for hiring, without having to switch back and forth between multiple tools to add to this complexity.
As anyone that reads our Recruiting Blog will know, we've recently expanded our sales team at Workable. Rachel, our VP of Sales explains how having a mobile ATS she could use on the move made this possible. As you can imagine, finding the right way to assess candidates for sales focussed roles is close to our hearts. This is another reason why we're excited to announce our latest partnership today: Workable now integrates with Objective Management Group (OMG).
No matter the position, identifying the candidates with right set of skills can be a challenge for any organization. Strong candidates for sales roles can be even more difficult because, let's face it, most will already know how to present themselves in the best possible light. Using OMG's sales assessments, Workable customers can eliminate 96% of the mistakes made when hiring salespeople (and sales managers, too) and take a more objective view when it comes to an individual's charming personality, perfect track record or resume.
If you already have an account with OMG, activating the integration is simple. Once complete, you'll be able to specify at which stage in the pipeline you'd like to send the test and the type of test that you send, for the different jobs in your Workable account. The process is seamless – everything can be done from inside Workable, including reviewing the test results.
If you're hiring people in sales positions in your organization and looking for a better way to assess their technical skills, find out more about OMG and sign up for a free trial.
More integrations coming soon
OK – we've said this before, but we have a lot more exciting releases in the coming weeks to close out 2017 with a bang! Stay tuned for coming announcements with new partners in video interviewing, sourcing tools, and more. If you're a software provider, find out more about our Developer Partner Program.