A guide to interview preparation for employers
Interview preparation is vital for effectively evaluating candidates, promoting the employer brand, and enhancing candidate experience. It involves crafting questions, understanding candidates, preparing responses, coordinating with interviewers, managing time, and honing selling skills. Proper preparation facilitates better hiring and a streamlined process.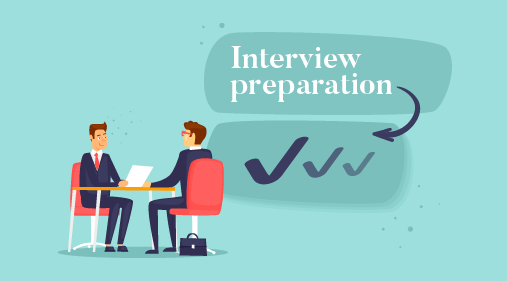 When it comes to interviews, it's good to 'be prepared.' Just like candidates spend time to research the company, interviewers should be ready to evaluate candidates properly and promote their employer brand. Good preparation takes time but it pays off: you'll evaluate candidate skills more effectively and create a positive candidate experience. In addition, you're more likely to win over the candidate you'll eventually want to hire.
Here are six tips for interviewer preparation before an interview:
Prepare your interview questions
Interviewers who don't prepare their questions beforehand are missing out on the chance to evaluate candidates effectively. To decide what you're going to ask, first use the job description to determine which skills are most important and should be assessed during the interview (if you're not the hiring manager, ask for help from the hiring manager or a recruiter). Then, build your questions around those skills. Here are two examples to evaluate communication skills and leadership ability:
Communication: "How would you reply to a negative online review about our company?"
Leadership: "In what specific ways do you motivate your team?"
Keep in mind that generic, overused questions like "what's your greatest weakness" probably won't help you evaluate candidates; they're so widely used that it's easy to find good sample responses online. Behavioral or situational questions are more effective because they encourage candidates to think on their feet and tell their story.
If you have enough time, ask more than one question to evaluate each skill. This will help you gain a better understanding of the skill level of each candidate. Make sure all your interview questions to candidates are appropriate and legal.
Know your candidates
When interviewing candidates, it's best to avoid asking for information they have already provided (e.g. with their application or during a screening call); you'll lose valuable time and risk appearing indifferent or unprepared to the candidates' eyes.
Instead, take some time to read candidate resumes, profiles or applications and make notes of key points concerning their skills and past experience. Then, you can use interview time to elaborate on these points or ask for the new information you need to help with your evaluation. When looking through candidate resumes, keep your interview questions in mind and ask yourself:
Am I planning to ask for information the candidate has already shared?
Is there anything strange or interesting in their past experience I'd like to explore during the interview?
Are there any work samples available I could use to drive the discussion on their skills?
Do I need to check the validity of what they claim?
Make some notes for each candidate, so you'll remember who they are when you meet them.
Be ready to answer questions
Remember, interviewers and candidates are evaluating each other during interviews. On their part, candidates will try to determine whether the job can fulfil their aspirations and whether the company is a good place for them to work. So they might ask relevant questions which you should be able to answer. If you give pertinent, transparent answers, you'll be able to create a better candidate experience and sell your company in a way that helps candidates decide if they're a good fit. Preparing for these questions in advance may take some time, but you'll need to do this only once before the interview phase begins.
Ensure you can talk to candidates about:
The company's strategy, mission and structure
The team's projects, direction and goals
The perks and benefits tied to the position you're hiring for
The next steps of the hiring process
What you like about your job and the team or company
For some of these questions, interviewers may need to consult HR. For example, are you allowed to divulge the pay range of the position? Which future projects can you mention if a candidate asks and which are confidential? If candidates ask something you don't know the answer to, or aren't allowed to disclose, prepare to say so tactfully.
Coordinate with other interviewers
If you're conducting panel interviews, determine who will ask which question and in what order. Also, it's good to know who will answer questions about which topic. For example, the hiring manager will be more suitable to talk about pay or the team's direction, while team members can talk about culture and what they like about the team.
If there are several hiring team members who will interview candidates in a series of 1:1s, arrange a meeting to share the questions you plan to ask. Here's how to interview candidates effectively as part of a team:
All interviewers should assess the same skills. This means that you'll be able to consider related feedback from multiple perspectives, making your eventual decision more objective and reliable.
Interviewers should avoid asking the same questions to evaluate each skill. This means you'll avoid tiring candidates or giving them the impression that the interviewing team isn't well-coordinated.
Plan your time and agenda
If possible, clear your schedule at least 15 minutes before and after each interview. It's best not to leave candidates waiting while you finish up a meeting, or having to rush them out if you have a meeting right after the interview. Giving them time and your full attention is more likely to earn their respect. If you're doing a video interview, check your laptop, camera and microphone a few minutes before the interview so you'll have time to correct any possible issues.
Also, plan a rough agenda for the interview. Completely unstructured interviews, where the interviewer improvises, are not effective. By having an agenda, you'll be able to guide the discussion more efficiently and make sure you won't forget to cover any important topics.
Determine how you'll open the discussion and how you'll close. Many interviewers make small talk at the beginning but this may introduce bias that will affect how you rate candidates' answers. It could be useful to standardize the opening "small talk" questions as an effort to make your hiring more effective. Another approach would be to begin by introducing yourself and talking about a test or assessment candidates took as part of your hiring process. For example, if your candidates for an Editor role were given an editing exercise, ask them what they thought of it and discuss their performance.
Sharpen your selling skills
While you assess whether candidates are right for the job, candidates try to determine whether they want to work with you. If they're convinced, they're more likely to accept your job offer. Or they'll still think well of your company, even if you don't hire them in the end.
Prepare a checklist to sell your company and the position you're hiring for. Here's what you could go over:
The main characteristics of your company culture.
Any new developments or exciting plans (like new products, new offices etc.)
Practices or techniques your company employs to keep employees happy and motivated.
Challenges someone who works in the role you're hiring for may face and how your company supports its employees (e.g. training, mentoring.)
The place that this particular position has into your organizational structure and its contribution to your company's success.
Also, listen to what candidates say that they're looking for in their job to personalize your pitch.
All these tips will help you step into interviews well-prepared, but they don't guarantee you'll interview candidates effectively. Striving to become a better interviewer in the long run can involve more challenging tasks, like educating yourself on biases, finding ways to overcome them and practicing your interviewing skills in mock environments. These take time but that's how you can ultimately improve your decision-making (and candidate experience).
Frequently asked questions
How do employers give good interviews?

Employers can conduct effective interviews by establishing rapport with candidates, making eye contact, and discussing shared topics before delving into more challenging questions. Showcasing the office culture can also help put the candidate at ease.
How do you end an interview?

Interviews should be concluded with a sincere thank you to the candidate for their time. It's also important to ask if they have any questions and address any additional points that weren't covered during the interview to ensure the candidate is a good fit.
What are the most common interview mistakes?

Common interview mistakes include arriving too early or late, which can indicate poor time management skills. The attire a candidate wears can also provide insight into how seriously they are taking the position.
How can interviewers prepare their questions effectively?

Interviewers should prepare their questions based on the job description and the skills required for the role. They should avoid generic questions and instead use behavioral or situational questions to evaluate candidates effectively.
What should interviewers be ready to discuss with candidates?

Interviewers should be prepared to discuss the company's strategy, mission, and structure, the team's projects and goals, the perks and benefits of the position, the next steps of the hiring process, and what they like about their job and the company.