4 employee value proposition examples to survive the Great Resignation
To create an effective Employee Value Proposition, gather feedback, identify key points, communicate through relevant channels, and assess responses. Examples of EVPs include offering true work flexibility, having a mission beyond 'the work', fostering genuine employee connections, and supporting work-life integration.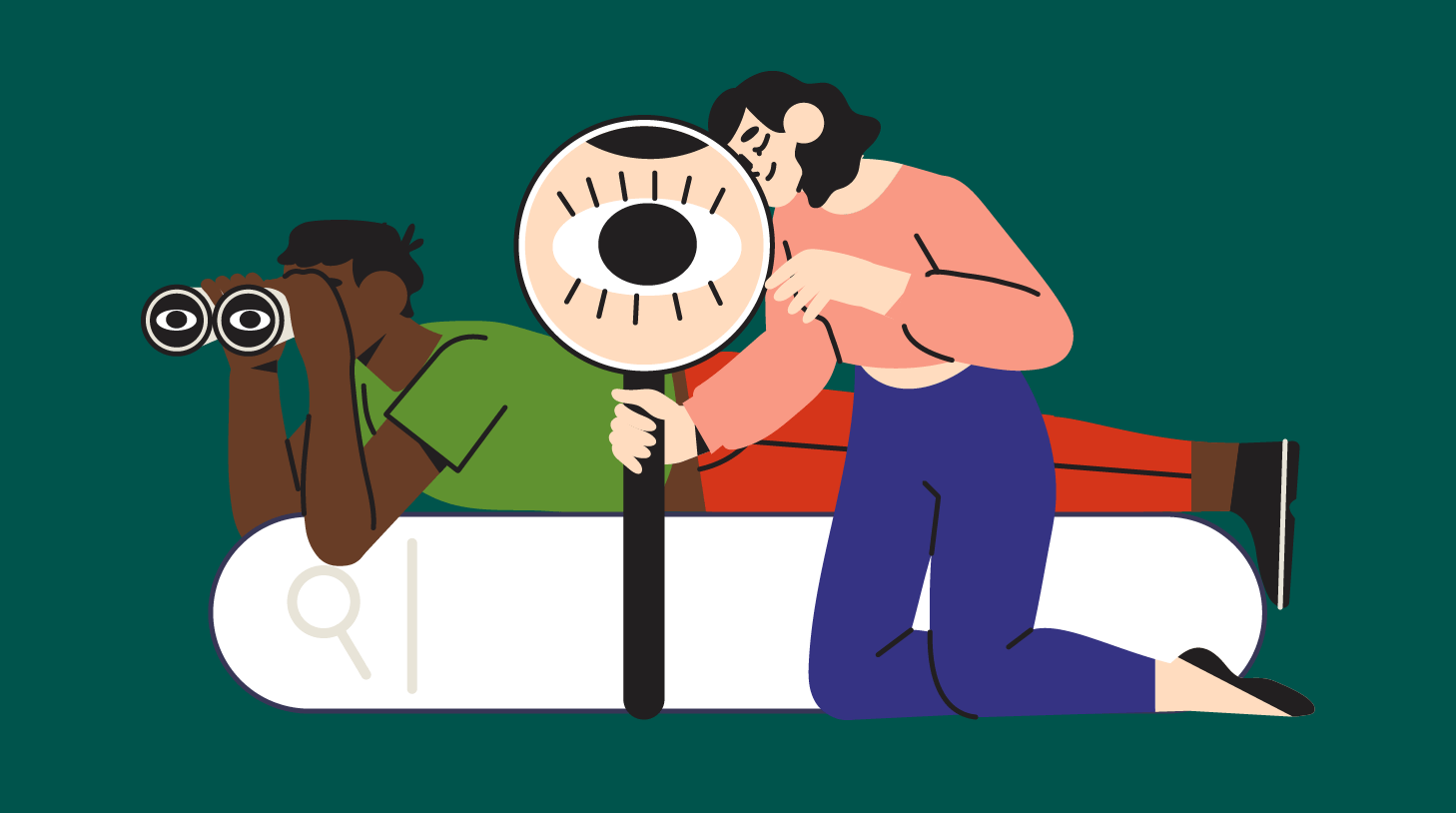 Workers are quitting in record numbers this year and it's causing an already challenging post-pandemic season to be almost unmanageable for HR. It's now not only about hiring new talent – which is already difficult in this talent market – it's about keeping the talent you already have.
A Microsoft study from earlier this year found that 41% of the global workforce are considering leaving their employer this year, and those intentions are becoming a reality already.
The number of workers who quit their jobs in the month of April alone was the highest it's ever been since this metric started being recorded about 20 years ago; nearly 4 million people quit, pushing the quits rate to 2.7% of those employed.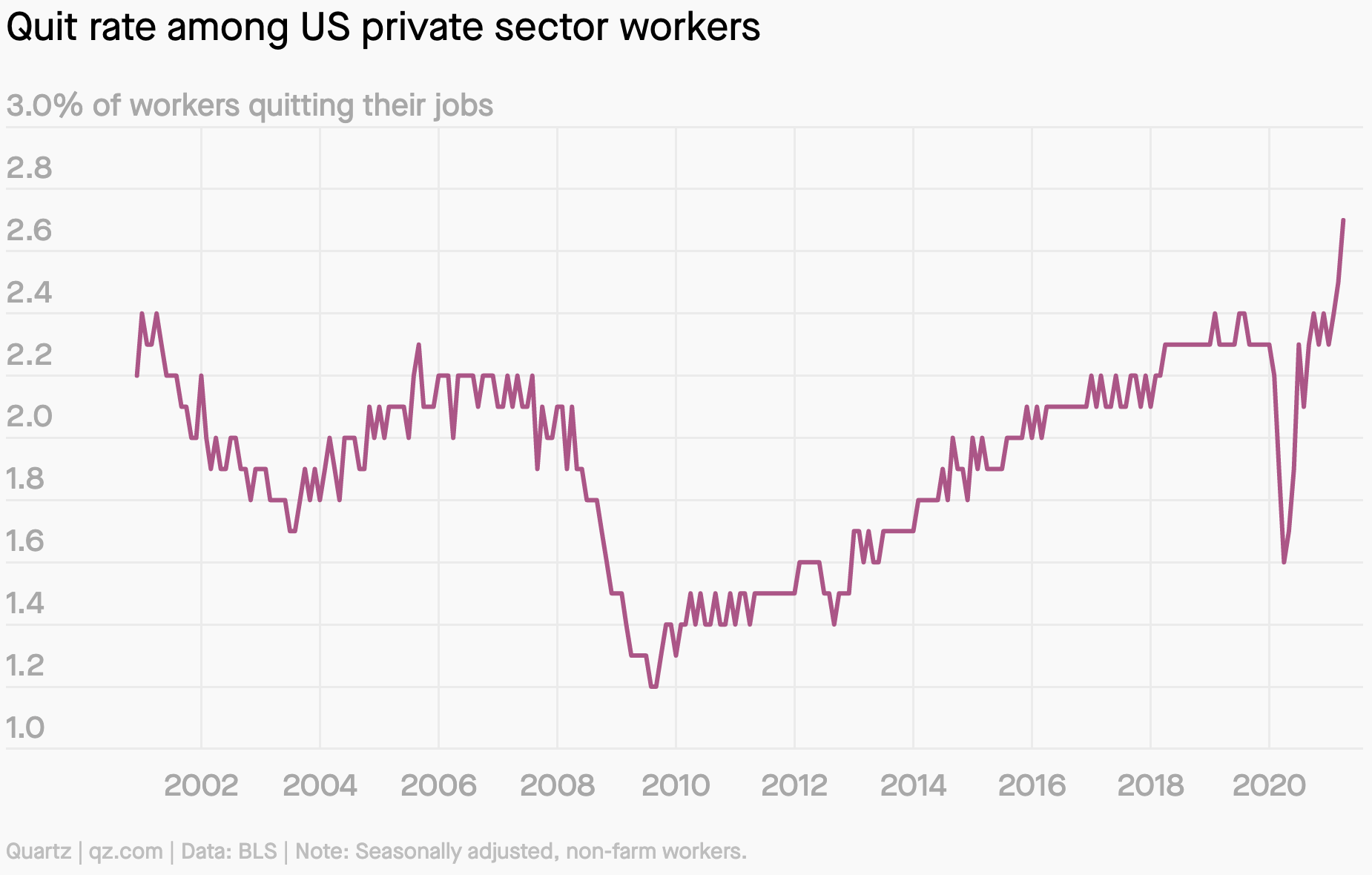 Hence the terminology: The Great Resignation, coined and foretold by a Texas A&M professor in May 2021.
So what can employers do, now that this massive talent migration is fully underway?
The first step is to change old ways of thinking: your biggest obstacle is not a shortage of talent, but a widespread shift in job candidates' motivations. You need to evolve your employer brand using new employee value proposition examples.
Talent shortage vs. evolving candidate motivations
Even before the pandemic, the concept of a "talent shortage" has largely gotten the blame for why it's so difficult to hire skilled workers. This is still true; a recent global study showed that nearly seven in 10 (69%) of companies have reported talent shortages and difficulty hiring.
But that's not the full picture.
Yes, there is some level of talent shortage, but candidates have also evolved in what they expect from a job. Many don't want to simply "go back to normal" and have decided they'd rather pursue something else. So, companies hiring in this labor market aren't just competing against each other, they're also competing against:
early retirement
the gig economy
self-run businesses
unemployment benefits
a search for a new environment
prioritization of a flexible schedule to be with loved ones
How should companies use this information?
Well, if your company wants to attract candidates in this labor market, you should be thinking about how you can directly address these new candidate motivations. Although salary, perks and benefits understandably are top of mind for candidates, there are many ways where you can further evolve your employer brand.
That's especially when your budget doesn't allow for higher salaries or you have difficulty competing with Amazon, Google, or any other competitive employer for talent.
What that all boils down to is evolving your employee value proposition (EVP) so that working at your company actually contributes to – rather than competes with – the life they're trying to make for themselves.
These four employee value proposition examples can help you evolve your employer brand so that working at your company is attractive to today's talent:
1. Offer true work flexibility – in location and schedule
The ultimate dream for most employees is to work anywhere they want and whenever they want, doing work that offers fulfillment and growth. What's ideal about this type of setup is it gives employees the autonomy and freedom they want and need in their day-to-day lives, while also being able to do work that feels purposeful. This is part of the employee value proposition at companies who are already or have shifted to remote-first.
However, for a great number of employers, this isn't a desirable or feasible option. They're not willing to let go of the very real benefits that regular in-person, in-office work brings to culture, collaboration, and unity around a common purpose for the whole organization.
If your company is decidedly not going to go fully remote, here are some ways to get as close to that level of flexibility as possible. This will make a world of difference in helping you attract (and keep) the talent you need.
Offer employees the option to work from home at least a few days of the week
Let employees choose what days of the week they'd work remotely vs. in the office
Allow employees to shift their daily work hours around to when they prefer (e.g. starting and ending early)
2. Have a mission that goes beyond 'the work'
Younger workers have always paid attention to what a company stands for as they look for a job and that interest has become even more pronounced, especially in these recent years of social and political unrest.
What these candidates are really striving for is to find work that means something and stands for something. This means company values that go beyond making a profit. These could include:
backing BLM/LGBTQ movements
establishing environmental equity
building up societies
supporting mental health and wellness
The list goes on. Candidates today are driven towards employers who have a clearly defined vision and values that are actually lived and felt among current team members.
Remember, though, that you can't just pick a popular cause and slap that on all of your recruiting materials as your new mission. That isn't genuine and candidates will see right through that. What you can and should do is talk to your current employees and do some internal introspection and brainstorming as a team as to how the work that you do helps make the world better.
Aside from your actual day-to-day work, you could also introduce:
paid volunteer days
charitable donations and company matching
team fundraising events.
Workable's mission and vision are a great example of an employee value proposition: the entire organization is driven toward helping great companies and great talent find each other. It's a very people-driven concept and it attracts candidates who love the idea of supporting it.
3. Foster genuine employee connections
While talent today overwhelmingly prefers remote work over going back to the office five days a week – and many big-name companies feel the same – there's one aspect about office life that's still important to them: connecting with other members of their team in a meaningful way.
Just think of all of the different ways employees connect with each other organically throughout a work day when in the same physical workspace:
seeing each other daily face-to-face
catching up over a snack or drink break
real-time in-person meetings
lunch-time banter
mini-celebrations in the desk aisles
And so many other impromptu moments. In this shift to remote work, that's what employees today are missing.
Even though "employee events" isn't on their job search list, companies who prioritize employee connection in their company culture (especially while remote) will attract more talent than those who don't.
For example, some companies fly everyone together into a really cool location once a year and call it their annual kickoff or team retreat – including Workable. Many also hold regular all-day events for things like team bonding, new hire orientation, and strategy sessions.
Making time for employee connection in these ways is huge for building morale, and people have something exciting to look forward to doing together. It's one of the most powerful employee value proposition examples you can implement at your company.
4. Offer programs to support work-life integration
If your company is letting go of some or all of your office spaces in favor of remote or hybrid work, you haven't actually eliminated the office – you've simply shifted "the office" into employees' homes. The name of the game is then no longer about employees' work-life balance, but work-life integration.
Learn how SmartBug CEO Ryan Malone manages work-life integration at his company – which has been fully remote since its inception in the late 2000s.
Knowing that this is the new way, supporting your employees' work-life integration will be a huge differentiator for retaining and attracting talent today. To do that, it's all about helping employees create a fluid and healthy environment where both their personal life and work life can co-exist and not constantly compete for their attention.
It also means addressing the additional financial burden many employees are taking on due to working from their own homes, such as caregiving costs, internet bills, and paying for technology to help their time management.
Here are some programs you'll see most commonly these days among companies who prioritize healthy work-life integration:
one-time or recurring home office stipends to cover all equipment needs
subsidized food delivery or monthly flexible meal stipends
monthly cellphone and technology reimbursement for ongoing tech needs
wellness apps or a monthly flexible wellness stipend
backup childcare, caregiving support, and general family stipends that support all types of families
Get ready: evolve your EVP
Even though signs of the Great Resignation, or the "turnover tsunami", was identified way back in February, none of us could have known how massive the impact would actually be.
These four employee value proposition examples are just to get you started. It's ultimately up to you as an employer to show how quickly you can move and how nimble you can be in addressing this evolving talent market – by also evolving yourself and what you're really offering your people.
Frequently asked questions
What is a good employee value proposition?

An employee value proposition is a combination of rewards and benefits that employees are given in return for performing well at work. Gartner's research found that for most people, the things that make up a compelling EVP include compensation, work-life balance, stability, location, and respect.
Why is employee value proposition important?

An employee value proposition (EVP) is the most important part of the recruitment process, as it tells the candidate why they should apply for a job with a company and what's in it for them. It's also a great tool for retaining talent, and companies with strong EVP's usually see higher retention rates among their quality employees.
How do you create a good employee value proposition?

Creating a great employee value proposition is a powerful tool for any business. Building one can be daunting, but to get started, collect feedback from employees (past and present) and identify and define the key points to include in the EVP. Once completed, make sure you communicate your EVP via relevant channels, and assess responses from your employees throughout the process.