Key elements of a great company culture – the story of Proxyclick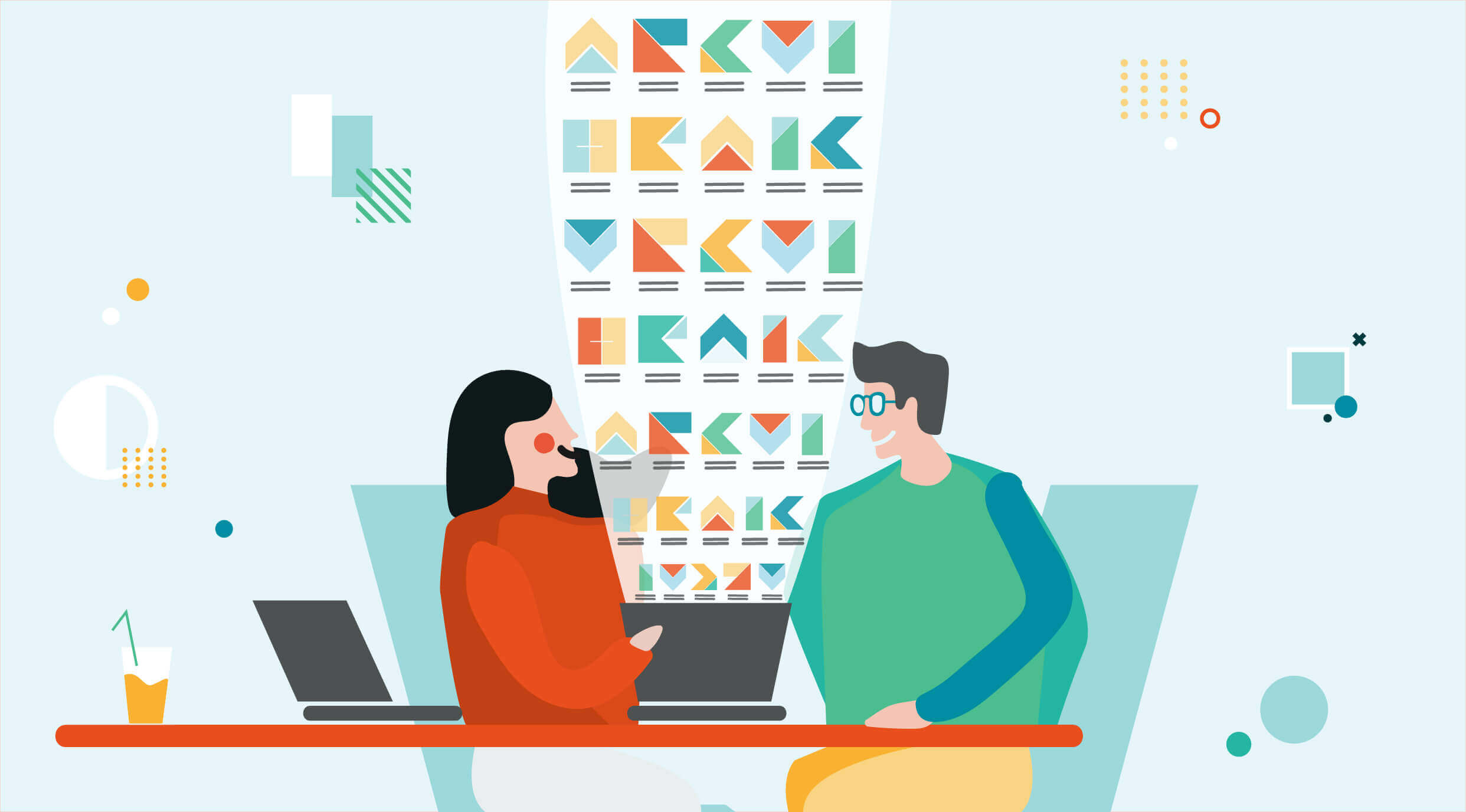 We often hear about companies with a great culture. Whether they're big names like Google, smaller up-and-coming startups, or local businesses, these companies are known for their cool work environment and their happy and productive employees. Is there a secret recipe? Are there tricks or ways to mimic these company culture examples? Or, better, what lessons can we learn from teams with a great company culture?
That was one of the topics we discussed with Proxyclick, a Belgian company that builds automated visitor management software, when they visited our Athens offices in November 2018 as part of their annual remote working trip. In fact, this trip itself was the first hint that the Proxyclick team has a unique approach to company culture. So, we wanted to find out more.
Geoffrey Bressan, Proxyclick's Head of Marketing, described how every year all employees from every department and every location gather at a different city and work from there for a week. During this trip, they also host and attend workshops, discuss business goals and plans and get the chance to spend some quality time with each other while exploring a new destination. This year, they picked Athens for their trip. Last year it was Lisbon and before that, Barcelona. (Did anyone else notice a preference for warm Mediterranean weather?)
For Geoffrey, last year's trip was particularly special. He joined the team in Lisbon despite the fact that he was not a member of Proxyclick yet. "In fact, I signed my contract during this trip," Geoffrey explains: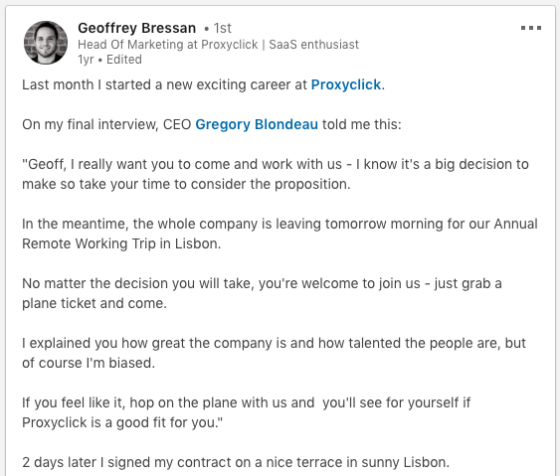 And this is not the first – or the last – time that an employee was hired at Proxyclick like this. Geoffrey himself, as a hiring manager, has made a similar offer to candidates and the reasoning behind this idea is simple: "We want to give candidates all necessary information before they make a decision. We want to show them what it really looks like working with us. This means that some candidates might reject our offer. And that's OK because if they feel that this job or culture is not for them and we don't hire them, then we both win. We may have paid for this trip, but that's still less expensive than making a bad hire."
Of course an overseas trip for the entire staff (and perhaps a few candidates) is not something that every company can afford. But, as Geoffrey points out, there are benefits associated to this initiative that are not measurable but worth the investment: "We get to offer an amazing onboarding experience to new hires, we connect with our remote coworkers and we come up with fresh ideas that otherwise would get lost when we're working under our regular routines."
It doesn't end there, though. The annual remote working trip is only one of the pieces that complete Proxyclick's company culture. "Once a year is not enough. Everything we do on a regular basis is aligned with our values. And that's how you build a great company culture. That's how you make a workplace where employees love to go every day."
While there are no one-size-fits-all solutions, we got inspired by some company culture ideas from the Proxyclick team:
Bring the whole team together
If you have distributed teams, you feel the pain: remote work is not always made in heaven. But even coworkers who are in the same office but work in different departments may barely interact, let alone exchange ideas around work and share their knowledge. So, when this doesn't happen, you need to find a way to make it happen.
At Proxyclick, this opportunity is their annual remote working trip. Geoffrey, for example, mentioned that he had the chance to meet colleagues from their sales team in the US and hear about their challenges and specific needs.
"This year, I also spent some time with our infrastructure team," he said. "We don't usually collaborate in the office, because marketing and infrastructure are two things that don't necessarily go together. But, this week made us realize how we can both benefit from each other, so we decided to hold a monthly meeting where we'll share ideas and insights."
The informal setting also freed up headspace for inspiration and new initiatives, Geoffrey says. "The thought of this meeting would never occur to us if we didn't spend some time together outside of the usual office work flow."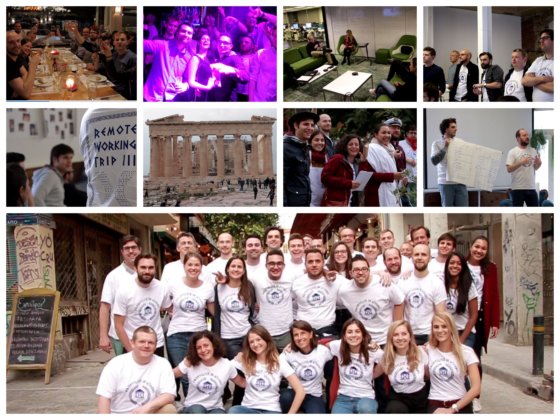 Listen to and act upon your employees' ideas
Whether it's a job-related issue or something more on the cultural aspect of the business, employees know best what needs to be done. For example, employees:
Build products, so they can define requirements and timeframes
Interact with customers, so they understand pain points and priorities
Come to work every day (whether they're office or remote workers), so they know what would improve their worklife and productivity
A great company culture is where employees feel valued, where they know that their ideas are heard and where they know they have some level of impact on business decisions. Instead of relying on random occasions or formal settings (like annual performance reviews) to ask about employees' opinions, be more proactive: host brainstorming sessions, ask for regular feedback and, most importantly, cultivate an open communication culture, where employees know that their voice is heard.
One tried and tested idea that comes from the Proxyclick team is the "unconference": In this semi-structured meeting, employees write on sticky notes their ideas regarding what they'd like to have on the job and how would the company life get improved. Then, split into teams, they try to come up with tangible steps to put these ideas into action. The two best ideas will be implemented within the next year.
Build a happy workplace
Being happy and productive at work are two things that are linked together. You can't have productive and creative employees unless they feel comfortable at work.
"This is exactly our mindset," Geoffrey adds. "We have hired a happiness manager, not because it's a fancy word that will make us look cool, but because we believe that feeling happy and comfortable in the workplace will have a positive effect in productivity. So, we want to implement things that make us happier at work."
These things needn't be grand (read: expensive) gestures or – worse – forced-fun activities. They should be simple things that your employees will enjoy. In other words, don't buy a ping-pong table just because you've seen it elsewhere; buy it only if your team members actually want to play. (We've heard that there are some fierce and fun tournaments taking place at Proxyclick.)
Geoffrey gives us some more examples: "Every Friday noon, we don't book meetings; we gather at a common area and grab lunch together as an opportunity to catch up. Also, once a month we all pick together something we'd like to do outside of work, like going to a rock concert."
Promote your employer brand, but naturally
When we talk about company culture, the toughest part isn't building it, but communicating it to prospective candidates. How can you describe externally what it's like working at your company without sounding like you're overselling your brand?
"We don't describe our culture with words – it's not how it works," Geoffrey explains. Candidates see firsthand how cool the workplace is and how happy employees are. "For example, our happiness manager brings her dog to the office very often and candidates who come in for an interview notice that. More often than not, they'll say something like 'Wow, this is a cool office.' But, for us, this is just our daily routine."
This explains why there's no sure guide on how to build a great company culture. Culture is not something you decide on, like the decision to develop a feature; it's something that builds over time, something that evolves as your company grows and as you hire more people. And, if you put your energy into making a healthy workplace for all employees, then your company culture will speak for itself. Like Proxyclick's culture does in this video they created after their visit in Athens: