7 employee motivation techniques and tools
Employee motivation techniques are crucial for a productive and positive workplace. They include learning incentives, offering perks like PTO and childcare, and showing appreciation through feedback and opportunities for improvement. Tools like TINYpulse, Kudos, Culture Amp, and HighGround can assist in fostering a motivated workforce.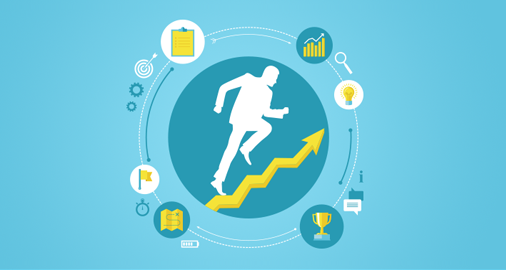 These employee motivation techniques, tips and tools can help you build and sustain a better corporate culture that encourages long-term employee retention and engagement.
As you build your company and hire new employees, it's important that they stay engaged, motivated and incentivized to do well. A disengaged employee is not only a drain on your resources, but can create a culture where no one is motivated to succeed.
Building a culture of motivation is a great way to keep your employees happy at work. Employees should feel motivated by their projects, compensation and benefits. Job performance is said to be a function of ability multiplied by motivation.
Employee motivation techniques
Learning incentives
Employees who invest in themselves and their education over time not only have a renewed sense of perspective and focus on their projects, but they can actively increase your bottom line. A report from health insurer, Cigna, showed every dollar they invested into their Education Reimbursement Program generated a 129 percent return on investment. By giving employees the opportunity to get more education, companies improve their culture and profitability.
Learning incentives can come in a variety of packages: tuition or student loan reimbursements, budgets for conferences, online courses or flexible schedules for pursuing classwork. If you have a small budget, you could start building a culture of learning by creating a library or online drive to share resources.
Perks: PTO, childcare and services
Employee benefits and perks are part of almost all compensation packages. It has become standard (and often mandated) for companies to offer benefits like health insurance, paid time off and flexibility. However, employees are looking for their benefits to be taken to the next level. For many companies, this translates into infusing more fun into offices by adding game rooms and beer fridges. However, though employees probably won't turn up their noses at these perks, they are more likely to appreciate benefits that will allow them to maintain a better work life balance.
According to a report from Glassdoor, employees are most interested in health insurance, paid time off, performance bonuses, paid sick days and a 401(k) plan, retirement plan or pension. These kinds of benefits boost health, increase motivation and incentivize people to stick around and become more invested.
Companies are finding innovative and standout ways to offer these benefits. Netflix offers unlimited maternity and paternity leave. MOZ offers "PAID paid Vacation," which includes a $3,000/year vacation expense reimbursement in addition to paid time off. Adobe closes their company for one week in December and one week over the summer. By staying competitive with benefits, these companies create a motivated workforce who are committed to their work and act as ambassadors for their brands.
Appreciation, feedback, improvement
More than anything, the biggest motivating factor for employees are words of affirmation. Showing recognition of work, encouragement and giving employees opportunities to improve will often reap the biggest productivity benefits. Lack of appreciation is the number one reason people leave jobs and appreciation is the number one thing people say causes them to do great work. Showing this appreciation thoughtfully and consistently is the best way to motivate your employees to commit to their jobs and create a more positive workplace.
Employers often show their appreciation for employees through performance bonuses, raises, promotions and career growth. However, companies can motivate their employees even more by showing appreciation on a daily basis. By offering a specific and clear compliment, trust with a new or bigger project or another kind of growth opportunity, you can show gratitude for your employees and encourage them to perform.
When you're launching an employee motivation program, collecting and measuring results and feedback from your employees is crucial. Without employee buy-in, you risk creating a less engaged workforce.
Employee motivation tools
TINYpulse: Software that allows leaders to pinpoint workplace problems. TinyPulse's tools feature real-time feedback for recognition, as well as technology for weekly check-ins, feedback and goal-setting.
Kudos: Kudos is an employee recognition system and corporate social network that engages employees to create a strong connection to corporate culture. It provides opportunities for employee-to-employee feedback, manager-to-employee feedback and customizable badges and certificates.
Culture Amp: Culture Amp provides surveys and insight for engaged employees. Their surveys can be customized to suit your organization and they offer an intuitive dashboard and analytics engine.
HighGround: HighGround offers an HR cloud platform designed for employees to help companies build highly engaged and high-performing cultures through continuous feedback, ongoing employee development and real-time recognition.
Frequently asked questions
What are the best ways to build motivation?

Building motivation among employees can be challenging but achievable. Employers can utilize various strategies such as setting clear and significant goals, providing explicit task instructions to avoid confusion, and establishing an objectives system that keeps employees focused and motivated.
How do you motivate employees to work harder?

To motivate employees to work harder, employers should establish regular objectives with each employee and involve them in decision-making processes. This approach allows employees' goals, needs, and skills to be recognized consistently, making them feel valued and motivated to perform better.
What actions by leaders are highly motivating for staff?

Leaders can motivate their staff through various approaches. Maintaining a positive outlook, showing gratitude towards the team, and communicating frequently are some of the actions that ensure employees are content with their work. These actions foster a positive work environment and motivate employees to perform better.
What role do learning incentives play in employee motivation?

Learning incentives play a significant role in employee motivation. They not only renew employees' perspective and focus on their projects but also contribute to the company's profitability. These incentives can include tuition reimbursements, budgets for conferences, online courses, or flexible schedules for pursuing classwork.
How can appreciation, feedback, and improvement opportunities motivate employees?

Words of affirmation are the biggest motivating factor for employees. Employers showing recognition of work, providing encouragement, and offering opportunities for improvement often reap the biggest productivity benefits. Daily appreciation, specific compliments, and trust with new or bigger projects can significantly motivate employees.