7 careers page best practices to boost your employer brand
Recruiters, listen up: if you're actively posting job ads and hoping to fill those seats at the request of the hiring manager, you likely have a careers page on your company website. All the important tidbits are already in there – a list of open positions, a short summary about the company, maybe a photo or two of employees gathered together at the annual event or at their desk.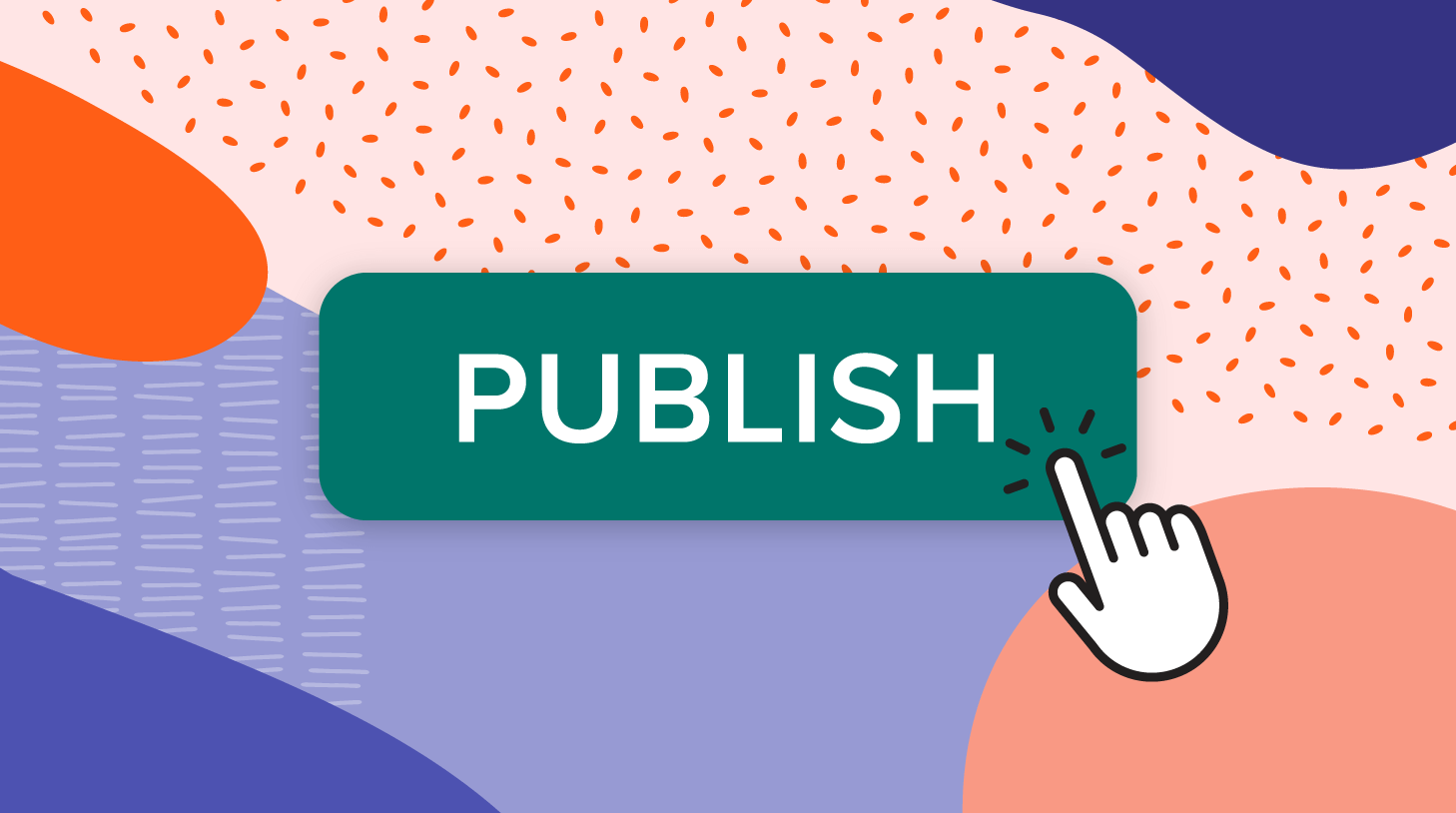 But are you thinking about the top careers page best practices? First things first, think about the careers page from a candidate's perspective. Imagine you're looking for a job. The usual way you're doing it is combing the jobs in LinkedIn, Indeed, Monster, what have you.
You're also surfing online, consuming interesting stuff, and at one point, you're looking at a company's website and thinking, "These folks look pretty cool. I like what they're doing. I wonder if they're in the market for someone like me."
So that's when you gravitate to their careers page. It's one thing to want to work at a company because you like their product or service, or they specialize in your area of expertise, but it's another thing to want to work at a company because they seem like an amazing place to work and they feel like an amazing fit for you.
Careers page best practices for your employer brand
As an HR professional and employer, that's why you need to double down on your careers page best practices. Here are seven core elements you need to think about when building a careers page that will attract the attention of even the most seasoned (and jaded) jobseekers:
1. Add employee testimonials
When you shop online, do you look at the reviews before making a purchasing decision? Have you ever bought something or watched a movie/TV show because a friend or family recommended it? The answer to both is likely "yes".
The same thinking applies for your careers page. Candidates often read up on company reviews on Glassdoor or Indeed when thinking about applying for a job. If you include a few friendly employee testimonials in your careers page, it'll make an impact on their impression of you.
Workable's own careers page has several high-quality testimonials from employees who have worked at Workable for years. They're outlined nicely in our first example of careers page best practices.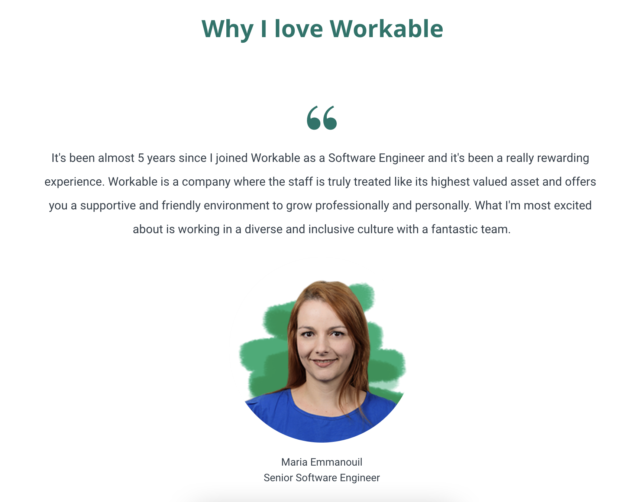 Screenshot: https://apply.workable.com/careers/
2. Put your "About Us" at the very top
You want candidates who want to work for you. One way of motivating them is telling them up front who you are and what you're all about. An aspiring programmer looking to play a role in disrupting the existing framework of their industry won't necessarily apply for a developer job at a traditional financial institution, but will jump through hoops for an opportunity in a cool fintech startup.
Likewise, a seasoned programmer looking for more stability and predictability in their working environment will be more interested in a role at a legacy organization with tried-and-true workflow systems.
Don't make your candidates look for that information. Put it right in front of them, right on the page itself, and right at the very top.
GetResponse does exactly this, with two short, punchy paragraphs above the fold detailing who they are and what they do, in just 65 words. Sixty-five words! That gives the candidate all they need to know to make a quick decision on whether to apply for a role with this marketing SaaS company.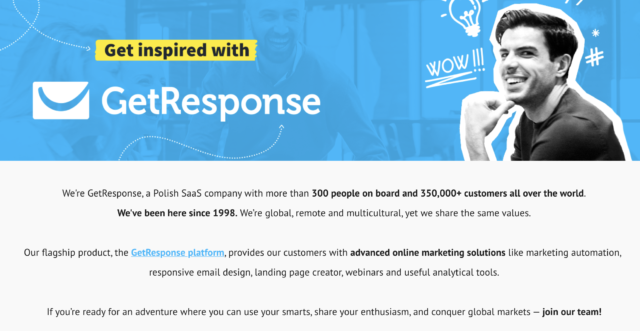 Screenshot: https://apply.workable.com/getresponse/
3. Add your company's mission, vision and values
A widely-publicized Glassdoor survey in 2019 found that a company's mission and culture are valued more than compensation for many candidates. Plus, the vast majority of jobseekers take mission and culture into account when applying for a job.
As the lines between work and home continue to blur after the paradigm-shifting events of 2020, it's become more important than ever for candidates that their prospective employer's vision and values align with their own. So, including your company's mission, vision and values in your careers page will not only help candidates decide if you're the right fit for them, but also attract candidates who are personally motivated to play an active role in your overall mission.
That can be a powerful differentiator beyond the elements of candidate attraction such as salary, benefits, work flexibility, and other standard perks.
Soho House & Co.'s careers page includes their mission and values with special emphasis on what they describe as the "guiding principles" that drive them. By listing five simple, yet powerful, values – curiosity, inclusivity, connection, passion, respect – they make it clear who they are, the kind of team that they are, and what they're committed to as an organization.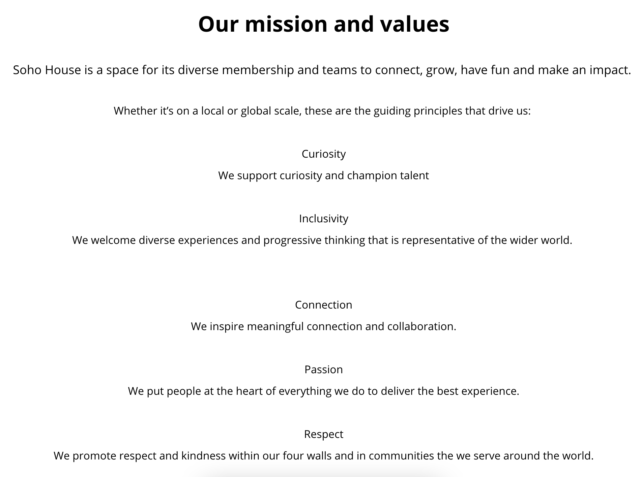 Screenshot: https://careers.sohohouse.com/
4. Include details about benefits and perks
Yes, benefits and perks are powerful attractors for candidates when applying for a job. Candidates want to know what they're getting out of the job on top of the standard salary. There are numerous kinds of benefits, including insurance, paid time off, work flexibility and location, bonuses and awards, training programs, and even company getaways and free lunches.
Be sure to include a breakdown of the important benefits and perks your company offers that set you apart from the next employer. Again, Workable does this in its own careers page.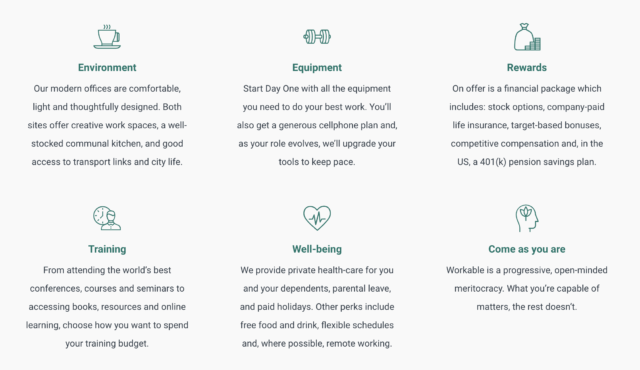 Screenshot: http://careers.workable.com
5. Add photo and video elements
Candidates can be skeptical about what you're telling them – and they have every right to be. You're marketing to them, after all. To get around that initial skepticism, add a touch of authenticity with photos and videos in your page.
These can be straight-up employee testimonials, a statement from the CEO, a day in the life of one team in your company, or a demonstration of your product or service in action. Anything that can give the candidate a visual dive into what it would be like to work for you.
Every company is comprised of individuals working together – photos, videos and any other visual element can be powerful tools to convey that personality to your candidates.
TrueLayer does this masterfully. The fintech organization balances out the very professional photos with organic images. Scrolling down, you run across themes important to candidates – in this case, how the company operates in this COVID-19 environment, and images of teams not only working, but interacting socially.
They've also supplemented that with links to design and engineering principles as written by their own employees – offering added insight into what kind of people work there and how they approach the work. Check out the fifth of our seven careers page best practices in action: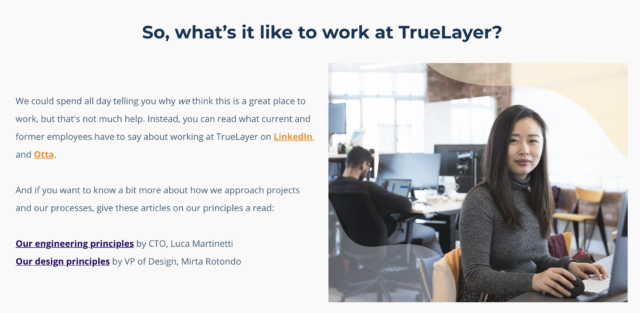 Screenshot: https://apply.workable.com/truelayer/
Meanwhile, investment software startup Stockbit embeds this video on their careers page near the bottom, which makes for a more immersive experience.
6. Keep a consistent brand and message
You've heard of marketing. How about recruitment marketing? A core element of that is maintaining a consistent brand and message anywhere your audience interacts with your company – in this case, your candidates. That includes your application setup, your interview and scheduling processes, and of course, your careers page.
In fact, your careers page is a core element of candidate attraction. It's one of the first things a candidate looks at when they come to your site. If your careers page is clunky, has conflicting messages or is inconsistent overall, you need to fix that.
Your brand and message is not just in the language. It's also in the visual elements – are you using brand colors in your careers page? Is your logo prominently featured? Are the headlines short and snappy and, again, in your company's official font and colors? Is the text itself tight and concise and informative?
All of those are important. You are marketing yourself as an employer to candidates.
Again, Soho House & Co. presents a great example of a careers page that's consistent in brand and tone throughout.
7. Ensure a high-quality, eye-catching design
Take two companies' careers pages, both with all of the above information neatly laid out in front of you. Both companies are also exactly the same in every other way – in their product and service, their location, their benefits and perks, and so on.
The only difference? One company has listed all their information in dry sans-serif font, heavy on the text which makes candidates' eyes dry out as they read. The other company has eye-catching design that will make an impression even on tired jobseekers, and is designed to guide attention to the important parts in a way that feels natural to the candidate.
Stockbit's careers page is eye-catching and very scrollable. They've taken all of the above careers page best practices and assembled it all into an appealing layout that's easy on the eye and gives the candidate a quick overview of the company they're about to apply to.
Careers page best practices for the win
Having an advanced careers page with thoughtful design, digestible information, visual elements, employee testimonials and mission, vision & values is a core element of your overall recruitment marketing strategy. It's not just about putting your best brand forward – you're also doing your candidates a favor by making it easier for them to learn about who you are. That level of candidate attraction speaks volumes for your employer brand.
Want to see more great examples? Check out these 10 great careers page examples, and why we love them.
Frequently asked questions
What should go on a careers page?

Careers pages should tell the story of who you are and what makes your company unique. This includes sharing examples from completed work and aspirational goals to inspire others to believe in this mission or goal.
How do I write a career page?

Your career page should be easy to navigate and simplify applying for open positions. Make it easy to find, and use an eye-catching design to ensure potential candidates find you when they search online.
What are ethical hiring practices?

The core of ethical hiring is assessing candidates without discrimination. You might have the best intentions in the world, but we all subject ourselves to unconscious biases that affect our judgment when making decisions.