The Weird Al leadership playbook: Lessons for Elon Musk
But when we think about who embodies and demonstrates leadership, Weird Al comes out ahead.
First, here's what the community thinks: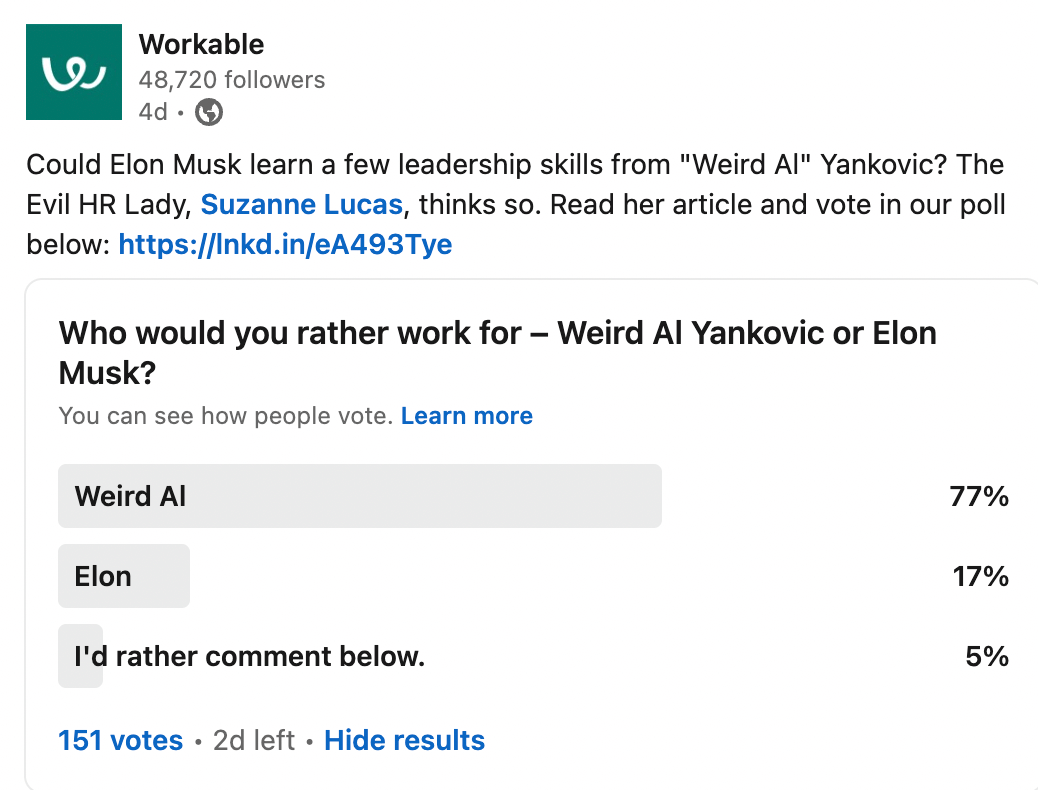 I'm not joking. (I'm in HR, we never joke.) What leadership qualities does Weird Al have that Elon Musk lacks? Here are three qualities the singer has that the businessman could and should learn.
1. Weird Al laughs at himself
Musk is a fantastic troll. But when he had people trolling him by changing their names to Elon Musk, he banned them. He gave a very funny reason for banning comedian Kathy Griffin.
Actually, she was suspended for impersonating a comedian

— Elon Musk (@elonmusk) November 7, 2022
Hilarious, right? But he's not laughing at himself; he's laughing at Griffin. It's funny, but it also looks like Musk can't take a joke.
Weird Al? He laughs at himself. Take a look at his interview with the New Yorker.
New Yorker: When you decide what a song is going to be about, do you then do a lot of research to get the details right? And do you enjoy that?
Weird Al: Yeah. I'm very passionate about my music, so I'm going to make sure that everything I write about is researched thoroughly. Some require more research than others. When I did "Living with a Hernia," I didn't really know about hernias, so I went to the library and just researched hernias for a week. But, like, "White & Nerdy," I didn't need to do hardly any research, because I spent my whole life doing research on that song.
Leadership lesson:
If you can't laugh at yourself, you will take things too seriously. It's too easy to get offended. Do you know the No. 1 reason companies end up being sued by employees? It's not sexual harassment or age discrimination: It's retaliation.
What's retaliation? When someone makes a complaint, the company punishes the employee for pointing out a real or perceived problem. This distinct lack of being able to handle criticism costs businesses millions of dollars. Recognize when you're wrong. Laugh at yourself.
2. Weird Al takes care of his staff
Did you know that Weird Al has had the same "executive team" since the early 1980s? Drummer Jon Schwartz met Yankovic while recording "Another One Rides the Bus" in 1980. Bass player Steve Jay and guitarist Jim West joined in 1982, and the four played their first concert together in March 1982.
And Weird Al's manager, Jay Levey, has been with Yankovic since 1980.
Compare that with Musk, who's got an annualized 44% turnover for his executive team at Tesla.
I don't know what goes on behind the scenes at either Tesla or the recording studio, but I know that long-term employees are a sign of good leadership.
While pay is important, it's not enough. Tesla's former head of AI Andrej Karpathy has an estimated net worth of $50 million with a $5 million salary, and he walked away.
I will make an educated guess that Weird Al's long-term staff have much lower compensation levels – Yankovic himself has an estimated net worth of 'only' $20 million.
Plus, by all reports, Weird Al is scandal-free (unlike Daniel Radcliffe's fictional portrayal of him in his "biopic."). Musk, on the other hand, has a, ahem, reputation.
Leadership lesson:
Treating people right, not just paying them properly, is necessary for authentic leadership. If your team keeps quitting (or you keep having to fire them), the problem is you, not them.
3. Weird Al is nice
Weird Al has every right not to be humble – he's an accomplished musician and performer. He's utterly hilarious. Everyone loves him.
And yet, he doesn't parody a song without the approval of the original songwriter – even though the law specifically allows you to write a parody without permission. When there was a misunderstanding with an artist, Yankovic apologized personally.
Contrast that with Musk, who former employees say threw "temper tantrums" and who, in a Twitter rage, infamously called a cave diver, working to rescue boys trapped in a cave in Thailand, a "pedo guy".
Leadership lesson:
Nice is important. Being considerate of others is crucial. It shows that you think of others – and not just yourself. Being nice to people even if they can't do anything for you (other than, perhaps, buy your product) is the type of person a good leader should be.
While Musk and Yankovic are successful in their own spheres, if you had the opportunity to work for one or the other, chances are your gut would tell you to hitch your cart to Yankovic's star. Sure, there may be more money to be made with Musk, but in terms of leadership skills, Weird Al wins.