Sales career path: A way to attract and retain salespeople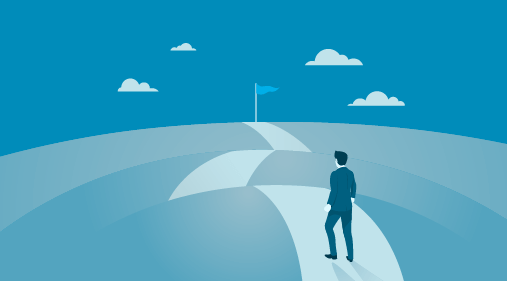 Traditionally, the sales industry suffers from high turnover rates. Every time a salesperson leaves, you need to start a new hiring cycle, spend money to advertise the job and train new employees from scratch. To retain salespeople (and avoid all this hassle), you should offer more than a "fun workplace" or large commissions; you should also invest in career development.
Career prospects can be attractive particularly for salespeople who might feel stuck at the samxe entry-level job for a long period of time. To explore the importance of career development in retention, we asked for first-hand insights from two people with extensive experience in sales, including former Workable sales and business development manager Paul Mathieson, and current Workable account executive Olivia Spector. They both confirmed that it pays to invest in career progression in order to create a happy and productive sales team.
For Paul, building a sales career path starts early. How early? Even before hiring. "I like to explore candidates' professional goals during interviews," he said. "I'm curious about what drove them to sales – because, usually, my team members come from diverse backgrounds – and where they want to be in a few years."
Giving this conversation an early start encourages candidates to accept the job offer and put their best selves into the job, as Olivia explains. "During the interview process, I was told that there are career paths inside the sales team, new roles are being designed, and within one year, I could get a new position. This was definitely a winning point."
This also prompted Olivia to be up-front with her new manager, to express her professional interests and acquire new skills and knowledge on the job.
How do you build a successful career path in sales?
There's more than one way
Much like the sales process itself, if you try to be everything to everyone when building career paths, you'll probably fail. Every person is unique, and therefore is on their own individual career path. To keep development plans as customizable as possible, Paul highlights the importance of having a range of functions in a team: "When there are sub-teams within the sales department, you can assign employees in the team that best fits their personality and strengths. This way, you'll be able to hire people for the position they're the most qualified for."
Paul adds some examples: "Someone who's good at building relationships could start as an inbound salesperson and later move to an account management role. Someone who's tech-savvy would be more suitable as the go-to person for prospective customers who want to get down to the nitty-gritty of the product."
Pave the way
Even if you're building different career paths for different team members, you need to set up an action plan each time. "You can't just go one year or two years after a person got hired and say, 'now it's time to move you to a new role'", says Paul. "These things don't happen instantly or automatically. It needs a lot of prep work. I want my team members to have career progression in the back of their minds."
Paul continues: "And the trick for them is to not get lost in the big picture. Set smaller goals; milestones you want them to achieve. Get them to think about the direction they want to take."
Olivia agrees. "I'm thinking of the next step in my career and what it takes to get there. What should I get better at? What new skills should I learn? My manager will help me develop those skills. And the manager of the position I'm aiming for will walk me through the role, so that I can understand what it entails."
Shadowing current team members is also integral to success, Paul adds. "It's important for employees to get first-hand experience of the role. What the day-to-day is. What the new tasks and responsibilities are. Which common challenges people in this role face. This way, they're prepared for them for when they arise."
Career paths don't have shortcuts
Success stories are always nice to hear. For example, imagine a recent graduate, Alejandro, who was hired in a junior sales role. He showed that he was passionate about sales, so he moved to account management within his first six months on the job. Or, perhaps there's Cassandra, who had never worked in sales before – but her dynamic personality led her to a team leader position in only her second month at work.
Are these scenarios ideal, though? Or even realistic? "No", Paul says. "It's important to go step by step if we want to build a successful sales career path. We have to figure out the training needs of each person, identify their strengths and cover any knowledge gaps, but without overwhelming them."
Olivia notes that it's precisely the smooth transition from one role to another that has made her good at her job. "The sales career path worked for me because it's all about building off one skill to another," she says. "There's never a situation where you can forget what you learned in a previous role."
Even a path lined with rose bushes has thorns
So far, we've been looking at a happy scenario. A good employee is working hard and gets promoted. In reality, there might be obstacles along the way. The key, according to Olivia, is to stay positive: "When you don't get the role or promotion you want, it doesn't necessarily mean you're not qualified for it. There could be a different, more suitable position for you down the line. As long as you keep doing your best job, you'll have the chance to pursue the next great opportunity that comes up. And, just like in my case, it could be a new career move!"
"It makes a difference when employees are proactive when it comes to their self-development", concurs Paul. "Sales is not like anything else. It's always changing and that's what employees should be doing too. They should reflect on their performance and identify areas of improvement."
Paul has also found that a mindset of continuous learning is a common trait among successful salespeople. "Listening to a podcast once in a while. Picking up a book. Those who do these things are the ones who are going to progress faster."
It's about the journey, not the destination
Of course, not all employees can get promoted at the same time. You have one job, but multiple candidates. Or, you have an overachiever ready to take on more responsibilities, but no open role at the moment. What do you do in these cases?
"Career development is a great motivator, but shouldn't be the only way you keep your team members engaged," explains Paul.
He offers more ideas: "Encourage self-development activities, organize group outings or create internal competitions with small prizes and shout-outs for the winners. Depending on the culture of your team, find ways to create a healthy work environment, a place where your salespeople will be continuously learning."