Resources for recruiters: 5 fun and useful presents
Who said holiday presents can't be both fun and useful? Okay, we're not talking about the presents we look forward to receiving from friends and family, but about those that could make us happier at work. There are especially many resources for recruiters that free up their time and help them work better even when holiday madness is over and January begins.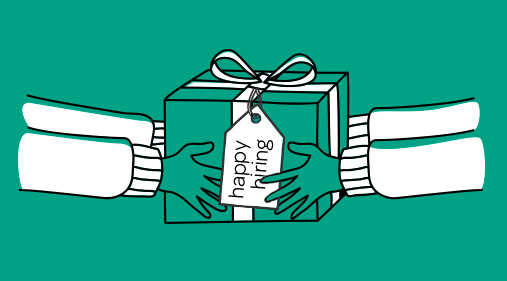 So whether you're looking for small stuff to get for your friends who work in recruitment, whether you're an executive who wants to give a little something to your recruiters or a talent professional looking for solutions (hey, we could all use some self-gifting), we have some ideas for you.
Here's a list with five thoughtful presents that can be ideal resources for recruiters and talent professionals:
1. A library of templates
Anyone involved in the hiring process knows how much time is spent on writing job descriptions, composing emails to candidates or crafting lists of interview questions. So, for this holiday season, give a recruiter a library of templates for every purpose, from job ads and offer letters to interview questions and Boolean searches.
How do you present this gift? If you want to add a touch of holiday spirit, you could send it as a card. Use a relevant service or create your own card using a tool like Adobe Express Card Maker. Here's one I created with Spark within 10 minutes: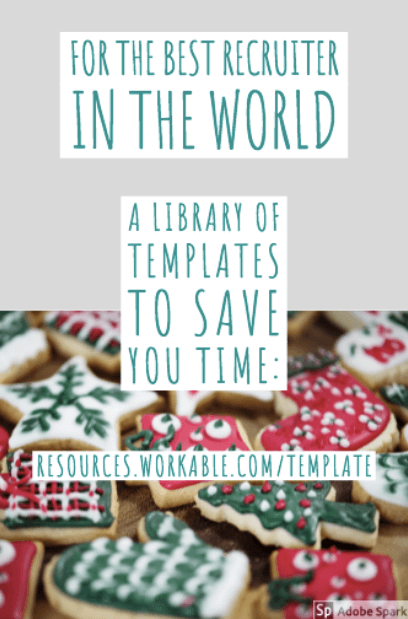 2. A book on modern recruiting
Recruiting has grown exponentially from the time of newspaper job ads, and it'll keep evolving and changing. Forward-thinking talent professionals who stay updated on new techniques and technologies will be the big winners in the recruiting game.
So why not give a new, exciting book to a recruiting professional? Here are a few great options:
As for presentation, nothing too fancy is required. Get some festive wrapping paper and you're all set!
3. A cool subscription
For recruiters, receiving new knowledge frequently is important – you can grasp new techniques, find hiring methods that work and discover new recruiting strategies, just by keeping abreast of the buzz in the market. But how would a recruiter do that easily, when they're already so busy with everyday tasks?
One thing you can do is to choose a fun, interesting and reliable newsletter/podcast they don't already subscribe to, and sign them up or send them a link (you can include a card to make it more of a gift). Here are a few ideas:
4. A new Applicant Tracking System
Yeah, I know, shameless plug of our own product. But the truth is, we wouldn't be making recruiting software if we didn't think of it as a definite game-changer. If a recruiter doesn't have an ATS, or uses an ATS that's clunky and inadequate, you could address this in the new year. That's especially so if you're part of the recruiting team or one of the decision-makers at your company.
What you can do is conduct some research on ATS vendors and sign up for a demo or free trial. Then, invite the recruiter to sit in demos or explore the different software solutions along with you. You can also share an RFP template with them to help in their hunt for the perfect ATS.
5. Recruiting swag
Swag is less useful than the other options on this list, but things that cheer us up and boost our morale are always welcome. For recruiters, you could choose a funny slogan (for example: "Keep calm and call that candidate," "Trust me, I'm a recruiter," "Talent superstar") and print it on a mug or a T-shirt.
You could also go straight to websites that sell swag for recruiters, like Etsy, Cafe Press or Zazzle:

You might even look for a stuffed purple squirrel or a mug or T-shirt that has one on it. Recruiters will probably get the reference!
The holiday season and New Year go hand-in-hand for many people. If that's the case for you, too, then check out our list of 5 New Year's resolutions for recruiters.