Podcast episode #9: The new land of opportunity is anywhere
Are you planning to continue hiring for remote positions, even after the pandemic? Recruiting across borders can be difficult (ie. legal implications, taxes, benefits, etc.) – but it can result in a strong workforce and a competitive edge.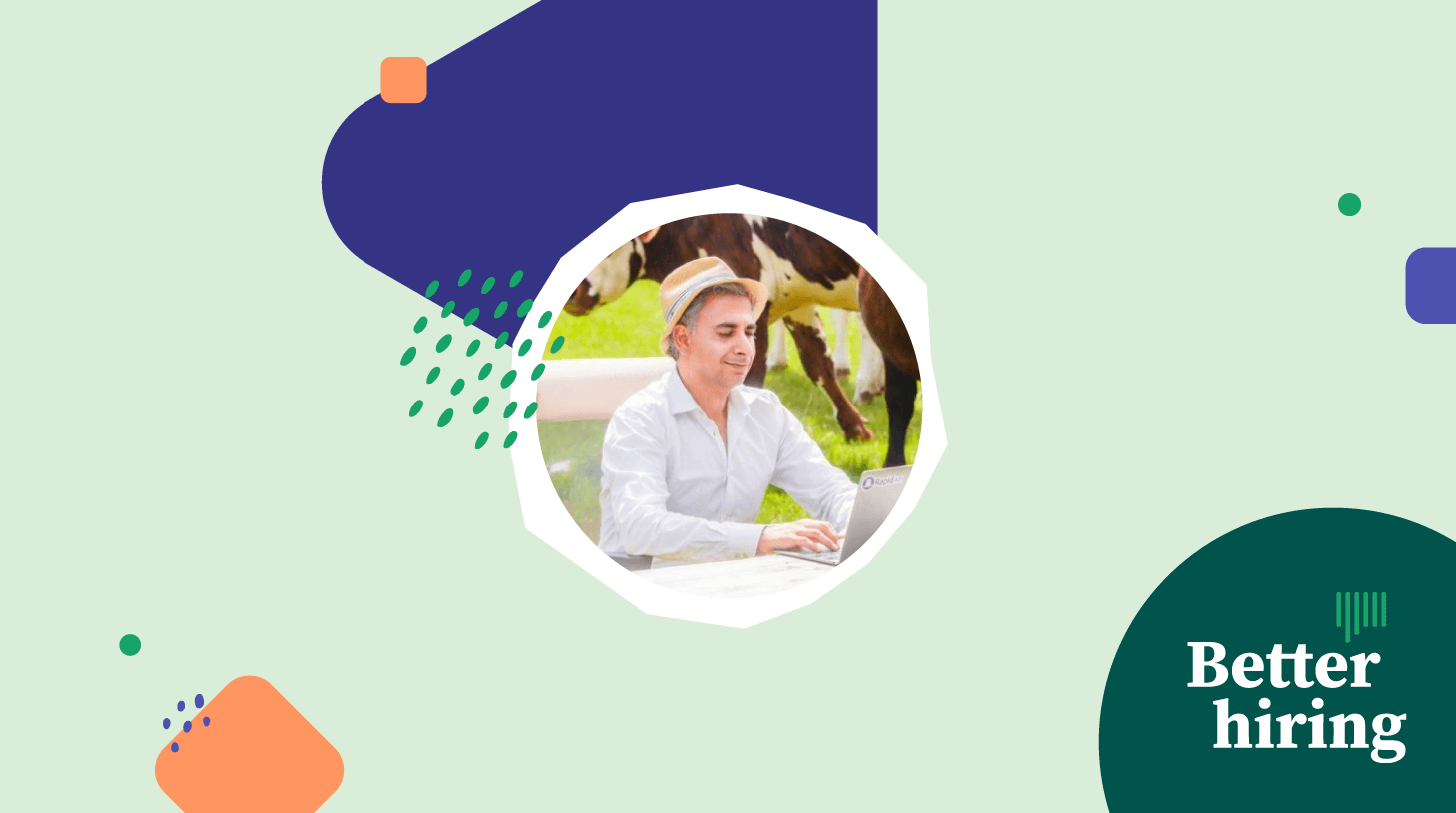 Many of us in HR and Recruitment are in uncharted waters as we consider opening remote positions across borders. But some of us, like Tony Jamous, CEO at Oyster, have been hiring worldwide remote talent for years. So we're asking him to share what he's learned – and spoiler alert – there's far more to a well-executed remote hiring strategy than meets the eye.
Episode transcript:
Carolyn (host):
Welcome Tony. Thank you for coming to the podcast. So to start us off, can you tell us a bit about your story, how you came to be CEO at Oyster.
Tony:
Yeah, sure. So first I start with what is Oyster? Oyster is a distributed talent enablement platform. We enable companies to tap into the global talent pool by removing the barriers to cross-border employment. And my story is very tightly linked to that. Essentially, I was born in Lebanon 40 years ago, and I had this amazing opportunity when I was 17 to leave my home country and go to France and study computer science. And that enabled me to be plugged into the Western world economy as we know it today. And I was able to grow and I started my first company 10 years ago called Nexmo. It was an API business for building communication applications. And that business grew rapidly to a hundred million of revenue in five years and is now public on the NASDAQ. But then when I left this business, I took some step back and I realized actually, what is really important for me is to reduce wealth inequalities in the world.
Tony:
And I was able to see that if you remove the barriers to cross-border employment and enable companies to really tap into the global talent pool, you can reduce brain drain, which is really one of the major impact of wealth distribution issues in the world. And to give you some background on that, so next month previous company was not fully distributed. But you employ people in 45 different countries. And we really struggled to do so, we had to set up entities, hire lawyers, accountant, benefit providers, you name it. We spent millions of dollars on building an employment infrastructure because we wanted to give people the chance to participate in success of our company. And we didn't really succeed, we failed to provide them with great employment experience.
Tony:
So it was clear to me that if you build a software application as really pierces into the problem and make it a no brainer for companies to tap into the global talent pool, you can actually reduce brain drain and reduce wealth inequality as a result. So I wanted to do this and I started Oyster in January last year, one month before the world goes into lockdown. And yeah, what a great moment in history for enabling talent from around the world to participate in the global economy.
Carolyn (host):
Yeah. That timing is impeccable truly, it's… There's been a lot of bad that's come out of the pandemic, but I think that it's important, at least for me to focus on some of the silver linings, because there are a lot of silver linings. Before this call, you and I were chatting about the ability to leave the city and find nature, and that's wonderful. But also just the change we're seeing generally in remote work, I've seen that Workable, we're starting to have that flexibility. And as you said, it does open opportunity to geographical areas in places that just didn't have that opportunity before. So super excited to get into that.
Carolyn (host):
But starting off with some of the nitty gritty, back in March of last year, we hosted a webinar that we put together really quickly with TA professionals at remote companies. They were already remote and we had a ton of people attend, a ton of people asking questions and right off the bat, some of the biggest or most common questions we saw were, in the States how do we manage our nines? And be forced remote employees in States and other countries. How do we manage taxes? Local laws? Benefits? And so on. So in your position, how would you advise them?
Tony:
Yeah, my first tip here is really focus on what's really important, which is finding the best talent no matter where they are. And worry later about these obstacles or these barriers that prevents you from hiring that talent. And that's one of the reasons why Oyster exists by the way, is really to remove barriers so companies can really hire the best people no matter where they are. I mean, in my previous company, Nexmo, sometimes we spend six months to a year to be able to open an entity in a given country. Let's say, take a complex country like China and what happens after six months when you've identified a talent and you want to hire them, they're not going to sit and wait for you, you most probably going to lose that talent.
Tony:
So really there is, I would say a change in the talent acquisition function between in the past, it used to be focused in hiring in one country, usually around the office, the city where the company has an office. Now the new skills to acquire, is how you can hire globally and rely on maturing platforms such as Oyster to facilitate that and make sure that you remain compliant, your employee get a great experience and really focus on finding the best talent no matter where they are.
Carolyn (host):
Yeah, that's a really good message because there are a lot of complexities surrounding just hiring outside of that zone. I mean, we're so used to, here in Boston, we hire the Boston talent and that was the talent pool we dealt with. And it's been a whole year of coming to terms with the fact that for many of us offices aren't opening again, or if they do open it's remote first. And it's just having that space for some of the employees that were local to be here and it can really make or break a company when you start thinking about these other areas and these different talent pools. So it plays into so many different pieces. But something relatable for us here at Workable is, we're pretty unique because we were founded in Greece and the majority of our employees are located in Greece.
Carolyn (host):
Now surrounding Athens, since people can move for a remote first company now. And there is incredible talent in Greece, and this is something I didn't know before I started working for this company, very well-educated extremely smart people. Our product team is some of the best product engineers in the world. So it's this untapped talent pool that has been absolutely incredible. And it's the reason that Workable is such an amazing product to this day. We were built and founded in Greece. But what we're seeing now is that we are the Google of Greece but now Google and Facebook, and some of these big tech platforms are starting to open their positions to talent in Greece. And from my perspective, it seems like some of these big forward thinking companies are the leaders here. So should more organizations that maybe aren't these big conglomerates be thinking about opening in different countries? And if so, how do they go through that thought process?
Tony:
Yeah. So I think first it's great news for Greece and the Greek people. And if you think about it, great talent is available anywhere in the world. And people go to top universities when they graduate from universities, they are full of energy, the world is their oyster, and then suddenly their first shock is when they get, especially in emerging economies, they get into the local economy and they interact with the local economy that might not be focused on their growth and development as other companies in other countries. Think about the tech industry and how much we focus on developing our people, because we believe the people are the key, the number one asset of the business.
Tony:
So if you're married in Nigeria and you're graduating from a top university in computer science in Nigeria, the best job you're going to get is to work for a local bank and five years into the job, well you're… You got plateau because there's not enough opportunities in Nigeria and you're a place injury of any of the 80% of the world economies. And then you have the same results. So what is important is to create… Really unlock that cycle and make sure that Mary in Nigeria can have access equally to job opportunities in Nigeria or elsewhere. And the challenge is to do so, I mean, there's a number of challenges that companies have faced in the past [inaudible 00:17:02].
Tony:
So one of them is how do you know how big is the talent? How good is Mary in Nigeria and how can you assess her? There is a fear a of cultural differences. Maybe people in that country think differently than people in that country. There are administrative and legal and tax challenges that company have to go through to be able to employ Mary in Nigeria. So I think what's happening now in the world is that there was a shift between being restricted to hiring in your local economy or your city to hiring globally. And there is increasingly these platforms that are overcoming that challenge so that you can provide a seamless experience to anyone anywhere in the world.
Tony:
Now if you think about it, I mean, if you were to say a startup in San Francisco or a startup in London, and you want to hire locally, what are the chances of the best talent to be in 20 miles radius from your office? It's like 0.1%. So how can you explain statistically that this is a good strategy for talent acquisition, where over 99% of the great talent is elsewhere? So when companies… And smart companies are realizing that, every day we see new companies are adopting a global hiring. Our customer we serve, they have been very successful in growing their talent pool, leveraging that method. So essentially now smart companies are realizing that great talent can be found anywhere and they have to change and evolve the way they go about talent acquisition from being focused to one city, to being globally focused. [inaudible 00:19:02]-
Carolyn (host):
Thank you. That brings up a question that goes off of what you were just saying. How would you advise teams that maybe are in a position where they could create a business case for hiring remotely? How would you advise them to start? Are there statistics they should be thinking about? What is the big draw there?
Tony:
Yeah. So essentially it depends on what you're looking for, right? So there are some [inaudible 00:19:35] roles that are… I would say they can be found anywhere. So think about sales, customer success, and in engineering, are talent that is readily available anywhere in the world for instance, like Oyster, our Salesforce is in 20 different countries. And there is some areas of the world that are more specialized in certain type of talents. There are certain hubs of engineering in the world, such as let's say, Eastern Europe or Latin America that have higher degree of highly talented developers. And you can even drill down to a specific language. So for instance, you want to hire in Java and you hired in Ruby, there are certain pubs around the world that are available.
Tony:
What's hard as well is especially if you're a tech company let's say, and you want to hire specific tech talent and not necessarily engineering, it's maybe hard to find senior talent because in the last 30 years, the senior talent has been focused on the Western world. So it's also important that you think about how you develop the younger talent that come from emerging economies and giving them the opportunity to grow with your company and with the opportunity, so we can start building the next generation of tech leaders from all over the world and not necessarily focused or centered around certain technology helps in the world, such as the Silicon Valley or London or China.
Carolyn (host):
Yeah. That's a really good point. Do you have experience with what that looks like when it comes to developing remote talent? Because I imagine it's a bit different, especially when, the way we think about developing talent. It's sometimes internal, sometimes happens in the office, sometimes happens at in person events. Are there resources out there? Is there a good methodology to go through?
Tony:
So development… Yeah. I mean, definitely what I tell my customers is that you need to align your company success with your employee success. And specifically, as you think about a distributed talent force, they are not in the office. So how can you create in an environment where there's equal opportunities regardless of where people are? And so for instance, there are certain training that you can up skill your talent force on remote work. We actually do that internally at Oyster, but we also open-source it for others in the world to benefit from. So you can teach your team how to behave, how to be productive, how to take care of themselves so that they don't burn burnout. I mean, if you can think about it, remote work before the pandemic was a lifestyle decision for many people in the Western world, but it wasn't really a choice for many people in emerging economies.
Tony:
Think about these contact center staff in India that used to work night shift to accommodate the US markets. I mean there's something we don't really talk about is really this lifestyle disparity when it comes to working from anywhere. So really as a leader of an organization, my recommendation is to create an environment and a culture that give everybody an equal opportunity, no matter where they are. And that go through the tools you use, discipline in using these tools, and go through where your leadership team is located. So if in order for you to succeed in the company, you have to be at the headquarter and you have to meet with the executive team over coffee, or what a group conversation is.
Tony:
If this is how you progressing your company, that might not be a good idea. You have to have a result driven culture first and foremost. And we've seen that companies that has this obsession with output rather than input, essentially we don't care how much hours you put in to get the job done, as long as you have clear goals and you're delivering on your goals, that goes a long way to create a culture where there's high degree of trust in order for anybody anywhere they are to grow in and develop in your company.
Carolyn (host):
That's a really good answer and brings us back to what you were talking about a few minutes ago with cultures across the world. And I've seen it at Workable. It's been really cool just to work at a Greek company and peek into the Greek culture. And if anything, it's been absolutely an incredible experience. But that might be, I think you mentioned that's often a barrier in some cases for companies, when they're thinking about hiring across the world is, what if I don't understand that culture? What if they aren't prepared for what my company can offer them? Is cultures clashing something that is a common issue you see? Or what does that look like?
Tony:
Well, and I'd like to… Before answering the question, maybe do you feel that Workable is a Greek culture, or is it a Workable culture?
Carolyn (host):
It is very much a Workable culture.
Tony:
Exactly. So what I always say is that company culture trumps country culture. And as we grew up, we grew up in one country and we started developing an idea of the other people in the other country that are different from us. But my experience having led two companies in the last 10, 12 years is that are people from all over the world. That company culture definitely trumps country culture. And how do you… But you have to manage it? It's not like by default this is going to happen. So you need to really be clear about how do you create a strong company culture that actually is stronger than in local cultural specificities. And it's hard to do, even before everybody being in a distributed environment, and specifically in a distributed environment is harder. And I've been thinking about that obviously, because I'm dealing company right now which has been over a year and few months in existence. And I've hired 95% of the people in the company I've never met.
Tony:
And so essentially, there's this question of how can I create a strong culture? Is consuming me. So I had to research, what are the challenges of creating a strong culture in a distributed environment? And the first aspect of that is, leaders have to understand that the identity of people becomes the overlap between their work identity and their personal identity is stronger when they go to the office, which makes it harder for them to build that strong culture.
Tony:
And why it's stronger when you were going through the office, because when we used to go to the office, you used to wake up in the morning, have a ritual to prepare yourself, commute, some people would commute for an hour, spend eight hours in the office and then commute back home. So our life was consumed by work. And then now, what we see, at least my experience, I'm looking to hear your experience Carolyn is, now my identity is work but it's also family. I spend more time with my children, with my partner. It's my community as well.
Tony:
Like the other day, I'm currently living in a small village here in France and my neighbor, Dana was on the other side of the village 200 meters away. He's like an old dude, he can't walk very well. And his chimney broke in the middle of the winter and he needed somebody to take him to the store, buy something to come and fix the chimney. So he called me at 2:00 PM in the afternoon, and I had 45 minutes gap in my schedule. So I was able to go and bring him to the store and build it. And I felt more connected to him. And so if I was in the office, I would have missed that opportunity to help him out. And so I feel much more connected to my local community. So that's a good news for the world. And that's a good news for people. Now it's a creative challenge for leaders to create strong culture. So yeah. I mean, how has your experience now working from home? How have you… Do you feel a change in your identity?
Carolyn :
Totally, yeah. I love that you say that. I actually I've said before that I feel like I've had to mourn a piece of myself because there was a work identity that was part of who I was. And I had to let that go because she doesn't exist anymore. There was work Carolyn and there was home Carolyn , and now there's this interesting blend of figuring out who I am when I'm working behind a screen and building relationships with my remote co-workers, but also taking my dog for a walk in the middle of the day. And living in the suburbs and I have a lot of cranberry bogs and connecting a bit more with nature than I was when I was in the city. So there are these huge changes that we're all going through.
Carolyn (host):
And I think when we talk about a remote culture, we think about like team-building games and communication and all hands meetings and how we'd stay connected. But there is a big piece of, what actually is culture when you're at a remote company? Is it the ability to have your senior leaders tell you to take a walk with your dog in the afternoon and to find flexibility throughout your day, and to feel like you're trusted and can work autonomously. There's so, so much there. And I'm glad you brought that up because it's such a huge part of this conversation and what a company decides to be remote.
Tony:
Yeah, I was in London the other day and I saw this event of a coffee machine provider for businesses and on their van, they say that the slogan was, we make business culture. And I had this question, what does they mean by that? What is culture? And for me, culture is this set of shared norms and habits that an organization have, that removes uncertainty around how the work gets done. And how do we… What is the relationship on the job and how do we treat each other as team members? And what is a strong culture? A strong culture is these norms and habits are not only shared, but they are reinforced. And that's what's a great culture for me, and there's definitely a way to do it.
Tony:
And first is really about building trust among the team. And this is really, you have to up the game on that in a virtual environment because trust in a physical environment is much easier to build because you have this emotional messaging, signaling such as body language that you have, that you can really screed the person better. And then that removes the distance between you and the other person. So how do you recreate that in a virtual environment is something that we focus on, how do you create opportunities to connect with people in a way that creates safety, that creates closeness and intimacy with the other person is something that can be engineered. But that's not enough, that's like hygiene factor that you have to really work on and in a virtual environment to deliberately create opportunities that build trust, like for instance in my team, I cannot engineer opportunities to work with them on a personal basis. Let's say I have a roadmap discussion with my head of product.
Tony:
So I spend a few hours or long one month period working synchronicity with her, brainstorming, building on each other ideas. I want her to have an insight about how I think, and I want to have an insight about how she thinks. And I do it with other… I can have, create these opportunities deliberately because that can we understand each other and create language-shared meaning about the work. And that's one piece of the equation. The other piece of the equation that is also a hygiene factor for building strong culture in a virtual environment is around the discipline of how the work gets done. We call them at Oyster, tools and the rules. And that's again, that's if you're in an office environment and you're not very clear or prescriptive about how to get the job done, then you can get away with it.
Tony:
So in a virtual environment, it's not going to work if people are on different time zones, people are coming from different culture, different backgrounds. So you have to be very prescriptive of how you work together, what tools do you use? When do you use them? What different meetings you have? I mean, obviously embrace this as synchronous communication and collaboration and then reinforce it. And then thirdly is it cannot be a top down effort, has to be co-created among the team, and you as a team manager, you have to be the best remote worker in your team to show the example for your team that this is something that everybody needs to buy into, and it gets reinforced.
Tony:
And I think these are the foundation of creating a strong culture in a virtual environment. And actually when you think about it, there's a way to outperform in office cultures. So for instance, a virtual environment requires you to share leadership more, so essentially because everybody is in different location and the leader cannot do everything like they used to do in the office, then suddenly you have an opportunity for other leaders to come in and fill that gap. So it becomes a great place to grow leader fasters in the business. And you've seen how Oyster in very excited about the opportunity.
Tony:
Another superpower from distributed teams is, the best ideas win. I don't know if you remember when you used to work in an office and you go to a meeting room and usually the loudest person in the room monopolize the discussion, but you have maybe this extroverted, brilliant person on the side that they're not sharing their ideas. So when you adopt these as synchronous way of collaborating, the work happens before, we share a new doc, everybody comes in, everybody collaborates on it and then you go and have a conversation. Maybe one last one is really dealing with conflict is also, there's a super power there because again, when you're doing in-person, face-to-face, trying to solve conflicts, there's a lot of emotional baggage that come into the conversation.
Tony:
So if you solve that in a synchronous way, people are not reactive in solving this problem, are more active, which mean that they don't feel that they have to speak at that time. They have make sure that they have their pressure to say something. So essentially, if you shift some of the problem solving or conflict management into a synchronous, then you can also gain a superpower. And then the role of the leader is really to be aware of these superpowers and create an environment that actually facilitates and foster these benefits.
Carolyn (host):
Wow, thank you. All of that really resonates, especially being at a remote company. We've been remote for about a year now, and it wasn't up until maybe six months or so ago that we realized we weren't going back to an office, but I've seen a lot of these things happen naturally at Workable. And I don't even know if, until now I really realized that those things were happening and that's really good news. But it also makes me think of just the fact that a lot of these companies, like members of our audience were thinking about hiring remotely and taking that leap and opening positions in different companies do have to look inward at how they're managing their remote workforce, because you really do have to have all of that place. And that's really great advice for companies who are thinking about moving in that direction, and be able to have like a strong well-oiled workforce.
Tony:
Yeah. I mean, do they even think about it? The war on talent is going distributed. So essentially it's not… To the companies that have thought about how to enable a strong culture, how to enable a distributed workforce to grow and develop, they are the ones that are going to attract the best and the brightest talents in the world. And there's no going back on this. I mean, that lasted us to a year, we've seen that many companies think about Spotify. Spotify is saying, guys I think about competition policy. They want to pay anybody the same San Francisco and New York salary, regardless of where they are. And I try to compete with Spotify on hiring the best talent. So from an employee branding standpoint, you have to start incorporating some of these softer approach around how you work together. And you want to explain to candidates, why are they going to be successful in your company working remotely. And it's not nice to have anymore.
Carolyn (host):
No, it's an absolute necessity. So going off of employer brand, when we're hiring in certain locations, how do you position yourself as a strong, competitive local employer brand.
Tony:
Yeah, so let's take the example of, let's say Mary in Nigeria. Okay, so she has the option of being hired with a great local bank that can give her a local employment contract, the best local benefits. And you want to be able to match that, you want to be able to understand what good looks like in country X, and then extend a generous offer to that employee. And that goes to, first hiring them as a full-time employee rather than a contractor, so that you can reduce their anxiety and provide them with the ability of having a stable job and a stable income. And then supplement that with whatever local benefits Mary expects to see from a top employer in that country.
Tony:
And some countries are more heavy on benefits, especially the US. It's must have to have a health insurance in the US, otherwise it's very problematic. Other countries, like in France, they expect to have restaurant vouchers. I mean, assuming the world is going to reopen and restaurants going to reopen, I mean pre-pandemic, the restaurant option was an important thing to have in France and some sort of complimentary health insurance. And there are some countries where you don't have to have any health insurance because the local national health system is what is expected. So every country is different and you have to navigate that. And this is something that also we help our customer to do is, is not only to be able to extend a full-time employment role job to marry in wherever she is, but also to make this employer become an attractive employer for an evermore distributed workforce.
Carolyn (host):
Yeah, that's great. And another interesting question that came up, going off of competing with local employers that maybe have an office. So how long do you think it will take looking at the future for companies to understand that remote first by region and area and people working remotely there versus opening up, like we work in these small office locations throughout there, it's two different paths. And it sounds like a lot of companies haven't been able to break away from the idea that you need some sort of office location. Is that something you're seeing? When do you think that will break off? Is it just both will exist?
Tony:
Yeah. I mean, clearly the world is shifting from an office only culture to a hybrid culture where you have both the co-existence of both an office and a distributed workforce at the same time. And there are certain tasks and certain to work experiences that require us to have face-to-face. So I don't think that a hundred percent distributed virtual can work or functions and for our companies. I think that there are going to be always a… It depends is the question, depends on what does the company do? If you're… Or what is the role of the person? So for instance, maybe software engineering is been around for, it's been distributed for virtual for a very long time. And maybe other roles are less prone to that. And also it depends on the task well solve, highly complex cross-functional creative tasks might require people to be together and solve problems in the same place. But it's not necessary, I think that really where I see the world going, is that it's become optional. It's not necessarily a must have in order to get stuff done and to create a great culture.
Tony:
And employees are asking for an extra degree of freedom, which is location. We want to be able to leave wherever they want to leave. Now that they know that they can be productive no matter where they are, and actually that's going to be… That's hard for companies to manage, if they want to go back to an office only culture, because talent will go to wherever they have more freedom and that's assuming equal pay and equal benefits.
Carolyn (host):
Yeah, it's a good answer. It is going to be a bit different for everybody, but I guess, last question going off of that could be, as you look forward, and being CEO at Oyster, you have an interesting position of seeing companies firsthand that are adopting this approach and are using your platform to handle the legal, the tax, the compliance, the benefits. Do you see that there is a big spike here? Do you think that the future is going remote? Do you think it's going to be mixed? When do you think this is going to be happening? What is your outlook for the future?
Tony:
Yeah, I think we know that my outlook for the future is that we want to have a future where people have a choice in where they want to live. And they don't have to necessarily live in the city, becomes a choice if they decide to want to live in a city, but if they don't, if they decide not to they shouldn't be forced to be living in a crowded space. And that's the world that we want to portray. That's a vision we want to portray for the world that Oyster… Because we're a mission-driven company and not only we want to bring the great job opportunities to anywhere in the world, but there's also environmental impact that attached to this. I mean, think about it, there are every year, we're pourning the equivalent of four New York cities in terms of concrete on planet earth. And in many cities, it's not any more livable condition.
Tony:
I mean, if you're currently living in Delhi, working in Delhi, you're going to lose seven years of your life expecting because of air pollution. So I think the pandemic enabled us to realize that actually we are past that tipping point of sustainability of cities. And I hope that the world will reverse that trend now that actually it's not a necessity to be in the office to get the job done, at least for knowledge workers. And to give you some statistics, there are 1.5 billion knowledge workers coming into the workforce in the next 10 years. That is the biggest labor democratic shifts since the industrial revolution. So we have that opportunity now as a world to rethink what work is and make it more sustainable and more focused on bringing that opportunity to people no matter where they are.
Carolyn (host):
Awesome. It's an exciting time and Oyster and your whole team is in a really exciting position to be enabling these companies to make these moves because truly it's incredible. Last January started up Oyster, and there's a huge need for figuring out all of these admin focus things so that we can start making a difference in our organizations and our workforce. And it does make a difference in the world, so really cool stuff. But that pretty much brings us almost a time at 45 minutes. So I'm going to go ahead and thank everybody who joined us live. I will drop a link to Oyster site for everybody to check out if you are looking for a solution to help you with all of that to hire remotely. And I'll also add it to the podcast description. We're going to be live on our podcasts that are hiring. So go check that out on iTunes. But yeah, thanks everybody for joining. Thank you so much Tony for your time. Anybody who's interested, head over to Oyster and yeah.
Tony:
Thank you Carolyn for having me here and for giving me a voice on this podcast. Bye.