Hiring for culture fit: The key to attracting and retaining talent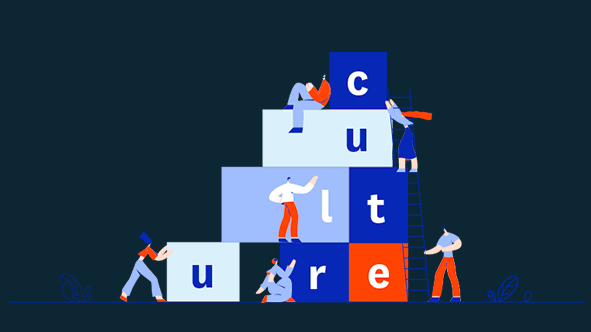 If you wonder why recruiting is a big challenge for most organizations — and why retaining stellar employees often becomes a no-win situation — the answer could be simple: organizations need to be better at hiring for culture fit.
The value of "culture fit" as a job requirement has been debated for a long time. Some warn that hiring for culture fit is a way to discriminate against people with different personalities. Others believe culture fit is the single most important factor to consider; after all, you can teach skills, but you can't teach aptitude or attitude.
First, we should define what culture fit is. It's certainly not about people you want to have beers with. It's about those who have a positive attitude and core values that align with your core values. Could a recruitment strategy fueled by your culture be the means to attracting and retaining the best employees?
I spoke about this with Lee-Anne Edwards, CEO and founder of talent matchmaking firm, OneinaMil. She recently published the first book on the topic, fittingly titled 'Culture Driven Recruiting.' I asked her to elaborate on what culture-driven recruiting means.
"The basis of culture-driven recruiting is hiring on aptitude and attitude first," says Lee-Anne, who hosted a holiday networking event and book launch at Workable's downtown Boston office in early November. "The recruiting process has been broken for many years. My book teaches you how to beat the talent war with super creative ways to hire on culture first and let the recruiting do itself."
Win the talent war
Lee-Anne's book boasts an eye-catching subtitle: 'There's no talent war if you eliminate the competition.' She explains: "Eliminating the competition in this context means that hard-to-find talent you want to hire will come to you and not your competitors," says Lee-Anne.
"There's a phrase I use in my book," she adds. "'If you build it, they will come.' I'm referring to building a great culture and showing it to the world. This will attract people with matching attitudes and, once you hire them, they will stay with you because they'll actually like showing up on Monday mornings."
She uses a client of hers as an example of culture-driven recruiting executed at the highest level. The company (dubbed "Client Y" in the book) seems to be a place where top talent thrives. Here's an excerpt from the book:
The CEO has built a place where people want to show up. Their families are valued, their life outside of work matters, their professional growth is key and they are given trust and freedom to live their best work life. […] Her team does most of her recruiting for her because they love where they work. The talent is coming to her. Her team members recruit people they want to work next to. She is spending very little money, time or energy on recruiting. Her team is very protective of their amazing workspace and so they don't just let anyone in. It's magical really.
This sounds like a dream for many companies — having exceptional people seek you out or get referred by your existing employees could optimize just about every important metric in your recruiting book, from cost per hire to quality of hire. But, in order to apply this strategy, you need to have the foundation to support it first, just like 'Client Y' has done.
"Once you get that street cred about your culture, the recruiting starts to do itself," emphasizes Lee-Anne.
Build a killer culture
Hiring for culture fit involves showcasing your culture and evaluating candidates for culture fit. But there's another side to this; one that's less prominent but equally, if not more, important. It has to do with building a culture that will attract the best talent out there. In her book, Lee-Anne provides a thought-provoking analysis of the diverse needs of different generations and she highlights:
The times have changed, what employees want has changed. They no longer stay with companies for a lifetime, in jobs where their ideas get shut down, patiently waiting for retirement. They want freedom, flexibility and trust. And if they find those, they're more likely to stay with your company and bring other people with them.
Companies that refuse to listen to their employees' needs are destined to have high turnovers and low productivity. Lee-Anne gave me another example, this time 'Client X.' She speaks about them with unease:
"This company had the most toxic culture I'd ever seen. The CEO wouldn't allow any personal conversations inside the workplace. He would threaten people's jobs over chats. He let them know they're replaceable all the time, instead of celebrating their wins," she explains.
"Lunch breaks were monitored, chats and emails were monitored. And what's worse, this company overpaid everybody, so employees ended up in these golden handcuffs, and they couldn't leave although they hated their jobs. They keep losing people and the CEO won't listen to feedback – unfortunately, I had to let them go as clients."
At this point, I asked Lee-Anne if broken cultures have the same characteristics across companies. It turns out that problems, at a high level, are the same most of the time.
"Usually, the vast majority of problems stem from the top," she explains. "Dysfunction at a high level is spread throughout the executive team. If your leaders are operating in dysfunction it will always trickle down to your employees. That's why when I go into organizations with existing broken cultures, I interview leadership extensively to see where the impediments lie."
If there's a problem with leadership, it needs to be fixed before you start recruiting for cultural fit. Most people won't stand for toxic environments and even if you manage to keep them for a short time, they probably won't be as productive as they could.
(Re)define your values
Whether your culture is broken, a bit off or brand new, take a moment to think about your values. Lee-Anne suggests that you write down your core values, both as a person and as a company, to "take a temperature check on your culture." Her book includes questions that you can answer to help you audit your values and workplace, like: "When you wake up in the morning, what excites you most about going to work?"
Take your time to formulate your core values. If possible, pause your recruitment efforts while doing this. "If I were you, I wouldn't hire a single soul until these values are written down," says Lee-Anne.
And once you do have core values, you need to tell the world. For example, here at Workable, 'Come as you are' is one of our core values and is always featured on our site: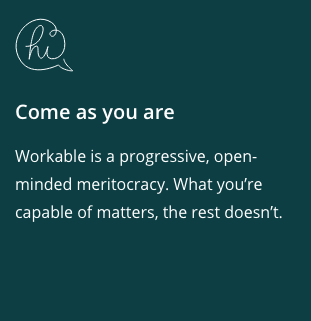 Embark on culture-driven recruiting
Building a culture may be hard, but not as hard as you may think. Lee-Anne offers a step-by-step guide in her book that you can come back to every time you need help. Here's a sneak peek of the steps you can follow after you define your values:
Build up your employer brand
"If you have a stellar employer brand, not only will it do the recruiting for you, but it will also attract the right culture fit," says Lee-Anne.
Do some research to see how your company is currently perceived out there. Ask people you trust or look at social media or sites like Glassdoor. Then, strategically craft your messaging across platforms via social media and your careers page.
On your career page, always showcase what makes you different from everyone else. How are you the best place to work? Lee-Anne gave me an example: "I worked with a company where people were playing volleyball as a team every day at lunch. I said 'why is this not on your careers page? Let's hype up your page and attract the right talent.'"
Get creative with your job descriptions
Your job ads will be the first impression that your organization has to offer for many people. It should present what you're looking for in your new hire, but also be crafted in a way that will attract the right cultural fit in the workplace.
Lee-Anne points to a real job description her company used to look for staff accountants:
"We used phrases like 'you're borderline OCD, you're so high attention-to-detail that anything off will drive you nuts' – really crazy verbiage. Some might see the ad and say, 'oh no, I want a regular accounting job, I don't want all this hype.' And that's fine, they're looking for a different type of organization," says Lee-Anne.
"But others might see the ad and say 'wow, this is me, this is exactly what I'm looking for and this company gets it.' These are the people we want to hire – the verbiage in your job descriptions should always attract them and turn away the others. It's an art."
Revamp your interview process
Interviews are the time to meet the candidates and give them long-lasting impressions of your company. Everything you do is important, from greeting them when they come to your offices to being respectful during the interview. Let people know that you respect their time.
"I worked with a company that required candidates to go through 8-hour interviews coding on a whiteboard in front of a panel of developers," says Lee-Anne. "So many great candidates heard that and said no, they wouldn't go through this."
It's important that your process length stays within reason. Also, ask the right interview questions to get a feel of who the candidate is. Lee-Anne says she asks questions to understand who a person is outside of work (she includes a full list of possible questions in her book).
"When I was hiring for an internal recruiter, I asked questions like 'tell me about a recent article or magazine that was awesome and absolutely blew your mind.' I want to know if they're spending some of their free time (e.g. during commute or Sunday mornings over coffee in bed) to grow professionally, because this is important to our culture."
Lee-Anne also tries to understand people's motivations and personality by asking hypothetical questions:
"I ask, if you had a four-day weekend and budget wasn't an issue, what would you do? If you gave me that opportunity, I'd say I would book the first flight out of here and probably go skiing or jump out of a plane," she says.
"You could see I'm probably an extremist, probably really high energy. That's how you figure out these little pieces to the puzzle, you're starting to pull out all those soft skills that you wouldn't see if you had just asked the common interview questions."
Related: Cultural fit interview questions
Thinking of non-ideal scenarios, I asked Lee-Anne what she would do if a candidate's answers showed they're a great culture fit, but they weren't the most skilled candidate in terms of technical expertise. Would you still hire them? Lee-Anne responded:
"Ask yourself, is this candidate coachable? Do they want to be successful? You can't teach anybody anything if they don't have the will to cooperate, if they don't want to be proud of their work. If yes, they're halfway there, and if we spend 6 months on ramp-up time, they're a long-term investment. Culture fit wins every time."
Invest in onboarding
About 20% of employees leave within their first 45 days in a new job. There are many reasons for this, from not receiving affirmation from their manager to not fitting in well with the team. Assuming you're certain of hiring employees that fit into the culture, you need to give them proper guidance and leadership afterwards too.
"The goal here is to welcome your new hire with an experience that is on brand and on point with your company culture," says Lee-Anne. Here are some of the things she recommends you do to onboard new hires:
Ask the hiring manager to call and congratulate their new hire. This will help them set the tone of their long-term relationship.
Send a surprise package. This could include company swag, a gift and a handwritten thank-you note for joining the team.
Do something nice for them. Don't stalk them, but do some research about them. "If they have young kids, send a gift card to an arcade or children's museum so they can spend some family time before starting a new venture," says Lee-Anne.
Send the new hire their itinerary. This could include the agenda of their first week, which people they'll meet, where and when.
Announce the new hire to your team beforehand. Send out an email with a short bio and a link to the new hire's LinkedIn profile. This allows your current team members to reach out and welcome this employee.
Generally, be prepared. Make sure you don't leave anything to chance, from setting up the new hire's accounts and computer to scheduling lunches with their new team. The onboarding/new hire orientation is your one time to shine.
And it doesn't stop here
A fun and engaging hiring process and a welcoming onboarding experience are only the beginning. You need to keep cultivating relationships with team members, giving them room to grow and thrive. Otherwise, every good move on your part before they're hired won't add long-term value — new hires will leave your organization and take their talent with them.
How do you nurture relationships? It's still about culture. "As a general rule, employees perform best when the environment is growth-oriented, which is an essential characteristic of a successful company culture," explains Lee-Anne. Her book gives you strategies to achieve a culture that people will want to stay in.
"This is the idea of hiring on culture," Lee-Anne says. "It's about building an organization where people are your product. If you treat your employees poorly or you don't promote collaboration or you shut down people instead of elevating them, then these people are going to leave the organization. If you don't have people to show up on Monday, you have no product. It doesn't matter how much funding you have or how cool your product is. Without talent to build it, you have nothing."
Instead, make sure you build a great culture and work on it day in and day out. If you build it, they will come — and you'll recruit faster and better.
Frequently asked questions
How do you recruit for culture fit?

Your company values are extremely important to you and should be included in any advertising for the role. This will help ensure that your culture remains throughout all aspects of working at this company from day one.
What is cultural fit in hiring?

Hiring for culture-fit employees can be difficult, but it's essential to match the values and standards of your company with those who will work well there. Prospective workers are also looking into whether or not their personalities align seamlessly within an organization's dominant tone(s).
How do you determine if a candidate is a good culture fit?

Companies should ensure that their employees will fit in with the company's culture. The best way to do this is by involving team members during interviews and researching where they have worked to see if a candidate is a good fit for your company.