How to use the Workable mobile recruiting app for hiring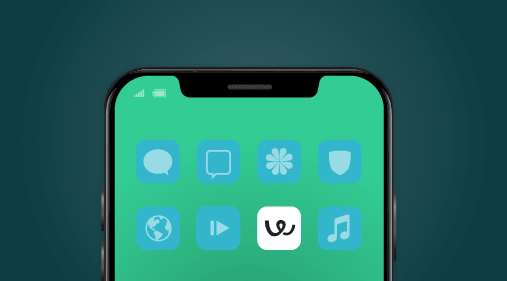 It's 8.30am and you're on your way to the office. You have a hunch that today is going to be busy—you're hiring for multiple roles. Anything you can do to buy back time will help. Luckily you've already set up Workable recruiting app on your mobile. But a quick look leaves you with mixed emotions. 23 new candidates overnight. Great! You need a full hiring pipeline, but… now you have to review them all.
The good news is, you don't need to wait until you're at your desk to get started. You review every application via the Workable mobile recruiting app. Time stuck in traffic is not time wasted. You move the best candidates to next stage and disqualify the ones that don't quite fit the bill.
Even better, you leave comments on certain profiles tagging members of your hiring team to ask for their feedback. By the time you get to your desk, coffee in hand, you've already completed the most urgent task on your to-do list.
Making the most of your time
When recruiting isn't your main task, finding time to review every application in a single sitting is a big ask. In addition, when you have one urgent position to fill you need to prioritize candidates for that role. Open the Workable app and you'll find all the applications that are waiting for your review. Filter candidate profiles by job, if that's more helpful, then screen, evaluate and comment at your own convenience.
Creating a better candidate experience
When time is tight, it's not that uncommon to overlook an email, a notification or one of the many other tasks on your list. But forgetting to contact applicants or move them through your recruiting pipelines could cost you qualified candidates or put your employer brand at risk. To make sure you don't lose track of your best candidates, the Workable mobile recruiting app keeps all your communication organized.
It takes seconds to respond to candidates waiting for your reply or to evaluate candidates you may have overlooked in the last few days. The mobile app ensures you don't miss anything, improves candidate experience and reduces time spent between hiring stages.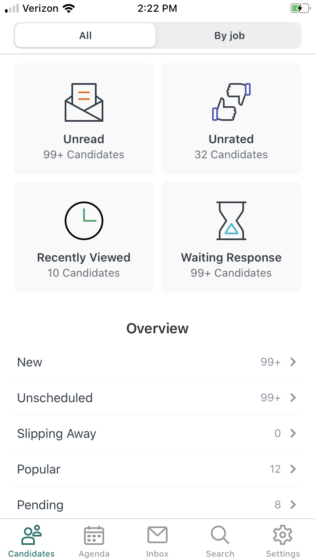 Everything you need at your fingertips
Once you're done reviewing applications, you can schedule interviews with your most promising candidates right away. There's no need to switch to a different platform (like your email provider). If you conduct phone or video screenings, call candidates directly from their profile on Workable's mobile recruitment software. Candidate's contact information travels with you, so you can reach out in just a few clicks.
When it's time to meet candidates, use the Workable recruiting app to check your Agenda; it has all the details of your scheduled meetings. Instead of printing resumes or making separate notes, check the candidate's profile to refresh your memory before you start. If you've set up an interview scorecard, use it to keep track of the questions you're going to ask.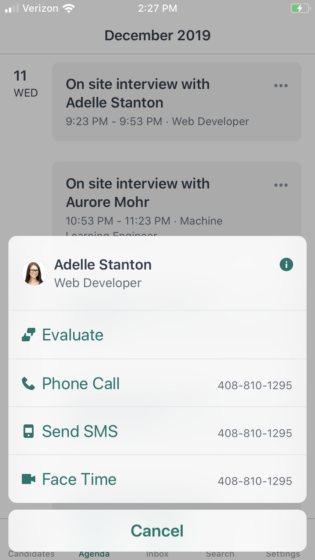 And after each interview, leave a quick evaluation on your mobile while the candidate is still fresh in your mind. This is useful when you have back-to-back interviews and no time to write down detailed feedback. For hiring managers, having the option to evaluate candidates right after interviews using their phone means that they can return to their job and focus on their regular tasks. Mobile recruitment allows for quick and valuable interview feedback so that the rest of the hiring team know how to move on (for example, extend a job offer or schedule a follow-up interview.)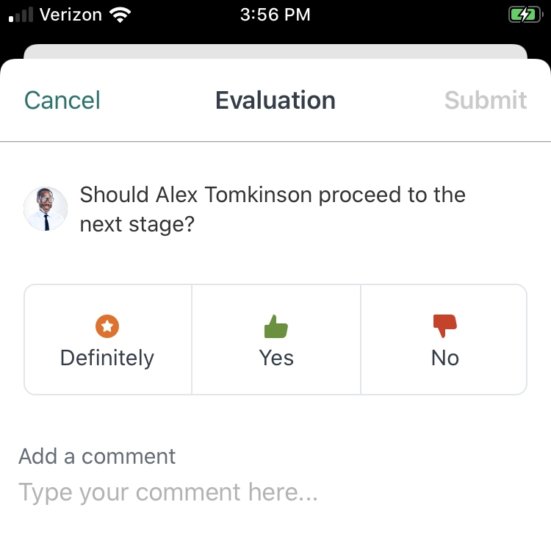 Getting things done
As the hiring process reaches the final stage, you'll get a notification to review and e-sign the offer letter for your most successful candidate. You can do that with your phone too, if you're out of the office and don't want to leave the candidate waiting. And as soon as the candidate accepts the offer, you'll get the good news on your mobile. Who knows, maybe you'll even be able to say you closed a hire without ever logging into your desktop computer!
Using the Workable mobile app for hiring
Liam Quinn, HR Programme Manager at C. Hoare & Co., the oldest bank in the UK, shares his excitement after hiring team members synced their Apple watches with the Workable app:
Meanwhile, Rhonda Aos, HR Manager at Lethbridge School District, describes how they managed to reduce time to hire using the Workable app:
Our principals and hiring managers now screen applications as soon as they come in. That could be in the office on their desktop or out and about on their mobile. They love being able to access information about candidates quickly and easily on the fly, wherever they are.
Whether your mobile operates on iOS or Android, download Workable's mobile recruiting apps to hire candidates on-the-go. They're free with every Workable plan.
If you're not using Workable yet, request a demo to learn more about the mobile recruiting features we offer and how to turn your hiring into a streamlined, fast and collaborative process.