Simplify your offer letter approval process with Workable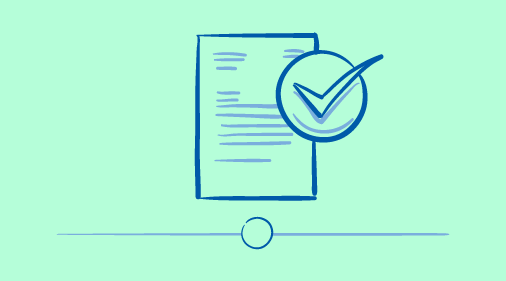 By the time you've reached the offer letter stage it's natural to feel a sense of achievement. From posting your job and sourcing candidates to screening, assessing and finally interviewing, you've spent weeks—if not months—immersed in the process. And now the end's in sight. You've identified your winning candidate out of a deep pool of talent and it's job done.
If only.
In a candidate-driven hiring market your preferred hire is also likely to be someone else's top choice. And until they've signed and agreed to your offer there's a very real chance they'll accept a job with someone else.
Rejected offers are costly. They damage your Offer Acceptance Rate, lead to a prolonged time to fill, and more work for you and your hiring team. So just when it feels like you can—and should—pause and take stock, you actually need to build momentum if you're to keep your candidate engaged and onboard.
With Workable's Offer Letters and Offer Approvals tool it's easy for hiring teams to write, approve and send detailed, comprehensive offers at speed. And easy for candidates to accept.
Why manage the offer letter approval process through Workable?
Managing the offer letter approval process through emails and spreadsheets leaves your process vulnerable to manual error and prone to lags. Use Workable's offer feature to:
Streamline your offer letter approval process with templates and automated approvals.
Ensure your offer letters are accurate and clear.
Make it easy for your candidate to accept.
Set the tone for the ongoing relationship between your company and future employee.
Not using Workable yet? Request a demo to learn how you can optimize your hiring efforts with our all-in-one recruitment software.
Build up a library of offer templates
Having a library of offer templates already prepared saves valuable time at the offer stage. Workable has a default offer template you can modify for different departments. Or you can create your own. Each offer template in Workable consists of an official offer document which your candidate will sign, and an offer email. Both of these can be customized. Once saved, templates are available for key members of the hiring team to use, instilling confidence that your communication is on-brand and that the right information has been included.
Building up a rich library of templates in your Workable account is a simple 3-step process:
Step 1. Set up your template
Setting up a template takes seconds. Either add a new template or edit or clone one that's already saved in Workable. Give each template a unique name (for example, Sales Manager Offer template), to make it easy for teams to identify.
Step 2. Customize and upload your offer document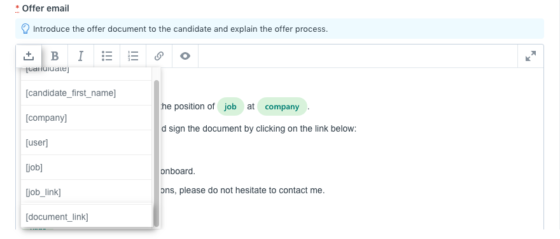 The offer documents you upload to Workable can contain variables, for example candidate name, start date, salary. These are displayed inside Workable as placeholder text and will be automatically replaced with information unique to each offer when it is sent. Customize your offer document by adding in the variables you want to include for each different offer template. You'll see a list of all the options available inside Workable.
Step 3. Edit your offer email

Every offer template created in Workable already has a pre-drafted offer email. You can customize this email as much or as little as you want; change the language or tone to reflect your company brand or include additional variables.
Track offers in realtime and get notifications
Live status tracking on a candidate's profile and automatic notifications of any changes make it easy for your hiring team to follow the progress from offer to acceptance. With real-time updates you can react quickly if an offer is declined.
Take advantage of e-signatures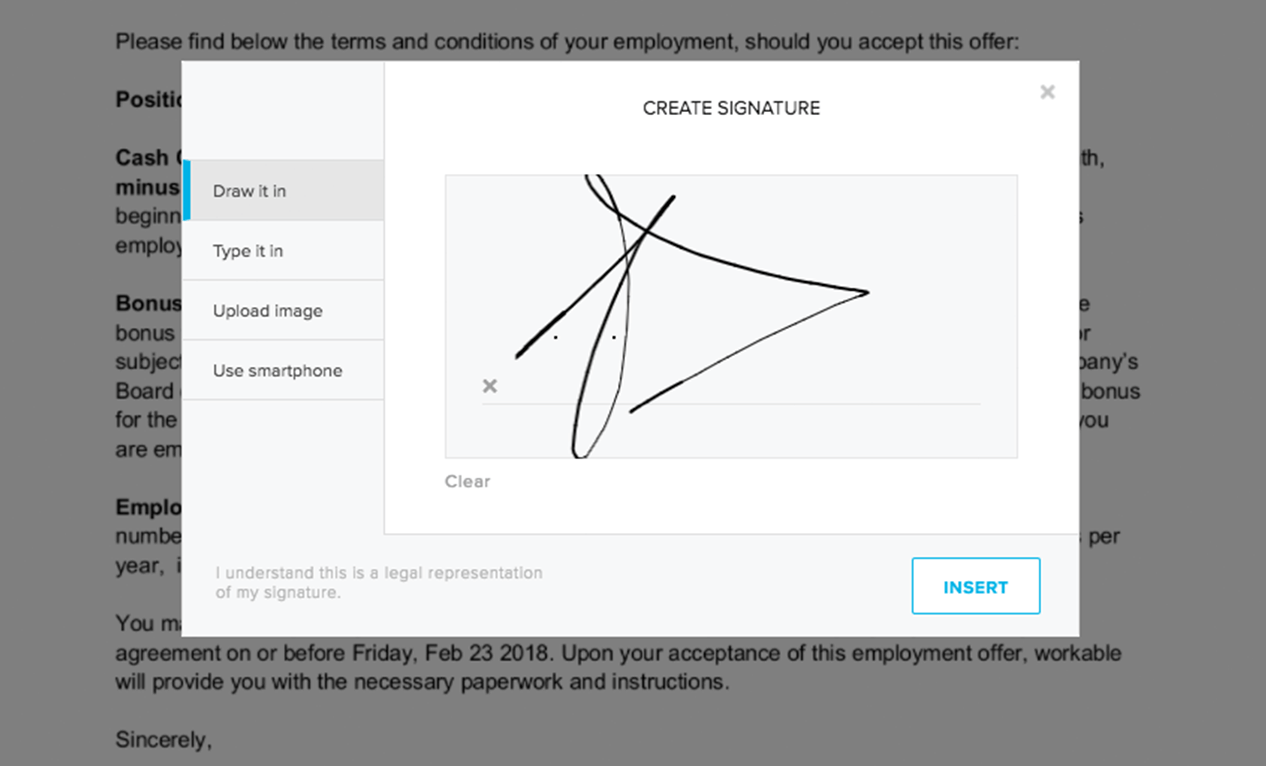 Candidates can accept your offer in two clicks using integrated e-signatures.You don't need a separate account with an e-signature provider to use e-signatures in Workable. As well as saving time (reducing back-and-forth emails) e-signatures also make for a better candidate experience. Onced signed, a copy of the document is available on the candidate's timeline.
Make it easy for candidates to say 'yes' on mobile
Using Workable, candidates can read and sign your offer document from any device (desktop or mobile). So wherever they are when you send your letter (in the office or on the train) they can still accept quickly and easily.
Create automated approval workflows

Workable's Offer Approval feature supports larger companies with complex workflows by automating the approval process. Just add the people who need to sign-off each offer to the relevant template. Approval requests are sent automatically to each approver, leaving hiring teams to focus on other tasks while the approval process runs its course.
Assign restricted access rights
For larger organizations there's the option to save templates so that only people associated with specific departments and locations have access to the content. Using this feature you can add increased levels of privacy and control to your offer letter and approvals process.
Ready to make a job offer in Workable?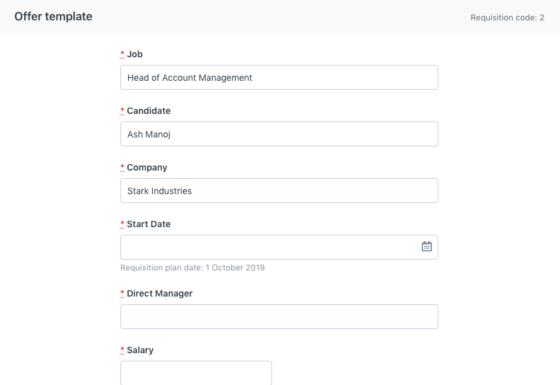 With templates already saved in your account, you can move fast to generate an offer as soon as you've chosen your successful candidate. All you need to do is:
Click on the stamp ('Make an offer') icon in the candidate's timeline.
Select the relevant offer template.
Add in the details unique to each offer (for example, the salary offered.)
Wait for feedback or offer approval, if appropriate.
Review your offer, editing the covering email if you need to.
Send to your candidate.
Your candidate either accepts and signs using an e-signature, or rejects your offer.
Next steps
Having nailed down your offer letters and approvals process, make sure you measure the quality of your job offers (and your recruitment process) using the appropriate metrics. For more help with that, take a look at our job offer metrics FAQ.