Workable partners with coding assessment provider, Qualified
To make it easier for our customers to hire top engineers in a competitive market, we've recently formed a partnership with coding assessment provider, Qualified.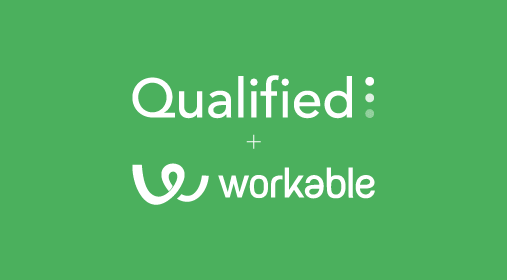 Assessment results produced by Qualified build stronger candidate profiles, which hiring teams can use to gauge where specific candidates rank in the applicant pool. Quantitative benchmarks make it easier to proceed objectively, quickly filter out poor performers and focus attention on talent.
A range of coding assessments
Coding assessment tests from Qualified cover a broad spectrum, from CS algorithms to specific technologies and frameworks like Node.js and Ruby on Rails. They use real testing frameworks—frameworks developers are familiar with—for evaluating results. Choose between their pre-made assessments or customize them to meet your specific needs.
Improve hiring workflow
Process candidates faster and without bias using Qualified's automated assessment workflows. Their software weeds through the applicant pool at your assigned stage in the interview pipeline, objectively comparing test scores to eliminate weak candidates. This leaves you free to focus time and energy on your most promising candidates.
Insight into cracking the code
How candidates approach coding assessments can be just as revealing as the end result. By integrating Qualified with Workable you can identify engineers who have the skillset and thought processes that align with your intended goals. Using their code playback feature you can see how a candidate approaches a problem and the steps they take towards a final solution.
Get integrated
If you're already using Workable and Qualified, see how to activate the integration and make Qualified an embedded part of your recruitment process.
Once you've activated your Qualified integration, you'll be able to send an assessment from the candidate's profile. When the results of the assessment are available, you'll receive notification via email and your Workable Inbox, along with a link to log in to Qualified and view the results.
If you've yet to try Qualified, find out more with a free trial.
Interested in sharing your product or service with Workable customers? Take a look at our Developer Partner Program.