Workable integrates with Criteria
In our last post we announced the launch of our Developer Partner Program and API. This is exciting for us, as we can expand Workable's functionality with specialist service providers. It's exciting for you (we hope!) because it enables you to use the services that you trust, without logging in and out of multiple platforms.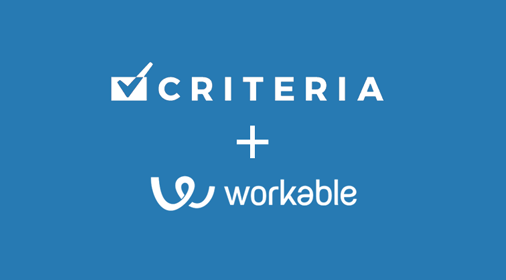 Today we announce our integration with Criteria, a leading provider of pre-employment testing services. Offering aptitude, personality, and skills tests, Criteria is used by more than 2500 companies and organizations.
If you already have an account with Criteria, activating the integration is simple. Once complete, you'll be able to specify at which stage in the pipeline you'd like to send the test and the type of test that you send. The process is seamless – everything can be done from inside Workable, including reviewing the test results.
If you're new to pre-employment testing, here's a quick rundown of ways it can help:
Assess candidates more objectively
If your candidate has performed well at the phone screen stage, well designed assessment test from a specialist provider will help you to draw objective conclusions before you reach a structured interview.
Pre-set tests have the advantage of being standardized and administered in the same way to every candidate. By selecting a test according to job-related criteria, you'll give everyone the same opportunity to succeed.
Save time on interviews
Interviews are stressful for candidates and take time for your hiring team to prepare and complete. Some of the basic requirements can be assessed through pre-employment screening before you get to the interview stage. Save time for both your candidate and the hiring team, and create a better candidate experience.
Make decisions based on quantifiable data
Companies are becoming more aware of the value of building diverse teams, and hiring methods that directly tackle unconscious bias will help improve your hiring process. Test results enable you to be specific about your reasons for rejecting or progressing a candidate. Rely less on 'gut instinct' and stay inline with EEOC regulations by using tests created by professionals, for the professionals that you want to hire.
If you've yet to use an assessment test provider, find out more about Criteria and sign up for a free trial.
More integrations coming soon
This is the first of many integrations that we have planned, so please keep an eye here and on the newsletter for our latest releases. If you're a software provider, find out more about our Developer Partner Program.