Workable launches Recruiter Marketplace in partnership with BountyJobs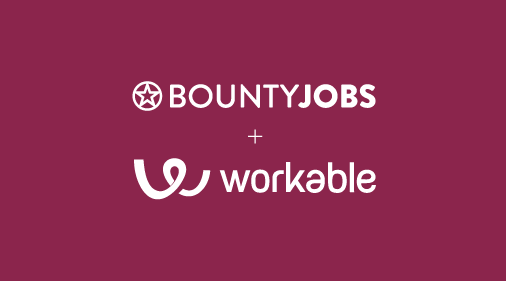 The route to the perfect hire doesn't always follow the same path; different roles require different sourcing strategies. For some, job boards are the obvious answer, but third-party recruiters makes sense when you're recruiting for hard-to-fill or more senior roles, you're low on resources, or working to a tight deadline.
We designed Workable to be an all-in-one recruiting platform, which is why we are excited to announce our integration with BountyJobs, for our customers in the USA.
Traditionally only available to large enterprise organizations, BountyJobs is the largest third-party recruitment marketplace in the world. Through this integration, you're now able to pay a flat fee to post a job in the marketplace. Recruiters will review it, indicating their interest in working with your company to source candidates. You'll choose your preferred recruiters and they'll deliver viable candidates which you can move directly into your Workable hiring pipeline.
When you've found the right match, the successful recruiter is paid the pre-agreed recruitment fee, which is a percentage of the candidate's annual salary.
BountyJobs streamlines and simplifies the recruiter engagement and management process. It's easy to connect with a verified recruiter on a per-job basis.
Most importantly, the integration makes finding and engaging with recruiters a seamless part of your process inside Workable.
Key features include:
Access: instant access to over 10,000 highly-qualified, pre-vetted agencies
Efficiency: manage all your recruiting agencies with a single contract
Visibility: track investment and measure return to refine your hiring processes
Compliance: set your standard and confirm your agencies are taking candidates through your prescribed screening process
If you're ready to get started, you'll find BountyJobs in the 'Find Recruiters' tab, at the Advertise step for a job. Find out more.