Boost job visibility and analytics with our latest Indeed Sponsored Jobs integration
We're always looking for ways to help employers find the best talent, fast. That's why we've revamped our Indeed Sponsored Jobs integration to promote your jobs—and to give you the performance data you need to optimize your hiring.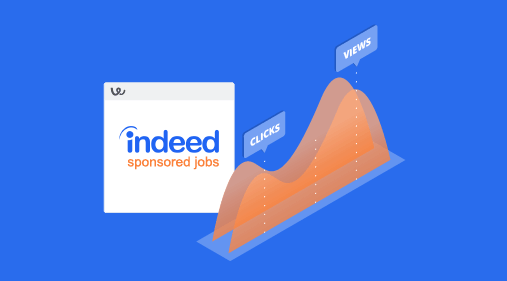 Shine a spotlight on your open roles
While all your jobs posted via Workable are searchable on Indeed, as other companies advertise similar positions, older postings naturally slip back in search results, losing visibility over time.
To boost your jobs' visibility on Indeed, you can pay to promote them as 'Sponsored Jobs'. These are the first jobs people see in Indeed's search results, typically receiving up to 5X more clicks* than free job postings.
Track and analyze your Indeed sponsored jobs campaigns
Some of you have asked for additional data and analytics to evaluate your Indeed Sponsored Jobs campaigns. This new integration gives you all that and more.
Now when you sponsor a job on Indeed, it's via your company-specific Indeed account. This gives you access to Indeed's Employer Dashboard, where you can see the clicks, applies, and other metrics associated with a sponsored campaign.
Easily measure and share campaign ROI
Your Indeed Employer Dashboard gives you the data you need to assess campaign performance.
See at a glance how many times your sponsored jobs have been viewed and clicked on, and your average cost per click. Confidently report on current performance and use that data to help plan your sponsored campaigns in the future.
Get started
Ready to sponsor a job on Indeed? Our help center has the details you need to set up premium job postings.