How to manage your internal hiring and job posting process
To create a great internal hiring and job posting process, it's essential to understand the job requirements, devise a recruiting strategy, set deadlines for internal applications, and define hiring stages for internal candidates. Communicate the open job through various channels and ensure the application process is simple and confidential.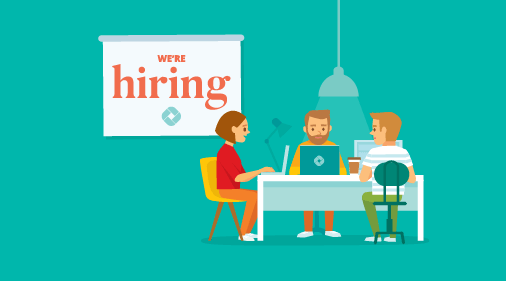 An internal job posting is a job opening made available to existing employees within a company, as opposed to a public posting. It can be a powerful tool for employee retention, as data shows that internal mobility leads to longer employee tenure and better employee engagement and productivity.
Investing in employee development to fill open roles is a growing trend. Your current employees are qualified, know your company well and are already a culture fit, so looking among them for your next great hire makes sense.
Here's why you should consider internal hiring and how to do it right:
The benefits of internal recruitment
External recruiting helps you fill company-wide skills gaps and enhance company culture, but internal recruitment should be part of your strategy too. This is because hiring internally helps your company:
Boost retention. Actively recruiting internally sends a message to employees that you care about their professional development. This helps build a culture of trust, which in turn increases engagement and encourages employees to remain with your company.
Hire quicker. Screening calls and executive interviews aren't always necessary when hiring internally because recruiters and managers can find out about employees' performance and track records easily. This minimizes the number of hiring stages that candidates go through, speeding up your recruiting process.
Shorten onboarding times. Everyone needs time to settle into their new jobs, but current employees have a head start: they are already acquainted with your company culture and processes and may have even met your team members before.
Save money. Recruiting internally doesn't involve costs like job board fees, sourcing costs or payments to hiring agencies. In fact, research has shown that external hiring may cost 1.7 times more than internal hiring.
How to recruit internally
First, arrange a meeting with the internal hiring team to determine:
Job duties/ requirements. Whether you are opening a completely new role or trying to fill a recently vacant position, make sure you have a concrete job description in place.
Recruiting strategy. Decide whether you will post externally and internally at the same time or internally first. If you're hiring for completely new roles (e.g. opening a new department), it's unlikely you will have many qualified internal candidates. In this case, it'd be best to post externally and internally simultaneously.
Deadlines for internal applications. If you plan to post the job externally too, make sure to set a deadline for internal applications so as not to delay your hiring process.
Hiring stages for internal candidates. For example, you may decide that shortlisted internal candidates should go through only one interview with the hiring manager or hiring team.
Once you've settled the basics, begin your internal recruitment process.
Internal job postings
Write an internal job ad: The list of requirements and job duties that are used in external job descriptions should remain the same. But since you're posting this job internally, you don't usually need to describe your company or its mission and culture. Instead:

Describe the department. Say what the department does and what its main mission is. Describe what the team is working on presently and what they plan to work on in the future. Also, explain how the open role fits inside this team and who the new hire will work with more often. Here's an example:
"Nick, Zoe and Bruce – our product marketing team – bring attention to our products and persuade potential customers to sign up for trials. We are preparing to participate in several trade shows and host a number of in-house events. We need a new event coordinator to keep us organized and help us meet our goals."
Emphasize the benefits. Much like sourcing emails to external passive candidates, your internal job ads should aim to entice the most qualified internal candidates. Give them reasons to want to move from their current roles. For example, if this new role involves bonuses or other perks, let candidates know.
Provide details for the application process. Explain how employees can apply. Ensure the process is easy and simple. For example, avoid lengthy application forms. Also, let internal candidates know what the next step would be if they get shortlisted. Guarantee that their application will remain confidential.
Communicate the open job. To make sure that your job ad will be seen by your entire company, try to communicate it in as many ways as possible. Here are common methods:

Post the job ad on your company's intranet.
Include the job ad in the company newsletter.
Put up hard copies of the job on bulletin boards.
Send a company-wide email to all employees.
Sending an email is more personable and ensures most employees will see that there's an opening. Since this email doesn't need to be personalized to its recipients, use a template to save time.
How to ensure internal recruitment works
Support your internal hiring strategy by:
Making internal transfers easy.
Creating a company culture that promotes employee development.
Both these factors influence how successful your internal hiring is. If you overly restrict internal transfers, your best internal candidates may not be able to apply. And, if managers are more focused on keeping employees on their teams instead of helping them grow, they may unwittingly hinder your internal recruitment efforts.
So, here are a few things you could do:
Create a flexible internal transfer policy
It'd be a good idea to place very few restrictions on internal transfers and only when necessary for reasons of fairness. For example, it makes sense to prohibit employees from being transferred to a position where they would have relatives as direct reports. Conversely, prohibiting employees from switching roles unless they have the consent of their manager may be counterproductive. If they are the best candidate for another position, it's to the business' best interest to permit their transfer.
Also, ensure your internal transfers can be done quickly through minimal paperwork. If your current process is cumbersome, ask your HR team to meet and discuss what changes are needed.
Keep in mind that managers sometimes resist internal transfers because they don't want to lose good team members. But, this attitude may cause resentment among employees who want to transfer and they may end up leaving the company altogether. To address this issue, make it a point during managers' trainings or meetings to explain:
How internal mobility benefits the company.
How teams can be happier and more engaged when they are encouraged to grow within the company.
Build an effective process for internal referrals
If you have an Applicant Tracking System (ATS), you can easily ask for referrals for different jobs. Clarify that employees are able to refer both external and internal candidates. Each time you post a job:
Send an email to all employees reminding them that they can refer colleagues who could be qualified for the position.
Send a separate email to managers, encouraging them to refer team members who they believe are ready for the next step in their career.
Looking for help to manage the hiring process? Start a free trial with Workable to establish an employee referral program and collaborate with your hiring team.
Have a succession plan in place
Succession plans resemble internal pipelines that show which employees are ready to fill jobs when they become vacant. HR has the responsibility of building and updating these plans taking into account current and future business needs, as well as skills and potential of employees.
When building succession plans, involve managers as much as possible. This process will encourage them to think about the career paths of their team members and invest in getting them ready for different roles.
Also, training programs go hand-in-hand with succession plans. Make sure all employees have adequate resources and direction to learn new skills and develop professionally. Meet with department heads to discuss training budgets and ask managers to discuss training opportunities with their team throughout the year.
Communicate your approach to internal hiring
After you have put all appropriate policies in place, make sure that they don't collect dust. Communicate your processes through various means like company newsletters or emails from senior management. Show that you value internal mobility by announcing and praising internal hires via email. In short, let employees know with both words and actions that you want to see them grow within your company.
Frequently asked questions
Why is internal job posting so important?

A big advantage of posting jobs internally is that it shows your willingness as a company to hire within. It encourages job growth and career advancement for all current employees. Most companies, when recruiting an external candidate for a job, will mention that their company offers growth opportunities.
Why is internal recruitment bad?

While internal recruitment has many benefits, it can have a negative impact on those employees who missed out on the job and, due to a smaller talent pool, an internal recruit may not be the best fit for the role. Transferring or promoting an existing employee can also cause gaps within the organization, which must then be filled by an external applicant.
Why do companies prefer internal recruitment?

Internal recruitment is when a business chooses only to advertise a job within their company or only make it available to current employees. The main advantage is that it can save time and money, but it can also serve as a way to develop and motivate employees within your organization.