Internal job posting email
Use this internal job posting email template to announce open positions and encourage current employees to apply.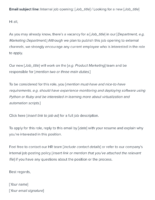 In your email include:
Job title
Department (optionally, mention manager's name)
Location (if applicable)
Key responsibilities
Requirements
Application process and deadline
Clarify whether you plan to or have already made this job opening available to external applicants. If you've published the position (either to a job board or to your company's intranet) add a link to the full job description.
You could also attach your company's internal job posting policy or prompt employees to refer to it for more details about your application process.
Note that it might be best to send this internal job posting email only to eligible employees (e.g. those who have the desired skills or don't need to relocate.)
Email subject line: Internal job opening: [Job_title] / Looking for a new [Job_title]
Hi all,
As you may already know, there's a vacancy for a [Job_title] in our [Department, e.g. Marketing Department.] Although we plan to publish this job opening to external channels, we strongly encourage any current employee who is interested in the role to apply.
Our new [Job_title] will work on the [e.g. Product Marketing] team and be responsible for [mention two or three main duties.]
To be considered for this role, you [mention must-have and nice-to-have requirements, e.g. should have experience monitoring and deploying software using Python or Ruby and be interested in learning more about virtualization and automation scripts.]
Click here [insert link to job ad] for a full job description.
To apply for this role, reply to this email by [date] with your resume and explain why you're interested in this position.
Feel free to contact our HR team [include contact details] or refer to our company's internal job posting policy [insert link or mention that you've attached the relevant file] if you have any questions about the position or the process.
Best regards,
[Your name]
[Your email signature]