8 new techniques to hire and retain military veterans
While you may already be familiar with the benefits of hiring military veterans into your company, you may not yet have a firm sense of how to fully leverage this population. For those less familiar with the benefits, data suggests that overall veterans tend to be more dedicated employees, are more productive, and can deliver a higher ROI compared to non-veterans in your workforce.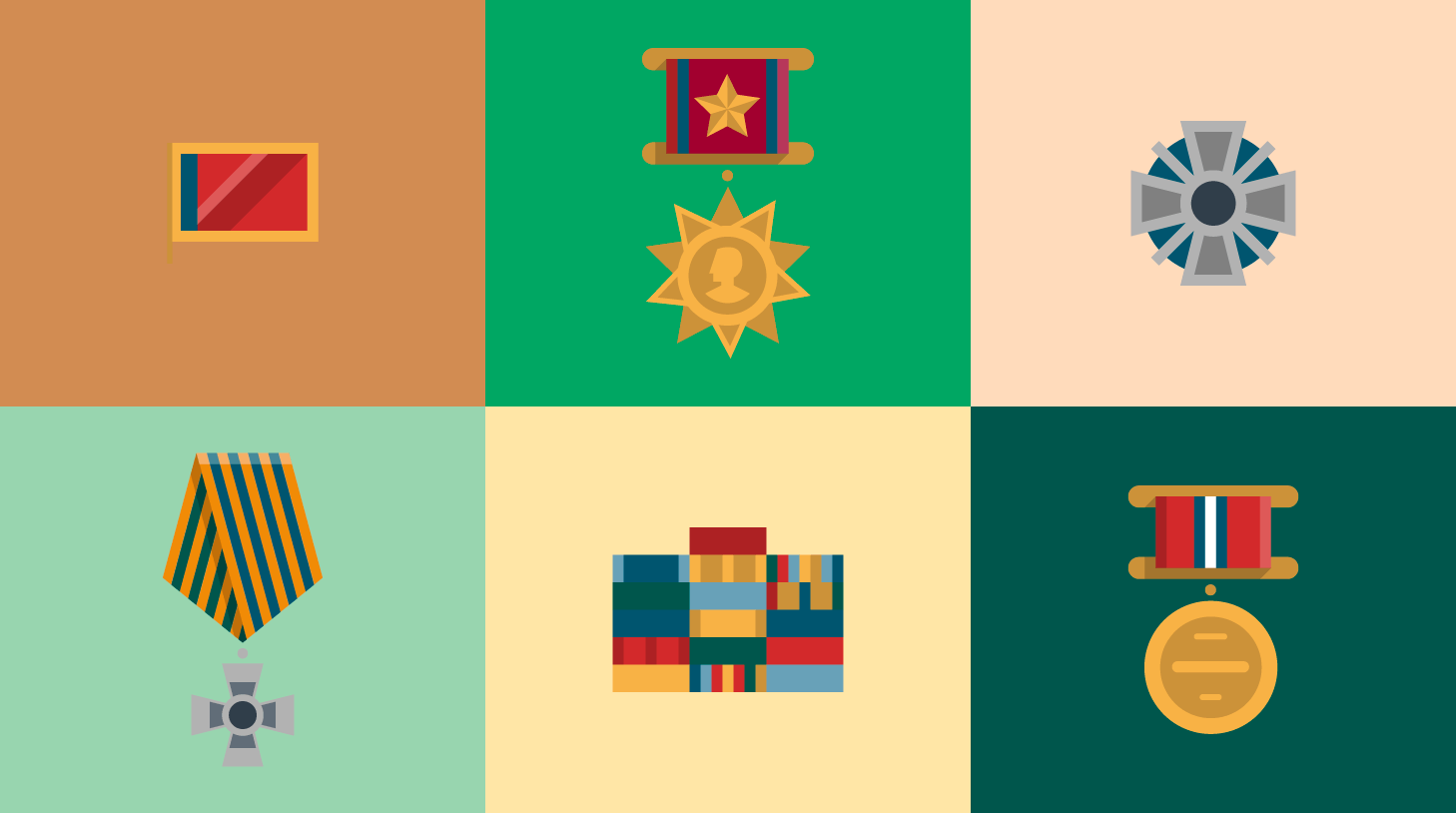 There's no shortage of standard advice offered in books, articles, websites, and at conferences regarding hiring veterans and you may have already applied these ideas to your company's business practices. Standard advice may not give you the competitive advantage you need in an active job market, however. So now you're looking to do more – to be different, to get more creative, and to get a leg up on your competitors, especially in a talent crunch.
As industrial/organizational psychologists with years of experience in the military and in corporate hiring and co-editors of the recent book, Military Veteran Employment: A Guide to the Data-Driven Leader, we are here to offer new ideas and suggestions to take your veteran hiring and recruiting to the next level.
First, some good news: research shows that many companies talk about hiring veterans. However, not many companies are putting their words into action when it comes to a research-informed approach to hiring veterans. Even fewer companies are executing programs targeted at veterans – the smaller the company, the less that they are doing.
For example, in a survey of employers by the Edelman global communications firm, only 23% of employers said that they saw veterans as strategic assets for their companies and only a little more than two out of five (43%) said that they are receiving enough veteran applications.
Here are some suggestions to improve your veteran hiring efforts, whether you are just getting started or already have a robust dedicated effort in place.
1. Update your job descriptions
Focus on experiences and competences and avoid listing years in a position or certificates or diplomas as requirements or qualifications for the role. Many veterans may lack academic degrees or formal certificates but have nevertheless gained the relevant experience and skills that you need.
For instance, ask yourself why your job descriptions dictate a master's degree or six years of experience? Are these critical to the position or do they merely serve as a signal of what you want to see in candidates?
Take the time to re-think who can do the job and break the job down into the absolutely required critical constituent knowledge, skills, abilities, and competencies, and then list these in your ads.
Not only will this help with your veteran hiring efforts, but it will benefit your hiring members of other populations that may not have the formal education but do have the right skills.
2. Look at vets' transferable skills
About half of military members want to leave their military occupation and do something different in the civilian world. The RAND Corporation has conducted extensive research on the transferability of military skills and new ways to connect military occupations with civilian ones.
RAND's work highlights that employers should not assume that an infantryman is only qualified to be a cop because the prior service member carried guns. Many infantrymen have become successful computer technicians, salespeople, managers, and even comedy writers.
Learn to see past an applicant's military occupation to their skills and experiences and learn how your company can utilize these in different occupations.
3. Track your hiring pipeline data
Monitor your candidates at every stage to identify where you lose or gain veterans throughout your talent pipeline. Look at the demographic make-up (including veteran status) at each stage of hiring to see if there is a fall-off at a certain stage.
For instance, do you get enough veterans applying? Are your recruiters sourcing veterans? Do you have a sufficient percentage at each step but then their percentage decreases because of the interview?
Find out what your numbers look like so that you can address the area where the shortfall begins.
4. Learn about the military's culture, values, and language
If you understand the culture, values, and language of the military – and share that knowledge with your business leaders and hiring managers – you'll more effectively engage your military veterans. Research from the Center for a New American Security shows companies that make the effort to understand and honor the military culture and military family experiences do a better job of recruiting and retaining their veteran employees.
Make sure your recruiters who work with veterans understand the military – and if you have veterans in your company, see if they want to serve as recruiters, brand champions, or want to advise your company on its efforts.
5. Capitalize on veterans' networks
Word of mouth will be your most effective tool for recruiting and retaining veterans. Veterans have learned to trust comments from other veterans and military members.
A pro-veteran web page or brochure – with flags and pictures of soldiers – will mean nothing to a veteran if they have heard negative comments about your company from current veteran employees. Make sure you deal honestly with veterans, respect the military and its culture, take care of military families, and utilize their skills well.
Also, encourage your current veteran employees to share their experiences with other veterans who might be interested in working for your company. For example, JPMorgan Chase & Co. created a series of videos where existing employees explain how they use their military skills in their jobs. Here's one of those videos.
https://youtu.be/FEEH9nM65uA
6. Utilize your customer support team
Your reputation as a company can influence your brand as an employer. Create a military-focused customer support team (made up of veterans or military spouses) and train other agents to recognize nuanced military terms and offer extensions on payment or other special treatment for military family customers.
If a military spouse mentions that they may have difficulty paying a bill because of a PCS (in military terms, a permanent change of station or relocation) or because the spouse has been deployed overseas, have the call transferred to your military team. These agents will be able to speak to them in the right 'language' with proper contextual understanding and offer extensions or other special handling.
When the military member starts looking for employment, the spouse that received payment extensions or other special handling will have a positive feeling about the company and will recommend them as a good place to work.
Building a positive brand and employee value proposition is important for all companies and even more important when working within the military and veteran communities.
7. Don't overlook military spouses
Veterans will understand that companies that take care of military families will be good places to consider for their own employment. We also suggest being inclusive of spouses of currently serving members of the military and veterans – often termed "military spouses".
Military spouses are a well-educated and often under-utilized talent population that frequently relies on tight military community networks to find employment and support due to the demands of a military lifestyle.
Make an effort to hire and retain military spouses by understanding that the gaps in their resumes may be caused by frequent moves for their spouse's career and that their experience may not be reflected in a traditional resume or standard metrics. And, to help spouses who move frequently with their families, offer remote or distributed work options where possible.
8. Focus on retention as well
Many companies have learned how to hire veterans, but few can successfully retain veterans in their companies. Data from LinkedIn demonstrates that while veterans may have higher turnover than non-veterans during their first year of employment, the rate drops to less than that of non-veterans once they stay for more than a year. In fact, overall, they stay 8.3% longer in their initial place of employment than non-veterans do.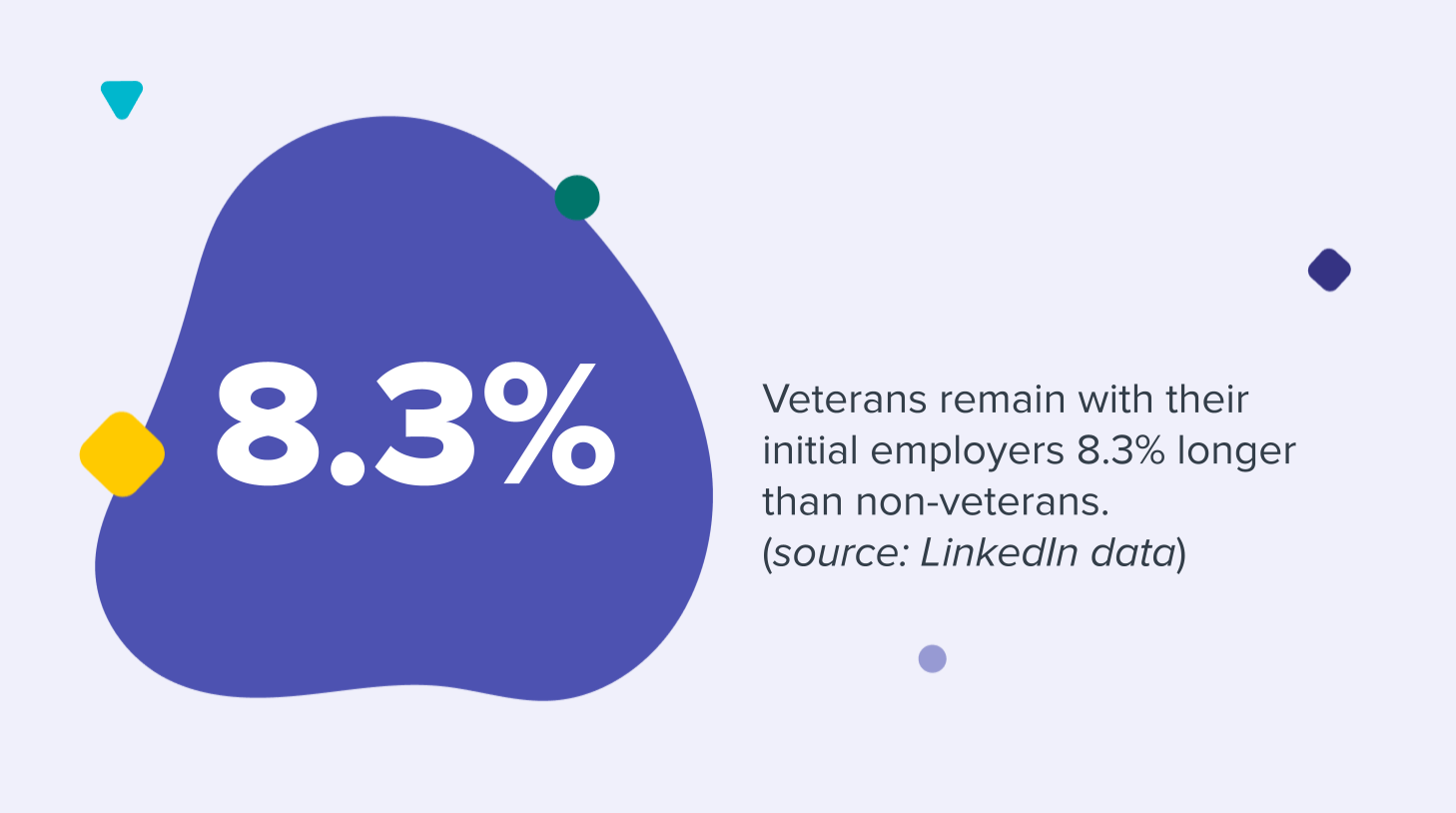 Here are some suggestions to improve retention:
Provide a sense of purpose or mission.
Many veterans self-select into the military because they want to serve something greater than themselves. The need to support a mission doesn't end when they take the uniform off.
Provide your veteran employees with a new mission or purpose and fulfill this innate need for them. Communicate your company's mission to your employees so each employee can see their direct "line of sight" to fulfilling that mission. Leadership should not only communicate this vision but help each employee see how they personally drive it as leaders.
Understand that veterans have finely honed "BS" detectors
Be open and transparent with your veteran employees. Don't try to couch the truth or avoid difficult conversations – especially since veterans are skillful at identifying lack of transparency after their time in the military and will be carrying that over into the civilian world.
Being accustomed to a strong culture of leadership and development, veterans are used to direct feedback, to hearing bad news directly, and adapting quickly to fix the situation.
Provide frequent and regular feedback
Military members do not wait around for an annual performance review. Service members are used to having formal "After Action Reviews" after every operation and informal check-ins or "azimuth checks" regularly. Take care with your veteran employees to provide informal feedback regularly.
A rich well of talent
Veterans are a vastly undertapped resource in our society – and a rich well of skill to fill those important roles in your organization. These ideas will help you ensure your veteran hiring and retention programs will be highly successful. Good luck!
Kristin N. Saboe, Ph.D. is an Army veteran, nationally recognized leader, award-winning psychologist, public speaker, and strategist. While an officer and Research Psychologist in the Army, she deployed to Afghanistan and served as a staff officer at the Pentagon. Her writing, research, and community involvement focuses on veteran and military spouse employment, human performance optimization, leadership, and well-being in both military and civilian settings.
Nathan D. Ainspan, Ph.D., has researched, written, and spoken extensively about military-civilian transitions and veterans' civilian employment. He is currently the Senior Research Psychologist with the Military-Civilian Transition Office (MCTO) at the Department of Defense. His work focuses on improving civilian employment opportunities for returning service members and the psychosocial benefits that employment provides to wounded warriors and injured veterans.
More reading: How to hire veterans