Communication with candidates in the midst of COVID-19
One way or another, the COVID-19 outbreak has disrupted your hiring process. Perhaps you're in a temporary hiring freeze but want to keep candidates warm. Or, you have some open roles but struggle attracting candidates during these uncertain times. No matter the challenge, it's important to be open and transparent when you communicate with candidates – and this often means that you need to adjust your usual outreach.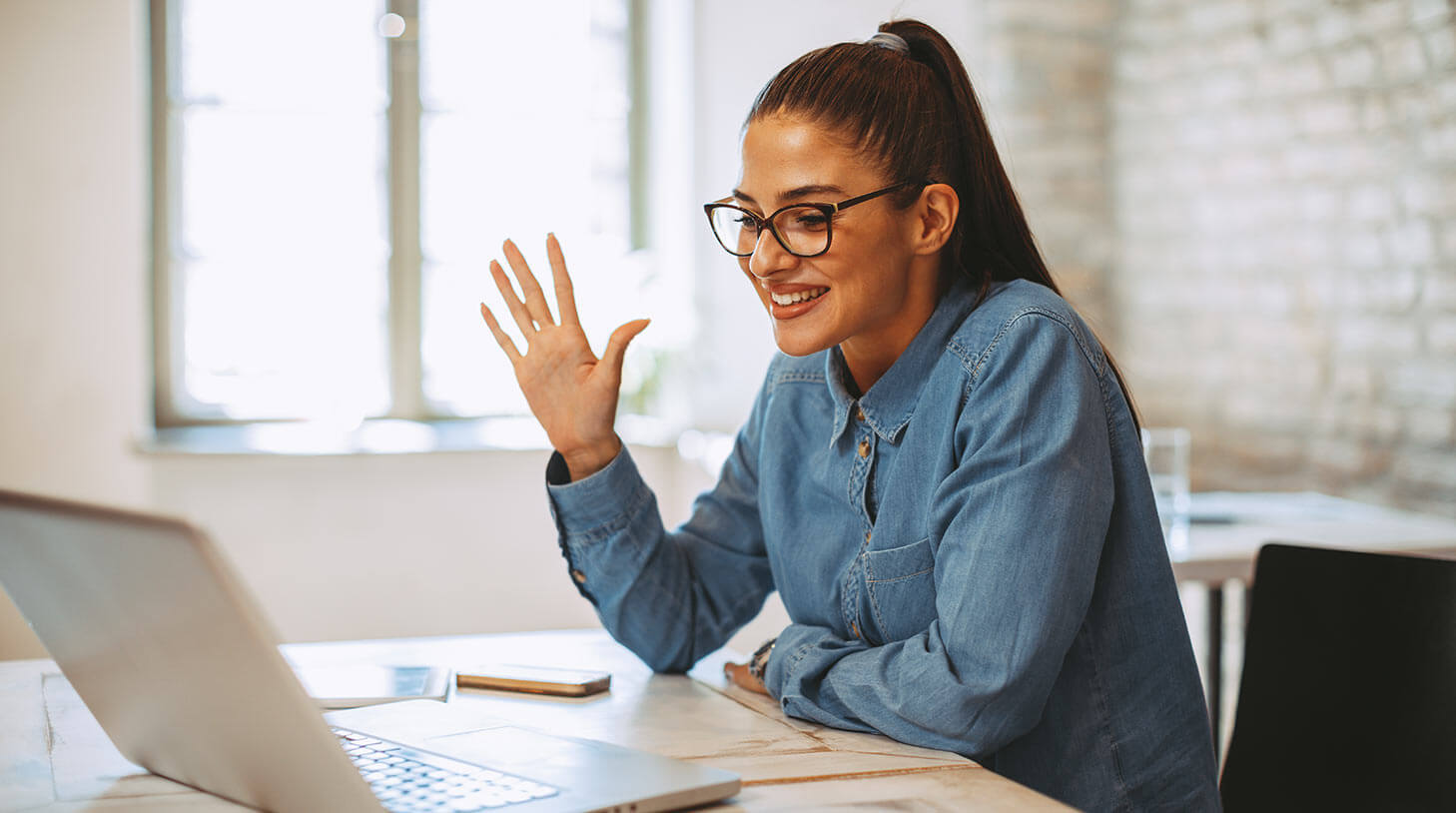 Here are some tips, examples and best practices to facilitate your communication with candidates in the midst of COVID-19:
If you're in a hiring freeze
Most candidates will expect a hiring freeze at this moment. This doesn't mean that you shouldn't still inform them about it, though. You'll still want to attract candidates when this is all over, so you need to think about your employer brand.
If you have open roles and candidates in your pipeline, send them an email to let them know that you're pausing hiring for the moment. If you have already interviewed some of your candidates, it might be best to call them in order to add a personal touch – particularly if they're in the later stages of the process. You don't want to make any promises, but you can ask to keep their contact details and reach out again when you re-open the position.
You may be in an awkward position to announce you're freezing hires, but highlight that you hope that it's a temporary situation. For example, during your direct communication with candidates (through email or phone) or in your careers page, say something like:
"In light of COVID-19, we are now freezing our hiring to concentrate on other areas of the business. Our priority is to protect our team's health and we hope that we'll be in a position to hire again soon – we'll keep you posted on that. Thank you for your understanding. Stay safe! "
Mitsubishi Electric Research Laboratories has added the following note for jobs that can't be done remotely:

Likewise, ClearScore, a UK-based fintech company, prompts job seekers to apply so that their hiring team can quickly reach out in the future:

If there are delays in your hiring process
It's normal if you can't put your entire focus on hiring and interviewing right now, but don't keep candidates in the dark. Update your open job ads and your careers page to let them know there'll be delays in your hiring process.
You could write something along the lines of:
"In response to the COVID-19 outbreak and in order to protect our employees' and candidates' health, there will be some delays in our recruitment process. The role will remain open and we encourage you to apply, but please bear in mind that it may take us longer to respond than anticipated. In the meantime, we'll re-evaluate the situation and keep all applicants updated."
For example, Silverstripe, the open office content management system with offices in New Zealand, has added this note in all open roles:
For candidates who have already applied, you can touch base with an email to update them on the status of their application.
Subject line: Update on the [Job_title] position / Your application at [Company_name] for the [Job_title] position
Hi [Candidate_Name] / Dear [Candidate_Name],
I hope all is well with you. I wanted to check in and update you about the status of your application for the [Job_title] position.
[Hiring manager_Name/Our hiring manager] is currently reviewing all [assignments/applications] but, due to the COVID-19 outbreak, there'll be some delays in the process. We'll be monitoring the situation and schedule onsite interviews when this is safe or arrange video interviews instead. I will contact you again as soon as I have any news. Thank you for your patience.
In the meantime, please feel free to reach me via email or at [e.g. 1-444-555-2222], if you have any questions.
All the best / Kind regards / Stay safe,
[Your name]
[Your email signature]
If you're still hiring – but remotely
Don't rely on posting your job ads as usual. Add key phrases such as "still hiring" or "hiring now" and relevant hashtags when you promote your open positions on social media. Candidates will likely use those keywords during their job search to make sure they apply for jobs that are still open.
If you were laid off this week, here's a tip to see what industries are still hiring right now.

Please retweet, this can help. #coronavirus #Hiring #jobs pic.twitter.com/Ty1Yw3WCV7

— Katrina Kibben (@KatrinaKibben) March 27, 2020
Here are some examples of current job ads on social media:
We may be #workingfromhome but we're still #hiring! As we continue to support & deliver for our clients, we continue to #hirethebest with a number of roles to fill in #London & #Vienna. These can be found here>>> https://t.co/c5UTg190WT#TeamTrayport #techjobs #softwarejobs pic.twitter.com/iDyzzS8uh1

— Trayport (@Trayport) March 20, 2020
Keep in mind that candidates might be wondering about your hiring process considering that many countries have taken precautionary measures that forbid non-essential traveling. Therefore, highlight that you're interviewing candidates remotely (whether it's a permanent process at your company or a temporary alternative).
Here's how Farewill, a UK will-writer business, mentions its virtual interviewing process: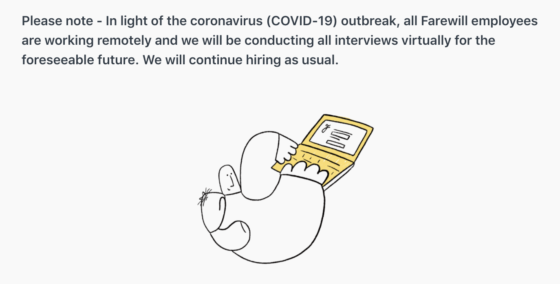 Another example is from Ding, a mobile top-up platform with offices across the world:

If you're currently interviewing candidates remotely, it might be useful to send some guidelines on how to conduct a video interview. Not only you'll help them shine during a type of interview they might not be familiar with, but you'll also make a great first impression and boost your employer brand.
If you have urgent hiring needs
Due to the COVID-19 crisis, certain jobs are currently in high demand, for example, healthcare staff and drivers. If that's the case in your business, capture candidates' attention by adding key phrases such as "urgent need" and "immediate start".
The following job ads are from Medmetry, a healthcare consulting firm:

Candidates might be worried about getting a job in the midst of a health-related crisis, so be clear about the measures you take to protect your employees. Here's a statement from Camile Thai Kitchen as written in a job ad for delivery drivers: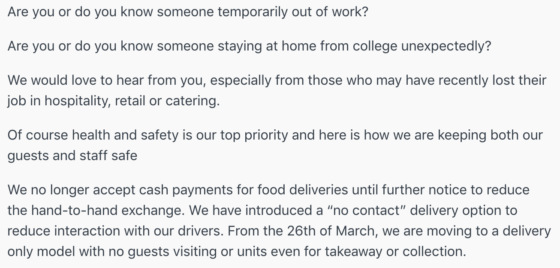 Consider posting your job ads on websites and job boards that are dedicated to job opportunities relevant to the pandemic. For example, check out:
Finally, your company's response to the crisis
Your approach to this pandemic outbreak has a long-lasting impact on your relationship with candidates. Being honest and empathetic will help you build trust. Here's an example from Atticus, a legal consulting firm, that proactively addresses candidates' concerns: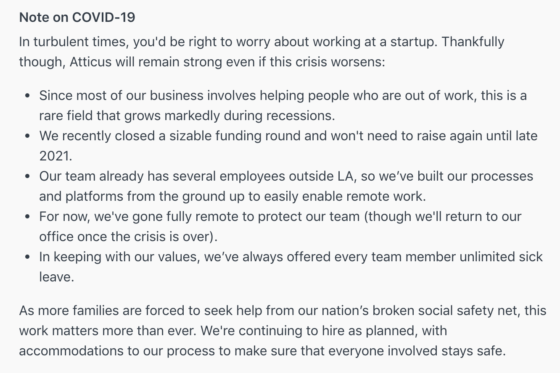 Even if it's not directly related to hiring, sharing the steps your company is taking during these times is also important. Because it's one thing to say you value your employees' well-being and a totally different – and more impactful – thing when you actually support your employees and the community in general in any way you can.