8 tips for writing outstanding cold recruitment emails that convert – with templates
Companies are struggling to bridge talent gaps at a time where remote talents have broken barriers, changed perceptions, and showed adaptability. But more often than not, overcoming the challenge comes down to one thing – writing better cold emails.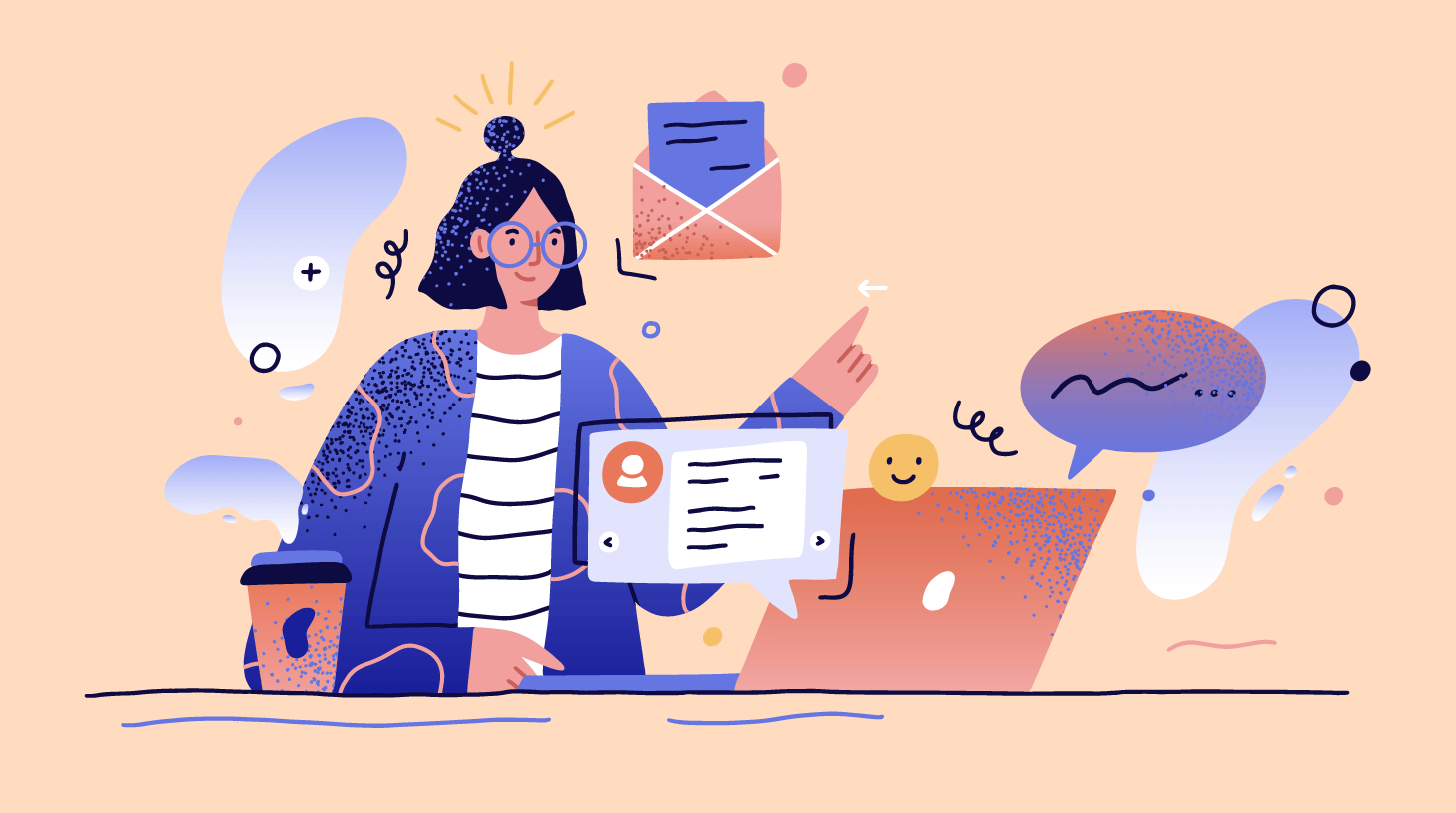 Roughly 320 billion emails land in the global collective inbox every day, and recruitment emails have to be nothing short of extraordinary to stand out from the clutter. Here are a few numbers that should compel recruiters to up their email game:
Based on these numbers, we can see that passive job seekers need more than uninspiring cold emails to make them check out a new job profile and ultimately, apply for that job.
We'll go through an eight-step process to give you enough ammunition to turn run-of-the-mill emails into high-converting ones.
1. Create an email copy outline
To start off, you need to get your email outline right. Cold emails are by design, notorious for cookie-cutter outlines. And this is where most companies fail to attract the right talent. Your cold emails need to be precise, relevant, and unique. One way to write a good email is to know how not to write it. Take this email for example: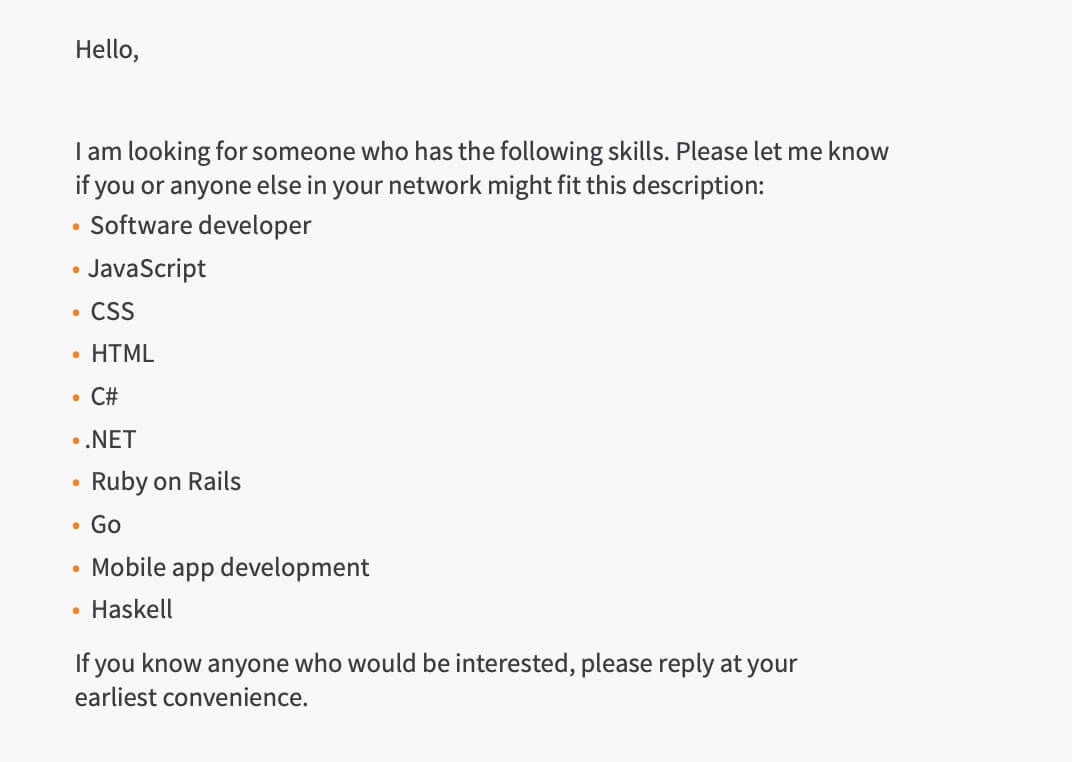 Stack Overflow unearthed this cold email that's about everything a recruiter shouldn't send to a cold candidate. It's not addressed to anyone in particular, it doesn't show the value the roles provide, it uses a long list of skills as the body, and it ends with a weak CTA. It's hard to impress job seekers with emails crafted as poorly as this one.
While creating an outline for email, it is important to have fleshed-out answers to these questions:
Who is this email for?
What is the purpose/goal of sending the email?
Do the emails need attachments?
What writing tone should be used?
What is the best CTA and where should it be placed?
How to start/end the emails?
The purpose of the outline is to allow companies to automate and scale recruitment strategies. But it should still leave enough room to improvise the copy depending on context and the information available.
A good example should look like this: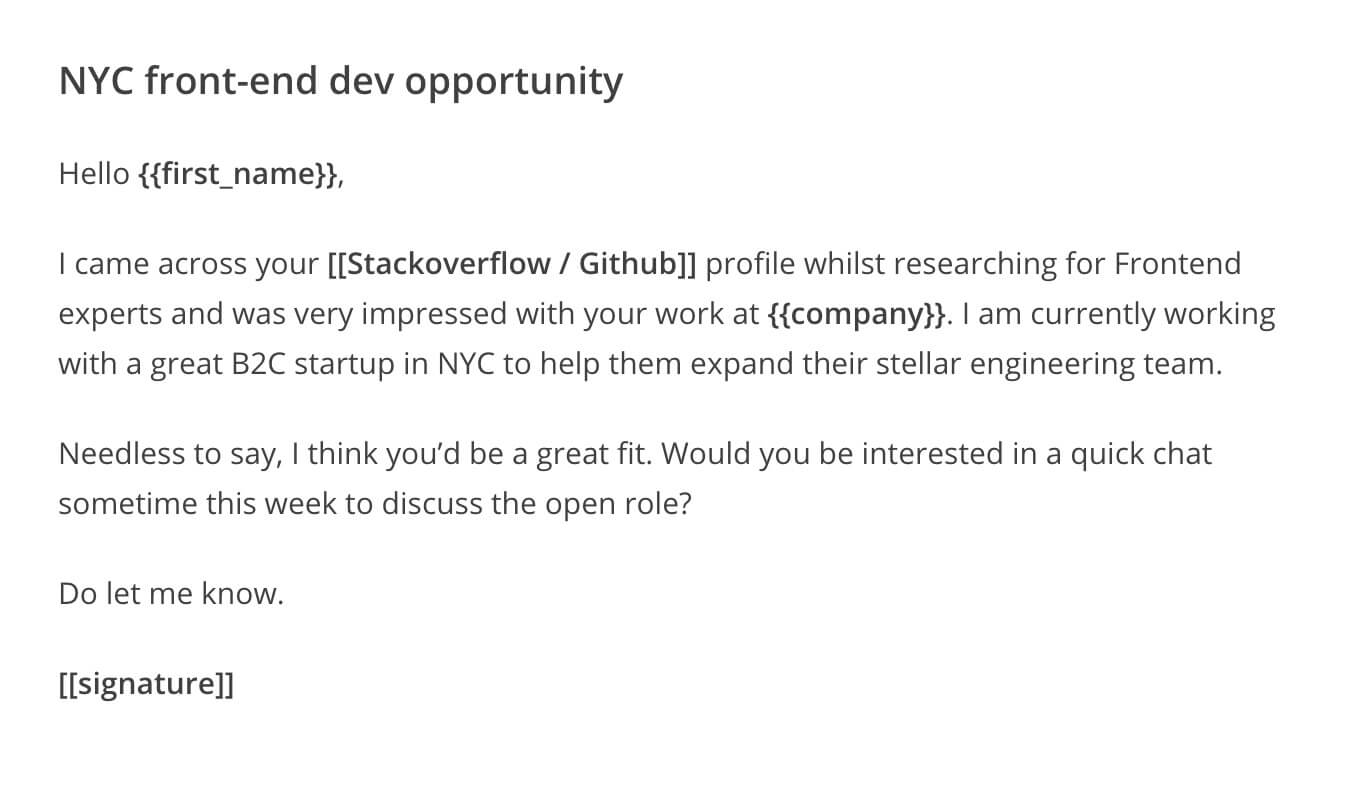 The email quickly hooks the candidate with a relatable experience and goes on to explain all the information relevant to the job. The email body is laser-sharp and ends with a good CTA.
2. Write compelling subject lines
Most people only look at the subject lines of the emails to decide whether to delete or open them. Job seekers are no different.
It's not uncommon for active and passive job seekers to receive hundreds of recruitment emails each day. The only way they can keep the inbox tidy is by deleting the emails that don't add value to their lives.
When you're writing a subject line, put yourself in the recipient's shoes and see what lines you wouldn't click at all. Take this line for example:
A surprise career opportunity that'll change your life. Check right now!
Bombastic, misleading, and long sentences are precisely the things you need to avoid when it comes to writing cold emails. It's important to spend a good bit of time and effort ironing out the subject line. In general, it has to be short, ideally 4-6 words, punchy, and loaded with value.
Great recruitment subject lines should look more like these:
UX Writer position open at [company name]
[Company name] is looking for Product Managers
Data Engineer position available in Vancouver, CA
Along with perfecting the subject line, you should also write a preheader text that provides more information about the email. A lot of recruiters miss the free space so this should be your opportunity to stand out.
3. Find the candidate's info & research their background
Research plays a key part in practically every aspect of marketing. Recruitment in 2021 can be made better by infusing marketing elements to cater to the right talent pool.
It's not just the job seekers who have to find the hiring manager's email address. Recruiters must also deeply research the candidates and go over the information that might be useful for the job. This can be previous roles and companies, qualifications, and career goals. LinkedIn is where talented professionals discuss jobs, careers, and personal lives. You can make connections and even join LinkedIn groups to see what your ideal candidates are up to. LinkedIn InMails are a great way to warm up cold candidates but the sheer volume of undercooked and spam messages by recruiters often drive professionals off the platform.
LinkedIn, however, is not the only option. Techies are available in GitHub and Stack Overflow, writers are sharing ideas in Medium, designers are using Pinterest and Instagram to showcase their art. Social media channels and even portfolio websites are goldmines of information that you can use in your outreach campaign.
Apart from social media and portfolio websites, there's another channel for effective communication – emails. But it's not always easy to find the correct email addresses of candidates. With a tool like Hunter's Email Finder, recruiters find the right people faster.
But people often change jobs and forget to update their email addresses. They might even stop checking their old inbox. That's why you also need to verify email addresses to make sure you're not emailing inactive addresses. An email list full of irrelevant addresses will increase your bounce rate, and drag down your deliverability and reputation score.
4. Personalize your outreach
Now that you have enough information about your targeted candidates, it's time to put the knowledge into action. Approach your recruitment emails the way you write a cold pitch.
Candidates (and humans in general) love to be seen. Always address them by their name at the start of the email and immediately establish a personal connection to show what's in it for them.
Email personalization is critical in outreach campaigns. A personalized email template should look like this example from Stack Overflow: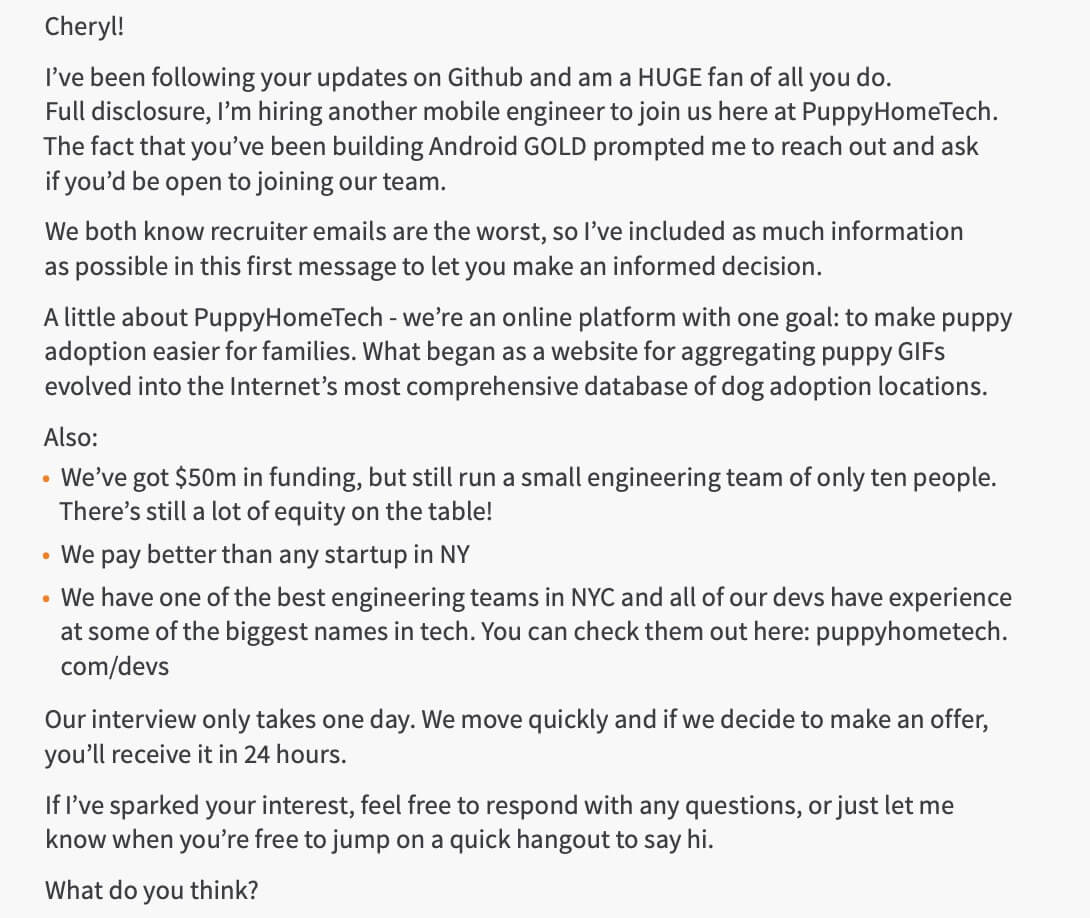 It's a detailed cold email that gives all the information the recipient needs to make a decision. The friendly tone also goes perfectly with the context and the job profile in the discussion.
There's proof in the pudding too – Boston-based full stack developer Mark Bates talked about the importance of personal connection when reaching out to tech candidates:
"I want to be talked to directly as a person," Mark said. "Show me that you know who I am and you know the things that I do. And you can tell me in that initial contact why I would make a huge difference at your company."
5. Keep your email brief and on point
The previous email is a good example of a personalized copy. Coupled with a solid subject line, it should clock good responses from job seekers. But it's not just the personal connection that sealed the deal. The email is easy to read, offers only the relevant information, and more importantly, tells the candidate what to do after reading the email.
Depending on their career trajectory and position, job seekers either want enriching opportunities, financial benefits, or both. The email offers all these details.
Workload: I'm hiring another mobile engineer to join us here at PuppyHomeTech.
Salary: We offer better pay than any startup in NY.
Process: Our interview only takes one day. We move quickly and if we decide to make an offer, you'll receive it in 24 hours.
The sender shouldn't also drag recruitment emails too long with unrelated information. Job applications are often lengthy. As a result, 60% of job seekers give up filling up applications midway. This pattern is true for cold emails as well. Excess information in recruitment emails makes it hard to find the important parts for busy professionals.
That's why recruiters should distill it down to a few key points and drive home the importance of the email. You can embed graphics or a video on email banners to showcase company culture and provide a bit more details about the role without cluttering the email body.
6. Include a clear CTA
Take a look at this email:
Dear candidate,
We are [company name], a fast-paced company with global footprints. We're looking for data analysts and you fit our description. Please click on the link below to fill the form.
About us: We're [ a bit more details about the company]
If you're interested in the opportunity, please reply to this email so that we can schedule a call.
Thanks!
[Email Signature]
Apart from being vague, the email also confuses the recipient. When you're cold-emailing candidates, you must remember that the person doesn't know you, the company, or the role yet. The email will give all the necessary information for the first time, and the information must flow naturally.
This email has two calls to action. One asking to fill up an online form, the other asking to schedule a call. Contradictory or multiple CTAs are confusing and it shows that you haven't done your homework. Candidates are less likely to go ahead when the lack of effort is clearly visible from the recruiter's end.
That's why it's important to stick to a single CTA. If you have a separate job board that you want them to apply for, only add that link. If you want them to directly reply to your email, mention only that.
One CTA shows your clarity of thought and helps candidates navigate through the next process.
Especially, look at those last two questions – straight and to the point in a way that makes it easy for the candidate to respond. This recruiting email not only sticks to a clear CTA but also goes ahead a step further to offer more information about the call.
7. Utilize the power of email signature
Email signature in a recruitment email tells a lot in a short space. Including an official signature is important because:
Email signature offers a name that can be searched online by the candidate to verify legitimacy. It instantly creates reliability and is far better than using an unidentifiable sales rep persona.
An email signature can be used to link company vision and other details. Candidates can check the links to know more about the role, and company culture.
A huge number of emails go to the spam folder every day and recruitment emails are also part of it. Including an official email signature is one way to avoid getting flagged for spam by the recipient
A good email signature should look like this:
8. Establish a follow-up strategy
Far too many recruiters miss out on talent after not getting a reply the first time. Professionals are busy and it's easy to miss an email. Cold emails are not expected to generate a 100% response rate but they can be seen as a part of the warm-up process to fetch a response from the candidate later. Ideally, you'll want to follow up with 3-4 emails before accepting the fact that the candidate is not interested in the opportunity.
To write compelling follow-up emails, you need to add value, lead with the previous email and keep the copy short.
A follow-up email that leads with the previous email: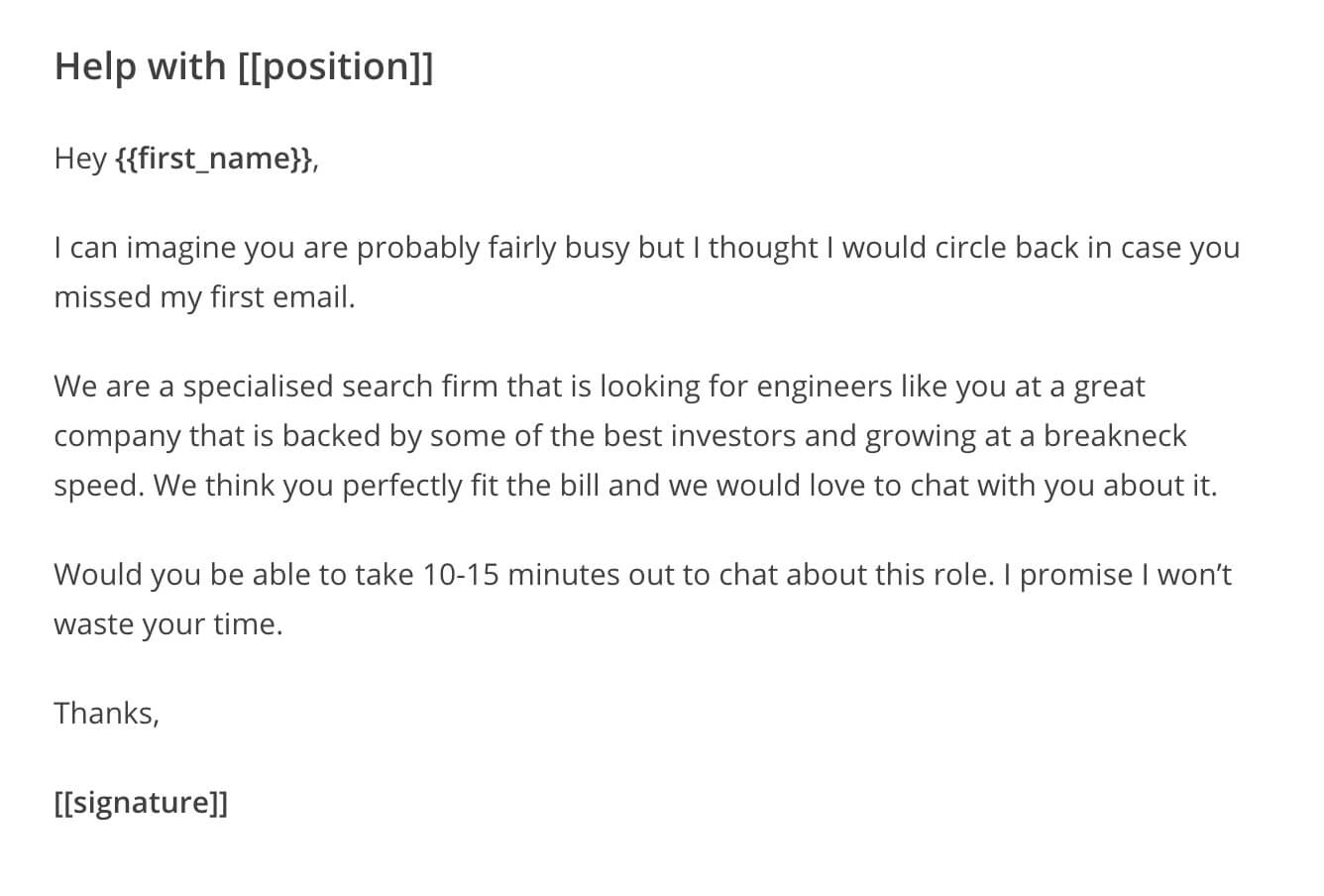 A follow-up email that's short:
And one last follow-up email: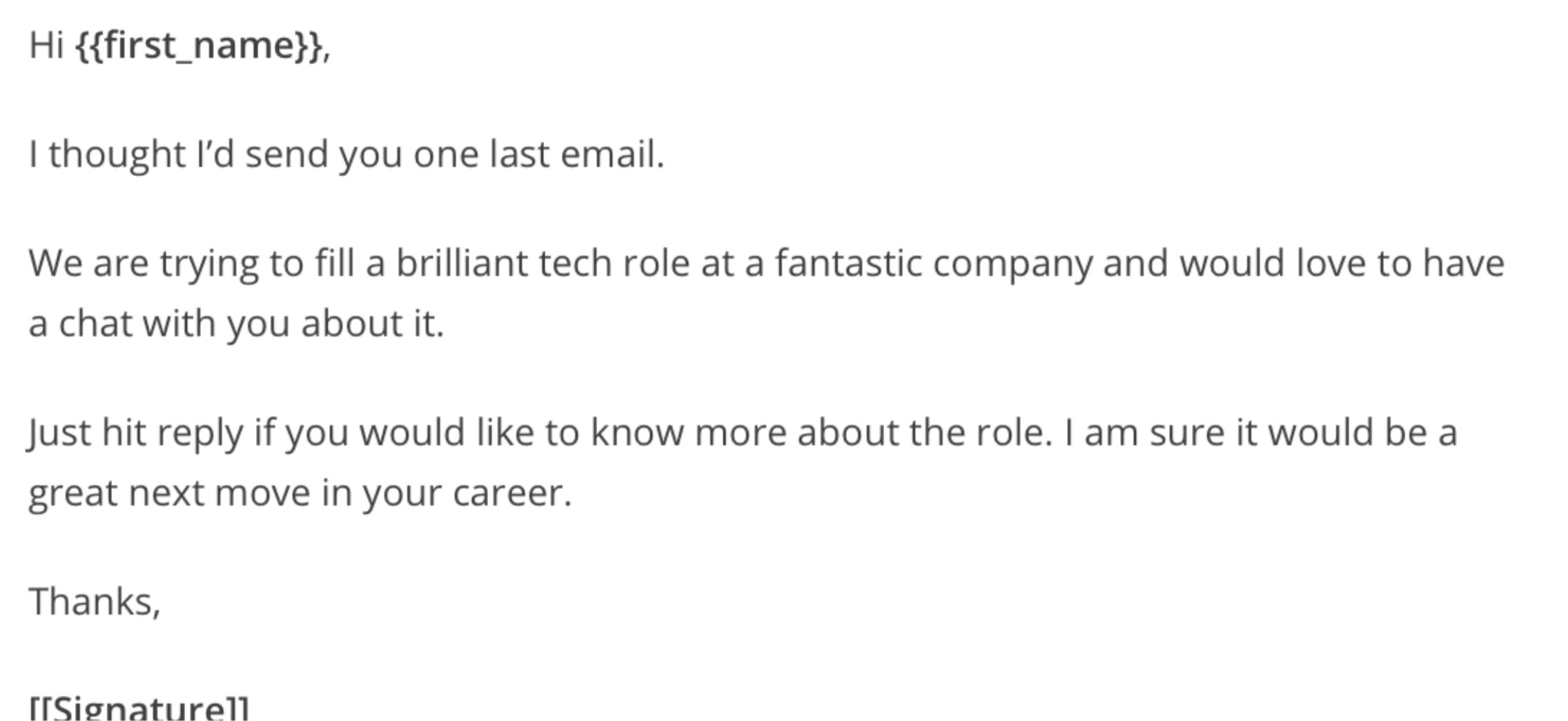 Wrapping up
Most recruitment cold emails are uninspiring and impersonal, which actually gives you the opportunity to stand out and attract ideal candidates with a well-thought-out cold email strategy. By following the 8-step process, you'll be able to craft cold emails that job seekers love to read and respond to.
Irina Maltseva is Head of Marketing at Hunter. She enjoys working on inbound and product marketing strategies. In her spare time, she entertains her cat Persie and collects airline miles.
Frequently asked questions
Is it okay to cold email for a job?

Sending a cold email is an easy and effective way of connecting with potential employers. When you send these emails, it shows initiative and a willingness on your part to go above what's required for any job seeker, which might result in more opportunities down the line!
Is it okay to cold email a recruiter?

To get a job in today's competitive market, you need to be able not only show off your skills and qualifications but also network with those who can help make it happen. One of the best ways is by sending out cold emails to recruiters to start a conversation.
How do you write an email asking for a job?

Remember, keep it simple and professional when asking for a job through email! If you are unsure what to say in your message, just include some highlights from the summary of skills or experiences that will help show why they should hire you.