8 sales team structure models – plus scenarios to build them out
Strategically construct your sales team for maximum impact and adaptability using these sales team structure models and real-world scenarios that can make or break your goals as a sales team leader with high expectations.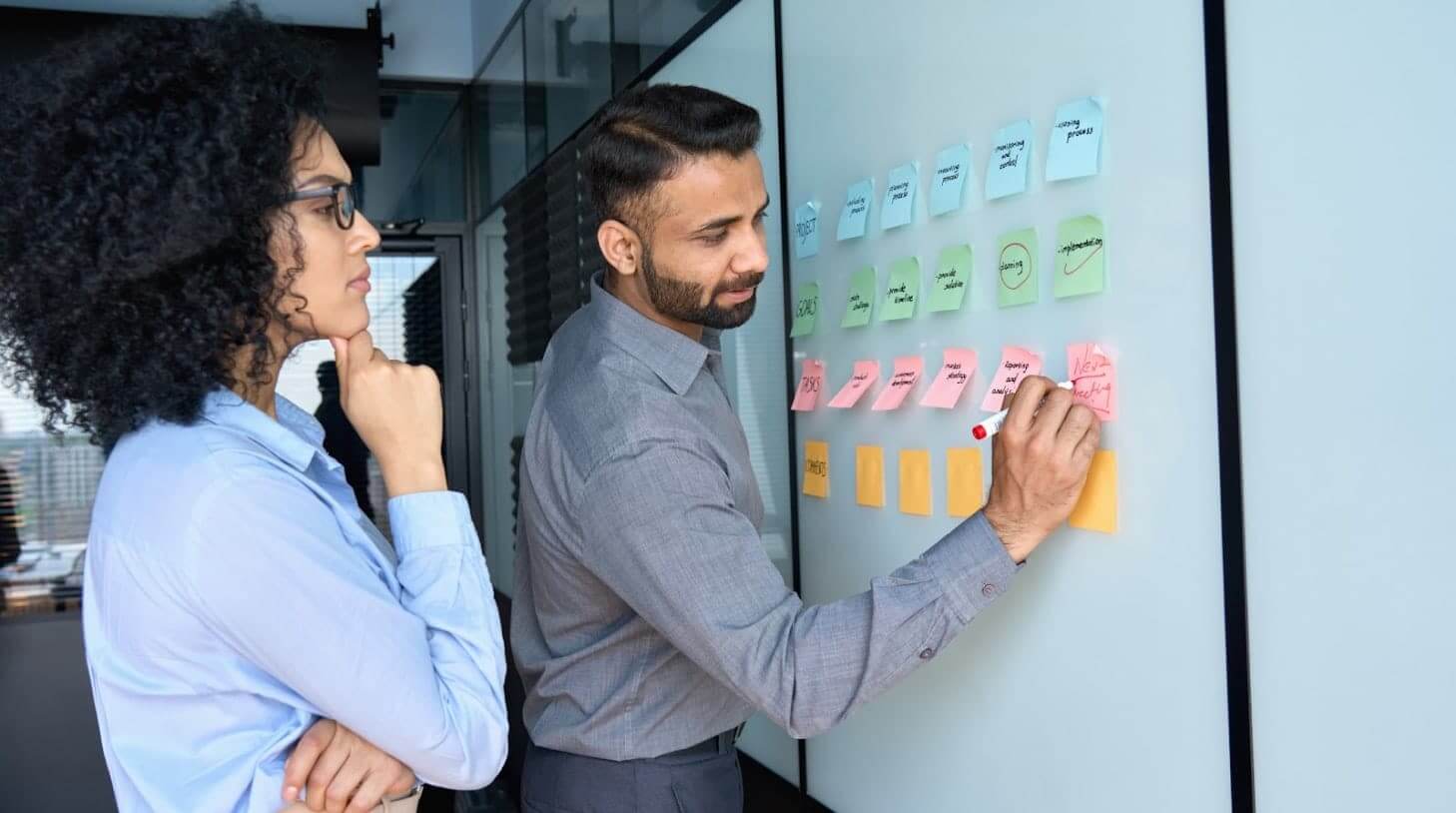 You've got the budget, now let's put it to work. Whether you're launching, scaling, or pivoting, the key to exceeding your goals lies in the anatomy of your sales team.
Dive in and start building the perfect blueprint tailored to your unique challenges – your future star performers will thank you.
Related: Build a high-performing sales team: your comprehensive guide
Let's start with common sales team organization structures and org charts for each:
1. Functional sales team structure
A software company has a sales team that is divided into three main functions: lead generation, account executives, and customer success.
The lead generation team is responsible for finding and qualifying potential customers, the account executives are responsible for closing deals, and the customer success team is responsible for onboarding and retaining customers.

2. Geographic sales team structure
A multinational pharmaceutical company has divided its sales team based on geographic regions: North America, Europe, Asia, and Latin America.
Each regional team is responsible for all sales activities within its assigned region, allowing them to cater to the specific needs and regulations of their respective markets.

3. Market-based sales team structure
A financial services company has different sales teams for each of its market segments: individual investors, small businesses, and institutional clients.
Each team understands the unique needs and challenges of its specific market segment.

4. Product sales team structure
A large tech company with multiple product lines, such as laptops, smartphones, and software services, has separate sales teams for each product line.
Each team specializes in understanding and selling its specific product.
5. Hybrid sales team structure
A large consumer goods company uses a hybrid structure. It has a geographic structure for its field sales team, with different teams responsible for different regions.
It also has a product-based structure for its inside sales team, with different teams specializing in different product categories.

6. Account-based sales team structure
A B2B software company that sells high-value enterprise solutions has an account-based sales structure.
Each sales team is assigned a set of key accounts that they are responsible for managing and growing.

7. Channel sales team structure
A manufacturing company sells its products through a network of distributors and retailers.
It has a channel sales team that is responsible for managing these partner relationships, providing them with product training, and supporting their sales efforts.

8. Customer success sales team structure
A SaaS company has a sales team that focuses on acquiring new customers and a customer success team that focuses on retaining and growing existing accounts.
The sales team works on bringing in new business, while the customer success team ensures that existing customers are satisfied and identifies opportunities for upselling or cross-selling.

Different team building plans to think about
Regardless of which organizational structure you follow above, there will be different scenarios for you to consider when building your sales team. Some of these are longer-term, others are quick and nearly off-the-cuff.
Related: Build a sales team with ChatGPT – with prompt examples
Let's start with a potential scenario, variables to consider, and what the sales team organizational structure might include for each of these. Consider bundling one or more of the following scenarios into your overall sales team structure to align your sales system with overall business strategies.
Scenario 1: you are just getting started
Variables:
Limited resources
Small customer base
Need to establish market presence
Organizational structure:
Startup sales lead: Multi-tasker who handles account management and some admin tasks
Generalist sales reps: Team members who handle everything from lead generation to closing deals
Customer success associate: Focuses on onboarding and retaining the initial customer base
Scenario 2: you have landed a new funding round and you're looking to grow
Variables:
Sudden influx of resources
Aggressive expansion plans
High growth targets.
Organizational structure:
Growth manager: Specializes in scaling businesses and managing large teams
Recruitment specialist: Fast-tracks hiring of new team members
Sales reps by tier: Separated into junior and senior reps, each focusing on different customer segments
Sales analyst: Uses data analytics to optimize sales strategies
Scenario 3: you've got a new product in place and you're looking to push it
Variables:
Newly launched product
Need for market adoption
Focus on product-specific sales
Organizational structure:
Product sales manager: Specializes in the new product and its market positioning
Product evangelists: Focus on storytelling and explaining the product's USP
Cross-selling sales reps: Leveraging existing customer base to introduce the new product
Technical support: On-call for product-specific inquiries and demonstrations
Scenario 4: you're facing high attrition rates
Variables:
High turnover
Low morale
Dissatisfied employees
Organizational structure:
Team lead: Responsible for morale and personal development
Retention specialist: Focused on employee engagement
Sales reps: Generalists with rotation across different accounts to prevent burnout
Scenario 5: you're transitioning to remote work
Variables:
Remote work
Need for smoother communication
Need for streamlined coordination
Organizational structure:
Remote team manager: Oversees remote operations
Communication liaison: Ensures effective communication and project tracking
Sales reps: Allocated to regions/time zones for customer convenience
Scenario 6: you're entering a new market
Variables:
Unknown market dynamics and consumer behavior
Organizational structure:
Market specialist: Expert in the new market's nuances
Cultural advisor: Provides cultural training and guidance
Localized sales reps: Hired from the local market for authentic engagement
Scenario 7: you have a seasonal business
Variables:
Fluctuating sales depending on the season or time of year
Organizational structure:
Seasonal team lead: Oversees seasonal hires and operations
Stock analyst: Focuses on inventory and demand prediction
Temporary sales reps: Hired for peak season, focus on short-term goals
Scenario 8: you're facing stiff competition
Variables:
Increased competition affecting sales and market share
Sudden ascent of a new presence in the marketplace
Organizational structure:
Strategy lead: Focuses on competitive tactics and market analysis
Product evangelist: Specializes in the USP and brand storytelling
Sales reps: Special training in negotiation and advanced selling techniques
Time to start building
Building a sales team isn't a one-size-fits-all endeavor. Depending on your company's unique circumstances, goals, and challenges, your organizational structure should adapt and evolve.
Whether you're just breaking ground, scaling rapidly with new funding, launching a product, or grappling with issues like high attrition and remote work, the right setup can be a game-changer. It aligns your resources and focuses your efforts, serving as the backbone of your sales strategy.
Remember, an effective sales team is not just about the number of people but about putting the right people in the right roles. These eight scenarios offer a versatile blueprint for assembling a sales team that's not just built for the present, but also adaptable for the future.
Frequently asked questions
What are the different types of sales team structures?

There are several, such as functional, geographic, and market-based. The right model depends on your goals and challenges.
How can the right sales team structure improve my business?

Strategic structuring aligns resources, clarifies roles, and optimizes reach. This setup boosts efficiency, increases sales, and fosters adaptability.
What if I need to pivot or adapt my sales team?

Flexibility is key. Explore hybrid models or adapt existing structures based on new variables like funding, product launches, or remote work.
How does sales team structure relate to customer satisfaction?

A well-organized sales team ensures a smoother customer journey, from lead generation to customer success, enhancing satisfaction and loyalty.
What role does technology play in shaping sales team structure?

Technology can streamline operations. CRM tools for lead management and data analytics are invaluable in modern sales structures.