Integrating work and home a top benefit of working remotely in US
According to our New World of Work survey in August 2020, the advent of flexible work is one of the biggest workplace changes coming out of the COVID-19 pandemic. According to that survey, 71.1% cited remote work as one of the penultimate paradigm shifts in the new world of work.
Because of that seismic change, we included questions around remote work in our Great Discontent survey, which surveyed 750 US workers on what matters to them in a job.
And we have interesting findings for you on what the benefits of working remotely are, whether remote work is indeed happening, and how important it is to workers in the United States.
Remote work
Are they doing it?
We asked respondents if they're currently working remotely or in a hybrid setup. More than half (55.6%) say they aren't – but that still leaves a significant portion (44.4%) who are working remotely or in a hybrid arrangement.
While those numbers show that remote work is still a very common trend, it's still a significant shift from the early days of the pandemic in 2020. The aforementioned New World of Work survey found that a staggering 94.9% (62.6% fully, 32.3% partially) of businesses moved to a remote environment as a result of the pandemic.
While the survey respondents are different this time – i.e. the employable population rather than employers themselves – the data still indicates a shift to some kind of normalcy.
But that's not to say remote work isn't still happening. It's very much a reality. Let's first look at the feasibility of it according to our respondents.
Can they do it?
So, can people work remotely, regardless of whether they want to or are able to? We asked respondents to rate their response on a scale of 1 to 5 (from "not at all" to "completely"). The responses are varied, with nearly one-third (31.8%) choosing 1 ("not at all") and a quarter of responses picking 5 ("completely").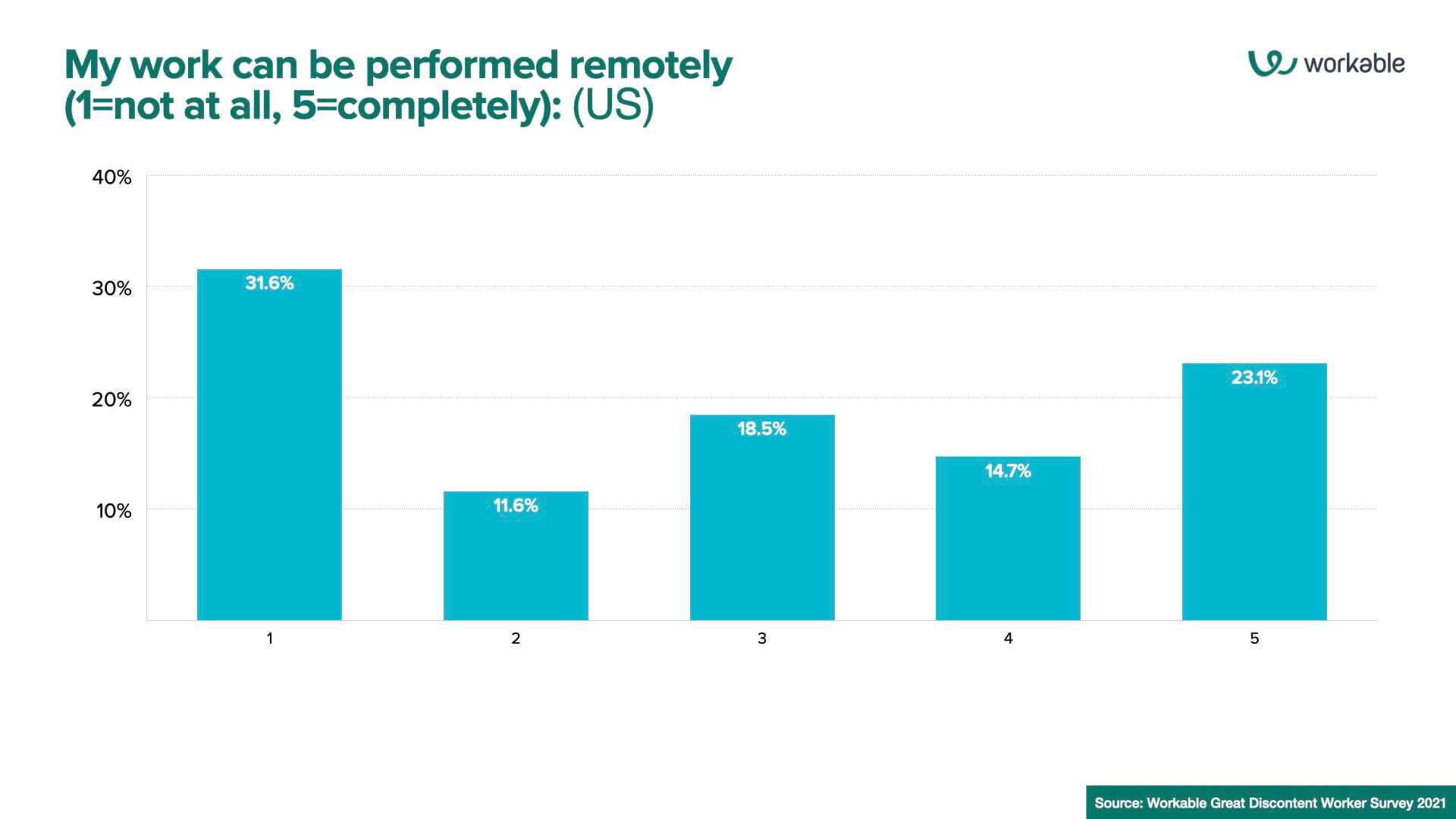 If there's anything definitive here, it's that a good portion of respondents (31.6%) are clear that their job can't be done in a remote environment. Reasons can vary – perhaps it's the employee themselves and they feel unable to do so, or it's a literal requirement of the job to be on location – for instance, jobs in the hospitality or manufacturing sectors.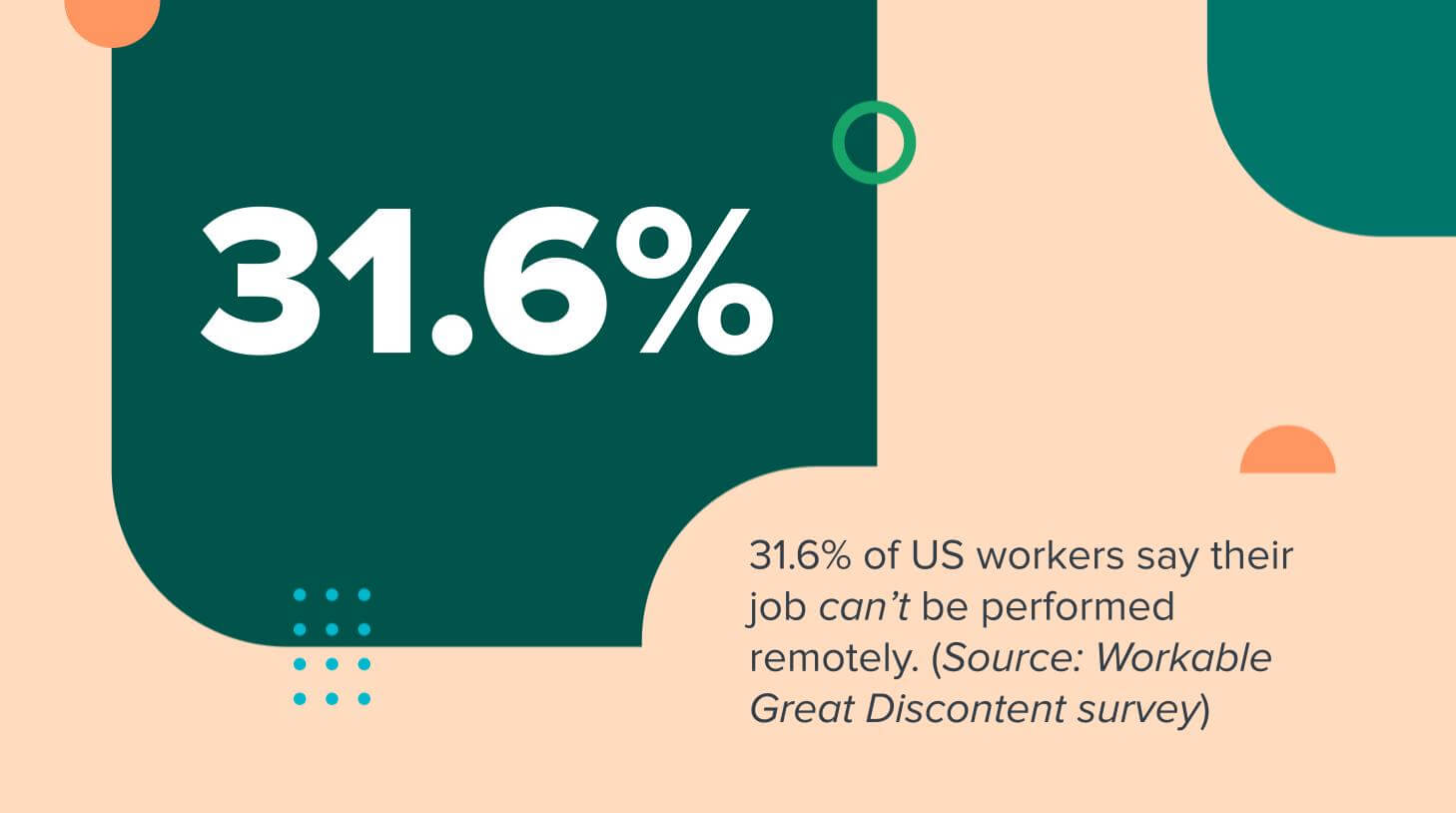 How important is it?
We also asked how important working remotely is. What stood out is that respondents don't consider remote work as important as flexible schedules.
When asked to choose from 1 to 5 the importance of remote or hybrid work, only 17.8% picked 5 – "completely" – whereas 26.1% picked 1 – "not at all". Nearly a third (32.6%) of respondents picked 3 – suggesting no strong feelings either way.
Perhaps the remote work trend is more a pandemic-driven rather than paradigm shift, and now that people have settled into remote work, it's not as important as they once felt.
They aren't even convinced that the ability to work remotely opens up new opportunities, with 28.8% picking 1 ("not at all") and 16.9% picking 5 ("completely"). (Chart is not displayed.)
And what makes it important?
But sure, remote work has to be important in some ways. So, we asked what benefits can be gained from it. One understandably popular answer is that "it lowers pandemic health risks" (39.4%). Other top benefits are that it's easier to integrate personal and professional lives (tops at 39.7%) and it's cheaper than the alternative (36.8%).
Another major benefit is the extra hours in the day gained from not commuting (33.5%) – understandable, considering a US Census report showing the average American commute to be approaching half an hour each way, longer if in larger metro regions.
Meanwhile, "I have fewer distractions" (17.9%) and "I'm more productive" (20.1%) do not rank as highly. Since distraction is regularly cited as a major factor and inhibitor to productivity, we were surprised at this.
Likewise, the freedom to choose where to live is far down the list, with just 13.8% citing that as a major benefit of remote work – again, something we thought would rank higher.
So what does this indicate? Health during the pandemic aside, the holistic benefit of integrating work and home lives as a whole, combined with the tangible benefits of lower cost and more hours in a day are huge factors in why people like remote work.
39.7% of US workers say the ease of integrating personal and professional priorities is a major benefit of remote work
As emphasized by one respondent:
"Work/life balance is important for everyone at all levels. Work has become a part of my life vs. working to live. I get back 3 hours of my day but by not having to commute and I feel like my productivity has increased."